It's already seventh pancake recipe on my blog, but I think there is always room for another as there is no such thing as too much pancakes. I've done green pancakes before – Kale-Spirulina Pancakes, but this time I aimed for a lighter green colour and a subtler taste – a combination of matcha and ginger is perfect in my opinion.
I bought matcha powder for cooking to use in recipes, as it's a lot cheaper than the one meant for tea. However, don't believe what the marketing message communicates, that only a tiny bit is needed to achieve intense green colour. In reality, I used 3 teaspoons for this recipe and the colour was still quite light. If you are looking for intense green, spirulina is a much better alternative. However, it comes with a stronger taste as well.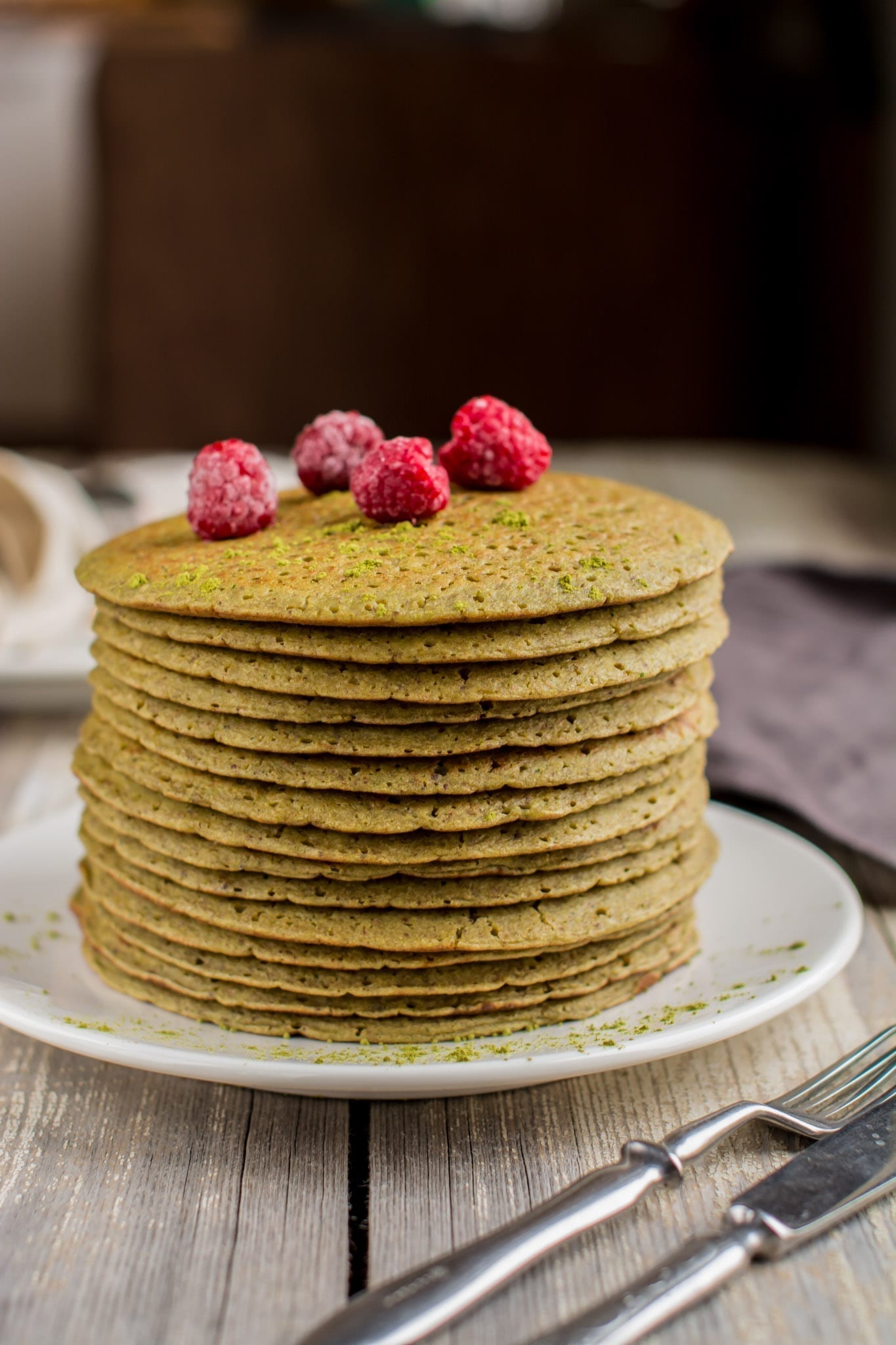 Matcha has some health benefits – it is rich in antioxidants called polyphenols which have been associated with protection against heart disease and cancer, as well as better blood sugar regulation, blood pressure reduction, and anti-aging. Research also showed that matcha boosts metabolism.
However, matcha comes with its downsides – as whole leaves are consumed, there may be three times more caffeine than in a cup of steeped tea, which is about an amount in a cup of brewed coffee. So, it is not recommended to consume matcha at least six hours before bedtime, especially if one is sensitive to caffeine.
Another concern about matcha is lead contamination as even organically grown green teas contain lead, which is absorbed from environment, particularly teas grown in China. In case of traditionally steeped green tea, about 90% of the lead stays in the leaf, which is discarded. However, with matcha the whole leaf is consumed and therefore more lead is ingested. ConsumerLab.com, which tested teas, estimates that a cup of matcha may contain as much as 30 times more lead than a cup of green tea. Therefore, they recommend drinking no more than one cup daily, and not serving it to children.
My matcha-ginger pancakes are vegan, oil-free, sugar-free and also gluten-free, if you tolerate avenin in oats.
Matcha-Ginger Pancakes' Recipe
Ingredients:15-16 pancakes
150g (5.3oz) raw buckwheat groats, soaked
150g (5.3oz) oat bran
2 tbsps. ground flax seeds
800g (28.2oz) naturally sweet plant-based milk (oat or rice)
½ tsp. Himalayan salt
3 tsps. matcha powder
3 tsps. ginger powder
60g (2.1oz) raw summer squash
3 heaped tbsps. applesauce
2 tsps. baking powder
Directions
Soak buckwheat groats overnight or at least for 6 hours. Rinse and drain.
Add the rinsed groats along with other ingredients into blender and blend until smooth and homogeneous batter forms.
Taste and adjust by adding more spices/salt/sweetener if necessary.
Take a good quality non-toxic non-stick pan. Add a few drops of oil onto the pan and swipe it off with folded kitchen paper. Let all the oil absorb into the paper and use it to swipe the pan clean between pancakes.
Put a ladleful of batter onto the pan and even it out with a spoon/ladle or by shaking and/or tilting the pan to get the exact shape of your pan bottom. The frying time greatly depends on your stove. I flip it around when it is almost dry on top and also check the colour of the bottom side.
Tips on toppings:
Blend berries of your choice with banana.
Blend fruits of your choice. Mango puree is my boys' favourite.
Add spices of your choice, e.g. cardamom, vanilla, cinnamon, to either the pancake batter or your sauce/jam.
Applesauce makes a great pancake jam, especially if you add a splash of coconut milk.
My simple and healthy chocolate sauce would also be perfect addition to those pancakes. See the video below. The recipe is also in post Kale-Spirulina Pancakes.
More tips:
Should you prefer the pancakes sweeter, add a sweetener of choice – xylitol, stevia, juicy dates or agave syrup.
If you prefer more intense matcha taste, just add more matcha powder. Same goes for ginger.
Source on matcha: http://www.health.com/nutrition/what-is-matcha