This is the sixth pancake recipe on my blog and they are green! I'm so happy about the colour – I just love when my food has a vibrant look rather than being beige, white or brown all the time. After all, it's about eating a rainbow every day!
I use spirulina in my pancakes mainly because of visual effect and taste. Should you want to consume spirulina for its health benefits, do not heat it, as many of its good qualities are lost during heating.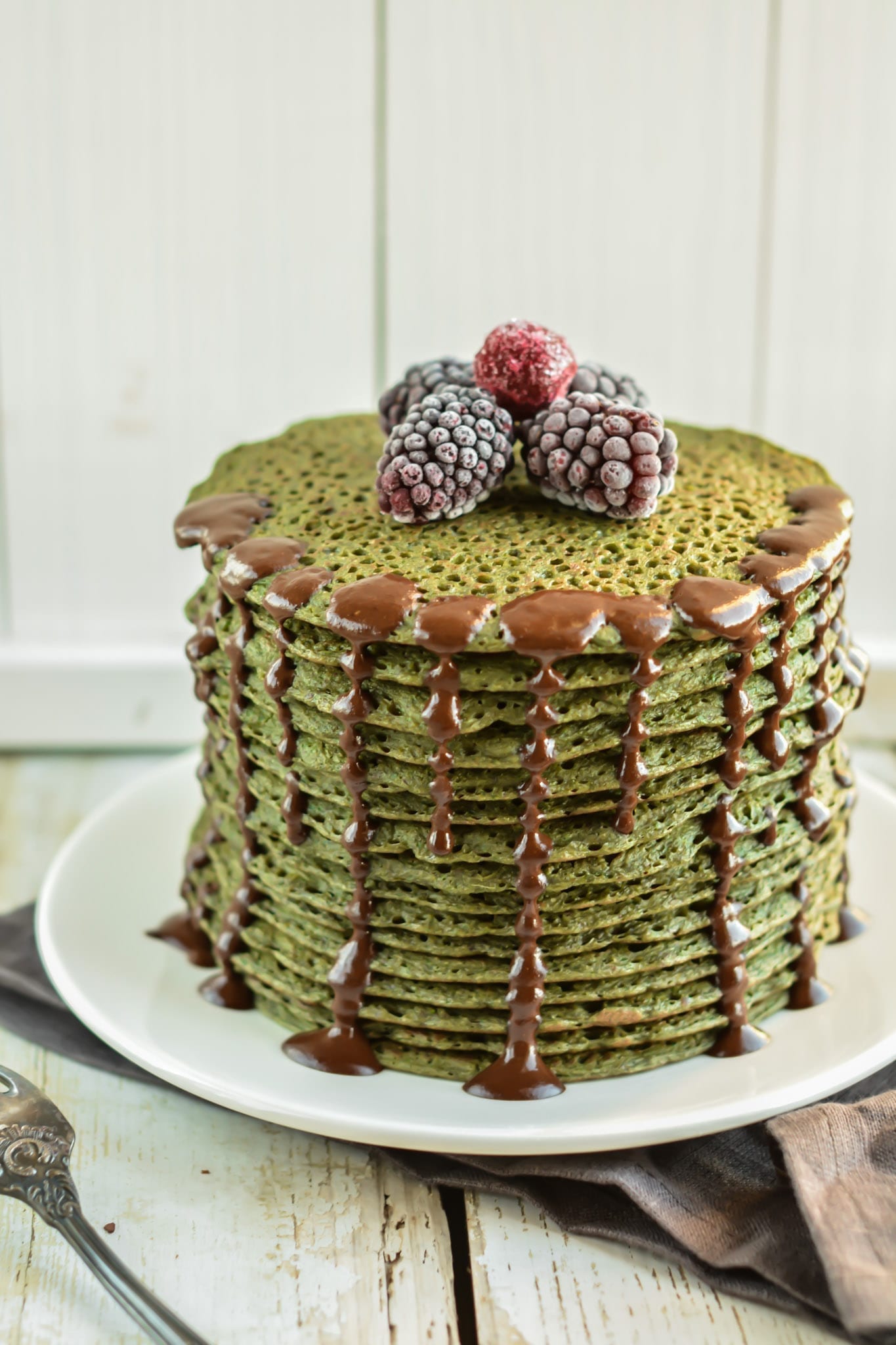 The main benefits of spirulina are:
High-quality protein content.
High vitamin A concentration.
Essential fatty acids: linoleic acid (LA) and g-linolenic acid (GLA).
High bio-available iron content.
Good source of calcium, copper, zinc, potassium, selenium, magnesium, manganese.
High content of chlorophyll, which helps to remove toxins from the blood and boost the immune system.
Great source of vitamins B1, B2, B3, B6 and B9 (folic acid), C and E.
Kale is filled with manganese, copper, iron, vitamins K, C and A, and calcium. It is also a good anti-inflammatory and cholesterol lowering food (cooked though). It is generally better to steam kale because of its oxalic acid content that inhibits calcium absorption when eaten raw.
Spirulina-Kale Pancakes are perfect with my healthy chocolate sauce. Just combine together:
½ tsp. of cinnamon
2 tbsps. of carob powder
1 tsp. cacao powder
1 heaped tsp. of preferred nut butter
1 tbsp. coconut milk
3 tbsps. oat or rice milk.
For me it was sweet enough without any extra sweeteners, but feel free to add some if necessary. See video below!
My Spirulina-Kale Pancakes are Candida diet friendly, oil-free, vegan, plant-based, refined sugar free and also gluten-free (if you can tolerate avenin in oats). And of course they are delicious!
Spirulina & Kale Pancakes
Ingredients:16 pancakes
150g (5.3oz) raw buckwheat, soaked
150g (5.3oz) oat bran
500g (17.6oz) oat or rice milk
300g (10.6oz) water
1 tsp. cinnamon
2 tsps. spirulina powder
2 tbsps. ground flax seeds
1 tbsp. + 1 tsp. xylitol
60g (2oz) raw kale
60g (2oz) raw summer squash
Directions
Soak buckwheat groats overnight or at least for 6 hours. Rinse and drain.
Add the rinsed groats along with other ingredients into blender and blend until smooth and homogeneous batter forms.
Taste and adjust by adding more spices/salt/sweetener if necessary.
Take a good quality non-toxic non-stick pan. Add a few drops of oil onto the pan and swipe it off with folded kitchen paper. Let all the oil absorb into the paper and use it to swipe the pan clean between pancakes.
Put a ladleful of batter onto the pan and even it out with a spoon/ladle or by shaking and/or tilting the pan to get the exact shape of your pan bottom. The frying time greatly depends on your stove. I flip it around when it is almost dry on top and also check the colour of the bottom side.
Tips on toppings:
Blend berries of your choice with banana.
Blend fruits of your choice. Mango puree is my boys' favourite.
Add spices of your choice, e.g. cardamom, vanilla, cinnamon, to either the pancake batter or your sauce/jam.
Applesauce makes a great pancake jam, especially if you add a splash of coconut milk.
And of course my healthy chocolate sauce (see above).
Extra tip:
You can make the batter more sweet or savoury by adjusting the proportion of water and plant-based milk or using naturally sweet or not sweet milks. Just make sure to stick to 800g (28.2oz) of liquid in total.