Those vegan truffles with red wine make a decadent chocolate treat for any special occasion, like Mother's Day or Valentine's Day.
I find it noteworthy, that my dark chocolate truffle recipe can be made totally cocoa-free (hence Candida cleanse friendly) by coating the truffles with my carob chocolate instead of regular dark chocolate. How great is that?
Moreover, those chocolaty vegan truffles are:
Easy to make
Great for batch cooking
Made special by the touch of red wine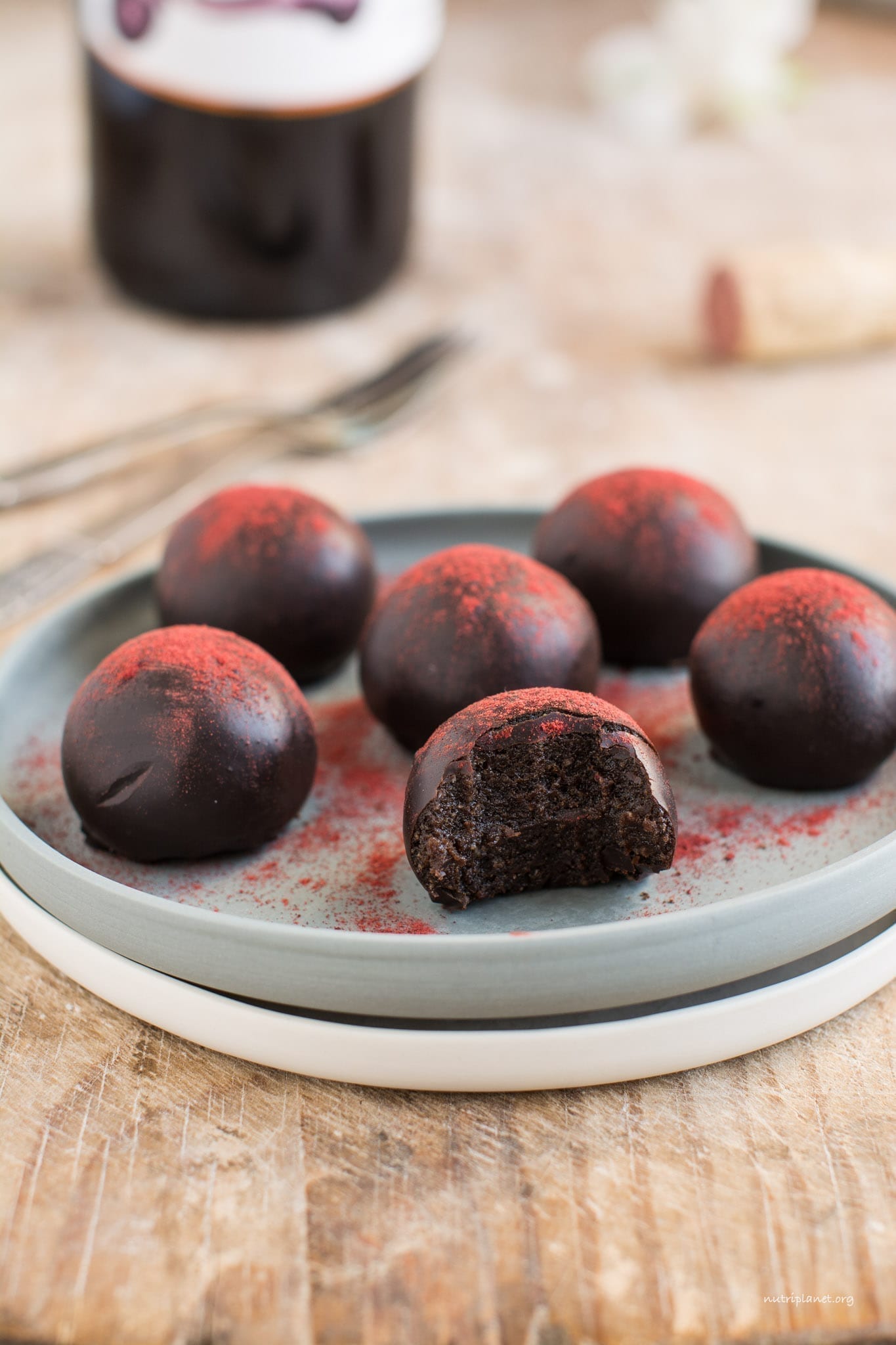 The most time-consuming part of my vegan truffle recipe is simmering the wine to get rid of alcohol. However, the good news is that you can prepare all the other stuff while the evaporation is happening, i.e. melting chocolate and gathering the rest of truffle filling ingredients.
In case you plan to prepare those vegan truffles on regular basis, simmer a larger batch of wine and store the concentrate in an airtight container in fridge. So that next time you can whip up your truffles much faster!
In the end, when you nibble on your vegan truffle sipping matcha latte with almond milk, you won't regret hassling with the wine!
About the red wine in my vegan chocolate truffles
I chose organic vegan wine with no added sulphites for my truffle recipe made of Cabernet Sauvignon grapes in Treviso, Italy. It had been ageing in oat casks for 8-10 months. It's a deep ruby red wine tending to be purplish; slightly grassy notes with raspberry aromas when young. It softens out with ageing, acquiring aromas of violet, Eastern spices, black pepper, cocoa powder and tobacco. This wine has acidity of 5.4 g/l and ph of 3.5.
Why organic vegan wine? I'm trying to be as conscious as possible in my choices and use vegan products as much as I can – and that means going beyond food! Of course, you can go for any cooking wine you prefer!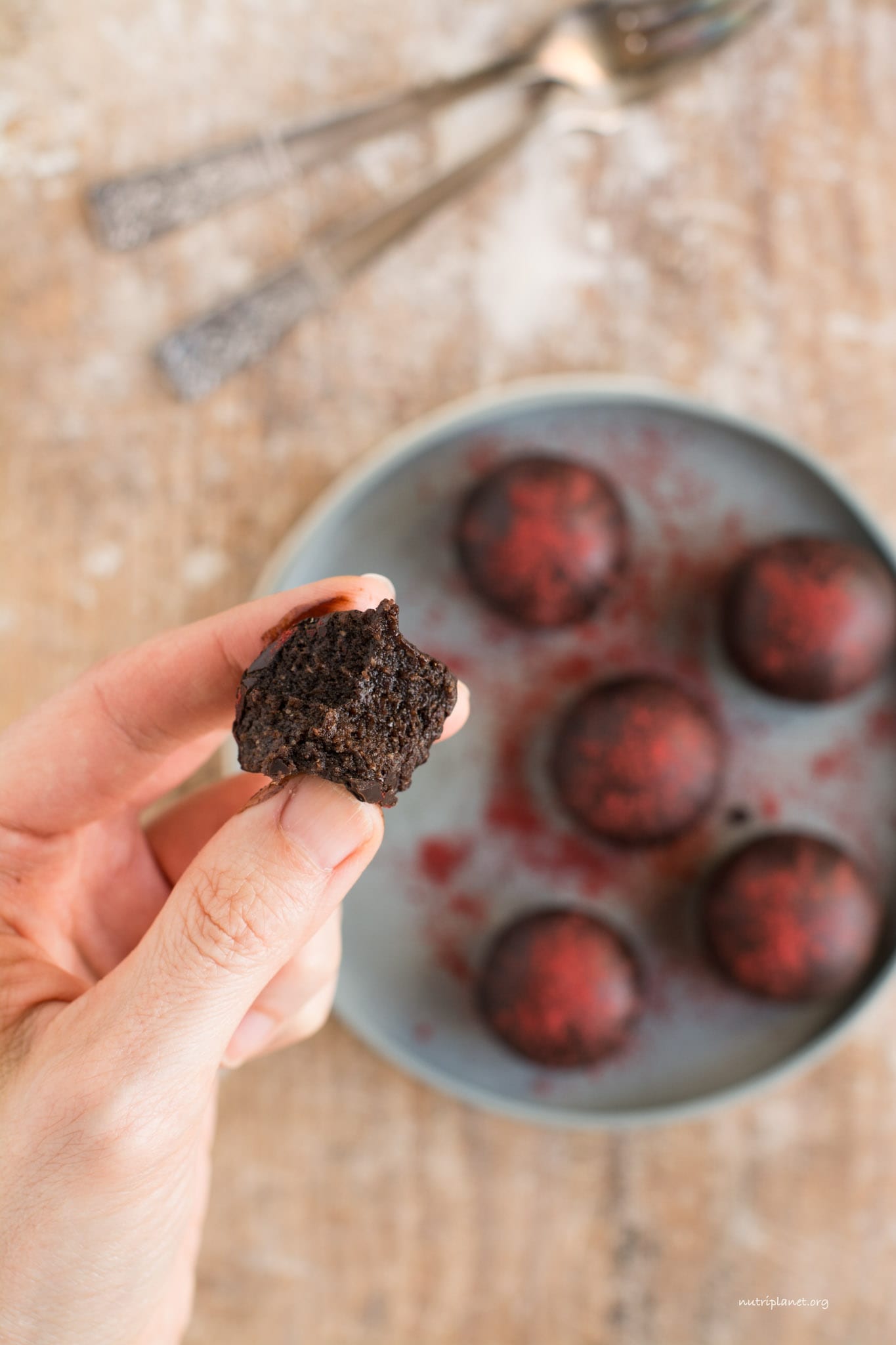 Other ingredients in my chocolaty vegan truffles
As you can see, even truffles can be made of whole food ingredients – I'm not using any oils (not even coconut oil) in my truffle filling. One might argue that xylitol is not a whole food and I'd agree! However, my hands are tied here due to my history with Candida overgrowth. You're most welcome to go for a more natural sweetener though – see tips below!
There's more, I know! Either chocolate is not a whole food nor is my carob chocolate, both containing cocoa butter. However, as far as chocolate is concerned, I turn a blind eye! After all, it's just the coating. Now, should you be stricter in your views, feel free to melt cacao liquor (mass) and use this as coating – whole food throw and throw!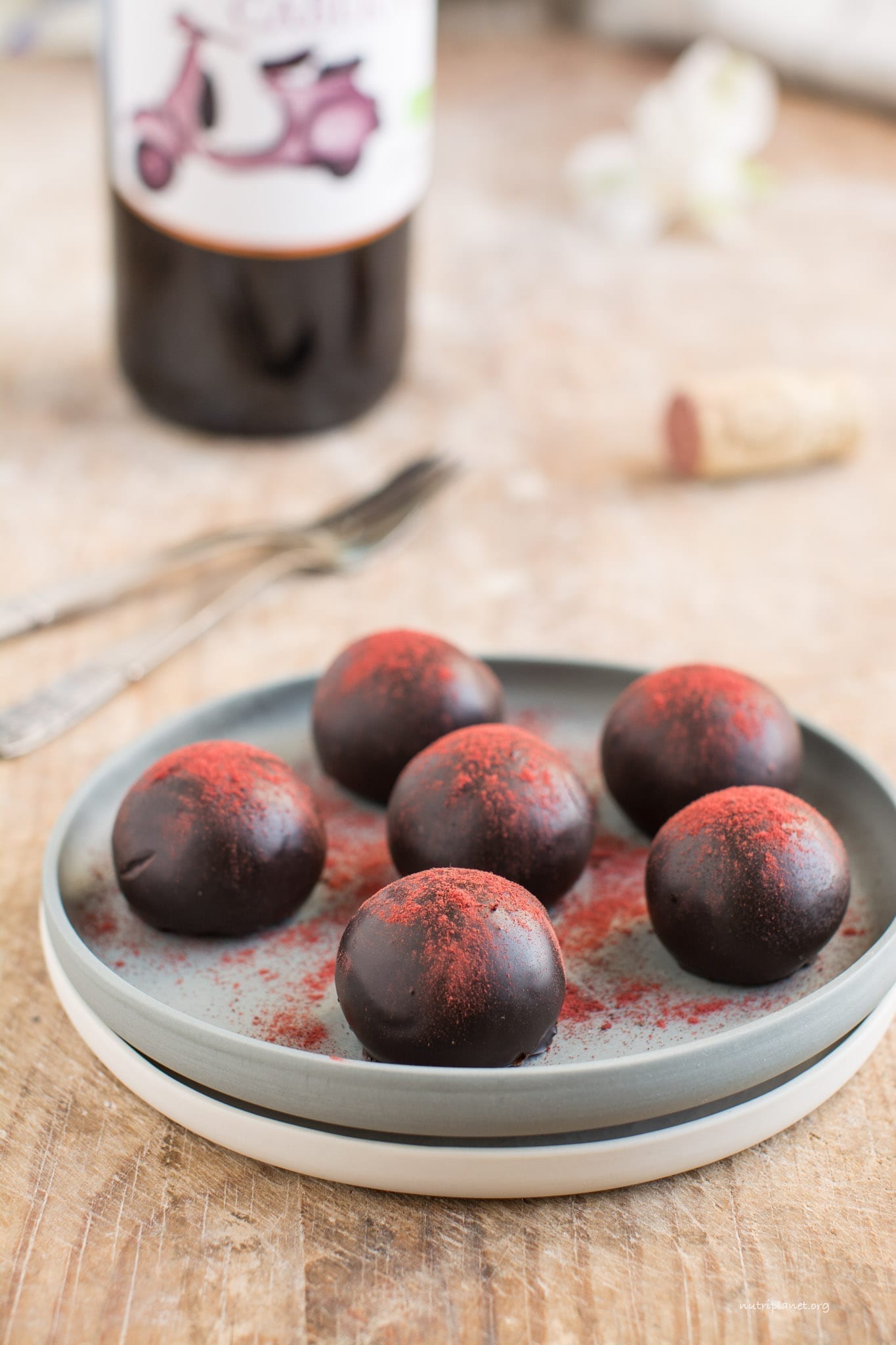 To sum it up, my vegan chocolate truffles with red wine are:
Gluten-free
Dairy-free
Oil-free
Low-glycemic
Candida diet friendly (use carob chocolate in cleanse phase)
Soy-free
Peanut-free
Nut-free (use tahini for example)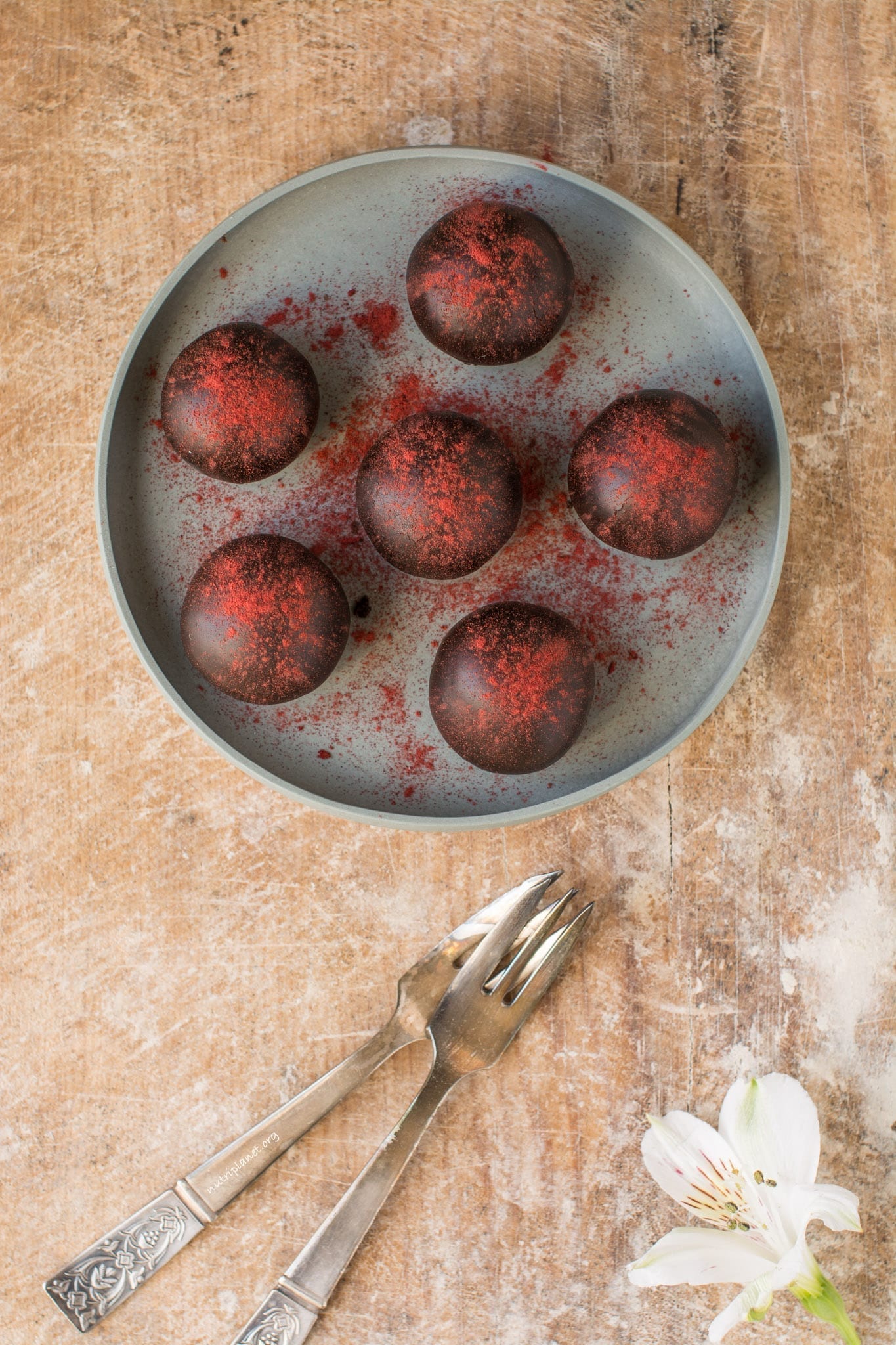 So, wait no more! Grab the ingredients and have those decadent chocolaty vegan truffles ready in a short time!
Have you ever used wine in sweet vegan treats? Let me know in the comments below! Please tag me in social media whenever you try one of my recipes! I'd love to see your creations! Instagram @thenutriplanet and Facebook @nutriplanet.health.hub
Print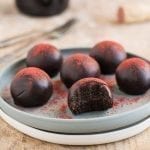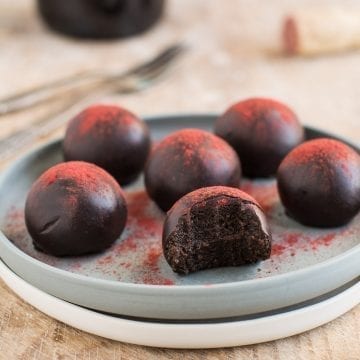 Chocolaty Vegan Truffles with Red Wine
---
Description
Those vegan truffles with red wine make a decadent chocolate treat for any special occasion, like Mother's Day or Valentine's Day.
---
---
Instructions
Start by bringing the red wine to boil, reduce heat and simmer for 25 minutes, stirring occasionally. Then, turn off the heat and let sit for another 10 minutes. You'll end up with about 4 tablespoons of wine concentrate, but will only use half in the recipe. All the alcohol should be evaporated by now. I used my nose as a lighthouse – if I was still able to sniff alcohol vapours, I kept on simmering.
While the wine is simmering, gather the other truffle ingredients and throw them into a bowl: nut butter (warm it up, if you stored it in the fridge), powdered xylitol (or mill regular xylitol yourself), salt, carob powder and coconut flour.
Now, pour 2 tablespoons of wine concentrate over truffle ingredients and mix until you have homogeneous batter. Refrigerate for 10-15 minutes.
Next, in a double boiler, melt the dark chocolate. I'd suggest taking about 100-gram (3.5oz) bar to be able to coat the truffles conveniently. You'll have leftovers though. Let it cool a bit to make it thicker.
When the batter is cooled, shape 8 round truffles with your hands and place them on a plate (parchment lined, if you prefer). Each truffle will weigh about 20 grams (0.7oz). If you ate quite a bit of batter during the process, you'll end up with fewer truffles ?
Next, one-by-one, drop each truffle into melted chocolate and, using a spoon or fork, coat it well. Then, with the help of the fork, lift it up, let the excess chocolate drip back into the bowl and place the truffle onto plate. To have a thicker layer of chocolate, let the first coating firm up a bit and coat them once more. You may repeat this process for as many times as you like. If you see that your truffles are sitting in a pool of melted chocolate, you may consider transferring them to another plate using the help of two forks. Two coatings will use up about 35 grams of chocolate.
Finally, refrigerate the truffles for at least an hour before serving. For a festive look, I sprinkled some beetroot powder on the chilled truffles.
Notes
I boiled a larger quantity of wine because when I tried with ½ cup, I ended up with only one teaspoon of concentrate! I guess it's better to have some left over rather than being short ? Alternatively, make double batch of truffles and use up all the concentrate. Or store the leftover wine in fridge for next batch.
Storing
Fridge: 1 week
Freezer: 1 month
You'd get 1.6 GL points
Prep Time:

45 minutes

Category:

Desserts
Nutrition
Serving Size:

1/8

Calories:

117 kCal

Sodium:

65.1mg

Fat:

8.8g (68% of kcal)

Carbohydrates:

8g (27% of kcal)

Fiber:

2.7g

Protein:

3.2g (11% of kcal)
Tips on my vegan truffles with red wine:
You may use any nut or seed butter you like: almond butter, peanut butter, cashew butter, tahini, or hazelnut butter. I myself went for a blend of light tahini and unroasted cashew butter. You might want to add a bit more sweetener, if you decide to use only tahini; and less, if solely cashew butter is used.
It's easy to powder your own xylitol in a coffee or spice grinder.
I used my carob chocolate to coat those truffles by replacing ¼ of carob with cocoa powder. You may also use only carob if you're intolerant to cocoa or in Candida cleanse phase.
You may use any other sweeteners, if you're NOT struggling with Candida overgrowth and/or blood sugar fluctuations: coconut sugar or nectar, agave, maple syrup, date sugar, palm sugar, or raw cane sugar.
How to store those red wine vegan truffles:
Keep in an airtight container in fridge for up to a week.
For longer storage, freeze them and keep for up to a month.
Disclaimer: this post contains affiliate links. As an Amazon Associate I earn from qualifying purchases.