Those 5-ingredient gluten-free sprouted crackers make a delightful and healthy snack with some peanut butter or homemade cashew yogurt.
Whether you're celiac, intolerant to gluten or eat gluten-free food by choice, those sprouted crackers will make your day! You won't even miss the store-bought gluten-free crackers (like rice crackers, rice thins, corn cakes etc.) that are usually made of gluten-free flour or flour blend such as brown rice flour, almond flour, millet flour etc. Furthermore, you'll find that most crackers, even in healthy grocery store, contain olive oil whereas my recipe is oil-free.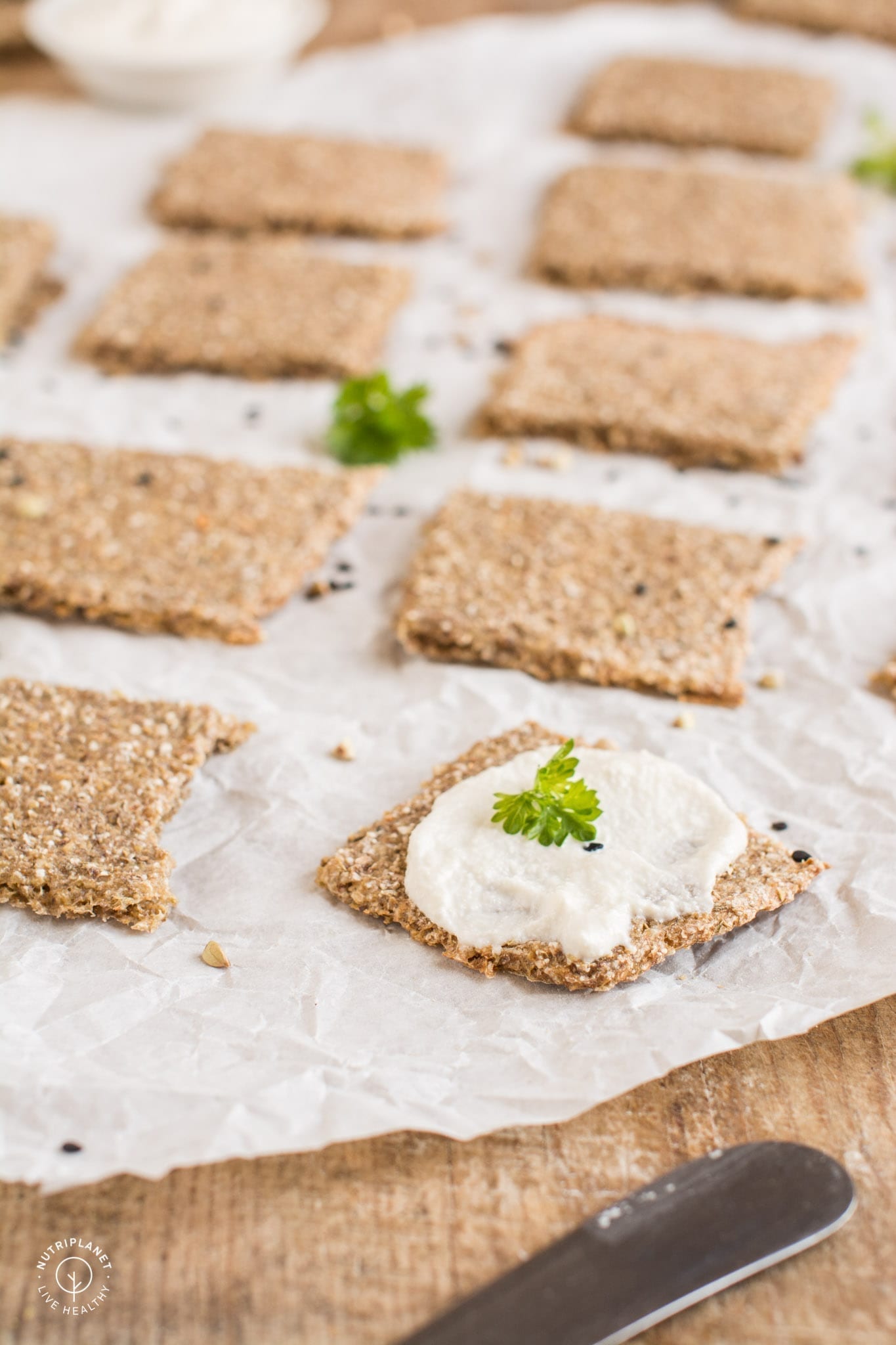 I love this sprouted crackers recipe because it's:
So easy to make
5-ingredient recipe
Only 15 minutes of active prep time
So crispy and full of flavour
As this gluten-free recipe involves soaking and sprouting, you need to plan ahead though! The shortest time those sprouted crackers can be ready is about 13h15min given that you use quick soaking. Should you soak them properly for at least 6 hours and let them sprout for about 18 hours, you'll need to put the groats to soak 1 day (24 hours) and 45 minutes before you want them ready.
What are my gluten-free sprouted crackers made of?
I tried to keep the ingredient list short for those crackers to make them as simple as possible. The main ingredient, sprouted raw buckwheat is complemented by Mediterranean flavours including smoked paprika, garlic powder and dried oregano. I think Himalayan salt is a must when making crackers, but you might think otherwise. So, feel free to add less or ditch it altogether. Finally, I added ground flax seeds for binding and omega 3's.
In case you don't mind more ingredients, check out my Quinoa-Buckwheat Crackers with Pumpkin and Buckwheat Crackers with Olives and Sundried Tomatoes.
Benefits of sprouted buckwheat crackers
Like all other grains, nuts and seeds, also buckwheat contains enzyme inhibitors that interrupt with vitamin and mineral absorption and cause digestive ailments. Therefore, at least soaking is required to make them more digestible.
Sprouting however, takes you to a completely new level as sprouts use the starches to grow, hence decreasing the glycemic load of buckwheat or any other grain. Therefore making them beneficial for anyone struggling with Candida overgrowth or blood sugar fluctuations.
For greater benefits, dehydrate your crackers instead on baking. You can do that in dehydrator or in oven at low temperature leaving the door half-open.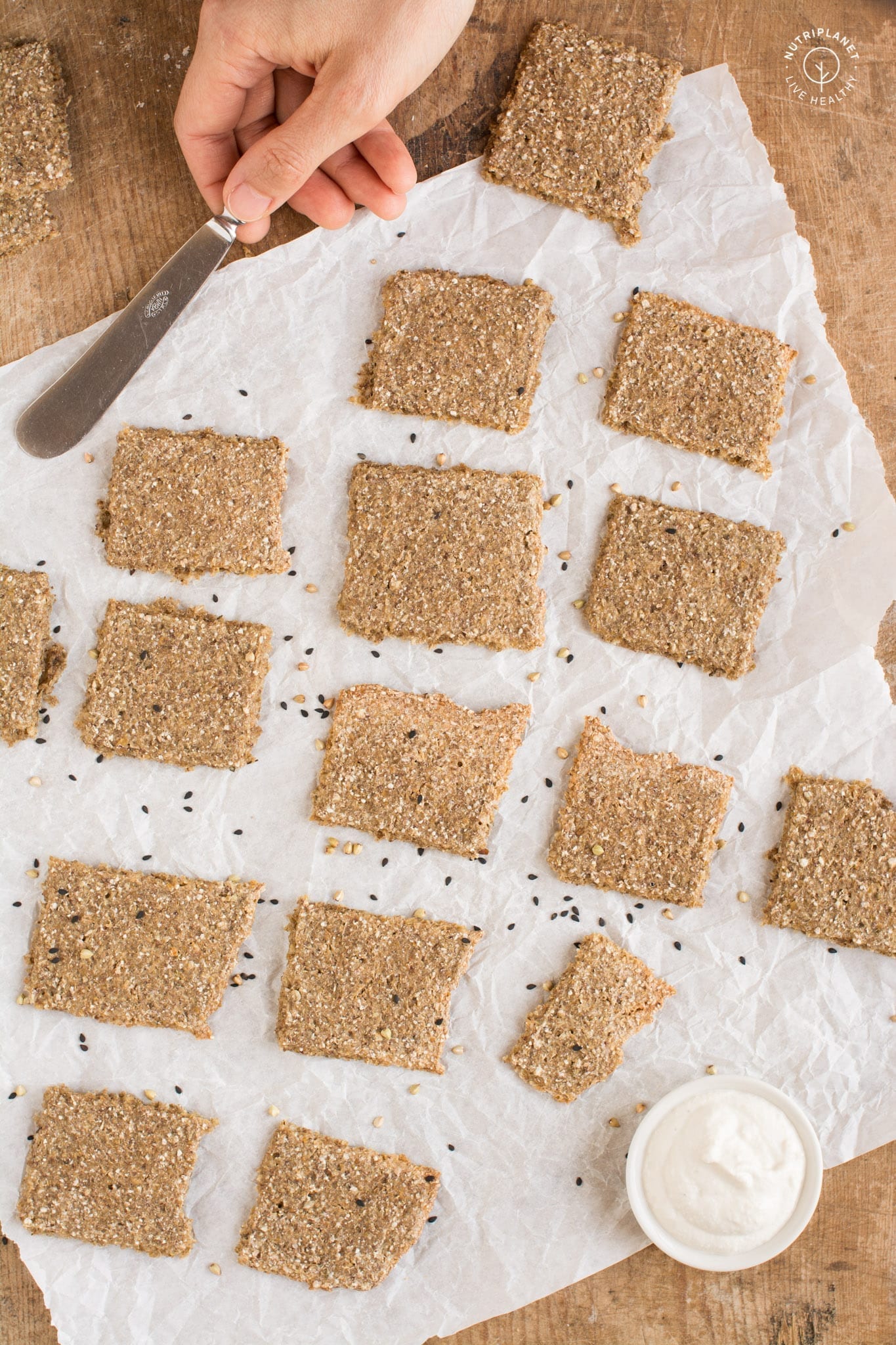 How to eat my gluten-free sprouted crackers:
First, eat plain crackers as a snack or as a side to your main meal.
You can spread anything you like on the crackers – almond butter, cashew butter, applesauce, jam, tahini (sesame seed paste), peanut butter, coconut puree, yogurt, sour cream, vegan cheese, hummus, baba ganoush (eggplant spread) or even tomato paste.
Finally, feel free to add toppings such as cucumber, tomatoes, lettuce, radish, arugula, cooked spinach, oven baked eggplant and bell pepper or even berries and fruits.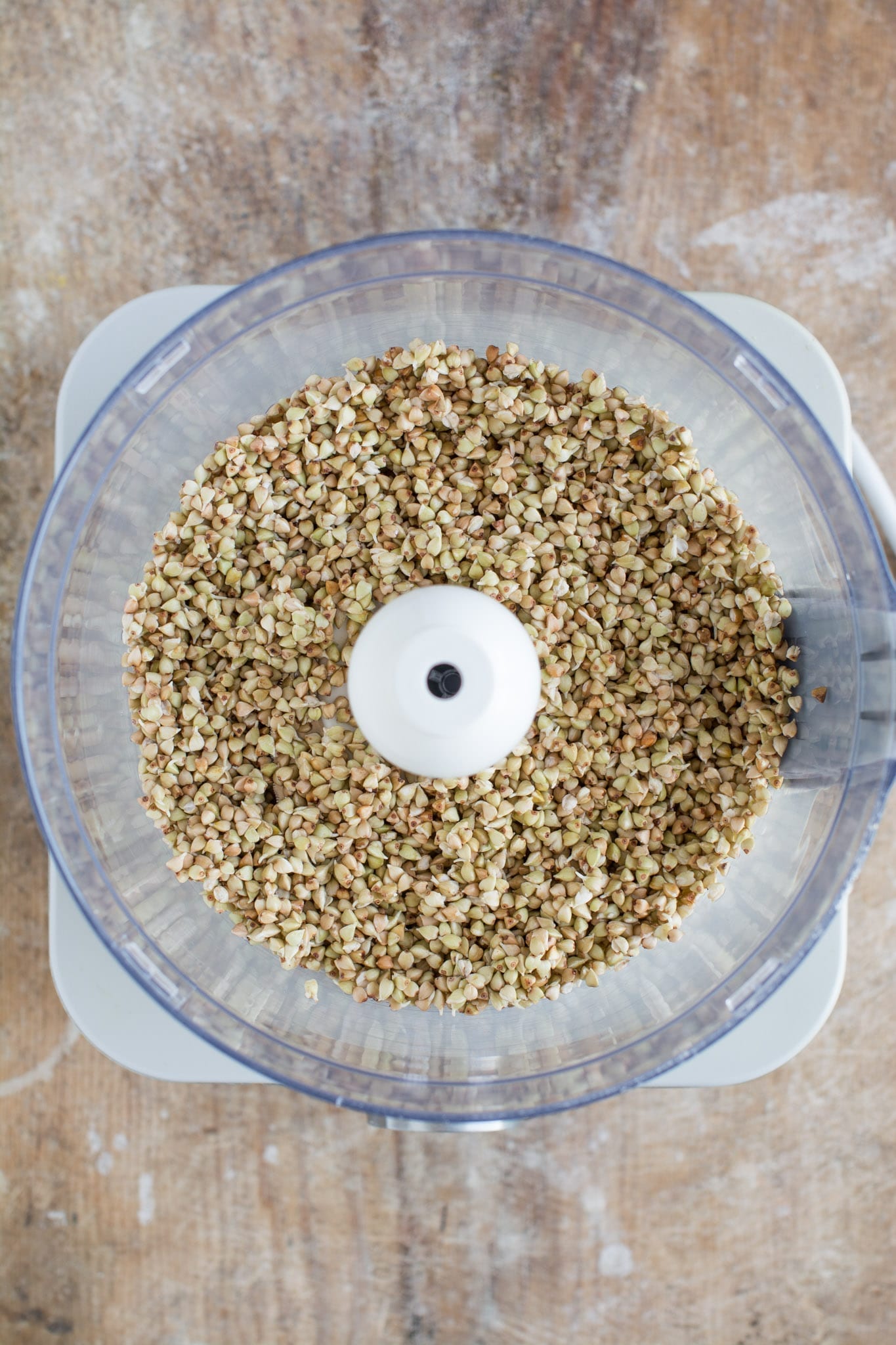 My gluten-free sprouted crackers are:
Oil-free
Plant-based
Low glycemic
Candida diet friendly (including the cleanse phase)
Soy-free
Nut-free and peanut-free
Flourless
Low-fat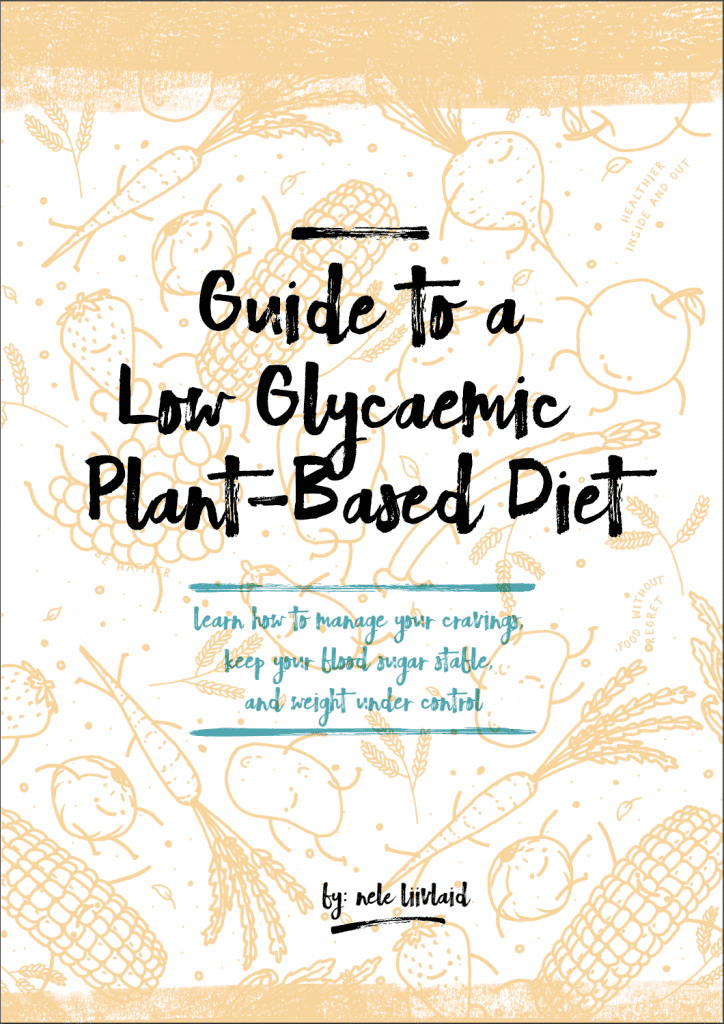 Print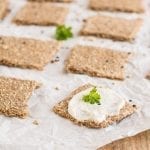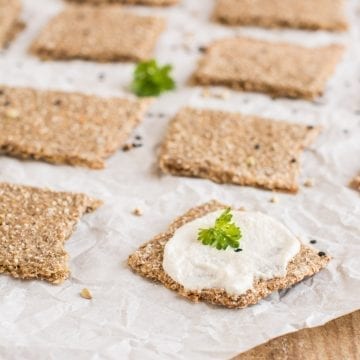 Gluten-Free Sprouted Crackers
---
Author:

Nele Liivlaid

Total Time:

40 minutes

Yield:

28

crackers

1

x
Description
Those 5-ingredient gluten-free sprouted crackers make a delightful and healthy snack with some peanut butter or homemade cashew yogurt.
Soak time: 6 hours
Sprouting time: 12-24 hours
---
---
Instructions
Start by soaking unroasted (raw) buckwheat groats for at least 6 hours for nutritional benefits. Then drain and rinse them well.
Next, place them (in a sieve) on a bowl bigger than the sieve and cover with clean and slightly damp folded kitchen cloth. Keep them at room temperature. Rinse them about 2-3 times daily as they can get slimy. The sprouts will be with ideal length in 24 hours, but already usable in 12 hours. Read more on How to Sprout Buckwheat.
When you have your sprouted buckwheat, throw it into food processor along with all the other ingredients and process until you have homogeneous batter. You'll need to scrape the sides with a spoon now and again.
Next, place the batter onto silicone baking mat or parchment paper (measured for the size of your baking sheet) and using spatula, spread it out a bit. Then, take another piece of parchment paper and place it onto batter. Gently press the pile down with your hands. Now, start rolling it out until it is almost the same shape and size as your baking sheet. Remove the top paper and lift the rolled out batter onto baking sheet. If you have a smaller rolling pin, you might be also able to roll it directly on baking sheet.
Bake the crackers at 175°C (350°F) for 25-30 minutes until golden. Then turn off the heat, open the oven door and let cool in the oven to get it really crispy. Should you like it a bit soft, remove immediately and start munching.
Prep Time:

15 minutes

Cook Time:

25 minutes

Method:

Baking
Nutrition
Serving Size:

4 crackers

Calories:

158 kcal

Sodium:

119mg

Fat:

2.1 g

Carbohydrates:

31.7g

Fiber:

4.9g

Protein:

6.2g
Keywords: sprouted crackers, buckwheat groats
Tips on my gluten-free sprouted crackers:
You can make them even simpler – just sprouted buckwheat, flax seeds, water and salt.
For cheese crackers add a few tablespoons of nutritional yeast.
Should you like seedy crackers, mix in or sprinkle on some soaked sunflower seeds or sesame seeds.
If time is of essence, use quick sprouting, i.e. soak buckwheat groats for just 20-30 minutes before putting them to sprout.
You CAN also make this recipe with soaked buckwheat. However, rinse and drain them well before adding to food processor.
Disclosure: this post contains affiliate links. As an Amazon Associate I earn from qualifying purchases. For every purchase made from the links in this post, you'll be able to support my work. So you can look after your health, and contribute to my mission at the same time. Thank you!
You're welcome to PIN the below image!