You only need 1 ingredient and a powerful blender to make raw almond butter at home. Enjoy your smooth and creamy homemade almond butter with no additives and pay 2-3 times less compared to store-bought varieties!
Raw homemade almond butter is:
Oil-free
Gluten-free
Dairy-free
Sugar-free
Low-glycemic
Candida diet friendly
In a nutshell, make almond butter at home and you don't need to worry about any additives, i.e. palm oil, coconut oil, sugar, and preservatives (to make shelf life longer).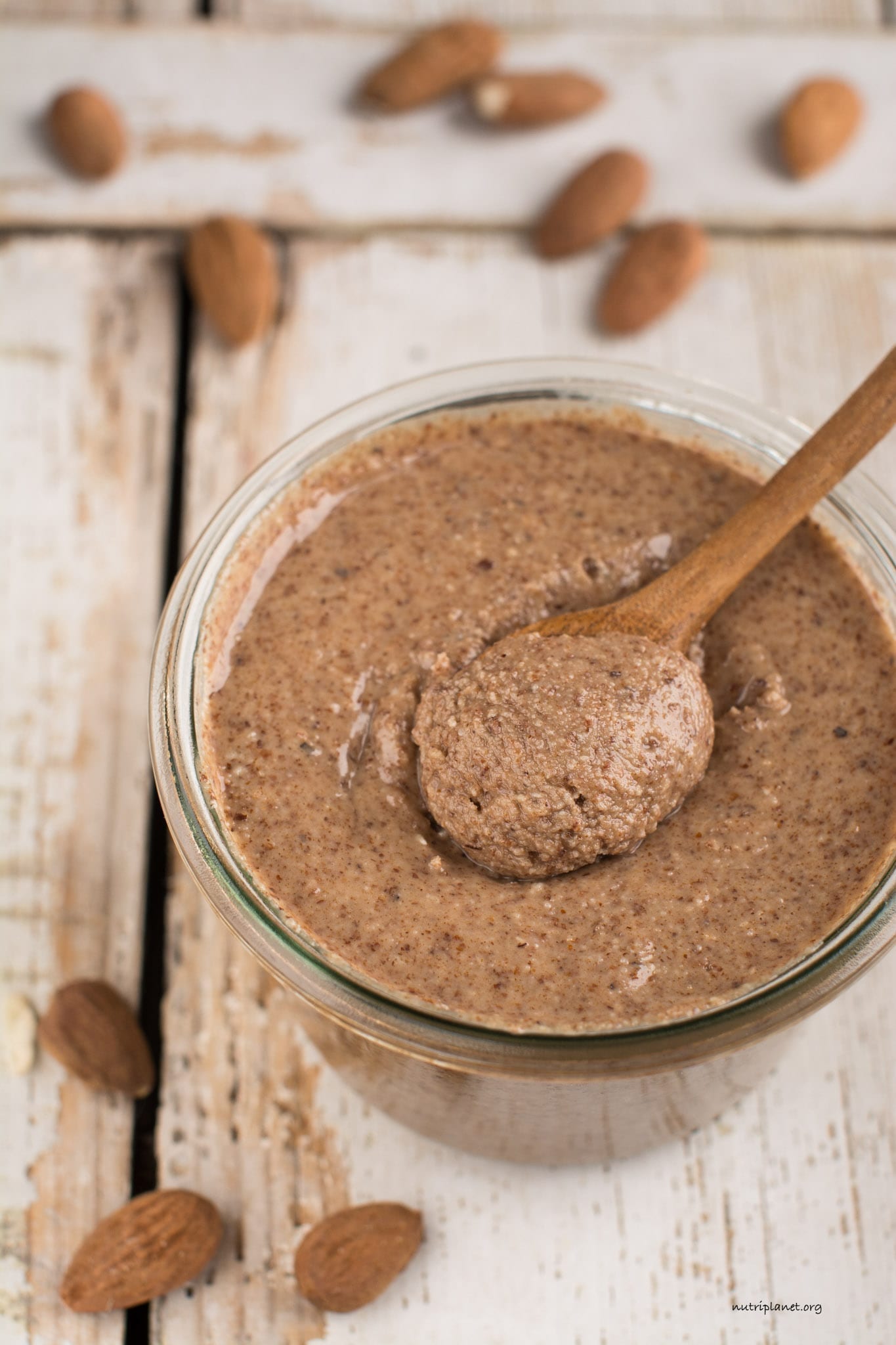 Be aware that making almond butter requires much more patience than for example cashew butter, because almonds don't turn into creamy butter as fast as cashews do. However, the outcome is so rewarding that you'll forget about the effort when you have jars of homemade almond butter in your fridge.
Make sure to scroll to the end to read about:
Tips for buying and storing almonds.
Why I prefer organic almonds.
How to soak and dehydrate almonds + benefits of soaking.
Signs that you need to soak your nuts and seeds.
Is almond butter healthy?
Tips for buying jars of almond butter.
Homemade almond butter uses.
And finally, why it is not a good idea to roast almonds.
How to Make Raw Homemade Almond Butter
What to Consider When Buying and Storing Almonds (or Any Nuts and Seeds):
Here's what you should keep in mind when buying and storing raw almonds:
First, buy organic almonds.
Secondly, if possible, buy them in vacuum packaging.
Thirdly, never buy loose almonds – air and light makes the oils go rancid.
Once you open the package, store the almonds in airtight containers in refrigerator or freezer (long time storage). Chia seeds and flax seeds are the only exception, as they can stay at room temperature without spoiling. However, put them in fridge as soon as you grind them!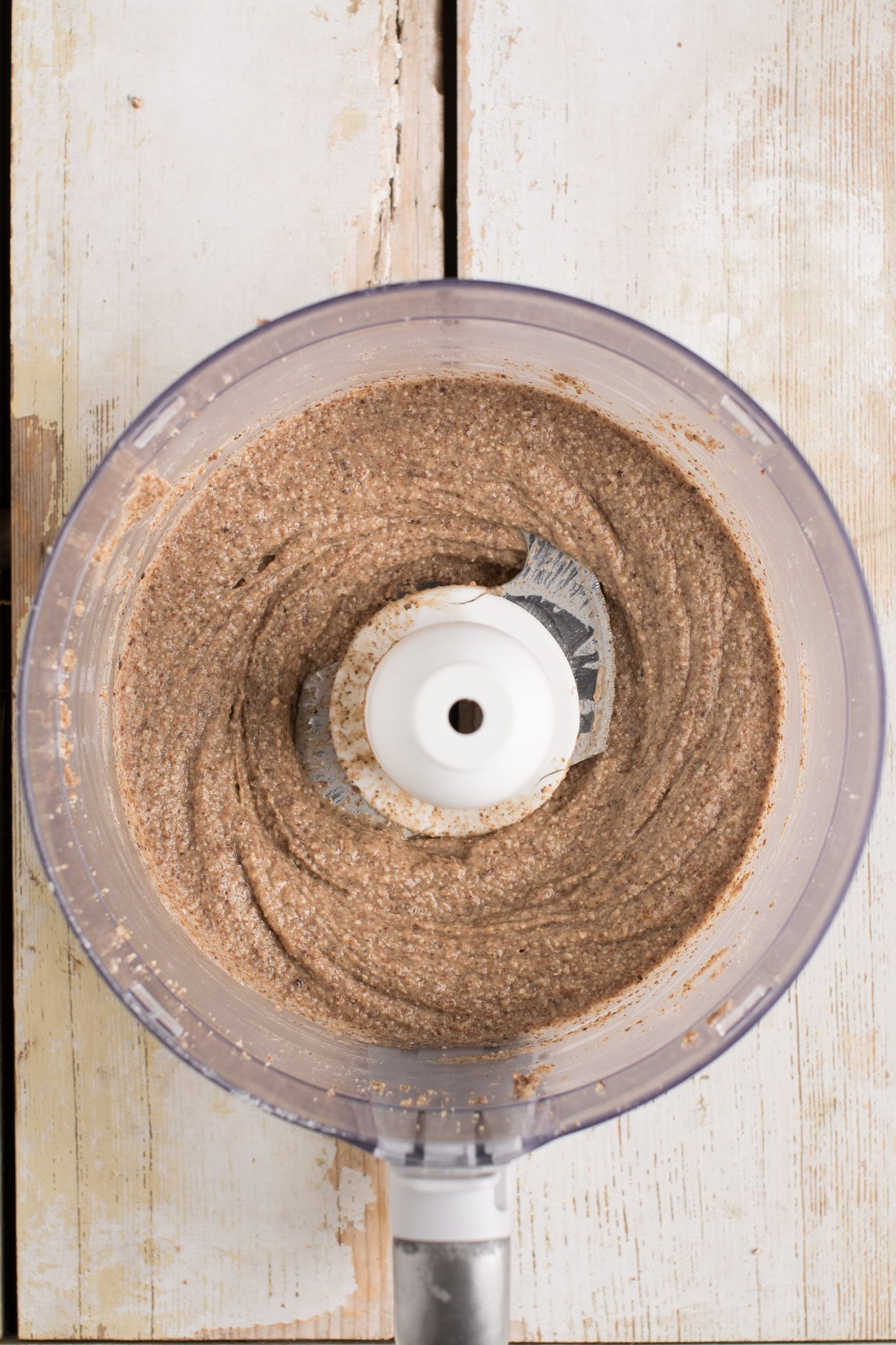 Why I Always Buy Organic Almonds
Almonds (as any nuts and seeds) are apt to absorb pesticides readily due to their high oil content. Moreover, the amount of pesticides used for growing nuts has been consistently rising in recent years.
In addition, non-organic nuts are often treated with fumigants (gases to kill bugs) after they are picked. So, it becomes easy to see why you should be wary of them.
And finally, to kill microbial pathogens, insect pests, mould, and other spoilage organisms, manufacturers irradiate the nuts. This practice is known for potentially creating dangerous carcinogenic by-products.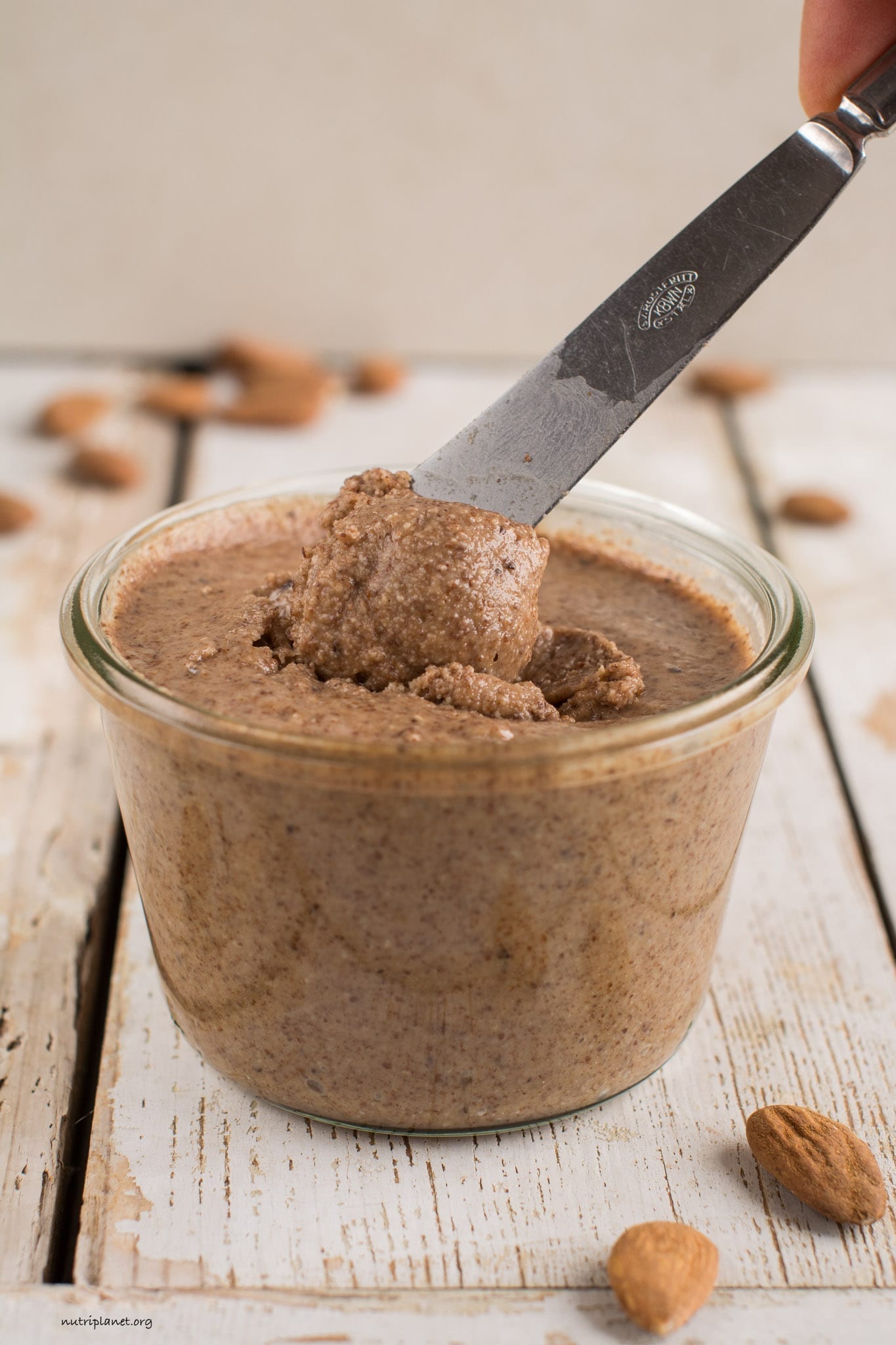 How to Soak Almonds
Here are the steps to soaking almonds:
Cover almonds with water.

Soak almonds in glass or ceramic container in filtered water for 8-12 hours.

Add salt or lemon juice.

Add ¼ tbsp. of sea salt for each cup of nuts. Rinse carefully to remove salt residue. Alternatively, use acidic medium such as lemon juice or apple cider vinegar – just add a splash to soaking water.

Dehydrate.

Let the almonds until they are crisp again at maximum 46°C (115°F) for 12-24 hours or until completely dry. Make sure they are fully dry or they could become mouldy.
I have found many references to soaking nuts, grains, and seeds in water, salt water, or a warm water mixture with something acidic like apple cider vinegar or lemon juice. However, some sources say that within 7 to 24 hours the enzyme inhibitors are neutralized and the anti-nutrients are broken down regardless of the method you choose.
Why Soak Almonds
Soaking nuts, grains and legumes is especially important for those with sensitive digestive system. Unsoaked nuts have phytic acid that inhibits mineral absorption and causes digestive ailments. However, you can easily neutralize the phytates and enzyme inhibitors by soaking the nuts in salt water (or salt and apple cider vinegar water) and dehydrating them at low temperatures.
Raw Soaked Almond Butter Benefits
There are numerous benefits to activated almond butter:
Soaking removes or reduces phytic acid and tannins as well as neutralizes toxins and enzyme inhibitors.
The monounsaturated fats in almonds keep you full and help you avoid binge-eating.
Soaking almonds also releases enzymes, which in turn help with digestion.
Vitamin E in soaked almonds works as an antioxidant, which inhibits free radical damage that prevents aging and inflammation.
Soaking makes the proteins more readily available and increases the amounts of vitamins, especially A, C and B vitamins.
Soaked almonds help in lowering and maintaining glucose levels and regulating high blood pressure.
Soaking improves flavour and texture of almonds.
Signs That You Need to Soak Your Nuts and Seeds
Some people handle raw unsoaked nuts and seeds better than others. However, here are some signs that indicate the need to soak them:
Your diet contains a lot of phytate containing foods, i.e. grains, beans, nuts and seeds?
You notice pieces of nuts in your stool.
You're having low belly pain after eating unsoaked nuts and seeds.
You're having trouble consuming enough minerals and B-vitamins.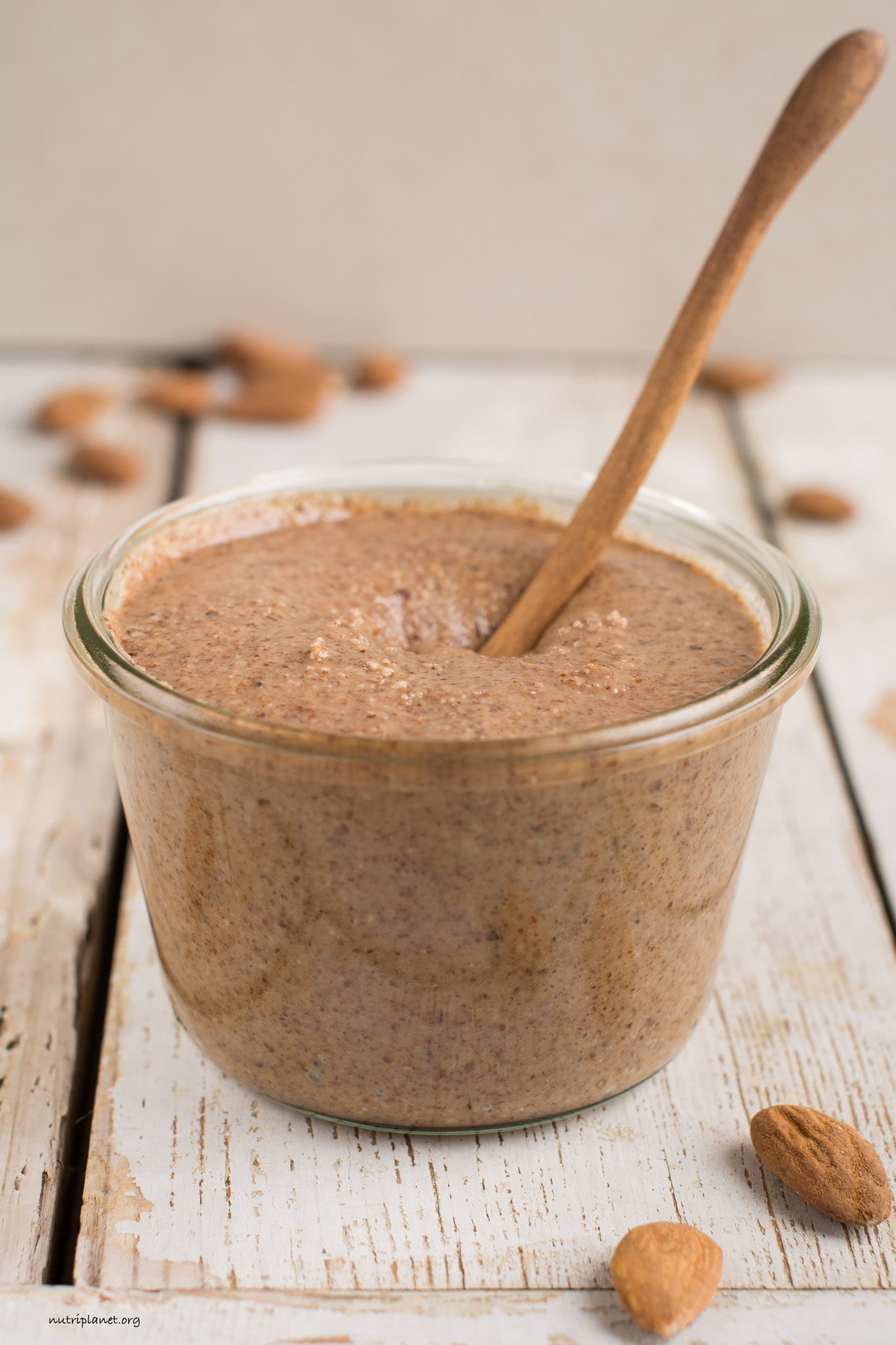 Is Almond Butter Healthy?
Raw additive-free homemade almond butter that is made with activated organic almonds definitely comes with health benefits. However, you need to watch the quantities! Within the bounds of reason is a good way to go – there'd be no doubt of insanity of a person eating a whole jar of almond butter, wouldn't you agree? And we've all been there, right? 🙂
Store-bought almond butter on the other hand can even have adverse effects on your health. Especially, if the almond butter is made of conventionally grown, unsoaked, irradiated, and roasted (probably even oil-roasted) almonds with added oils, sugars and preservatives.
Tips for Buying Jars of Almond Butter:
Always opt for organic almond butter.
Prefer unroasted nut butters. If roasted, prefer dry roasted almond butter.
Watch out for any additives, i.e. oils, sugars and preservatives. Look for 100% almonds in the ingredients' list.
If you can afford it, buy activated sprouted almond butter (some brands make the extra effort and soak/dehydrate their nuts and seeds). However, you end up paying three times more as opposed to buying raw almonds and making your own almond butter at home.
Finally, I'd like to hear from you! Have you ever made homemade almond butter? Or any other nut or seed butter? Do you soak your nuts or did you learn it from this post? I'd love to see your comments below! And tag me in social media if you try my recipes! Instagram @thenutriplanet and Facebook @nutriplanet.health.hub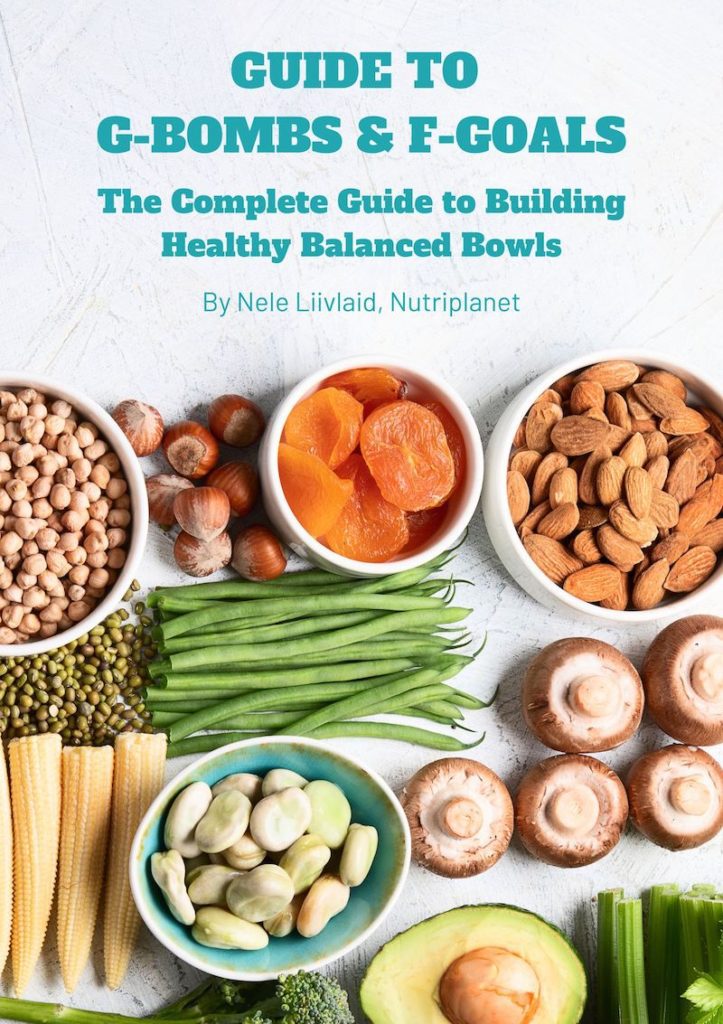 Step-by-step visual guide to building your own balanced bowls.
Print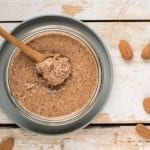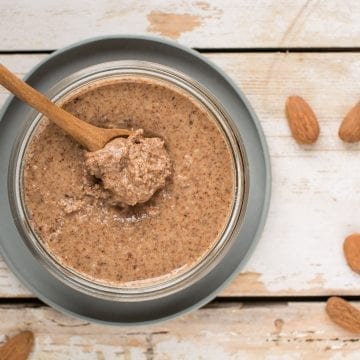 How to Make Raw Homemade Almond Butter
---
Description
Soaking time: 8-12 hours
You only need 1 ingredient and a powerful blender to make raw almond butter at home. Enjoy your smooth and creamy homemade almond butter with no additives and pay 2-3 times less compared to store-bought varieties!
---
---
Instructions
Start by soaking raw almonds for 8-12 hours (see instructions above). Then, dehydrate until fully dry. You might skip the first 2 steps, if your digestion can handle the phytates and enzyme inhibitors in raw inactivated nuts.
Next, pour the dehydrated almonds into high-speed or high-powered (at least 1000W) food processor.
Then, start processing. Scrape down the sides whenever the almonds start to stick to the walls and bottom of your food processor.
When the oils start to separate, the half-done almond butter will form bigger clumps and finally you'll see one big ball of almond paste running around the processor. Don't stop there! It might seem that it takes forever, but you'll have almond butter in the end! Separate the ball with a spoon or spatula and continue processing. Soon you'll see that the ball starts to come apart and the paste will look more and more like real almond butter. Process a little bit longer and you're done! It'll all take about 45 minutes with 1000W food processor. So, be patient and make sure to give your processor short breaks not to overheat it. I gave mine a 5-minute break at 35 minutes.
Prep Time:

45 minutes

Method:

Blending
Nutrition
Serving Size:

One tablespoon (16g, 0.6oz)

Calories:

95.2 kcal

Sodium:

0.16mg

Fat:

7.98g

Carbohydrates:

3.46g

Fiber:

2g

Protein:

3.39g
Keywords: homemade almond butter
Tips on My Homemade Almond Butter Recipe:
Take it one step further and make sprouted almond butter – sprout the almonds before dehydrating them. It'll take about 12 hours after you've soaked your almonds.
Make chocolate almond butter by mixing some cocoa and/or carob powder into your nut butter.
I suggest putting a bit more of almonds to soak, if you intend to eat some while they're dehydrating and maybe make a small batch of almond milk as well.
You don't need the latest and most powerful food processor to get the job done. Most probably you'd get faster results with high-powered blenders like Vitamix, but you definitely can do without. I prepare my homemade nut butters in 6-year-old 1000W Kenwood.
Store your almond butter in an airtight container in fridge.
You can also make cashew butter and peanut butter using the same recipe.
How to Properly Store Almond Butter
In general, almond butter is high in fats and low in water making it hard for bacteria to grow. [source] However, there are some differences between storing homemade and store-bought almond butter. That's why I will give you tips for both options.
Storing Homemade Almond Butter
Your homemade almond butter can last for up to a month when stored at room temperature in a clean container or jar. At the same time, you can prolong its shelf-life by putting the jar in the fridge, in which case it will last for 3-4 months.
Storing Store-Bought Almond Butter
When I talk about store-bought almond butters, I refer to natural additive-free products.
In general store-bought peanut butters without additives can last for several months in the pantry unopened, and up to a month once opened.
However, put the same jar in the fridge and it's good for up to a year if unopened, and for 3-4 months once opened. [source]
Homemade Almond Butter Uses:
Eat as is or with raw apple slices, carrots, celery, bell pepper.
Mix into desserts or add into or on top of your porridge.
You can spread it on your toast, waffle or pancake.
Make raw candies with almond butter and one or few of the herbal powders – cocoa, carob, mesquite, reishi, spirulina, and/or cinnamon. Add a pinch of Himalayan salt to enhance the flavours and a preferred sweetener (stevia, xylitol, maple syrup, coconut nectar/sugar). You won't need to add anything for sweetness when using carob and/or mesquite, as they are naturally sweet.
Some almond butter snacks on my blog: almond butter protein balls, almond butter cups, almond butter brownies.
How About Roasted Almonds?
I do not recommend roasting the almonds (or any nuts). After all, soaking and dehydrating process is more careful when it comes to preserving the health benefits of nuts and seeds.
You should be especially cautious about commercially roasted almonds (or any nuts) as they're often flash-fried in cheap, rancid oils. Even though dry roasted nuts are a better alternative, they're still exposed to high temperatures that alter the nutrients and cause the breakdown of fats, and therefore increasing free radical capacity.
Whenever I need to buy nut butters, I go for raw organic almond butter (or any other nut or seed butter).
Feel free to PIN the below image!