This 1-pot gluten-free vegan stew with brown lentils is a perfectly quick and filling main dish to add to your salad bowls! Lentils and peas make it so hearty and creamy while the corn is there to surprise you with sweetness.
Definitely give this recipe a try, if you are into plant-based comfort foods that require only minimal effort yet are so rewarding and satisfying. In my opinion, any vegetable stew with beans or lentils falls under comfort food category. Moreover, it's super simple to throw these stews together!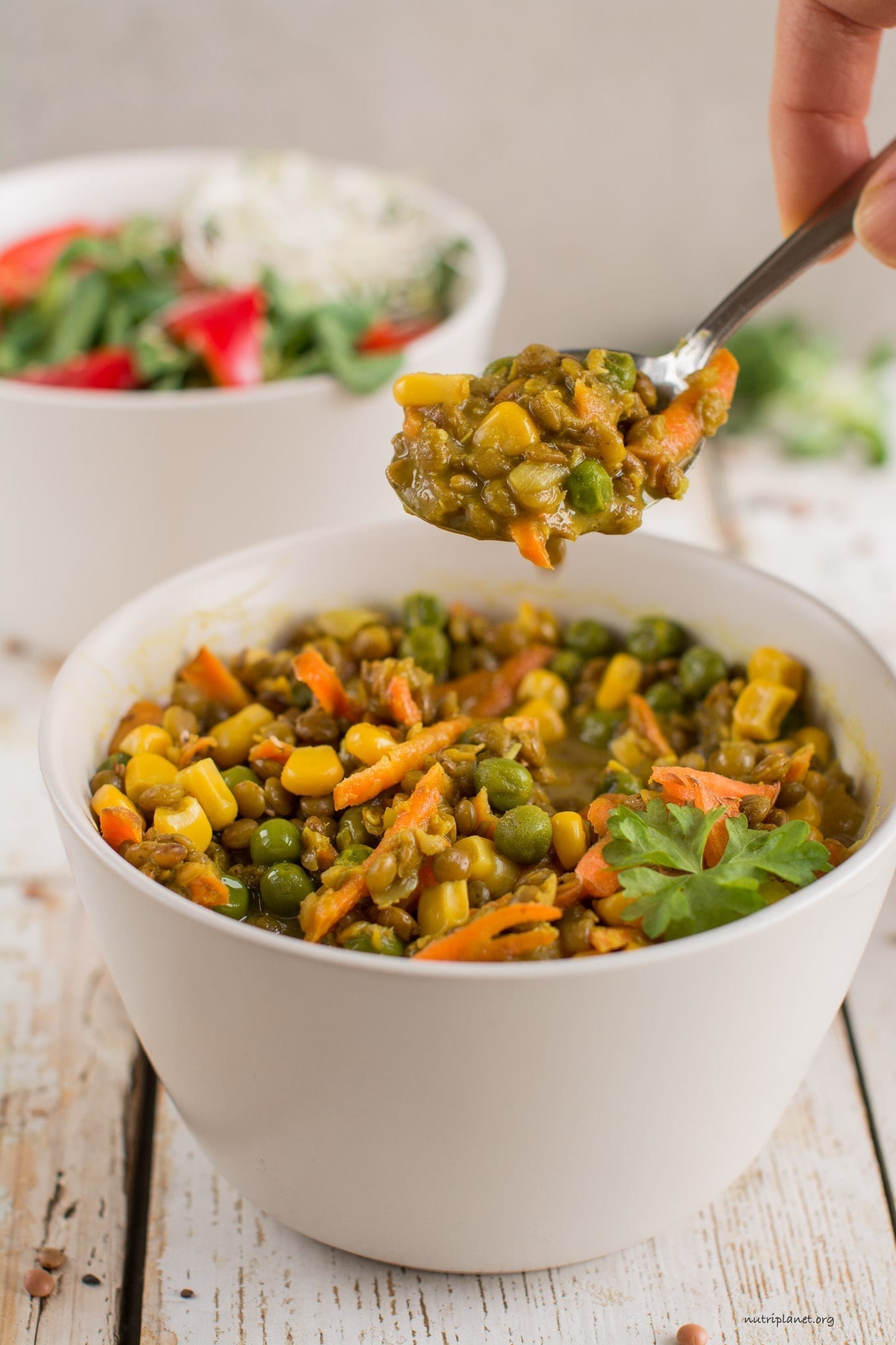 Let me take you through a few simple steps that you can follow to create your own vegan stew with the ingredients in hand.
Step-by-Step Guide to Simple Vegetable Stew
Choose legumes and/or grains and put them to soak.
Start with the base of onions or leek, garlic, celery and carrot.
Choose the flavours: Indian spices or Mediterranean herbs.
Add a sweet and/or starchy vegetable, e.g. sweet potato, potato, butternut squash, green peas, corn, beetroot.
Optional: add a few more non-starchy veggies, e.g. summer squash, fennel, green beans, cauliflower, broccoli, bell pepper, kale, spinach, chard.
Decide how to make it creamier: add nut or seed butter, coconut milk and/or tomato paste or puree. In addition, mash the stew a bit with potato masher at the end.
Watch how to meal prep on whole food plant-based diet:
Extra tips for vegan stews
As far as the cooking process is concerned, you may follow the directions below. Remember to add the veggies that need longer cooking (starchy veggies) in the beginning and the ones that need only few minutes (greens, broccoli), at the end.
To get the most out of garlic, crush it and add only when the stew is done not to destroy the beneficial allicin.
The fact that you can batch-cook those 1-pot vegan stew recipes, makes them especially convenient and timesaving. Prepare a big potful of any vegan stew with lentils, chickpeas, mung beans, split peas or beans, store it in fridge and you're good to grab yourself a quick and yummy meal for the next 3-4 days.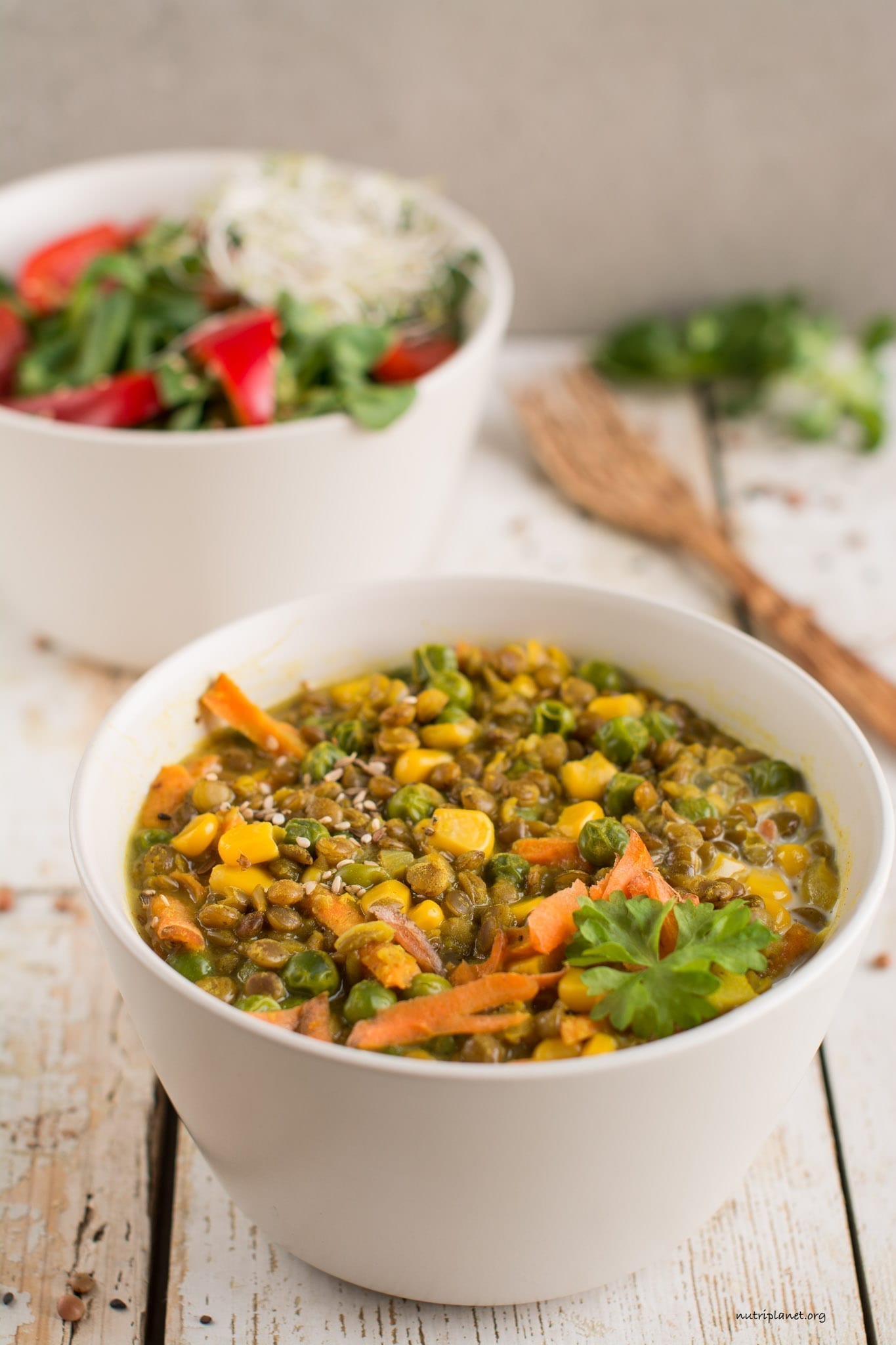 A few more words on this hearty vegan stew
If you are familiar with my blog, then it's not difficult for you to guess that no oil (not even olive oil) is used in this vegan stew recipe. Instead, I add a bit of water while sautéing to prevent veggies sticking to the bottom of pot. Alternatively (if you feel that water is too watery), try using vegetable broth or even wine. However, believe me, the juice that'll come from the veggies is so sweet and thick that it makes you forget about oils.
In order to make this vegan stew heartier and creamier I included coconut milk. However, if you're into very low-fat food, you could easily leave it out. Instead, mush the stew with fork or potato masher at the end to have creamier result.
This vegan stew recipe really deserves credit because it's:
Super easy to make
A 1-pot recipe
Perfect for batch cooking
Ideal vegan comfort food
So filling and satiating
I always try to come up with vegan recipes that would be suitable for most dietary restrictions. This vegan stew is no different as it's:
Plant-based
Gluten-free
Grain-free
Dairy-free
Oil-free
Low-fat
Soy-free
Candida diet friendly
Nut-free
Peanut-free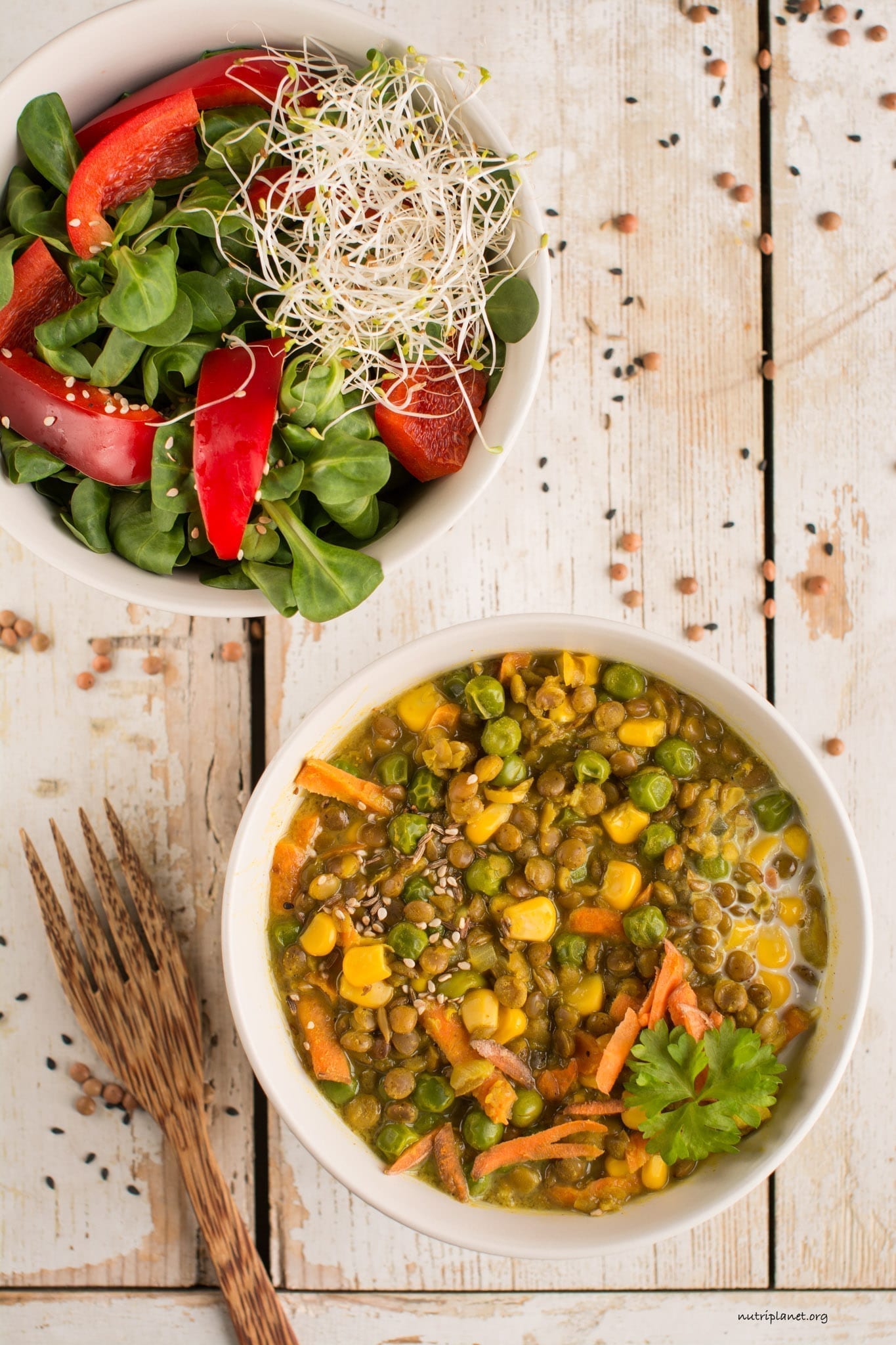 Finally, I'd love to hear from you! Are you into such easy and comforting meals? Let me know your thoughts in the comments below! And tag me in social media if you try my recipes! Instagram @thenutriplanet and Facebook @nutriplanet.health.hub
Print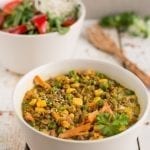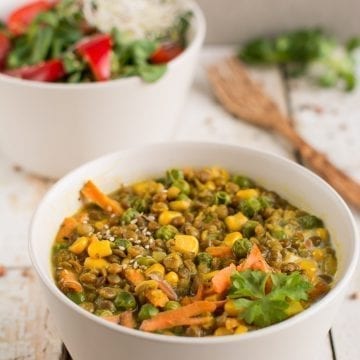 Vegan Stew Recipe With Brown Lentils, Green Peas and Corn
---
Author:

Nele Liivlaid

Total Time:

40 minutes

Yield:

4

servings

1

x
Description
This 1-pot gluten-free vegan stew with brown lentils is a perfectly quick and filling main dish to add to your salad bowls! Lentils and peas make it so hearty and creamy while the corn is there to surprise you with sweetness.
Soak time: 6 hours
---
200g

(

7oz

) dry brown lentils, soak

1

small onion (about

60g

,

2.1oz

)

2

big garlic cloves (about

10g

,

0.4oz

)

2

tsps. turmeric

1 tsp

. toasted and crushed cumin seeds

1 tsp

. toasted and crushed mustard seeds

½ cup

additive-free corn (frozen or canned)

1 cup

green peas (frozen or fresh)
ADD LATER
---
Instructions
Start by soaking lentils for 6-8 hours. Rinse, drain and set aside.
Next, prepare the spices – toast cumin seeds (from 30 seconds to 1 minute until your nose just gets a whiff of smoke and fragrance) and mustard seeds (2-5 minutes until fragrant and lightly browned, removing from heat when the seeds start to pop) on a dry pan, let cool and crush using mortar and pestle. Or make a bigger batch and grind in a spice grinder.
Then, crush garlic cloves, finely dice onion and grate carrots.
Heat up a few tablespoons of water (or use vegetable broth) in a skillet or large pot. After that, add onions and sauté them covered for 2-3 minutes stirring every now and then. Add water whenever necessary.
Next, add turmeric, soaked lentils, frozen peas and corn (if you use frozen). Give everything a good stir. If you didn't toast the spices, throw them (crushed) in along with turmeric. Add enough water to cover the ingredients. Mix well and cover with lid. Bring to boil, then reduce the heat and simmer covered for 10-15 minutes or until the lentils are tender.
At this point, mix in crushed garlic, canned corn and toasted/crushed cumin and mustard seeds. Bring to boil and turn off the heat.
Finally, add coconut milk. Mix until it's well incorporated. Let cool a bit before you add Himalayan salt and black pepper to taste.
Prep Time:

20 minutes

Cook Time:

20 minutes

Method:

Stewing
Nutrition
Serving Size:

¼ of the recipe

Calories:

256 kcal

Sodium:

138mg

Fat:

3.98g

Carbohydrates:

36.1g

Fiber:

7.72g

Protein:

15.2g
Tips on my vegan stew recipe:
Any lentils would work well – unhulled red lentils, black lentils, or any variety of green lentils.
Use 2 teaspoons of my Indian Spice Mix instead of cumin and mustard seeds. Another option is to replace turmeric, mustard and cumin seeds with 4 teaspoons of your favourite curry powder.
Soy sauce or tamari sauce would be a great substitute to Himalayan salt.
If you're allergic to corn, use sweet potato instead. Add half a cup of small cubes.
Feel free to add more coconut milk if you're not concerned about fat content.
Alternatively, use any nut/seed butter or even cashew cream (or any plant yogurt) instead of coconut.
If you're on Candida cleanse diet, let the lentils sprout before you cook them and ditch corn and green peas. Instead, add a cup of cubed summer squash or any other preferred non-starchy veggie.
Serve my gluten-free vegan stew with:
Lettuce and/or arugula.
Steamed leafy greens (collard greens, turnip greens, kale, card, pak choi, or spinach).
Steamed veggies (Brussels sprouts, broccoli, cauliflower, Chinese cabbage, or asparagus).
Oven baked veggies (bell peppers, cauliflower, beetroot, carrots, turnip, parsnip or mushrooms).
Raw veggies (sauerkraut, white or red cabbage, turnip, carrots, radishes or bell pepper).
Place the stew on top or aside of the veggies and it'll also serve as a dressing. Should you feel the need for some extra sauce, try Tahini-Chickpea Dressing, Spicy Tomato Sauce, Homemade Pasta Sauce, or Oil-Free Veggie Sauce.
Disclaimer: this post contains affiliate links.