This simple homemade tomato pasta sauce only requires 7 ingredients, one pot and 15 minutes of active prep time. It is perfect over freshly cooked pasta or even on a salad bowl.
Don't be afraid even if you're just novice to cooking! There is no rocket science to this recipe and the ingredients are really simple:
Tomato puree
Fresh garlic
Onions
Carrot
Celery
Oregano and rosemary
Fresh basil
Corn (optional)
Salt and pepper
I bet you already have most of the ingredients in your kitchen or pantry. Even if you don't, all of them are readily available in any supermarket.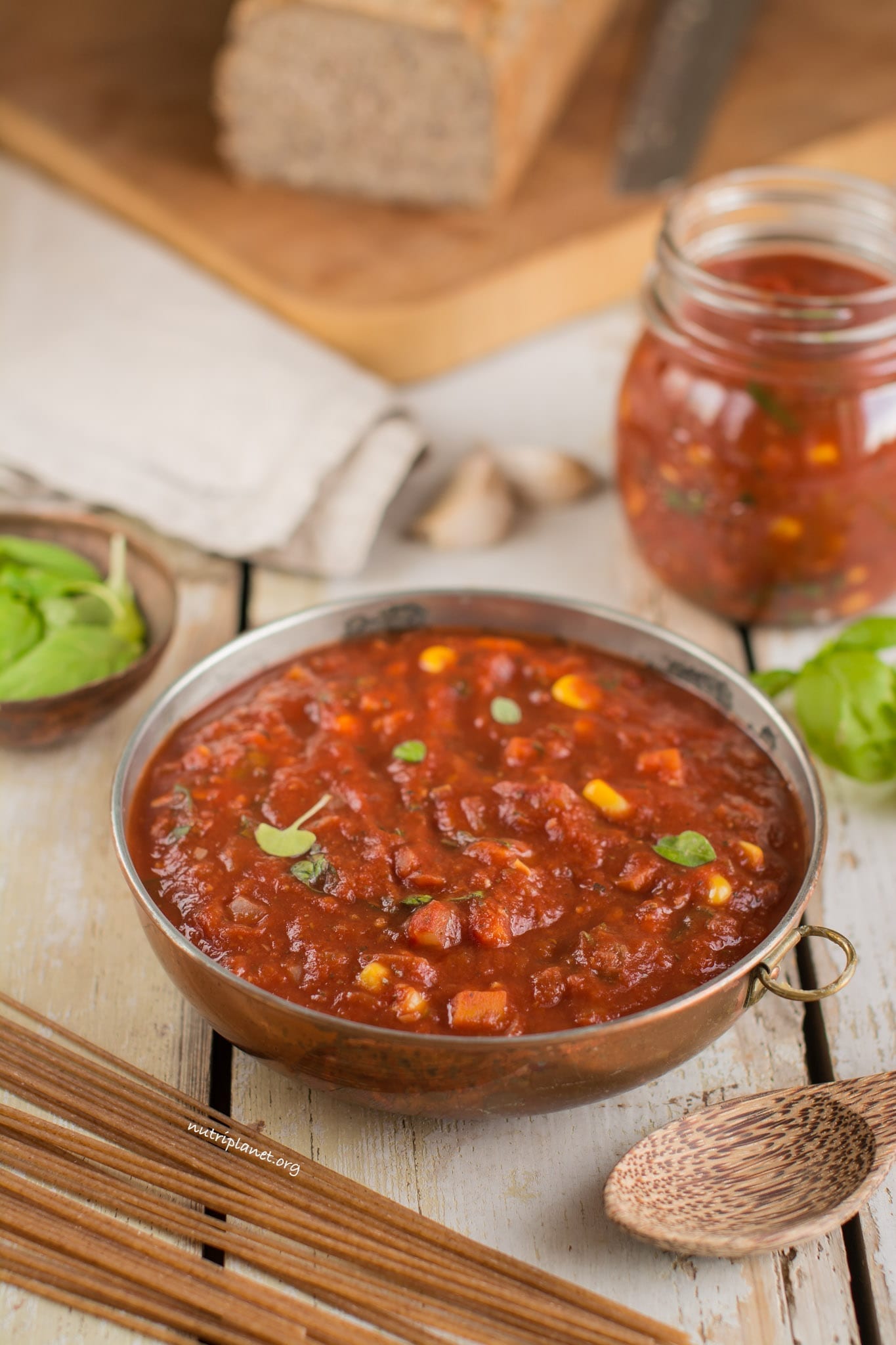 My tomato pasta sauce differs from the basic tomato sauce by the addition of some great nutritious veggies, i.e. carrots, celery and corn. As far as the herbs are concerned, I decided not to keep it to oregano only, but flavoured it up with some rosemary as well.
Finally, corn gives this tomato pasta sauce the final touch by adding some sweetness to otherwise sour tomatoes.
What I love about this tomato pasta sauce is that it's:
So versatile
Easy to make
Perfect for batch cooking
Only 7 ingredients (not counting salt, pepper, water and anything optional)
One-pot-recipe
The undisputed merits of this simple tomato pasta sauce include:
Gluten-free
Low-fat
Low glycemic
Candida diet friendly
Soy-free
Nut-free and peanut-free
Please let me know when you make this recipe or just have questions! Comment below or tag me in social media!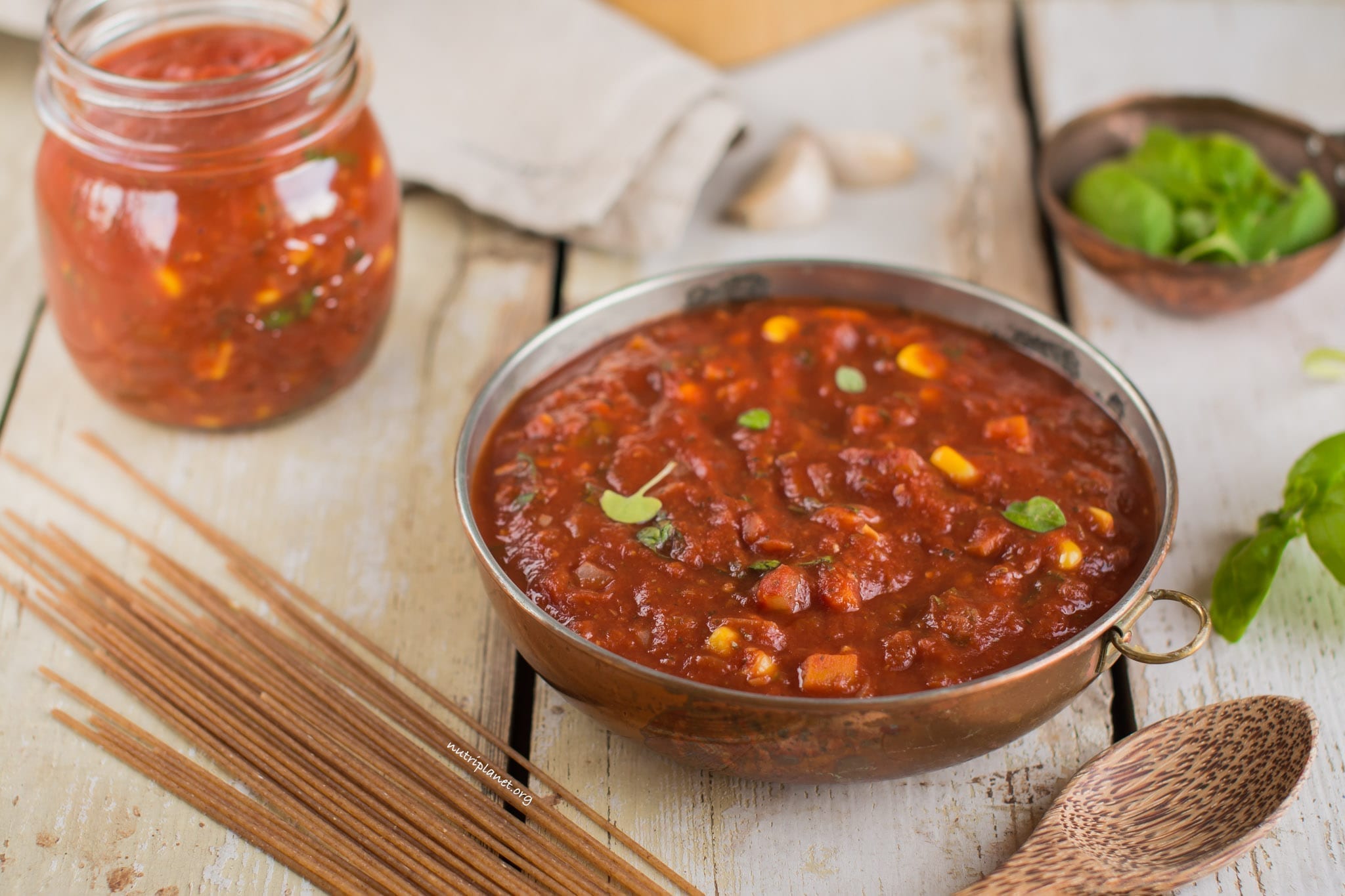 You might also enjoy my Spicy Tomato Sauce.
Enjoy!
Homemade Tomato Pasta Sauce Recipe
Ingredients:4 servings
1 small onion
4 garlic cloves
1 medium carrot
1 medium celery stalk
2 tsps. dried oregano
1 tsp. dried rosemary (optional)
680g (24oz) of unsalted tomato puree
70g (2.5oz) of water
⅓ heaping cup corn (optional)
Leaves of 3 basil stalks
Himalayan salt and black pepper to taste
Directions
First, finely chop carrot, celery, onion and garlic. Next, sauté the chopped veggies with dried herbs and 3 tablespoons of water for 5 minutes.
Then, add tomato puree and 70 grams of water. Stir well and let simmer over medium heat for 30 minutes stirring occasionally.
Add corn and let simmer for another 3 minutes (not necessary if you use canned corn).
Finally, mix in chopped basil leaves and let cool a bit.
Enjoy this tomato sauce over:
Freshly cooked pasta
Buddha bowl or salad
Slice of bread or cracker
Alternatively eat as a stew or thick soup.
Nutritional info per serving: 105 kcal, 19.4g carbohydrates (86.7% of kcal), 0.5g fats (4.21% of kcal), 4.1g protein (15.6% of kcal), 3.41g fibre, 4 GL points.
Tips on my homemade tomato pasta sauce:
You may also use diced tomatoes (even better tomatoes from the garden) for this pasta sauce recipe. Use the same weight. Another option would be ready chopped tomatoes.
Should you have a problem with Candida overgrowth, add green peas or edamame beans instead of corn.
If you prefer your sauce creamy, transfer everything into food processor or blender and process until desired consistency.
Disclaimer: this post contains affiliate links.