This vegan squash casserole recipe is a perfect comfort food that will enrich your dinners. It is also a great recipe for batch cooking – just double the recipe and store in fridge for easy weeknight meals. Watch tutorial video further down!
In my vegan casserole the sweetness of butternut squash and lightness of zucchini meet in a perfect combination with flavourful tomato sauce and hearty cashew cheese. I must say I'm particularly happy about the vegan cheese – it firms up perfectly on top of the casserole and stays so creamy between the layers.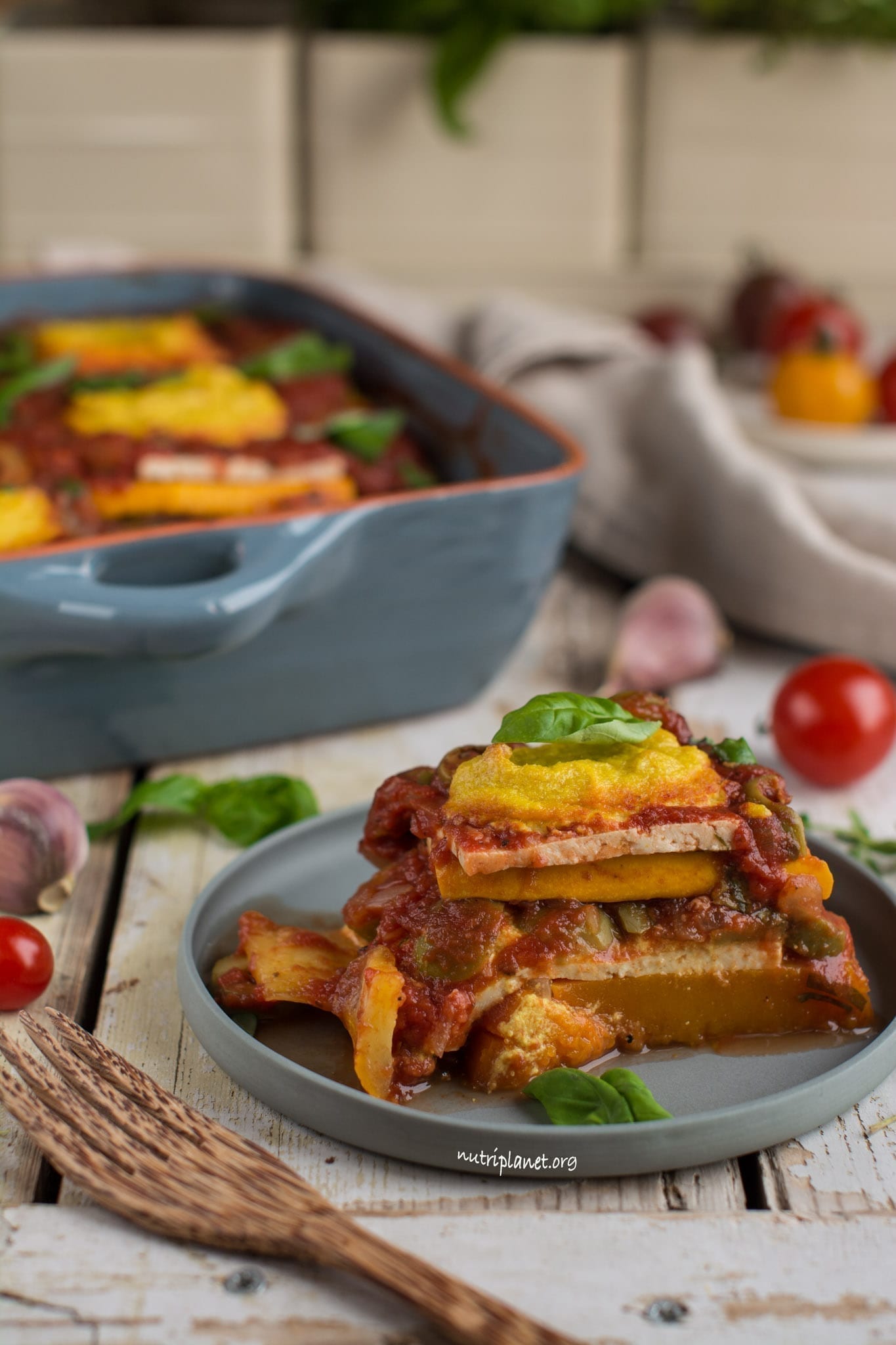 What's more is that my squash casserole recipe uses only simple ingredients that are readily available in any store:
Tomato sauce
Summer squash
Butternut squash
Olives
Cashews
Tofu
Zucchini casserole recipes are usually light, but mine turned out quite cheesy thanks to the addition of tofu and cashew cheese.
You'll love this vegan casserole recipe if you're one of those zucchini lovers. I know I am! Besides, it's the season and summer squashes are available in abundance. So, it's better to make a good use of those tasty and nutritious nature's gifts.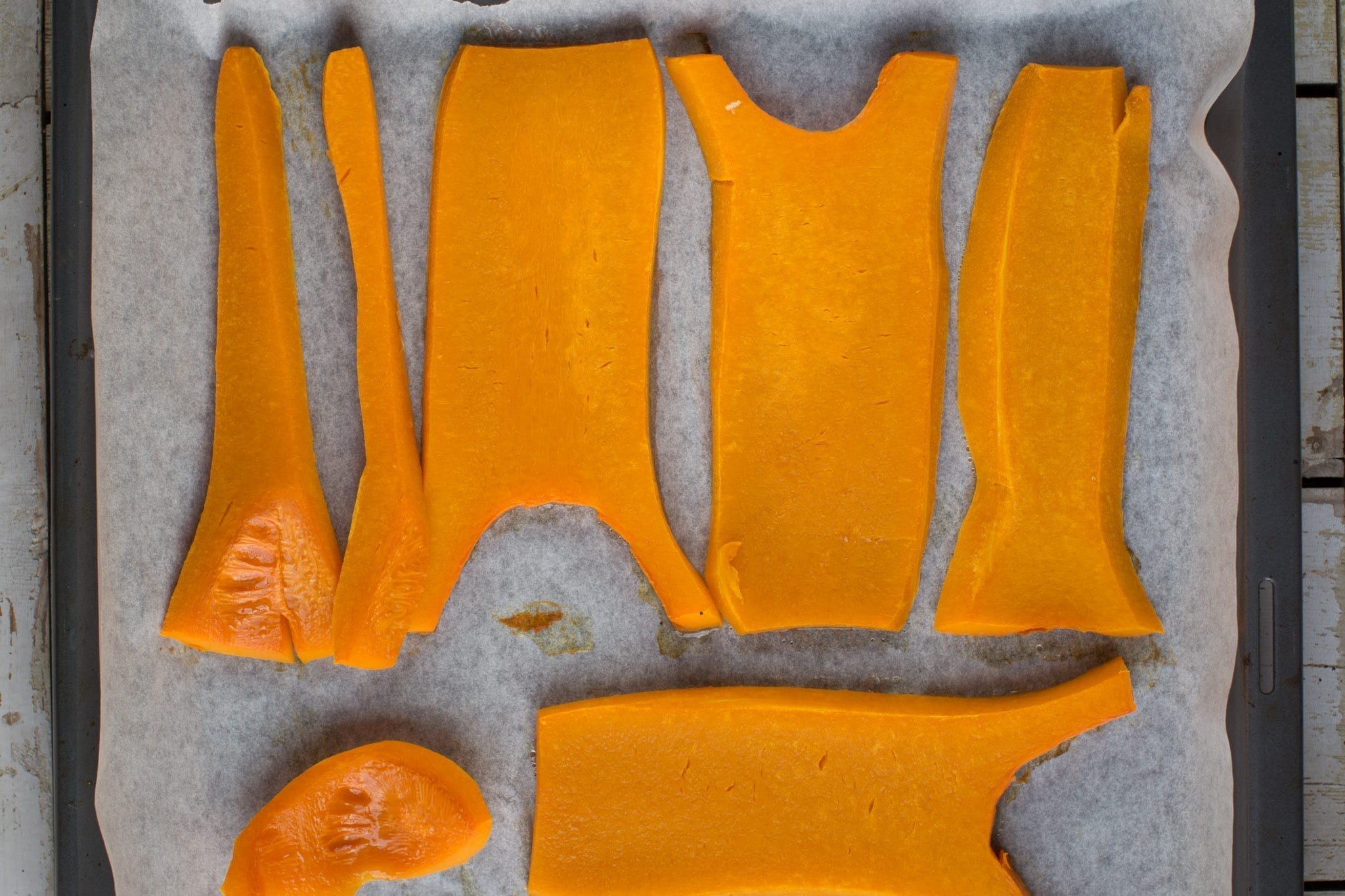 Tips on planning the cook time of this zucchini recipe:
Pre-prep time – cashews need to soak for 2 hours.
Active prep time is about 40 minutes – cutting squashes and placing them on baking sheet. While the veggies are in oven, you can put tomato sauce to simmer. When the sauce is simmering, prepare cashew cheese, chop olives and cut tofu in slices. Finally, when everything is ready, assemble the casserole.
The casserole will be in oven for 45 minutes.
Cool-time is 45-60 minutes.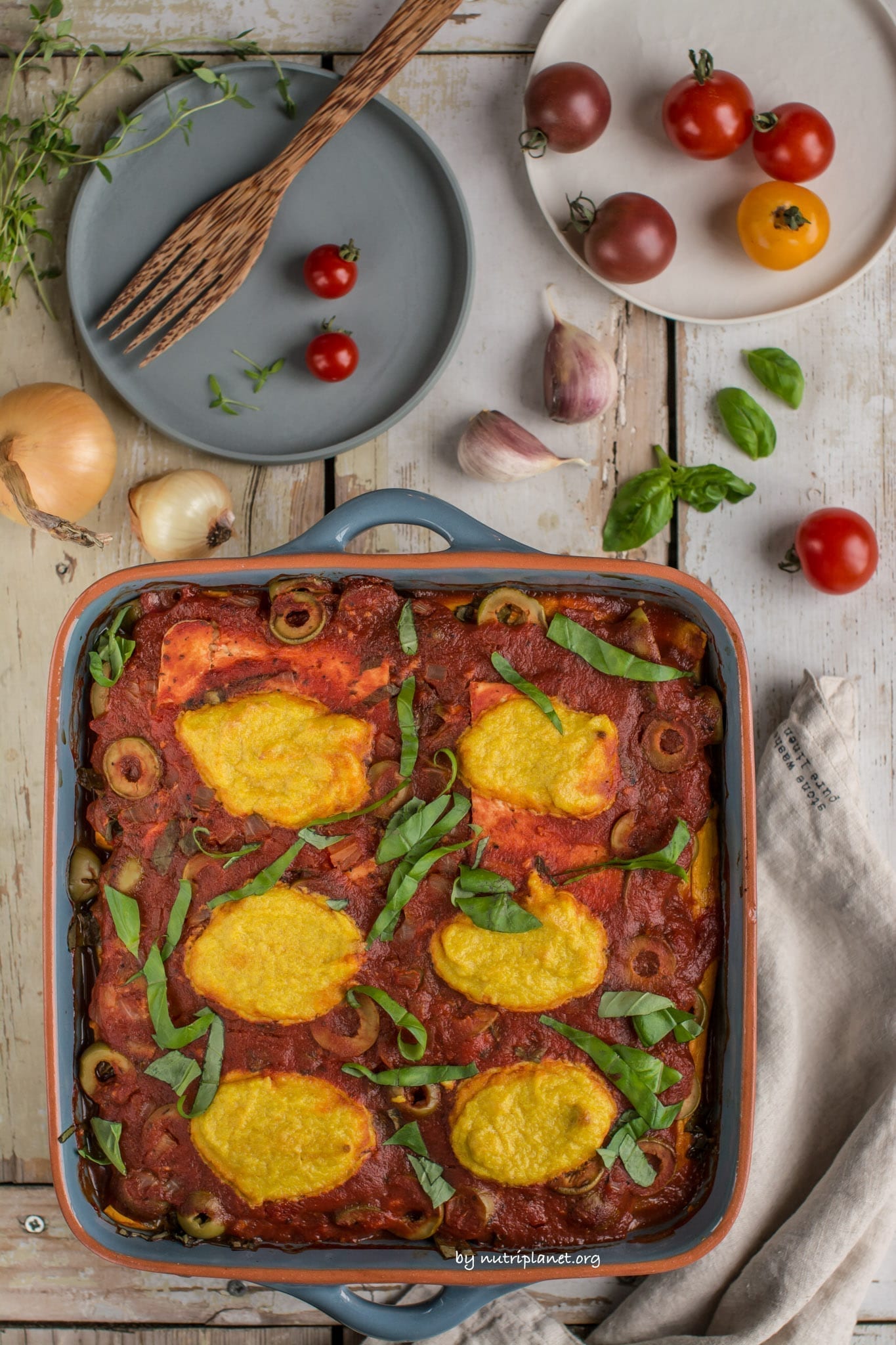 If I wanted to label my squash casserole recipe, I'd go:
Plant-based
Grain-free
Peanut-free
Gluten-Free
Oil-free (but NOT low-fat)
Low-carb
High-protein
Candida diet friendly
I'd love to hear from you when you try this summer squash casserole recipe! Just comment below this post or tag me in social media Instagram @thenutriplanet and Facebook @nutriplanet.health.hub
Enjoy!
Print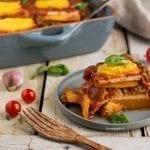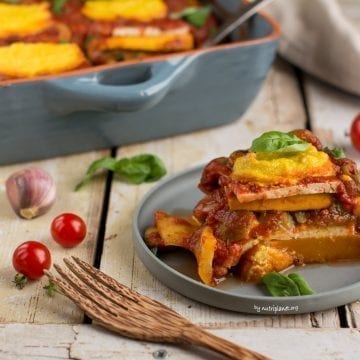 Vegan Summer Squash Casserole Recipe + Video
---
Author:

Nele Liivlaid

Total Time:

1 hour 40 minutes

Yield:

6

servings

1

x

Diet:

Vegan
Description
This vegan squash casserole recipe is a perfect comfort food that will enrich your dinners. It is also a great recipe for batch cooking – just double the recipe and store in fridge for easy weeknight meals. 
---
Tomato Sauce
1

big onion

2

garlic cloves

680g

(

24oz

) unsalted tomato puree + about ¼ cup water
Himalayan salt and black pepper to taste (max 1/8 tsp. + a dash for Plantricious version)

1 tsp

. dried oregano
Cashew Cheese
Other
1

big summer squash

1

medium butternut squash

200g

(

7oz

) firm tofu

160g

(

5.6oz

) green olives
Leaves from

3

basil stalks
---
Instructions
Soak cashews for at least 2 hours. Rinse and drain when you start making the cheese.
Start with cutting your squashes longways into the length of your casserole dish. Cut about 1-1½ cm (0.4-0.6 inch) thick pieces. Place the squash slices on 2 baking sheets lined with parchment paper. Sprinkle some Himalayan salt onto summer squash.
Next, bake butternut squash at 200°C (390°F) for 25-30 minutes. Then, do the same with summer squash.
While the squashes are baking, prepare tomato sauce. First, in a large skillet over medium heat, sauté chopped onion with a few tablespoons of water for about 3 minutes until the onion is transparent. Then, add tomato puree and oregano. Mix it all up, bring to boil and simmer on low heat for 15 minutes. Stir the sauce every now and then. Turn off the heat and add crushed garlic, salt, pepper, and stevia.
When the tomato sauce is nicely simmering, chop olives and basil leaves and cut tofu into 12 slices.
Then, prepare vegan cheese by blending all ingredients into smooth mixture. See tips below.
Now, it's time to assemble the casserole! Take a baking dish (I used 22×22 cm, 8.6×8.6 inch) and start layering. 1st layer: tomato sauce; 2nd layer: butternut slices; 3rd layer: tofu; 4th layer: cashew cheese; 5th layer: olives and basil; 6th layer: tomato sauce; 7th layer: zucchini slices; 8th layer: tofu; 9th layer: olives and basil; 10th layer: tomato sauce. Finish with cashew cheese. Check the video!
Bake the squash casserole at 200°C (390°F) for 45-50 minutes until the cheese starts to turn golden brown. Let cool for at least 45-60 minutes before serving. The longer it cools, the tastier it gets!
Cook Time:

100 minutes

Method:

Baking
Nutrition
Serving Size:

⅙ of recipe

Calories:

232 kcal

Sodium:

216mg

Fat:

10.3g

Saturated Fat:

1.8g

Carbohydrates:

22.6g

Fiber:

7.2g

Protein:

11.3g
Keywords: vegan squash casserole
Serving tips for my zucchini casserole:
It is perfect as main meal as well as side dish.
Have plenty of greens with the casserole: lettuce or steamed kale, chard or pak choi.
Steamed veggies would also make a good companion to this casserole: broccoli, Brussels sprouts, cauliflower.
If you need extra sauce, try Tahini-Chickpea Dressing, Vegan Cheese Sauce or whip up a simple dressing made of tahini, lemon juice, water, turmeric, salt and black pepper.
Disclaimer: this post contains affiliate links.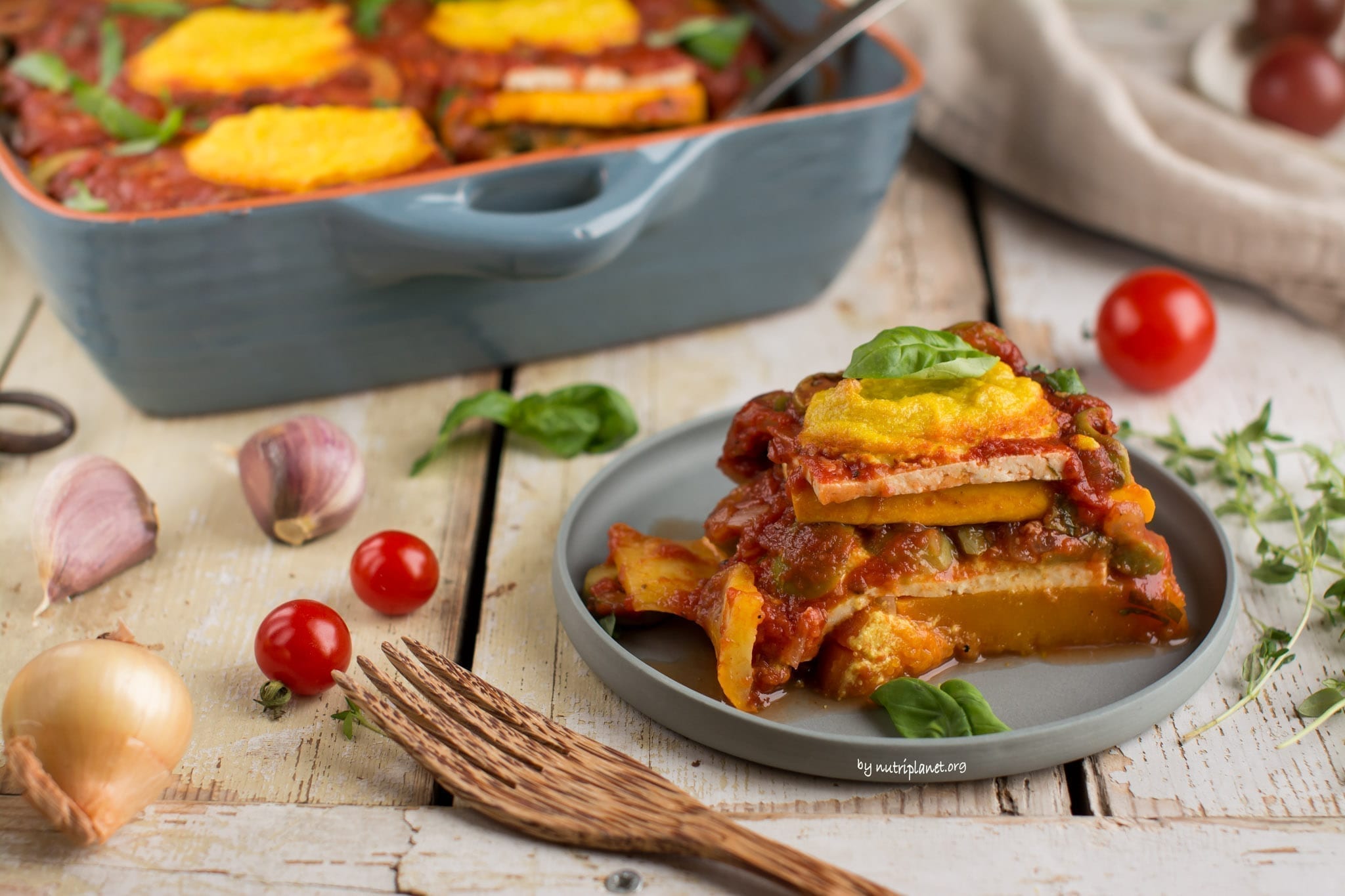 Tips on my vegan squash casserole recipe:
For extra cheesy flavour, sprinkle some Parmesan on top of your casserole. See further down how to make the Parmesan.
You may substitute butternut squash with any winter squash or even use sweet potato.
Feel free to use any summer squash varieties: yellow squash, green squash, Costata Romanesco, Cousa etc. Only Pattypan squash (has flying saucer-like shape) and round zucchini would not be convenient to use.
Spice things up and add some chilli powder or flakes to the tomato sauce.
If you like, you can mix the olives and basil into tomato sauce rather than adding them as a separate layer.
The tofu you use, can be both plain or in marinade. If you don't tolerate soy, use cooked beans, lentils, peas or chickpeas instead of tofu. You also may crush those with fork or potato masher before adding to your casserole dish.
Tips on my vegan cashew cheese:
Forgot to put the cashews to soak for cream cheese? No problem! Cover them with boiling water for 15 minutes.
Should you have problems with Candida overgrowth or be allergic to cashews, use almonds or sunflower seeds instead. However, those need to be soaked for at least 6 hours.
I used a grinder of my food processor to make the cheese. Should you not have it, make a double batch (as it'd be easier to process in a blender jar) and store leftovers in a sealed container in fridge.
How to make Vegan Parmesan Cheese :
Take 3 handfuls of cashew nuts, 4 tbsps. nutritional yeast and 2 pinches of sea salt.
Process in a grinder or blender and it's ready.