This baked tempeh in red wine marinade makes a perfect addition to your rice dishes and salad bowls. Furthermore, my oil-free marinated tempeh is a perfect high-protein vegan recipe to add to your menu.
Let's highlight some important qualities of my baked tempeh recipe:
Plant-based
Gluten-free
Grain-free
Nut-free
Candida diet friendly
Low glycemic
Oil-free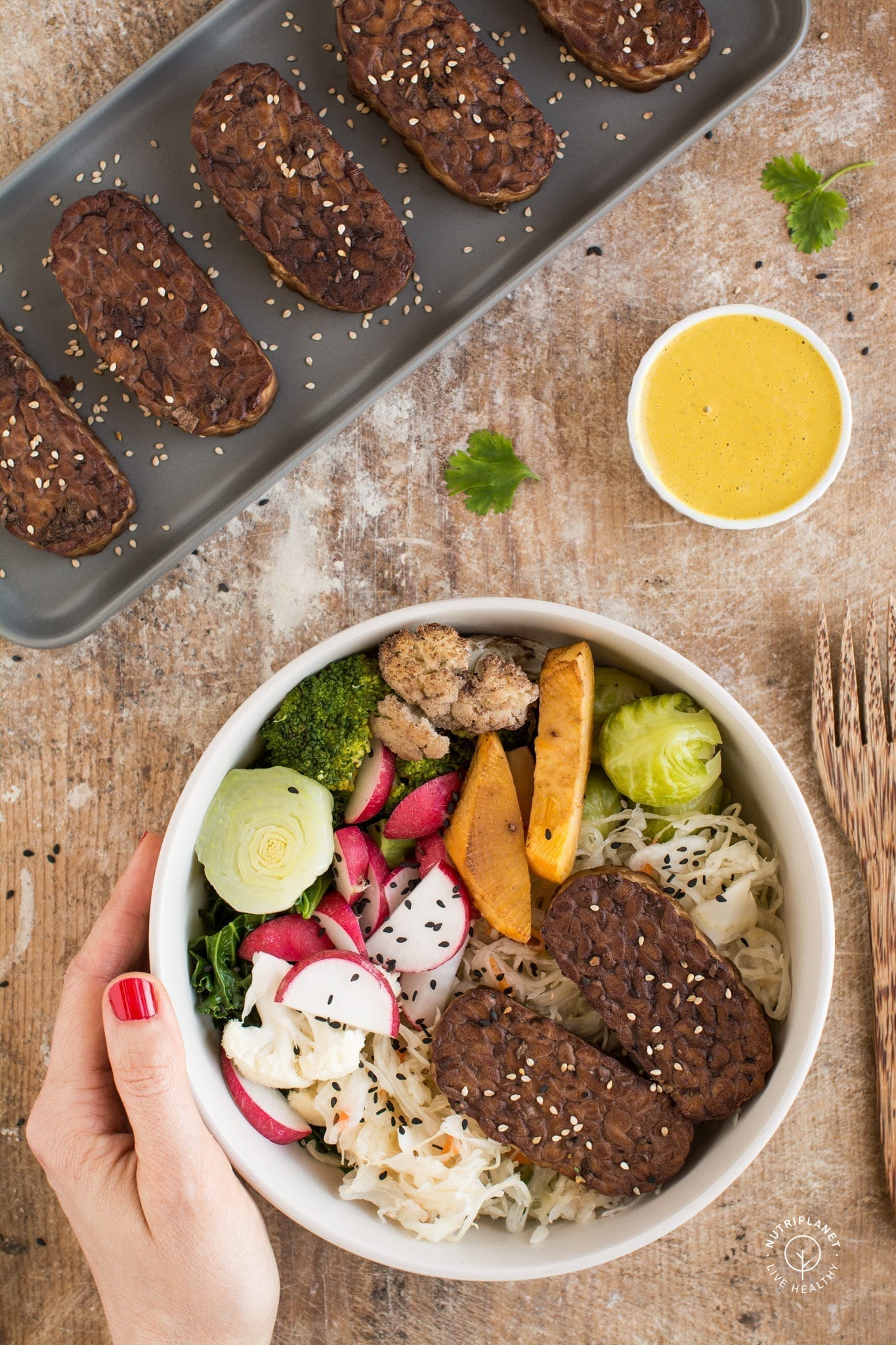 Furthermore, I love this recipe for being:
Super nutritious
Easy to make
Perfect high-protein snack
Versatile – add it to salad bowls, rice dishes or put on a toast or roll into tortilla.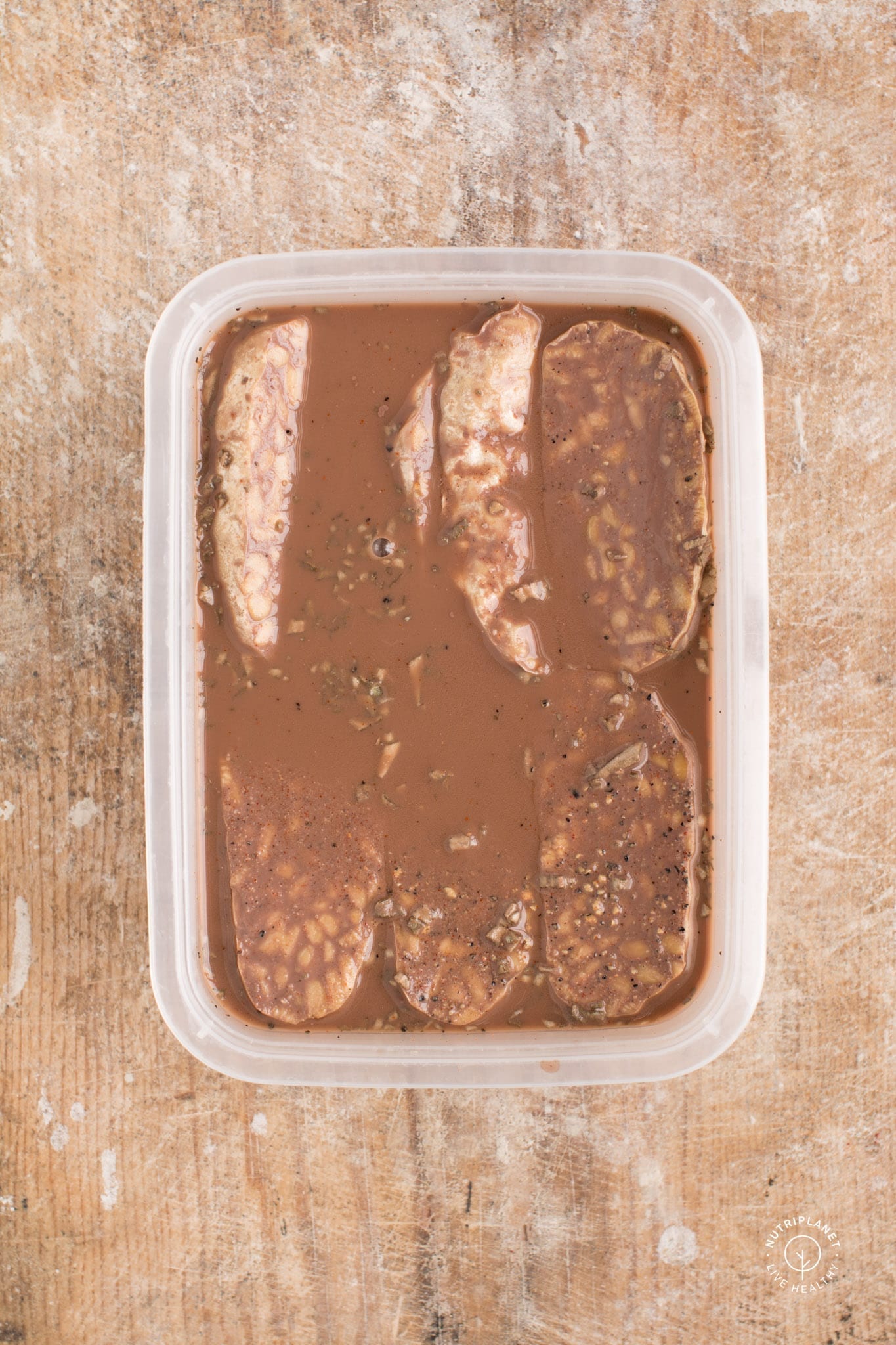 What is Tempeh?
First of all, tempeh is nothing like tofu! While the latter is made by curdling soy milk, tempeh is made of whole soybeans. As tempeh is made of fermented soybeans, it also has a natural sour taste to it. In short, tempeh is a cake-like substance made from cooked and slightly fermented soybeans. Most importantly, when you eat tempeh, you're consuming whole foods.
I fell in love with tempeh ever since I tried it for the first time 5 years ago. When I lived in Barcelona I had access to all kinds of tempeh (smoked, plain, marinated), but now I'm happy if I get the plain version and marinate it myself.
You can steam, sauté, stir fry, marinate and bake tempeh. If you search you'll find many plant-based recipes using tempeh as a source of protein. In fact, you can check out my very own old, but great recipes Tempeh-Cabbage Curry and Tempeh with Oven Roasted Veggies and Chard.
Nutritional info of tempeh
Tempeh is high in both protein and fat. 100 grams of raw tempeh contains 192 kcal, 7.6g carbohydrates, 10.8g fats, 20.3g protein, 3.7g fibre, and 9mg sodium.
It is also a good source of vitamins and minerals:
0.4mg vitamin B2 (33% of RDA),
2.6mg vitamin B3 (19% of RDA),
0.2mg vitamin B6 (17% of RDA),
19.3μg vitamin K (21% of RDA),
111mg calcium (11% of RDA),
0.6mg copper (62% of RDA),
2.7mg iron (15% of RDA),
81mg magnesium (25% of RDA),
1.3mg manganese (72% of RDA),
266mg phosphorus (38% of RDA),
1.1mg zinc (14% of RDA).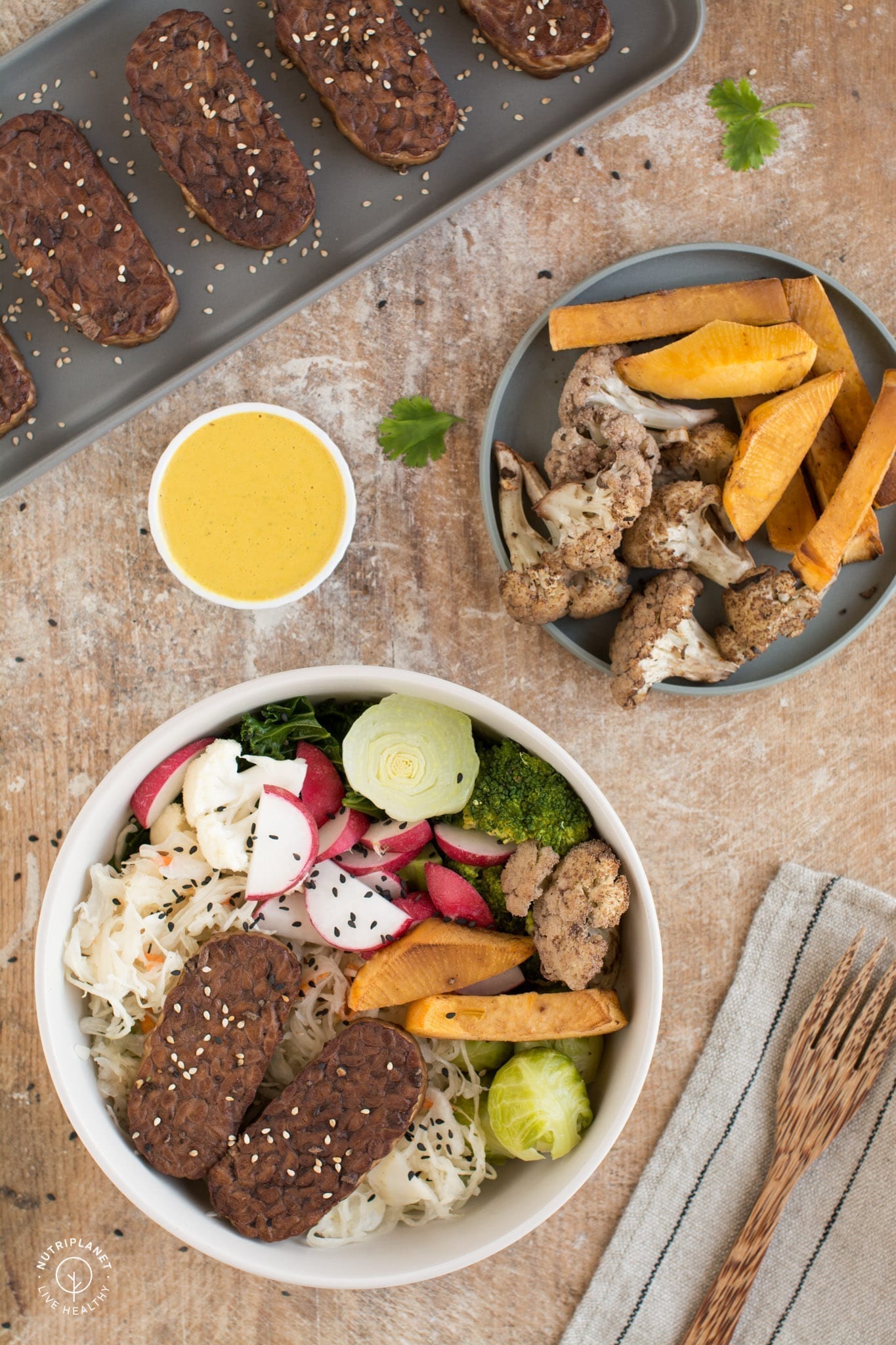 How to make a good wine marinade
Let's talk a little about the marinade for my baked tempeh. It must be said that a good marinade is a combination of acid, fat, herb and spice.
Acid

in my marinade recipe red wine acts as the acidic medium. Other options include lemon juice, apple cider vinegar, mustard, tomato puree or pasta.

Fat

usually oils are used in marinade recipes. However, I always prefer whole food ingredients, so I went for tahini. Any nut or seed butter would work though!

Spice

tamari, paprika and black pepper are the spices in my baked tempeh recipe. Other ingredients to spice up a good wine marinade include salt, cumin, onion powder, mustard powder, chilli powder, coriander, cinnamon, allspice, nutmeg, cloves, curry powder.

Herb

garlic powder and fresh sage are the herbs in my marinated tempeh recipe. Other herbs you could use are rosemary, thyme, shallots, onions, oregano, parsley, scallions, ginger, chiles, cilantro, horseradish, wasabi, bay leaves, carrots, and celery.
What about the alcohol in wine marinade?
I know that many of my readers don't do alcohol at all, me being one of them! However, you don't need to worry, as the alcohol will evaporate during baking. So, this baked tempeh recipe is also safe for kids.
Also, when you decide to use the leftover marinade for sauce, just cook the alcohol out of it. Just simmer without lid until you can't sniff alcohol vapours any more.
Finally, I'd like to hear your thoughts on tempeh – do you love it or do you hate it? Let me know in the comments! Please also tag me in social media whenever you make and share my recipe. Instagram @thenutriplanet and Facebook @nutriplanet.health.hub
Print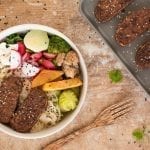 Baked Tempeh in Red Wine Marinade
---
Author:

Nele Liivlaid

Total Time:

40 minutes

Yield:

14

baked tempeh strips

1

x
Description
This baked tempeh in red wine marinade makes a perfect addition to your rice dishes and salad bowls. Furthermore, my oil-free marinated tempeh is a perfect high-protein vegan recipe to add to your menu.
Marinating time: 2-4 hours
---
About

400g

(

14.1oz

) of tempeh

4

tbsps. (60g, 1.8oz) unsalted tahini

3

tbsps. tamari

1 tsp

. garlic powder

1 tsp

. smoked paprika powder

½ tsp

. ground or crushed black pepper

1 cup

of dry red wine

½ cup

water

1 tbsp

. finely chopped fresh sage leaves

2

tsps. of coconut nectar (optional)
---
Instructions
Start by thawing the tempeh, if you use frozen kind.
Then, cut the tempeh into about 1.5cm (0.6inch) thick slices or strips. To remove the bitterness, place sliced tempeh in a saucepan and cover with water or vegetable broth. Bring to boil, reduce heat, and cook the tempeh for 10 minutes. Discard the liquid. Alternatively, steam the tempeh strips for the same amount of time.
While the tempeh strips are cooling, prepare marinade. Start by mixing tahini and tamari sauce until well dissolved. Then, start adding the remaining liquids (wine and water) gradually to get homogeneous mix. For lump-free result, stir in the dry ingredients while the marinade still has paste-like consistency.
Next, place tempeh strips into a container or other flat-bottomed dish that is big enough. Then, pour the marinade over tempeh pieces and place something heavy on them to allow the slices to drown in the marinade. I used a small container filled with water.
Marinate the tempeh in fridge for at least 2 hours.
Next, place the marinated tempeh strips on baking sheet lined with parchment paper and bake at 175°C (350°F) for 20-30 minutes until golden brown. Remove from oven.
Notes
Add the tempeh to Buddha bowls, salad bowls or eat on a slice of bread or inside a burrito.
Store in fridge for 3-4 days or in freezer for 1 month.
Prep Time:

15 minutes

Cook Time:

25 minutes

Method:

Baking
Nutrition
Serving Size:

100gr

Calories:

192 kcal

Sodium:

9mg

Fat:

10.8g

Carbohydrates:

7.6g

Fiber:

3.7g

Protein:

20.3g
Keywords: baked tempet, ride wine
Tips on my baked tempeh in red wine marinade:
Feel free to use other nut or seed butter instead of tahini. I bet peanut butter would give a magnificent result!
Should you not like paprika, you can also get the smoky flavour using liquid smoke. You may also add more smoked paprika if you're really into smokiness!
I know some people hate sage – no judging here :) Should that be the case, rosemary would be a great substitution.
I prefer tamari over soy sauce, but you can also use the latter in this tempeh recipe.
You may substitute coconut nectar with maple syrup or agave syrup.
I marinated the tempeh for 3 hours, but you can even leave it in the marinade overnight.
What to do with the leftover red wine marinade:
When you cook meat or fish, you should never reuse raw marinade. With tempeh, tofu and vegetables, though, the marinade doesn't have the same health risks. Don't you just LOVE plant-based cooking!
Brush vegetables with the marinade and bake in oven (see the photo below).
Cook it until the alcohol has evaporated and use as sauce or add to other dishes for extra flavour.
Marinade young jackfruit in the leftover marinade and then cook it in the marinade into a stew.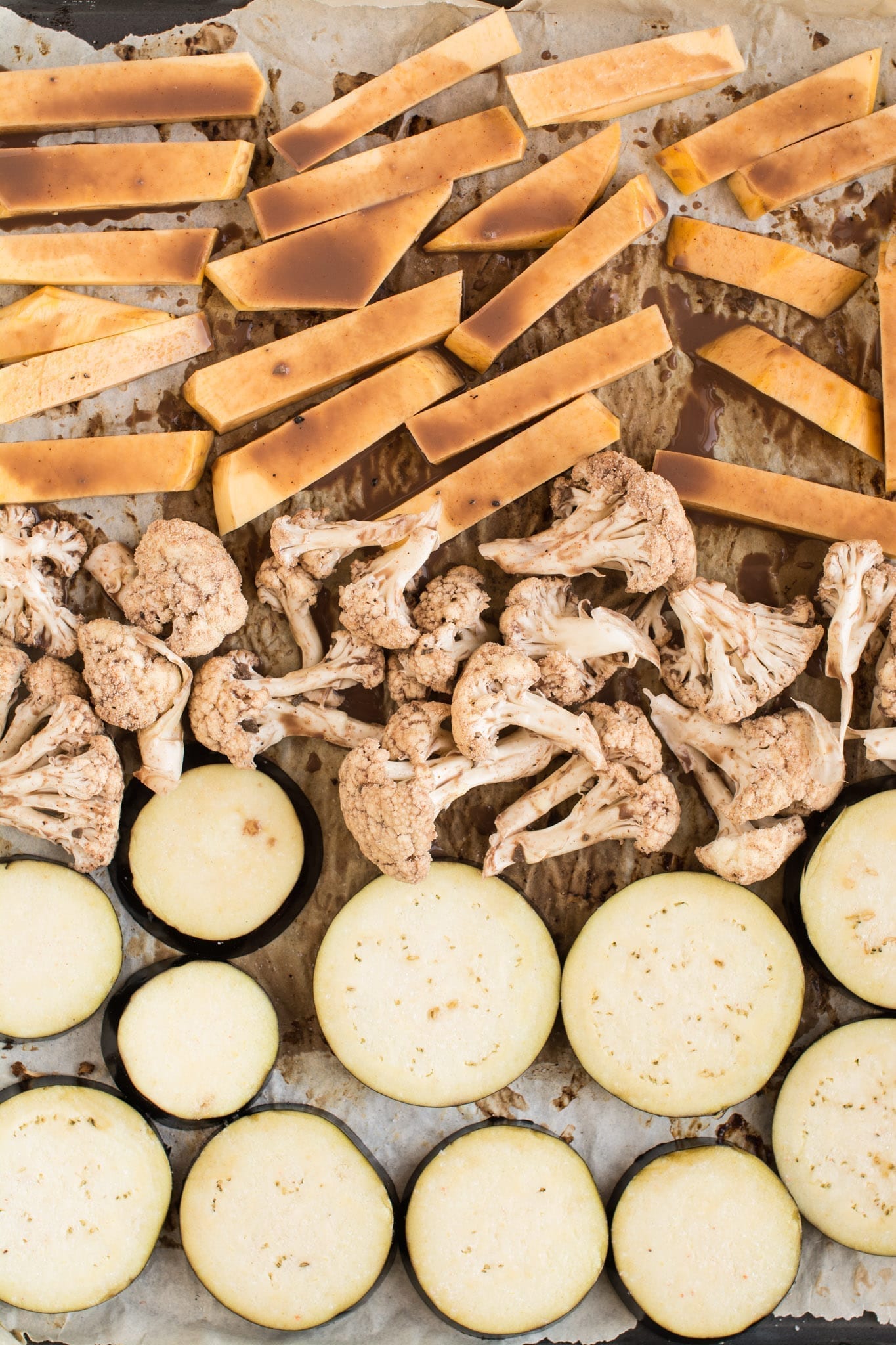 Disclaimer: this post contains affiliate links. As an Amazon Associate I earn from qualifying purchases.
Source:
https://winefolly.com/tutorial/white-and-red-wine-marinades-guide/