I had been on plant-based diet for three years already, when I first bought tempeh. Tempeh is a fermented soy product made of cooked soybeans, whereas fermentation is started with Rhizopus moulds. For hundreds of years tempeh has been the main source of protein in Indonesia. (1) Nowadays it's gaining popularity all over the world, especially among vegans and vegetarians.
Compared to raw beans, fermented and cooked soybeans also have the least amount of phytic acid, which significantly reduces mineral absorption. (2)
Tempeh can be used in many different ways – grated as cheese, in soups, stews, sautéed, fried, oven-baked, in salads, and sandwiches.

After my 5-year-old had tasted the tempeh, it immediately became one of his favourite foods that he would not share with anybody.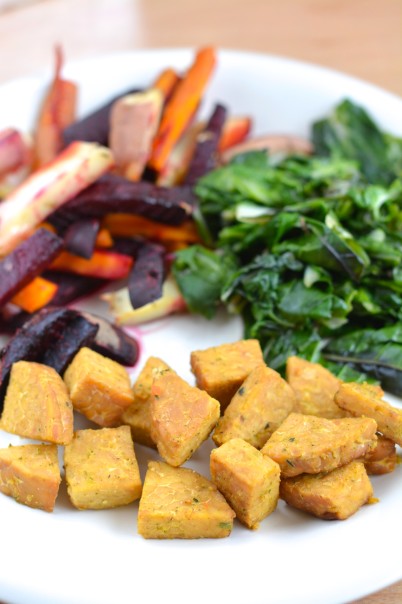 Ingredients |2 fair servings|
2 small beets
2 medium potatoes
4 carrots
1 small turnip
Oregano and rosemary
Sea salt and black pepper
2 bunches of chard
200g (7oz) of tempeh (I used smoked tempeh)
½tsp broth powder
Preparation:
Oven-Roasted Veggies:
Heat oven to 220 C (425 F). If you have organic veggies, do not bother peeling them. Just wash them and cut into stick-shape and place them on baking sheet lined with parchment paper. Season the veggies with sea salt, black pepper, rosemary and oregano. Sprinkle some water and stir the veggies before baking. Bake for about 25 minutes.
Tempeh:
While the veggies are baking, cut tempeh into cubes. Put a bit of water (enough to cover the tempeh cubes) and ½tsp of broth powder into a small pot. Add tempeh cubes and steam for 10-15 minutes.
After you have removed your veggies from the oven, let the oven cool to 175 C (350 F) and bake your tempeh for 20 minutes.
Chard:
Separate chard stems from leaves. Chop both, the leaves and the stems. Place the stems in a pot or a saucepan. Add enough water to cover the bottom of the pot. Steam for 4-5 minutes (leave them tender), drain and set aside. Now, place the leaves in the same pot adding a bit more water and steam for 2-3 minutes (they need to preserve the nice green colour).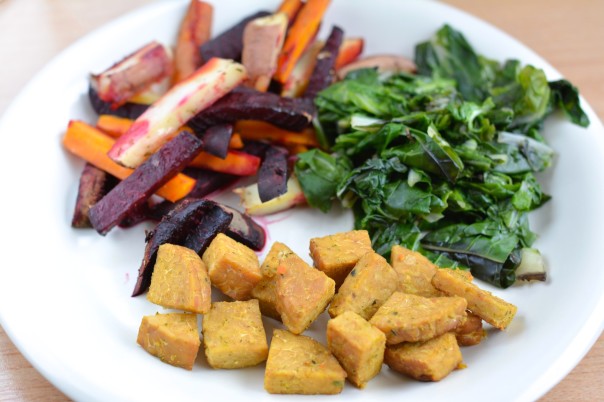 Serve oven-baked veggies, tempeh and chard on a same plate and enjoy!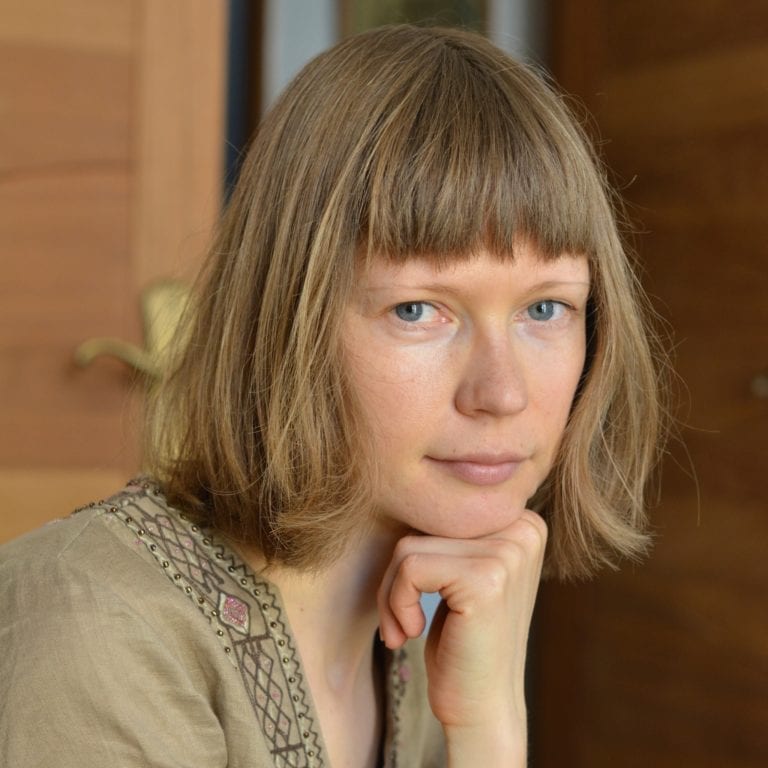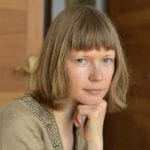 Nele Liivlaid: founder of Nutriplanet.org She has been into healthy eating for many years, but developed a more profound interest in nutrition and related diseases when she started reading The China Study and other special books on nutrition. After being in real estate and hospitality business for more than 10 years she decided to totally change her path to spread the word about healthy and sustainable nutrition and lifestyle.