It's not impossible to be on the road and still eat healthy plant-based meals. Here's my story for inspiration about a 5-day road trip from Barcelona to Tallinn that I took with my family in the beginning of June. When my husband saw all the food I'd packed for our trip, he asked who was going to eat it all. In reality, we finished it all and had to stock up on more food in the middle of the trip.
Sunday, June 7
Since our boat to Genova was scheduled for 11 p.m., we packed all day, delivered some boxes to self-storage and loaded the car. In the meantime, I also managed to cook us lunch and dinner as well as bake buckwheat bread and chocolate chip muffins for the road. I had already made quick barley bread karask the evening before.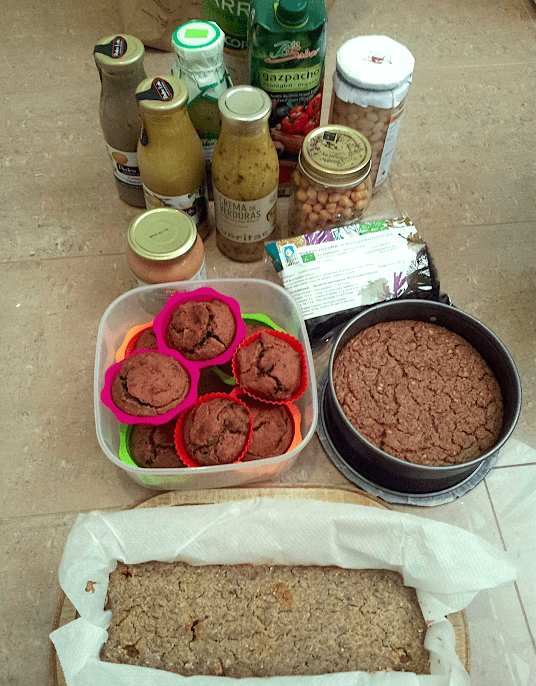 In addition, we packed the following:
Bottled puree soups (great discovery from organic supermarket)
Gazpacho (another great item from organic shop)
Rice cakes
Spelt bread from our favourite organic bakery
Figs
Brazil nuts and pecans
Ground flax seeds
Wakame
White beans
Chickpeas
Fruits: oranges, apples, peaches, bananas
Veggies: carrots, cucumbers, red bell peppers, tomatoes
Soy yogurt
Ground artisan coffee
Dark chocolate
Bottled water

While waiting for the ferry, we had some of our muffins. At 10:15 p.m., we were on the boat and in our cabin. We settled in and had a short walk on the deck. We ate a banana and some peaches before going to sleep.
Monday, June 8
Usually we have fruit-veggie smoothies in the morning. On a trip like this, our mouths have to be the blenders. We had bananas, peaches, an apple and an orange with soy yogurt for breakfast. Our kid munched on a carrot as well.
There was no way to make our own coffee so we had a walk to see whether we could buy some decent coffee to have with our mid-morning snack. We found a café, walked around a bit more, then returned to the cabin to prepare our bread-muffin box – muffins, buckwheat bread, and spelt bread slices. Back at the café, we ordered Italian long coffees. I already knew I was making a mistake and I should have gone for a tea, but I have to learn the hard way. Being used to artisan coffee, the ferry coffee tasted awful. Fortunately, the weather was a delight and we sat in the sun and wind for almost an hour.
It was around 11 a.m. when we learned we weren't allowed to go to the garage deck. We had left the bag containing soups and legumes in the car. We had to improvise and had karask and dipped carrots, cucumbers and tomatoes into soy yogurt.
We had some apples before the boat docked. Then we drove off the boat at 4:30 p.m. and headed towards Milan.
We forgot our car's GPS settings were on "no-highway" mode so we were led through small mountain roads. This was actually great as we saw beautiful places with magnificent views.
As the lunch on the boat was light, we were already hungry at 5 p.m. We found the most amazing dinner place with a nice view of a valley. For our meal, we had vegetable puree soup, chickpeas, rice cakes, pecans and a peach. After supper, we drove in the rain from thunderstorms passing the mountains.

In Milan, we stayed in a great new hotel on the outskirts of the city. We had a second dinner in our room of mushroom puree soup, lettuce, bread, and carrots.
Tuesday, June 9
We had our breakfast in the hotel room – oranges, bananas and Brazil nuts.
As we were in Milan, we wanted our kid to see the Duomo Museum and the Galleria Vittorio Emanuele II. Off we went to Piazza Duomo via the tram and metro. The last time I was in Milan (2010) the Duomo was free. That has changed and it's now two euros per person. Reading some signs I found a museum ticket booth just beside the church and managed to skip a long queue. Our kid was impressed by the church and the galleria beside it. We had our breads and muffins at Piazza della Scala.
Back at the hotel, we packed our things and started driving north. By this time, we were already hungry and we ate some apples in the car.
We had lunch sometime after crossing the Italian/Swiss border – vegetable-quinoa puree soup, rice cakes with applesauce and the last jar of chickpeas.
We had a snack while stopped at a gas station – carrots, cucumbers, pecans and dark chocolate. The gas station area also had a decent buffet called Marché with loads of salad, but since we had everything, we skipped it.
We passed through Lichtenstein and Austria. In Germany, we had some apples before arriving in Nürnberg. Germany greeted us with cold, cloudy and windy weather so we had to dig out our warmer clothes.
We arrived at 9:30 p.m. and the hotel in Germany was nothing compared to the one in Milan. The corridors of the Nürnberg place smelled of smoke, but it was only a five-minute walk from the Old Town. We used HappyCow to find a restaurant that still had a kitchen open as it was late in the evening. We dined on eggplant curry, okra curry, mushroom curry, lentil dhal, and whole-wheat flat bread in an Ayurveda place called Mount Lavinia in the Old Town. It was a nice place with friendly staff and they even had whole grain rice. It was tasty, but too heavy for us (a lot of coconut cream). However, it was nice to have a warm meal after two days of travelling.
Wednesday, June 10
We had our breakfast in the hotel room – oranges, lettuce, yogurt, flax seeds, Brazil nuts.
We went off to the Old Town to find some vegetarian places, an organic supermarket and artisan coffee place. We discovered a great coffee house Machhörndl Kaffee. It also had perfect natural soymilk with no additives. I enjoyed my cappuccino with bread and the last of the karask.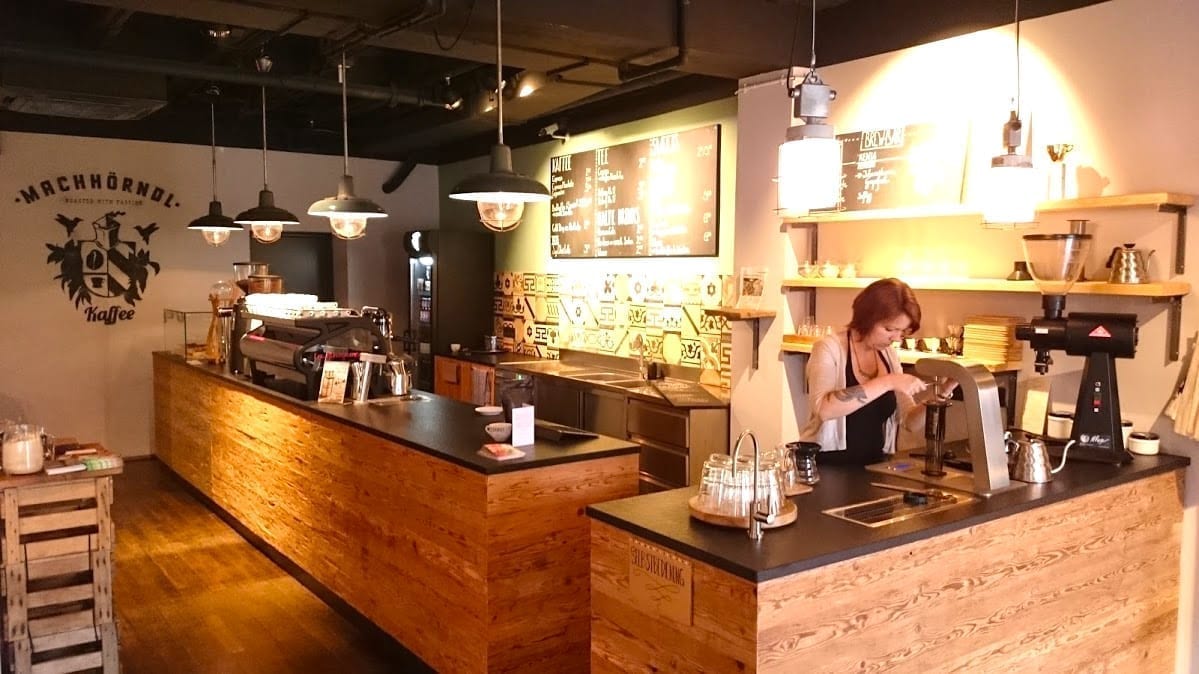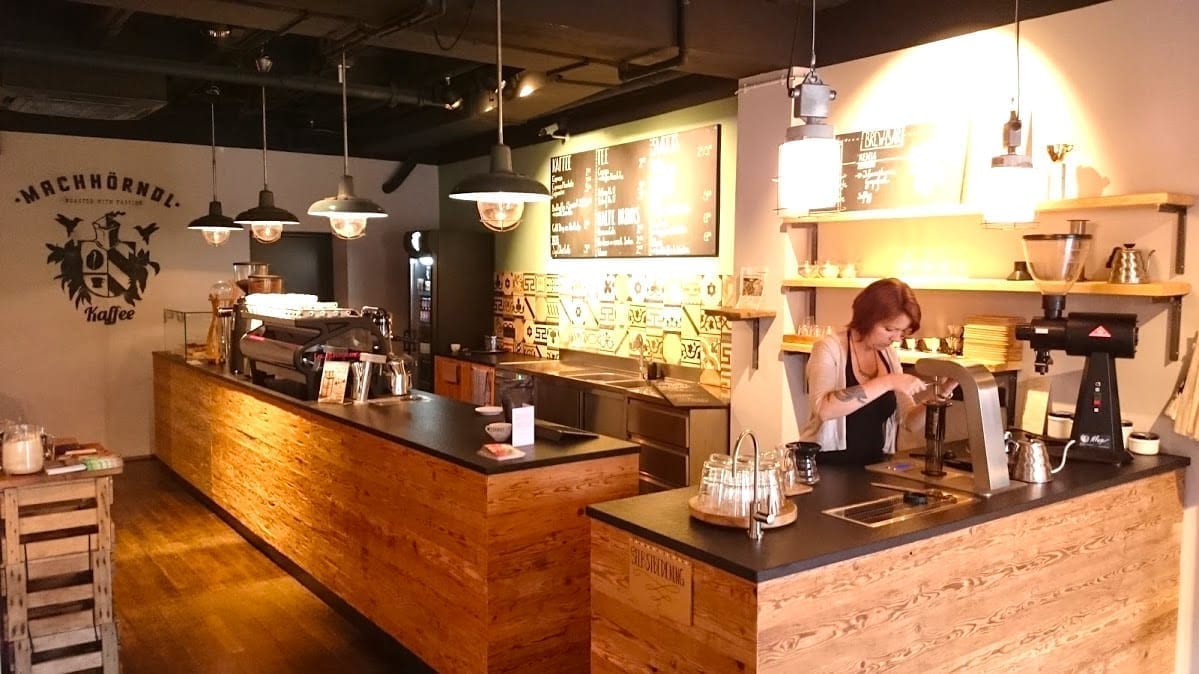 We tried to find an organic bakery, but had no luck and headed to organic supermarket instead. We found ourselves in a paradise: there's a huge supermarket in the Old Town with reasonable prices. We stocked up on apples, bananas, applesauce, apple-mango sauce, oat milk, soymilk, soy yogurt, coconut yogurt, rye bread, and whole grain buns with sunflower seeds.
We started driving around 12:30 p.m. and had apples and buns in the car.
Lunch was at another gas station – zucchini-potato puree soup, red bell pepper, carrots, soy yogurt with apple and mango sauce, rice cakes, dark chocolate and the last half of a bun. I had to throw away a bell pepper that had gone bad.
Again, we had our snack at a gas station. In Germany, some service stations have the Marché buffet too. The boys had warm veggies (zucchini, carrots, potatoes, cabbage) that were oily so I decided to skip them. I still felt the consequences of the heavy dinner the night before. Instead, I ate carrots, cucumber and some pecans.
We arrived at 9 p.m. in Poznan in front of the studio apartment we had found a few hours before. The apartment had a small kitchen and we had dinner using real plates and cups. Our meal consisted of white beans, gazpacho, coconut yogurt, and apple-mango puree with rice cakes.
Thursday, June 11
For breakfast, we had what was left of the fruits and yogurt with flax seeds.
Before heading to Kaunas, Lithuania we drove to the artisan coffee house Stragan Kawiarnia. It's a great place with a nice interior. As it only had rice milk, we bought filter coffees to go and in the car, we added the soymilk we had bought from Nürnberg.
We were back on the road again enjoying the coffee with rye bread from Nürnberg, our last muffins and buckwheat bread.
Lunch was while we were at a gas station after Warsaw – last puree soup, some rice cakes, yogurt with apple-mango sauce and carrots. The sun was out and it was warm. I even put my hat on as the sun was burning bright.
We searched for accommodations in Kaunas, Lithuania and surprisingly found the Vegetarian Hotel Radharané in the Old Town at Daukšos gatve. However, we arrived after 9 p.m. and the restaurant was already closed. The other veggie places also closed at 9 p.m. and so we went for sushi take-away. We couldn't eat at the restaurant as it was about to close as well. We had our own small sushi party in the hotel lobby.
Friday, June 12
For breakfast, we went to the Raw Inn at Vilniaus gatve for our first morning smoothies in five days and had delicious strawberry-banana-spinach-hemp seed smoothies.
There was an artisan coffee place, Coffee Inn, just beside the Raw Inn. We bought filter coffees and added the soymilk from Nürnberg (Coffee Inn only had flavoured milk). Then we drove off to find the organic shop in the Akropolis shopping centre. The shop turned out to be tiny with no veggies, fruits or yogurts. The only thing I was able to get was a litre of carrot juice. We bought a few apples from Statoil later.
For lunch, we found a nice picnic place with swings and a small playground. We had sauerkraut, white beans, rice cakes, and carrot juice.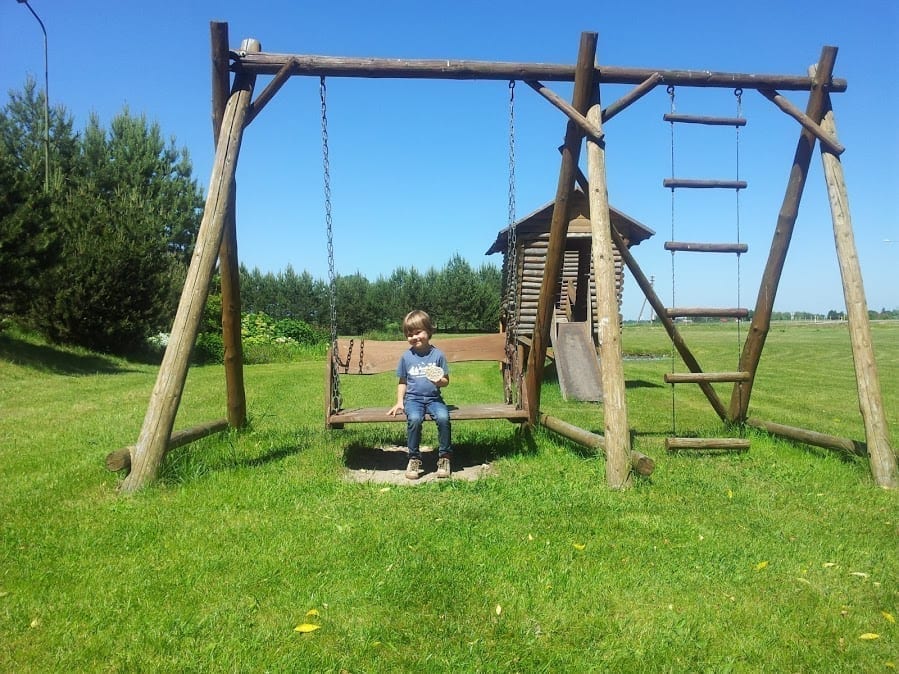 When we arrived in Tallinn, we drove to the supermarket first thing to stock up on food for dinner and breakfast. It was so nice to have oven-veggies with white beans at our own dining table. It didn't matter that it was already 11 p.m. and we had to wake up early to drive to a family reunion 130 km away. We were home. The same thing again in September.
Nele Liivlaid: founder of Nutriplanet.org She has been into healthy eating for many years, but developed a more profound interest in nutrition and related diseases when she started reading The China Study and other special books on nutrition. After being in real estate and hospitality business for more than 10 years she decided to totally change her path to spread the word about healthy and sustainable nutrition and lifestyle.