Delicious and hearty really chocolaty vegan chocolate chip cookies that are also gluten-free and oil-free.
Those vegan chocolate chip cookies were born when I was about to make another batch of my homemade chocolate candies. So, I already had made a variation of my oatmeal mix when I suddenly had a craving for vegan chocolate chip cookies instead. Thus, I played around with the ingredients as well as proportions and a new recipe was born.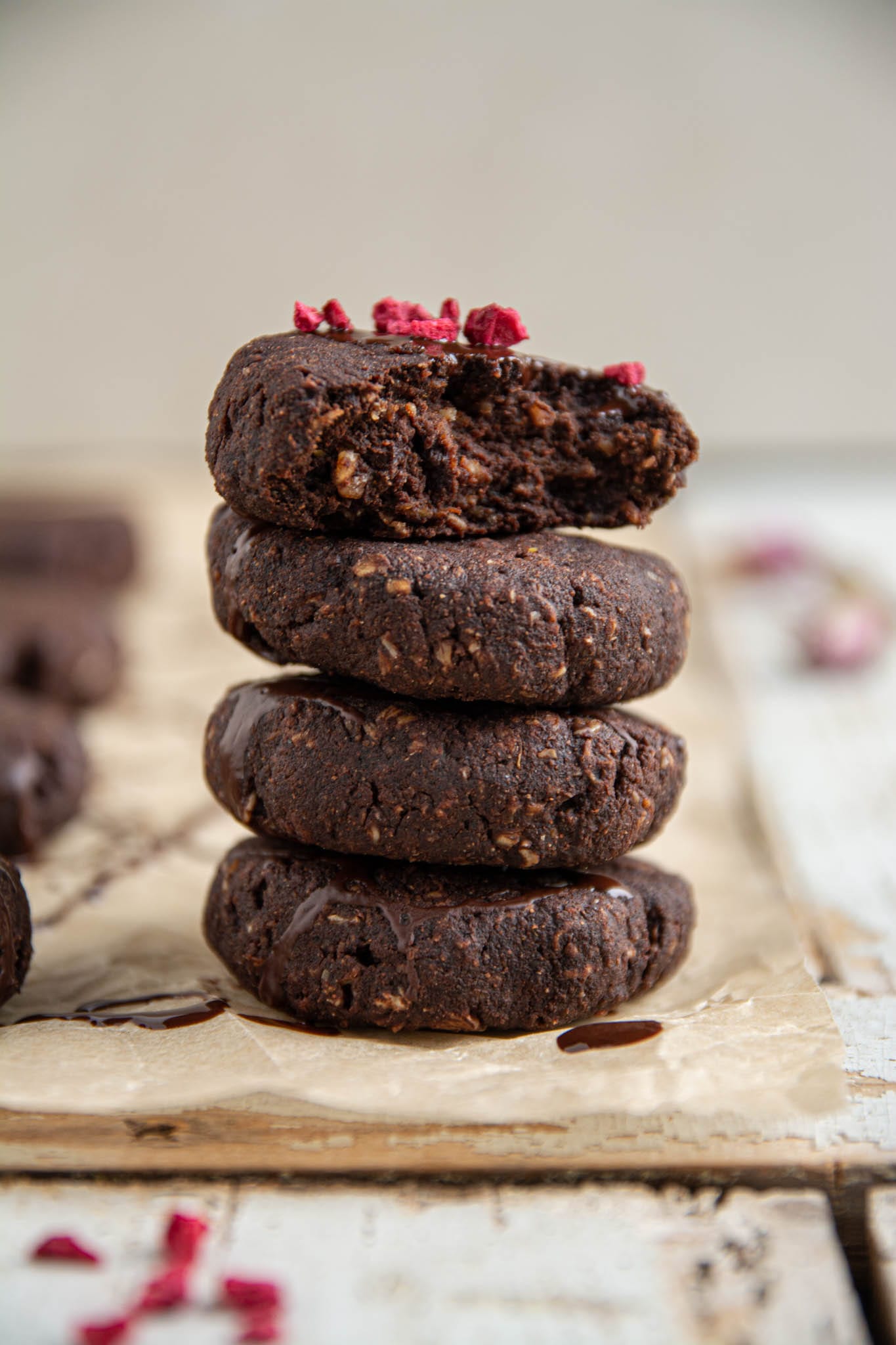 See how I make those cookies in the below video:
Be aware, those cookies are not something you could mindlessly munch on! It's because considerable amount of calories in this recipe come from fat – 46.5% to be more precise.
However, this recipe includes only whole food ingredients (except xylitol) making it a lot healthier compared to any conventional chocolate cookies. The reason I use xylitol instead of whole food sweeteners such as dried fruit, is that I'm living Candida free after the cleanse.
How to Make Healthy Vegan Chocolate Chip Cookies
To make healthy cookies you simply need to use whole food plant-based ingredients. Here's what those cookies consist of:
Cacao paste or liquor and coconut puree give those cookies their hearty and chocolaty body. In fact there's no need to use any added oils to achieve a buttery result.
Next, rolled oats and oat bran give our cookies the grainy texture. I decided to incorporate oat bran to lower the glycemic load of the recipe.
Then, there's no harm in adding cocoa powder for some extra chocolaty flavour.
Also, let's add Himalayan salt to enhance flavours and cinnamon for an extra kick.
Finally, carob powder and oat milk are the whole food sweeteners in this recipe while xylitol (or erythritol) gives an extra boost to sweetness without adding bulk.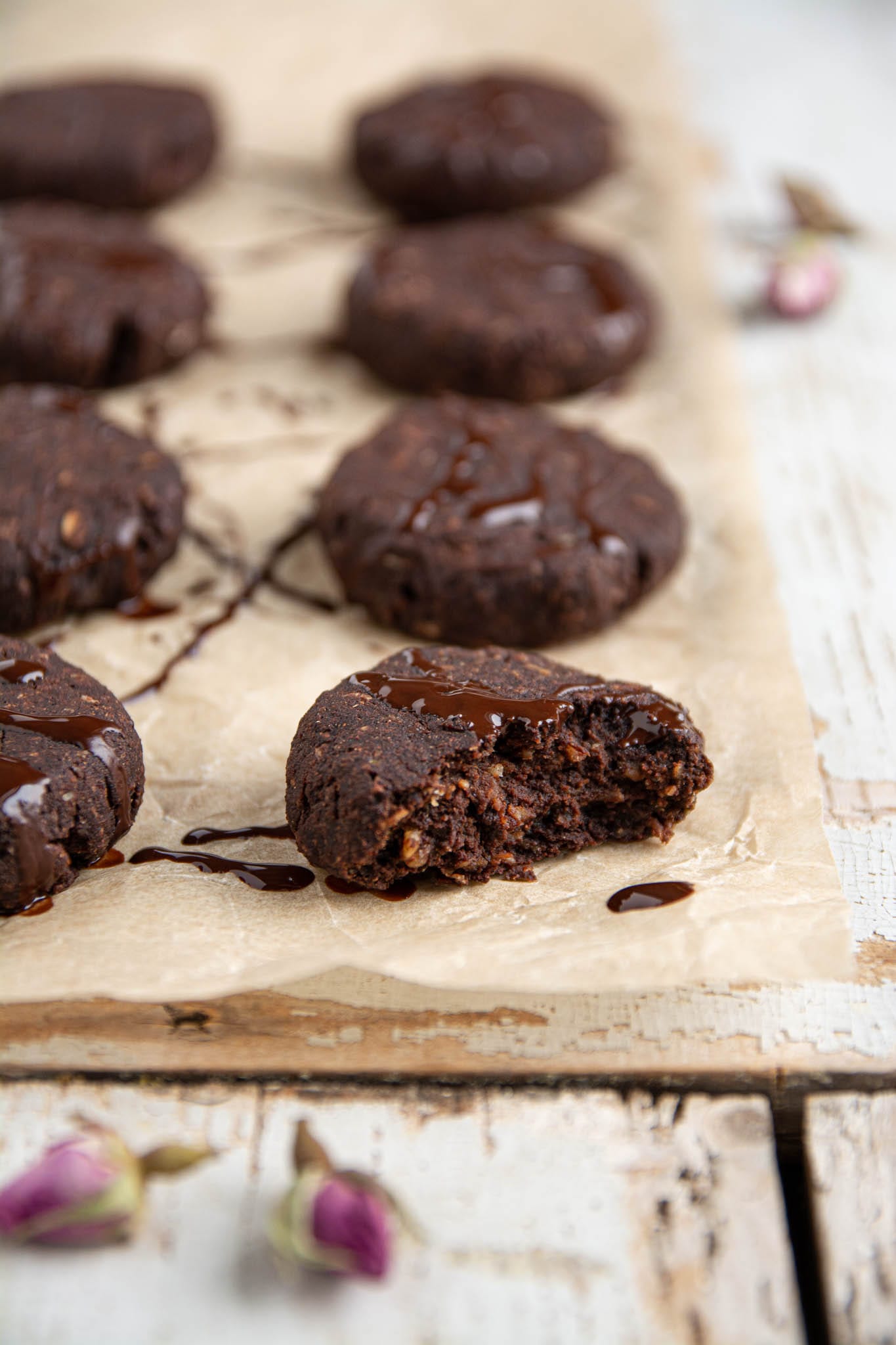 The Process
The process of making those chocolate chip cookies is quite simple.
You start by mixing all the dry ingredients with oat milk and let this mixture sit until it thickens.
In the meanwhile, using a double-boiler, melt ⅔ of the cocoa mass and mix it with coconut puree. Then, chop the reminder ⅓ of the cocoa mass.
When the batter has absorbed the liquids, mix it with melted cacao paste and coconut puree. Finally, stir in chopped cacao paste.
Now it's down to forming cookies, placing them on a baking sheet lined with parchment paper and baking at 175°C (350°F) for 16 minutes.
Furthermore, my vegan chocolate cookies are also gluten-free, oil-free, refined sugar free and obviously Candida diet friendly.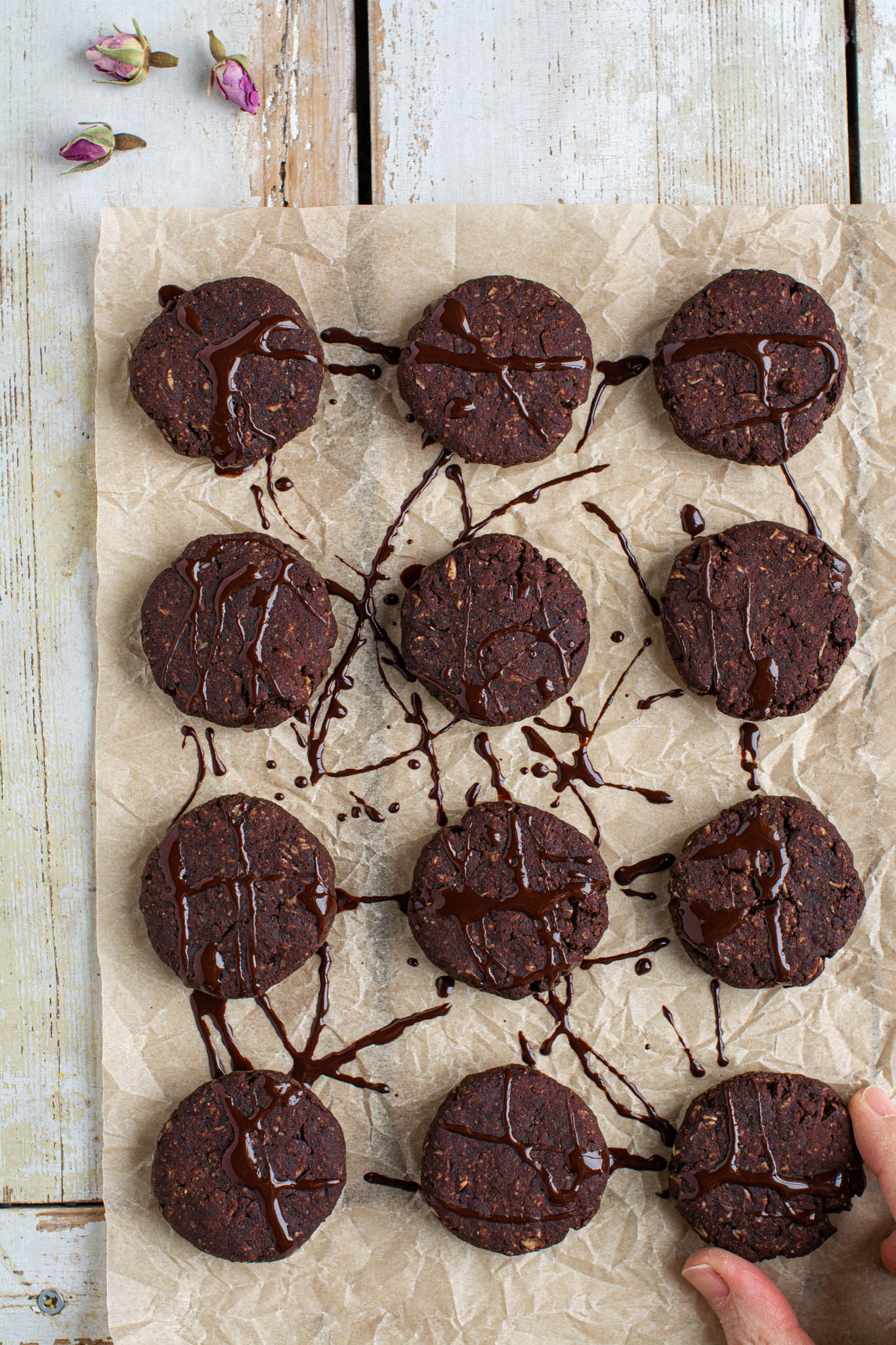 Please tag me in social media whenever you try one of my recipes and leave me a comment bellow if you have any questions! I'd love to see your creations! Instagram @thenutriplanet and Facebook @nutriplanet.health.hub
Print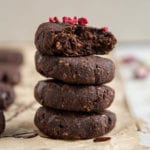 Vegan Chocolate Chip Cookies
---
Author:

Nele Liivlaid

Total Time:

1 hour 10 minutes

Yield:

20

cookies

1

x

Diet:

Vegan
Description
Delicious and hearty really chocolaty vegan chocolate chip cookies that are also gluten-free and oil-free.
Soak time: 30 minutes
Cooling time: 15 minutes
---
---
Instructions
First, in a bowl mix together the dry ingredients: oat bran, jumbo oats, carob, cocoa powder, salt, cinnamon and xylitol. Then, add oat milk and mix well. Let soak for at least 30 minutes until you have a thick mass.
Next, melt ⅔ of the cocoa mass and mix it with coconut puree.
Now, chop the reminder ⅓ of the cocoa mass.
Then, combine together chopped cocoa mass, melted cocoa mass/coconut puree and oatmeal mix.
Refrigerate the dough for 15 minutes before you continue.
Next, form 14 cookies (about 30g, 1.1oz each) and place them on baking sheet lined with parchment paper. They will stick a bit to your fingers!
Bake at 175°C (350°F) for 16 minutes, remove from oven and let cool.
Notes
One cookie has 3.6 GL points.
Nutritional info with date sugar (per one cookie): 89 kcal, 8.9g carbohydrates, 5g fats, 2.2g protein, 4.8g fibre, and 47.4mg sodium.
Prep Time:

15 minutes

Cook Time:

16 minutes

Method:

Baking
Nutrition
Serving Size:

1 cookie

Calories:

79 kcal

Sodium:

47.4mg

Fat:

4.95g

Saturated Fat:

2.6g

Carbohydrates:

9.2g

Fiber:

3.8g

Protein:

2.2g
Keywords: vegan chocolate chip cookie
Tips on my vegan chocolate chip cookies:
You might also melt all the cocoa mass and combine it with oatmeal mixture. This way the batter wouldn't stick to your fingers at all!
Feel free to use dark chocolate chips instead of chopped cocoa paste.
Store the cookies in a sealed container in fridge or freezer.
Heat the cookies in oven if you like them crispy.
Finally, you may add more or less xylitol depending on how sweet you like them.
Disclosure: this post contains affiliate links. As an Amazon Associate I earn from qualifying purchases. For every purchase made from the links in this post, you'll be able to support my work. So you can look after your health, and contribute to my mission at the same time. Thank you!