Those vegan chocolate chip cookies were born when I was about to make another batch of my homemade chocolate candies. So, I already had made a variation of my oatmeal mix when I suddenly had a craving for vegan chocolate chip cookies instead. Thus, I played around with the ingredients as well as proportions and a new recipe was born.
Be aware, those vegan chocolate chip cookies are not something you could mindlessly munch on! It's because considerable amount of calories in this recipe come from fat – 46.5% to be more precise. However, my vegan chocolate chip cookies recipe includes only whole food ingredients (except xylitol) making it a lot healthier compared to any conventional chocolate cookies. The reason I use xylitol instead of whole food sweeteners such as dried fruit, is that I'm living Candida free after the cleanse.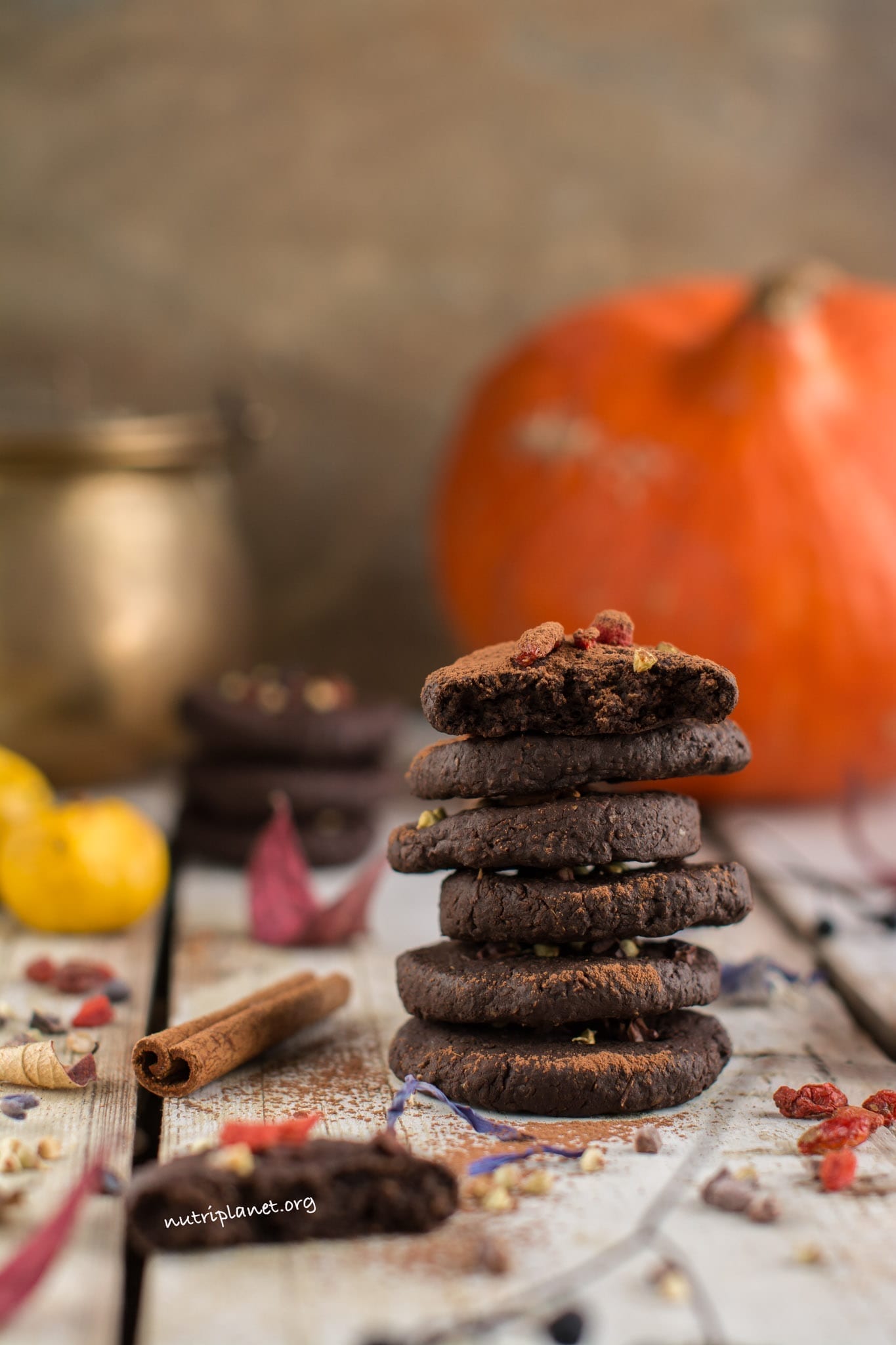 Furthermore, my vegan chocolate chip cookies are also gluten-free, oil-free, refined sugar free and obviously Candida diet friendly.
Vegan Chocolate Chip Cookies Recipe
Ingredients: 20 cookies
50g (1.8oz) cocoa paste
25g (2 tbsps.) coconut puree
40g (1.4oz; 6 tbsps. + 2 tsps.) oat bran
40g (1.4oz; ½ cup) rolled oats
¼ tsp. Himalayan salt
2 tsps. cinnamon
2 tbsps. cocoa powder
½ cup (50g, 1.8oz) carob powder
3 tbsps. of xylitol
165g (5.8oz; ½ cup + ⅕ cup) of oat milk
Directions
First, in a bowl mix together the dry ingredients: oat bran, jumbo oats, carob, cocoa powder, salt, cinnamon and xylitol. Then, add oat milk and mix well. Let soak for at least 2 hours until you have a thick mass.
Next, melt ⅔ of the cocoa mass and mix it with coconut puree.
Now, chop the reminder ⅓ of the cocoa mass.
Then, combine together chopped cocoa mass, melted cocoa mass/coconut puree and oatmeal mix.
Form 20 cookies (about 20g, 0.7oz each) and place them on baking sheet lined with parchment paper. They will stick a bit to your fingers!
Bake at 175°C (350°F) for 16 minutes, remove from oven and let cool.
Nutritional info (1 cookie): 48.6 kcal, 3.67g carbohydrates (54.3% of kcal), 2.51g fats (56.5% of kcal), 1.41g protein (11.7% of kcal), 2.83g fibre, and 2.49 GL points.
Tips on my vegan chocolate chip cookies:
You might also melt all the cocoa mass and combine it with oatmeal mixture. This way the batter wouldn't stick to your fingers at all!
Feel free to use dark chocolate chips instead of chopped cocoa paste.
Store the cookies in a sealed container in fridge or freezer.
Heat the cookies in oven if you like them crispy.
Finally, you may add more or less xylitol depending on how sweet you like them.
Disclaimer: the recipe contains links to products that I recommend and that meet my requirements.