Lately I've been playing around with cauliflower, pureed cauliflower to be more precise. Surprisingly, one of the first recipes that came into my head was vegan chocolate mousse recipe using cauliflower puree as the main base. Now, in the first version I used quite a lot of plain soy yogurt as well, but it came out too runny. Hence, I decided to cut down the quantity of yogurt substantially and the result was just perfect.
My vegan chocolate mousse recipe uses carob and cocoa for the chocolaty flavour and peanut butter and soy yogurt for some extra creaminess. Finally, psyllium husk does the trick to achieve the mousse texture.
Now, you don't need to be scared to use cauliflower in sweet recipes. I have also done it before in Cauliflower-Tahini Cheesecake. Moreover, everybody knows to make a curry with cauliflower, but only a few would come to an idea to put it in vegan chocolate mousse recipe. So, stick out and surprise your friends or family!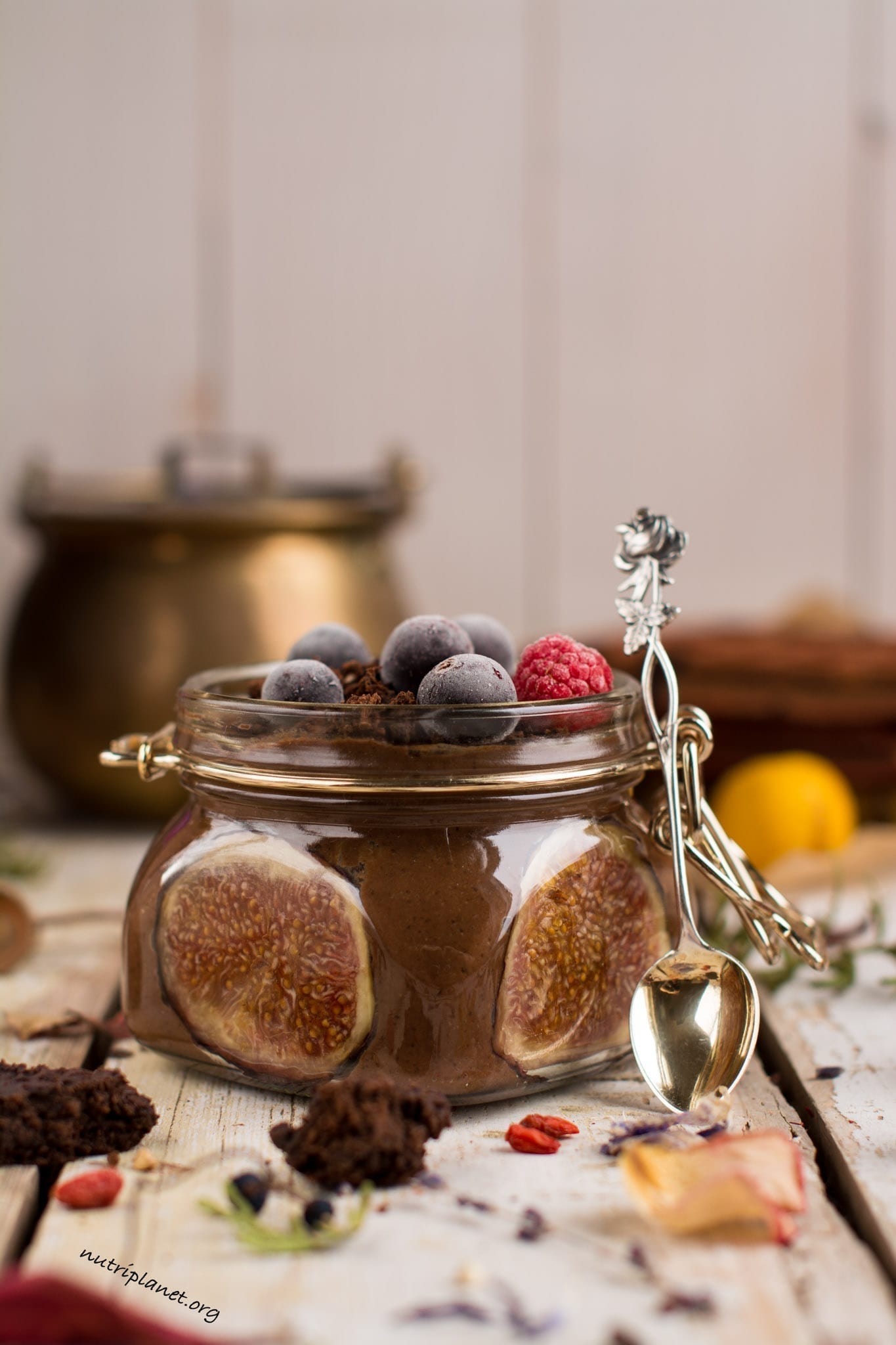 Besides being a lot healthier with fewer grams of fat, my vegan chocolate mousse with cauliflower is a delight to those trying to keep their blood sugar levels stable as well as to people on vegan Candida diet. The reason is that cauliflower has very low glycemic load and is low in fat at the same time.
In addition, the majority of vegan chocolate mousse recipes use avocados as the main ingredient. While we need to get the healthy monounsaturated fats that avocado offers, it is very easy to overdo with those creamy fruits. Did you know that 88% of avocado's calories come from fat whereas the same number is only 12% in case of cauliflower? There's something to think about, isn't there?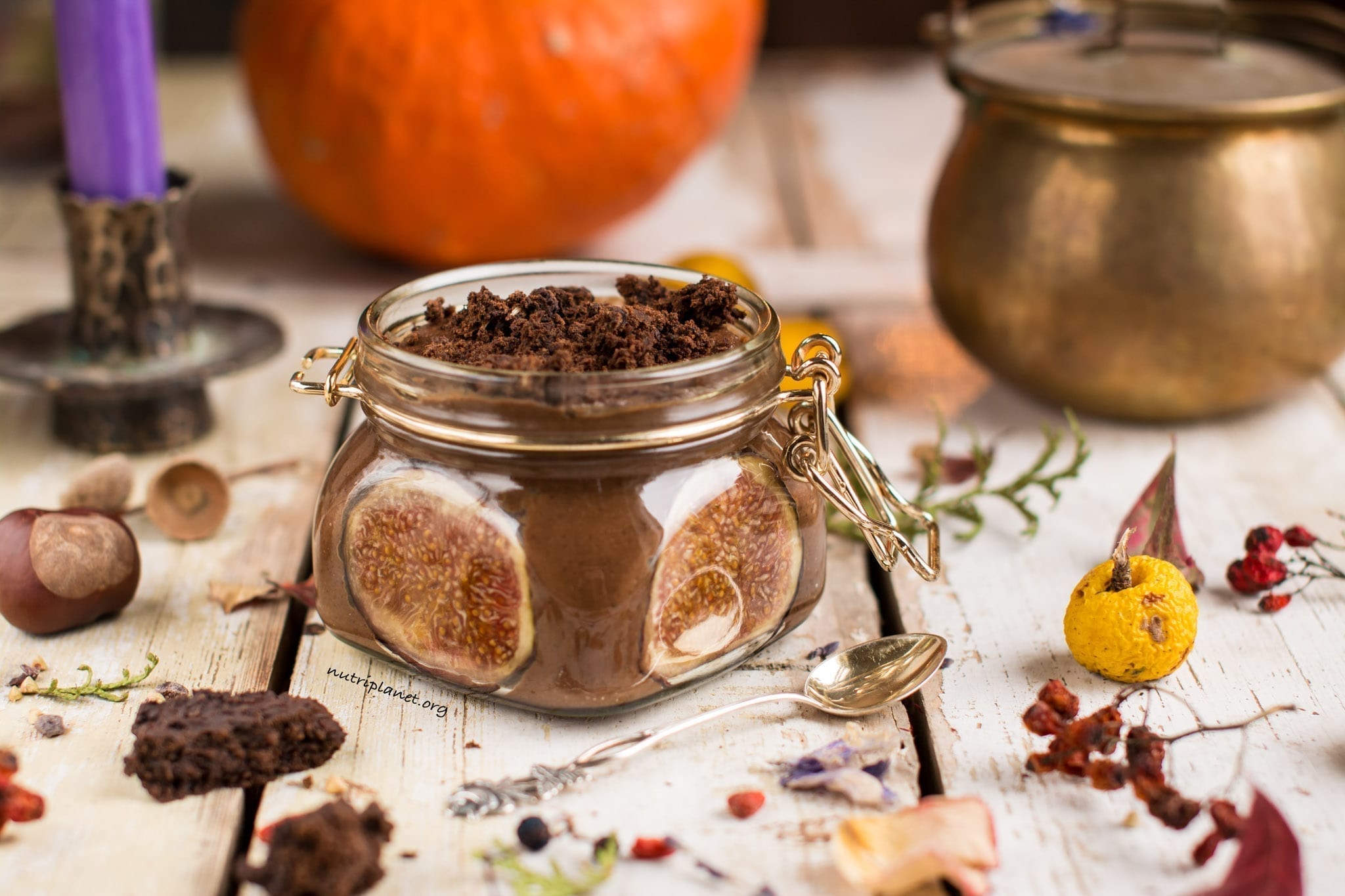 To conclude, my vegan chocolate mousse recipe with cauliflower is plant-based, oil-free, refined sugar free, gluten-free and vegan Candida diet friendly.
Vegan Chocolate Mousse Recipe with Cauliflower
Directions
First, to make cauliflower puree, pour a few centimetres (about an inch) of water into pot. Then, add cauliflower florets, bring to boil and simmer until soft (5-10 minutes). Next, puree cauliflower using immersion blender. If necessary, add some extra boiled water, just enough to be able to reach creamy consistency. For heartier result, add 2 tablespoons of coconut milk per bigger cauliflower head.
Next, puree all ingredients with immersion blender until smooth and creamy.
Nutritional info per serving: 129 kcal, 7.68g carbohydrates (51% of kcal), 5.94g fats (41.6% of kcal), 6.78g protein (21.1% of kcal), 8.62g fibre, and 6 GL points.
P.S. I included 3 grams (0.1oz) of coconut milk into serving.
Tips on my vegan chocolate mousse recipe:
You can use any nut or seed butter you like.
Be careful not to overcook cauliflower to prevent the unpleasant odours (sulphur compounds) that are released by phytonutrients that cauliflower contains.
Feel free to substitute xylitol with any other sweetener, if you're not on Candida diet, e.g. coconut nectar, agave syrup, date paste etc. NB! Glycemic load of your dessert would rise substantially if you used dates or any other dried fruits.
Crumble half of my vegan chocolate cookie on top.
Finally garnish with chosen berries.
Disclaimer: the recipe contains links to products that I recommend and that meet my requirements.