You'd never guess the secret ingredient of this delicious vegan chocolaty tahini cheesecake, if it wasn't spelled out for you!
When I became more active on Instagram, one of the first accounts that attracted my attention was Audrey's from Unconventional Baker, because she really creates unconventional treats that I adore. As you might have noticed I'm quite unconventional myself when it comes to food 🙂
When you go to her website, I'm sure you'll stay there for a while! She still uses oil in her recipes, but that is easily changeable. Even though I have been admiring her recipes for months, it was only now when I finally used one of her creations as inspiration.
I've always loved vegan cheesecakes that require tons of cashews, thus making them quite high in fat. So, lately I've tried to find ways to make the cheesecakes leaner and also suitable for my Vegan Candida Diet.
The idea of using cauliflower in a cheesecake intrigued me and I definitely wanted to try it out. After all, I remembered from making cauliflower cream soup that blending steamed cauliflower results in a nice and creamy substance that would suit perfectly for cheesecake filling when sweetened and complimented by other ingredients.
So, I took one of Audrey's recipes as a base and built my own cheesecake. I think that cauliflower was basically the only thing that comes from the original recipe 🙂
I took a risk and made the cauliflower-tahini cheesecake for a birthday party with more conventional eaters. However, they already adored my cheesecakes, only this time they didn't know it was going to be a bit different. Obviously I didn't disclose the ingredients until everybody had tasted and approved the goodness of my cheesecake and only then revealed the secret ingredient. I also let them guess first, but no one guessed right.
I'm very happy to say that even the elderly people and an 11-year-old liked it and didn't leave a single piece on the plate. I think I do not even need to mention that my 6-year-old asked for a second piece 🙂 The only thing that was mentioned was that the cake was only mildly sweet, which demonstrates how delicate my palate has become as to me it tasted really sweet. Of course, most people tried my cake after they'd had a piece of conventional overly sweet cake, which definitely numbed their taste buds.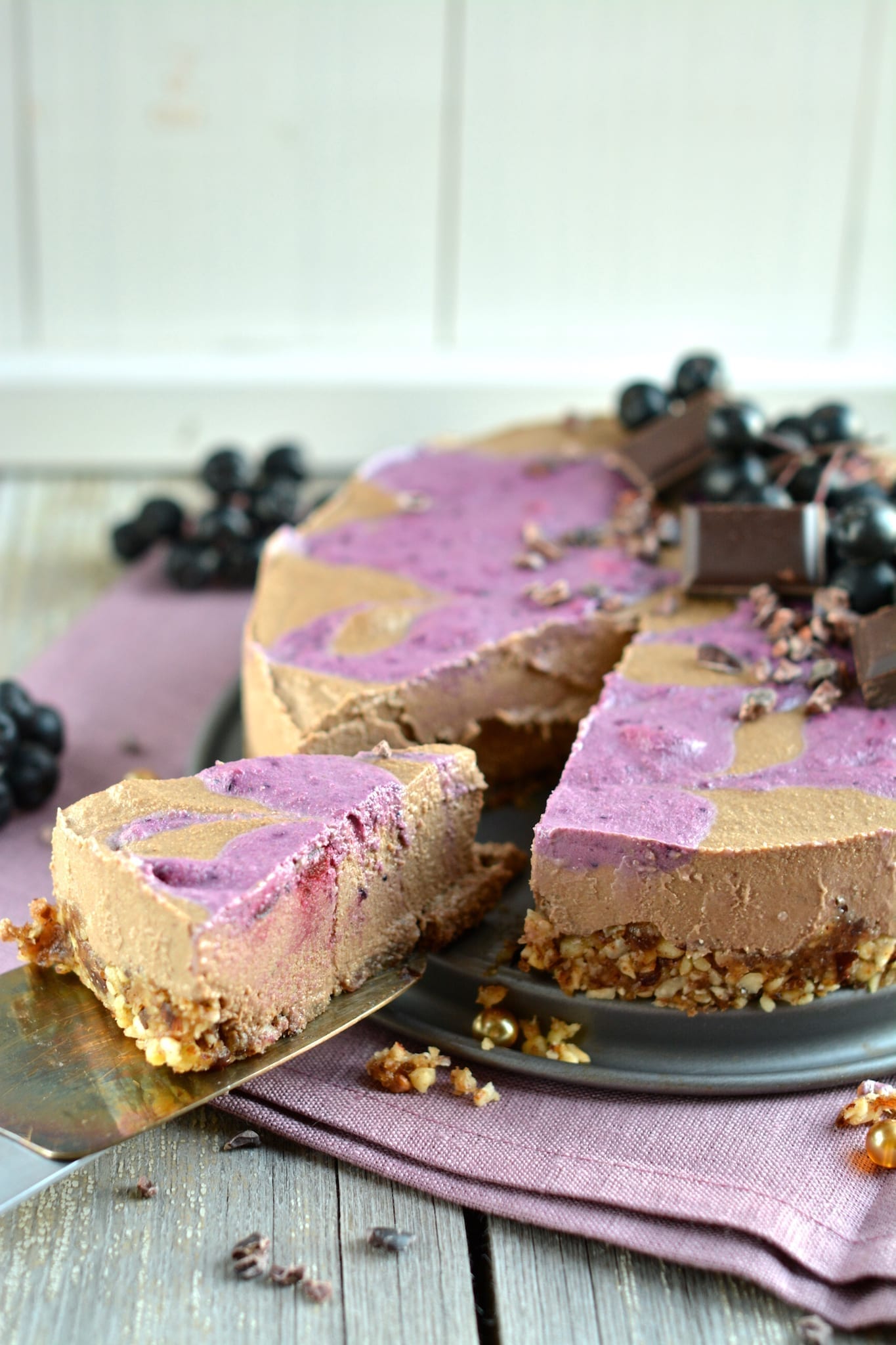 If you are a fellow Candida dieter then make the cake crustless or just leave it to someone else as it contains dates that are not suitable for Candida diet. I can sure tell you that my boys appreciated the crusts they got from my plate. I already have an idea of a crust that'd be suitable while starving your Candida, but I'll leave this to the next cake, which I think will be soon!
If you want to stick to cashews check out my Raw Cashew Cheesecake
Finally, please tag me in social media whenever you try one of my recipes and leave me a comment bellow if you have any questions! I'd love to see your creations! Instagram @thenutriplanet and Facebook @nutriplanet.health.hub
Print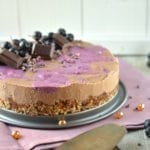 Chocolaty Cauliflower-Tahini Cheesecake with Aronia
---
Description
You'd never guess the secret ingredient of this delicious vegan chocolaty tahini cheesecake, if it wasn't spelled out for you!
---
CRUST
½ cup

walnuts

⅓ cup

hazelnuts

4

soft Medjool dates
Pinch of Himalayan salt
FILLING
---
Instructions
Steam cauliflower florets for about 5-7 minutes. Be careful not to overcook them to avoid unpleasant flavor.
Process walnuts, hazelnuts and salt in a food processor until fine crumbs, then add the dates (if you do not use soft dates, chop them first) and process until the mixture holds together when squeezed. Firmly press crust into the bottom of a 6" (15 cm) cake tin. Put the cake tin in the freezer.
Combine the filling ingredients (EXCEPT carob and cacao) and blend until smooth.
Scoop out ⅓ cup of the mixture for aronia swirls.
Now add carob and cacao to filling and blend until well incorporated.
Using immerse blender combine a handful of aronia berries with the ⅓ cup of light filling.
Pour the cacao-carob filling onto cold crust and add the aronia filling on top (as you like). Shake the tin a bit to smooth it out and using a sushi stick create your swirls.
Put the cake into freezer for 4-6 hours.
Garnish with some more berries and/or chocolate and cacao nibs.
Keywords: chocolaty tahini cheesecake
Tips for my chocolaty tahini cheesecake:
As I mentioned above, the cake is not overly sweet, so feel free to add a tbsp. of xylitol if necessary.
Should you not get your hands on aronia berries, use wild blueberries instead. They should be fresh or thawed to create swirls.
Store any leftovers in freezer and don't leave it out as it melts quite quickly.
Make sure that the nuts, especially hazelnuts are at room temperature, otherwise it'll take ages before you get to fine crumbs.