This wonderful autumn flavored spiced oat bran porridge leaves you happy and satiated and it has low glycemic load making it perfect for Candida diet.
There is a story behind this porridge. As you know I'm on Candida diet and a few weeks back I found out that one of the key elements of killing the Candida is increasing the amount of raw food in my menu. I've never been a huge fan of raw food though. Now, don't get me wrong – I love to have raw salads, vegetables and fruits in my menu and couldn't do without, but most of my food still consisted of baked and cooked items.
Since I started the Candida diet I struggled with getting enough calories anyway as fruits and starchy veggies were out of the menu. You can only imagine how much less calories I'd be getting switching to more raw foods – my poor jaws would start cramping before I'd get the amount of calories I've been used to.
But stop! Are calories some miracle workers that nourish my body? Indeed not. I need nutrients, not so much calories. And so began the new concept of my vegan candida diet meal planning – I make sure I get the necessary amount of vitamins, minerals, protein and good fats and that I feel satiated and full of energy and that I wouldn't lose weight.
To give you a comparison – pre-Candida diet I ate about 2000 kcal a day, when I started my vegan Candida diet I managed to eat about 1700 kcal a day and now, when I have incorporated much more raw food into my diet I get maximum 1400-1500 kcal a day.
However, at the same time I actually feel more energized, all my nutrient needs are met (even exceeded) and I do not lose any more weight – I lost about a kilo after the last change, but now it seems I'm in my ideal weight. I'll write about this in more detail in the Vegan Candida Diet Meal Planning update post.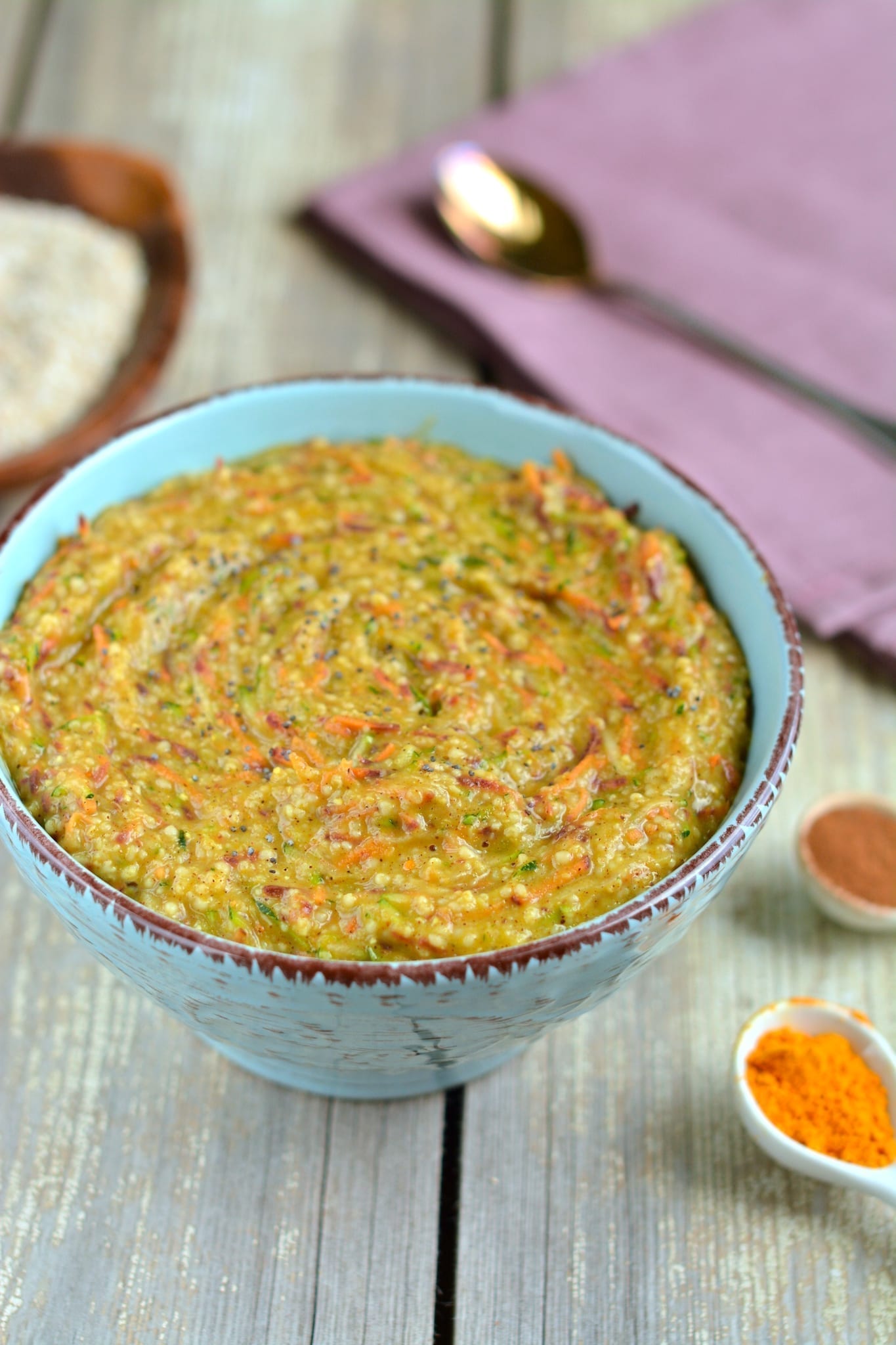 Let's return to the porridge story. I was struggling of how I'd eat all this raw food, because it's cold and I like my food warm. Furthermore, I can't have lots of fruits and berries, so what would I have with my morning porridge to diminish the amount of grains and increase raw food intake? Then I remembered my Carrot Cake Porridge and I decided to take it to the next level by adding a lot more finely grated veggies.
The combination came out just perfect – I get to eat a large amount of raw veggies mixed with spicy, warm and comforting oat bran porridge leaving me full, happy and satisfied. Also, this porridge has super low glycemic load, i.e. it doesn't mess with my blood sugar.
I am so delighted to announce that this porridge (and some of my other healthy plant-based oil-free meals) will very soon be available at Kuusk Hernesto – a super cozy café in Tallinn aiming to offer healthy, I mean Nutriplanet-healthy :), meals on their menu!
Finally, please tag me in social media whenever you try one of my recipes and leave me a comment bellow if you have any questions! I'd love to see your creations! Instagram @thenutriplanet and Facebook @nutriplanet.health.hub
Print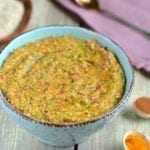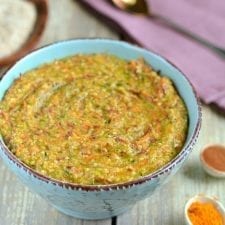 Spiced Oat Bran Porridge with Carrot and Zucchini
---
Description
This wondeful autumn flavoures spiced oat bran porridge leaves you happy and satiated and it has low glycemic load making it perfect for Candida diet.
---
---
Instructions
Bring water to boil and whisk in oat bran. Simmer for 3 minutes whisking every now and then.
Add plant-based milk and simmer for another 2 minutes. Cover with lid and set aside.
Finely grate carrot and summer squash.
Add all the spices, salt, sweetener and pepper to the porridge. Mix well and taste. It needs to be quite intense as the veggies will smooth it out.
Mix in grated veggies. Keep mixing until all the ingredients are well incorporated. Taste and add salt/sweetener/spices if necessary.
Keywords: spiced oat bran porridge
Tips:
I use either non-GMO soy, almond, hazelnut or quinoa-rice milk, but you are free to use the one that you like. I just recommend buying only milks without any artificial additives (sugars, syrups, preservatives). I'd sometimes make an exception for agave syrup if I weren't on Candida diet.
I use 2 tsps. of turmeric, but try with one tsp. first. If you like it and/or get used to it, increase the amount.
I use about 8-10 stevia drops to sweeten my porridge, but you can choose a sweetener of your choice – if you are on Candida diet, then another option would be xylitol, if not, go for some date paste or other dried fruits or even a bit of honey. You can also prepare your porridge with naturally sweet plant-based milk (oat or rice) omitting the water and you wouldn't even need any sweetener.
The weight of grated carrot depends on the size of it – I aim to choose a medium or a bit bigger carrot for necessary amount. I use purple carrots to give the porridge an extra cool look.
Should you prefer the summer squash a bit crunchier, leave it coarser than carrot.