This butternut squash pie is another cake recipe I created for my vegan Candida diet, as I did with my cauliflower-tahini cheesecake. Now that I'm past the extreme cleanse period, sweet and starchy veggies are back in my menu, at least to some extent, and I thought butternut squash to be a great alternative to bananas when it comes to baking as it's so incredibly sweet and creamy.
Furthermore, butternut squash is low in calories, but high in dietary fibre, vitamin A as well as ß-carotenes, cryptoxanthin-ß, and lutein, which convert into vitamin A inside the body. 100 grams cooked squash contains 223% of RDA (recommended daily allowance) of vitamin A.
I'd been thinking about a pumpkin pie for weeks already, because it is pumpkin season after all and I hadn't had this sweet deliciousness for ages. It also happened to be my hubby's birthday, so all the circumstances were perfect to start messing about in the kitchen.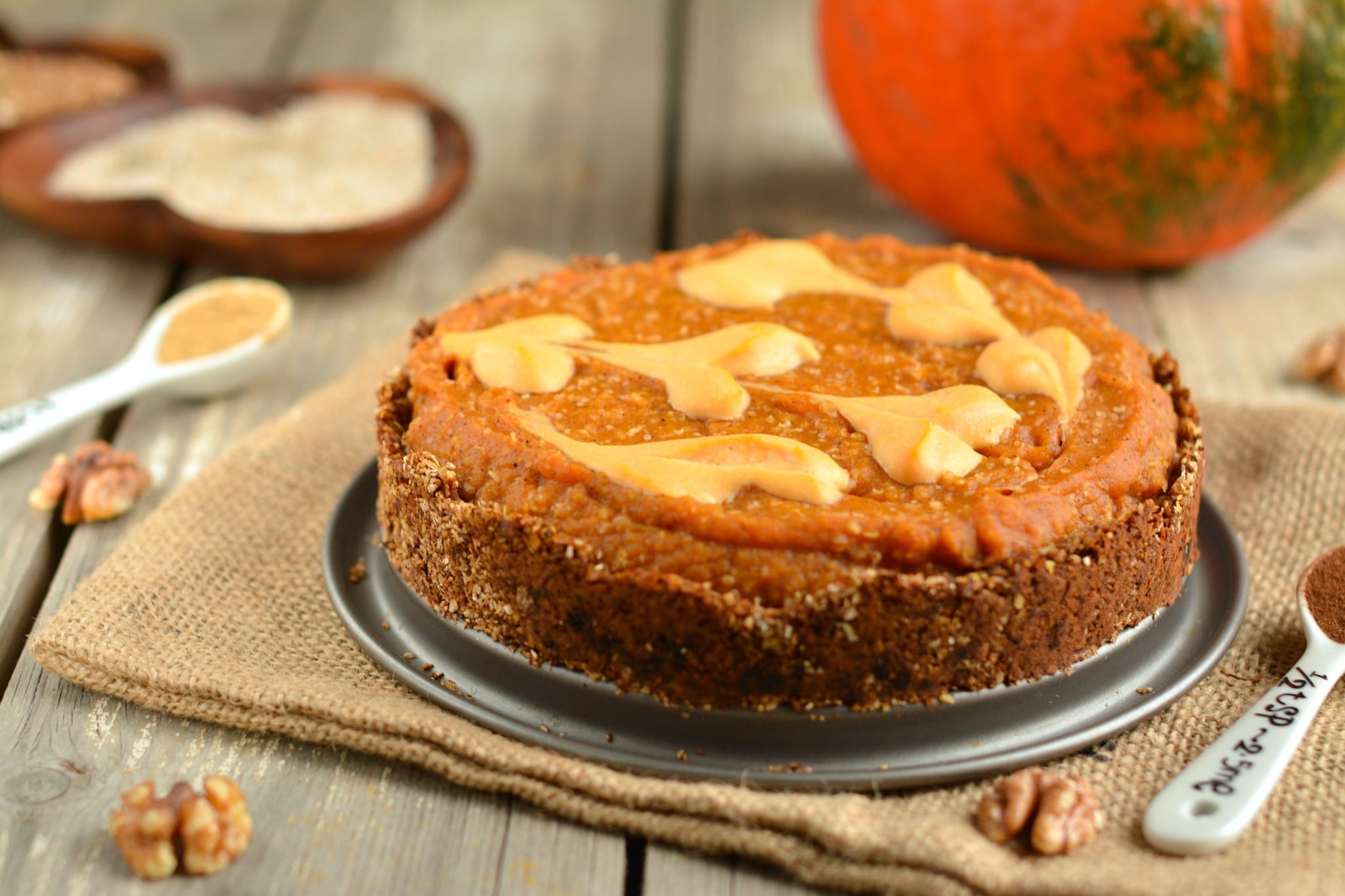 The outcome for delicious and delicate, although at first I thought that maybe it needed a little bit more sweetness, but after having it the next day straight from fridge, the flavours were just perfect – to my taste at least. However, if you have been following me, you already know that I'm not a big sweet tooth and prefer the subtleties of flavour. See tips for how to sweeten the pie to your liking below.
My butternut squash pie is of course vegan, plant-based, oil-free, and sugar-free using only wholesome ingredients.
Butternut Squash Pie with Tofu Swirls
Ingredients:Crust
⅓ cup (35g, 1.2oz) oat bran
½ cup (50g, 1.8oz) walnuts
1 tbsp. carob powder
1 ½ tbsps. thick butternut squash puree (see tips)
Pinch of Himalayan salt
Ingredients:Filling
2 cups (480g, 17oz) thick butternut squash puree
1 heaped tsp. cinnamon
1 heaped tsp. ground ginger
Pinch of nutmeg and cardamom
2 ½ tbsps. oat bran, ground (see tips)
a brave pinch of Himalayan salt
Ingredients:Swirls
1 tbsp. butternut squash puree (from the filling)
40g silken tofu
Directions:Crust
Make sure your walnuts are at room temperature. In a food processor, process walnuts with Himalayan salt until fine crumbs.
Add oat bran and process until the oils from walnuts start to separate and the batter begins to stick. It may take up to a few minutes, scraping the sides from time to time.
Add carob and butternut squash puree and process again until homogeneous batter forms.
Line a 6" (15 cm) or 6.3" (16 cm) round springform cake tin with parchment paper. Press the crust into tin with your hands (wet your hands if it sticks) and bake in 190 C (375 F) oven for 10 minutes. Remove from oven and set aside.
Directions:Filling and swirls
Bake a baking sheet full of butternut squash cubes (200 C, 390 F, 20-25 minutes). Let cool.
Puree oven-baked butternut squash using immerse blender. Measure 2 cups for the cake.
Add spices and blend well.
Separate 1 tbsp. of the batter for swirls and whip it together with silken tofu. Set aside.
Add oat bran to cake filling and mix or blend well.
Pour the filling onto baked crust and even it out with spoon.
Add dots or stripes of the tofu mix onto the cake and create your swirls.
Cover the tin with foil and bake for 20 minutes in 175 C (350 F) oven. Remove the foil and bake for another 10 minutes.
Remove the round tin and let the cake cool down a bit, then transfer it to a cooling rack. Let it completely cool down before eating. Even better, if you can place it in fridge for at least an hour after it's cooled down. The cooler it is, the better and sweeter the taste!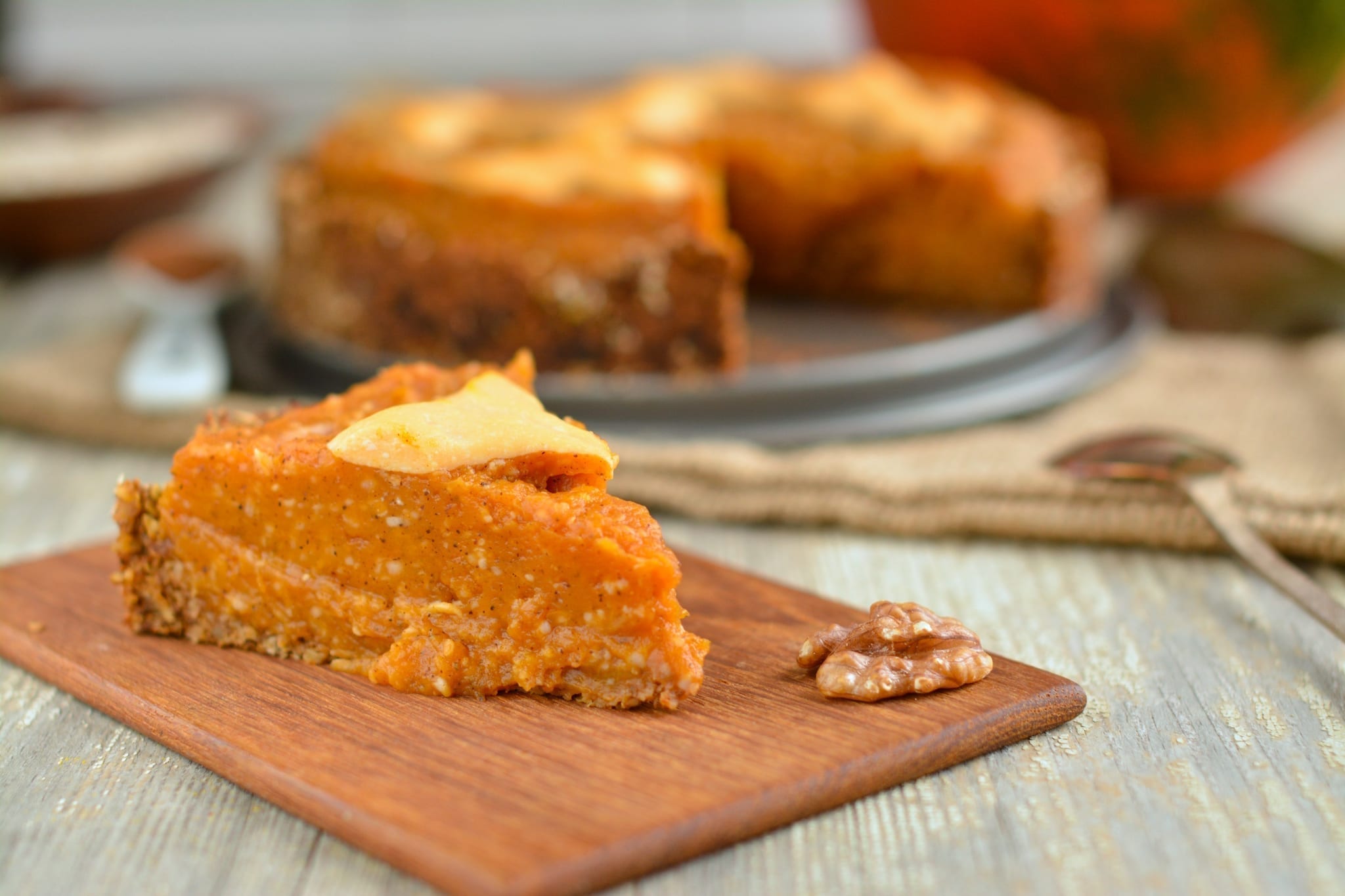 Tips:
The pie is not overly sweet. So, should you like the crust to be sweeter, replace butternut squash puree with 4 soft Medjool dates. Should you be on Candida diet, use xylitol instead (in addition to butternut squash).
If you can't grind your oat bran, use it as is – the taste won't change, you'll just have visible bran dots in the cake, which is also fine!
Again, should you find that the filling needs more sweetness, add a few Medjool dates. If your immerse blender is not that powerful, use a blender to process the filling. Again, if you are on Candida diet, use xylitol.
If you are lazy or don't have tofu on hand, just leave the swirls out.