It's Halloween week and it's all about pumpkins, isn't it? Butternut squash has become my new banana (note: I'm on vegan Candida diet) and I've been literally putting it everywhere I can – muffins, cakes, puddings, porridge; you name it!
What is it about Halloween tough?
Halloween is a contraction of All Hallows' Evening, also known as Allhalloween, All Hallows' Eve, or All Saints' Eve. It is a celebration observed in a number of countries on 31 October, the eve of the Western Christian feast of All Hallows' Day. It begins the three-day observance of Allhallowtide, the time dedicated to remembering the dead, including saints (hallows), martyrs, and all the faithful departed.
It is widely believed that many Halloween traditions originated in Britain and Ireland from Celtic harvest festivals which may have pagan roots and that this festival was Christianized as Halloween. Some academics, however, support the view that Halloween began independently as a solely Christian holiday.
Halloween activities include trick-or-treating (or the related guising), attending Halloween costume parties, decorating, carving pumpkins into jack-o'-lanterns, lighting bonfires, apple bobbing and divination games, playing pranks, visiting haunted attractions, telling scary stories and watching horror films.
It is also popular to attend to church services and lighting candles on the graves of the dead. Some Christians historically abstained from meat on All Hallows' Eve, a tradition reflected in the eating of certain foods on this day, including apples, potato pancakes and soul cakes.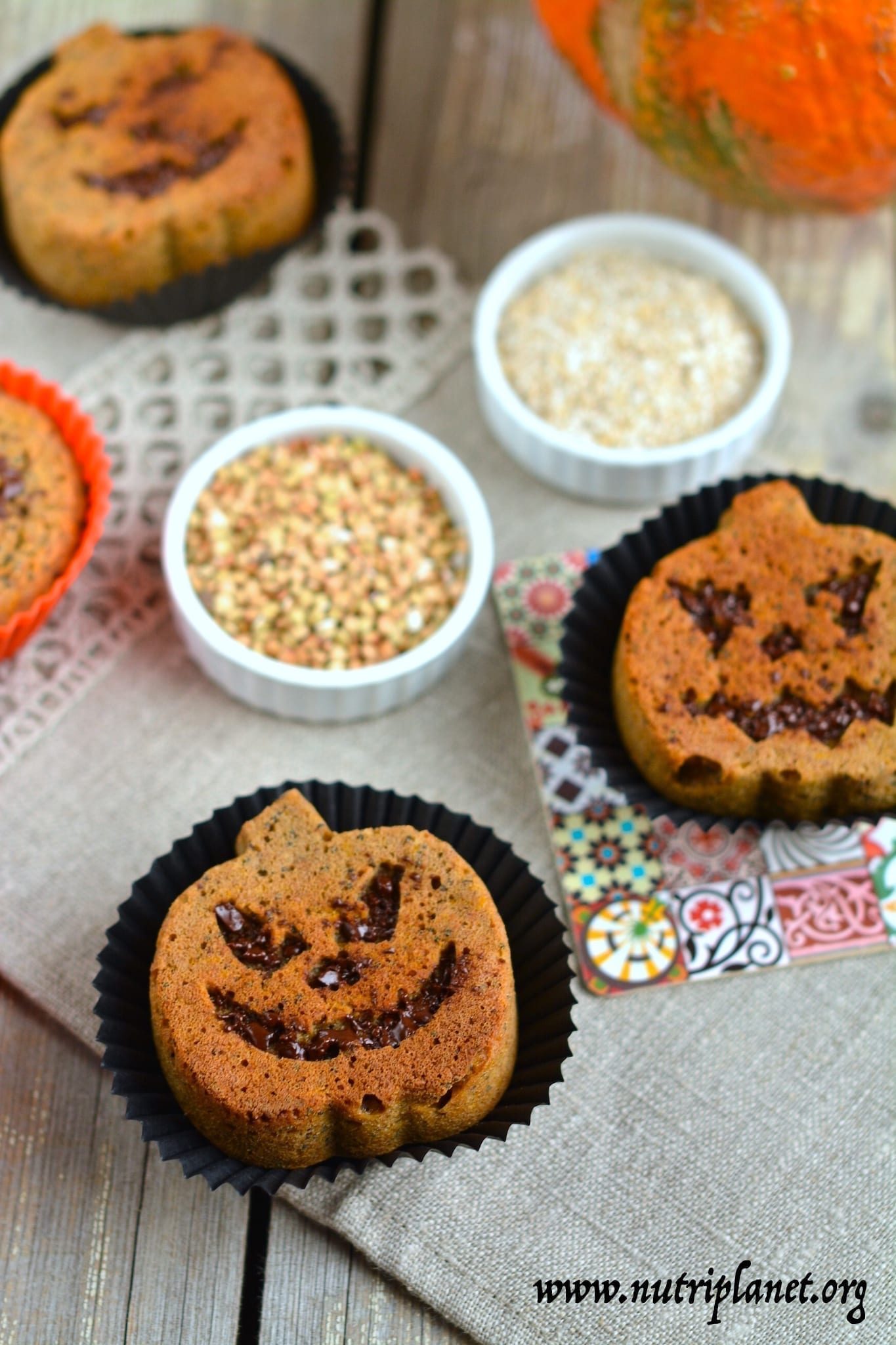 Now, back to the muffins. I initially tried to use pumpkin puree in the recipe, but couldn't use as much as I wanted (for the taste) without making them too moist, so I thought of going for grated squash instead. I had four tries with these muffins in the end – never worked so hard on any of my recipes before, but finally it paid off incredibly well! The fact that the butternut squash is grated instead of pureed allows you to taste its deliciousness in a much more intense way.
My Halloween Butternut Squash Muffins are plant-based, vegan, refined sugar free, oil-free and Candida diet friendly. You can also make them gluten-free by substituting oat bran with buckwheat or millet groats.
Halloween Butternut Squash Muffins |12 muffins|
Ingredients
120g (0.7 cups, 4.2oz) raw buckwheat, soaked
120g (1.3 cups, 4.2oz) oat bran
1 tbsp. sesame seed paste (tahini)
300g (1.2 cups, 10.6oz) oat or rice milk
⅓ tsp. of Himalayan salt
2 tsps. cinnamon
2 tsps. ginger powder
⅛ tsp. of cardamom
⅛ tsp. of ground nutmeg
2 tbsps. + 2 tsps. of xylitol or 6 Medjool dates (stone removed)
2 tbsps. poppy seeds
3 tsps. aluminium free baking powder
2 packed cups (about 280g, 10oz) finely grated raw butternut squash
finely chopped dark chocolate or cacao mass for garnish
Directions
Soak buckwheat groats overnight, then rinse and drain.
Heat oven to 175 C (350 F).
Grate the butternut squash finely.
Put all ingredients, except squash, poppy seeds, baking powder and chocolate into blender and blend until smooth and homogeneous batter forms.
Blend in the baking powder.
Finally mix in poppy seeds and grated squash.
Divide the batter between 12 muffin forms.
Bake in the middle rack for 35 minutes. Remove from oven, drizzle some dark chocolate on top and let cool.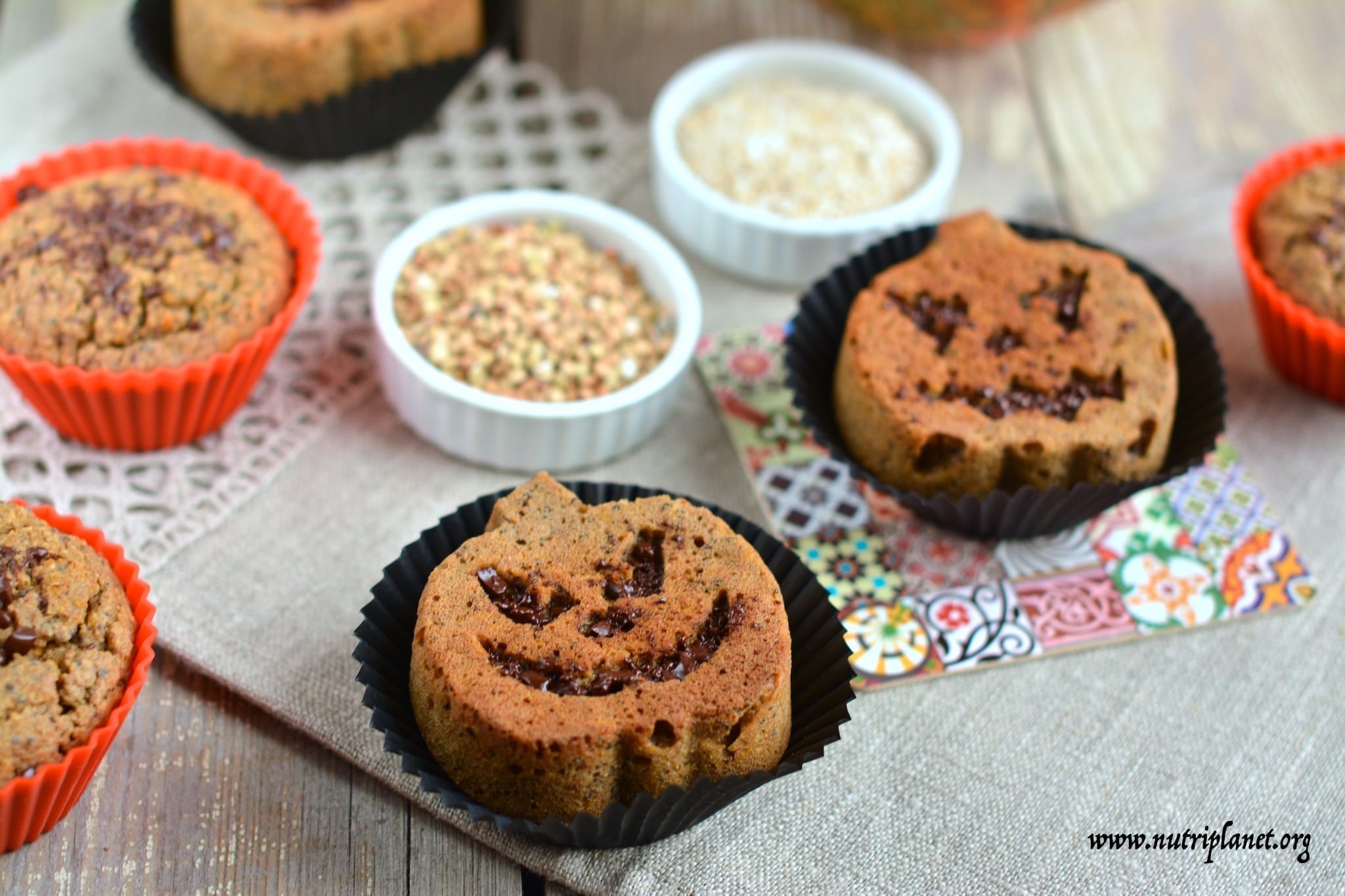 Tips:
These muffins are quite sweet (to my taste at least). Should you want them less sweet, discard xylitol/dates or use unsweetened and naturally not sweet plant-based milk, e.g. almond, hazelnut or soy milk.
You can replace tahini with any other nut or seed paste.
Freeze the leftover muffins and heat them up in the oven whenever needed. I do just that every morning – one for my kid's lunchbox and one for myself for the drive to kindergarten.