I can bravely say that I created the best porridge I've ever had in my life. The most surprising thing about it is that I did so while on Candida diet, i.e. there are no fresh fruits, dried fruits, berries or peanut butter involved. I'll get more thoroughly into the topic over the next few weeks and will be sharing my meals on Instagram on daily basis, but until then you can enjoy this amazing carrot cake porridge.
I love my oatmeal, but since rolled oats, steel cut oats or oat flour is out of the question during the first stages of Candida diet, I bought my first package of oat bran (which is allowed) and started to experiment. In the beginning I made porridges with just oat bran, which is already super delicious, and only added some soy milk, sunflower seed paste, poppy seeds and for sweetness a bit of xylitol. I never expected oat bran porridge to be so creamy and gooey! It really is worth a try!
On my second week on the diet I introduced back carrots as it'd be quite difficult to meet the necessary amount of vitamin A from other sources – only one medium size carrot is enough actually. I immediately had the idea of carrot cake porridge. After a week and a half with plain porridges with no fruits or berries to brighten my bowl up it seamed so divine to be able to add carrots to it. It's amazing how one's perspective can change over a short period of time, isn't it?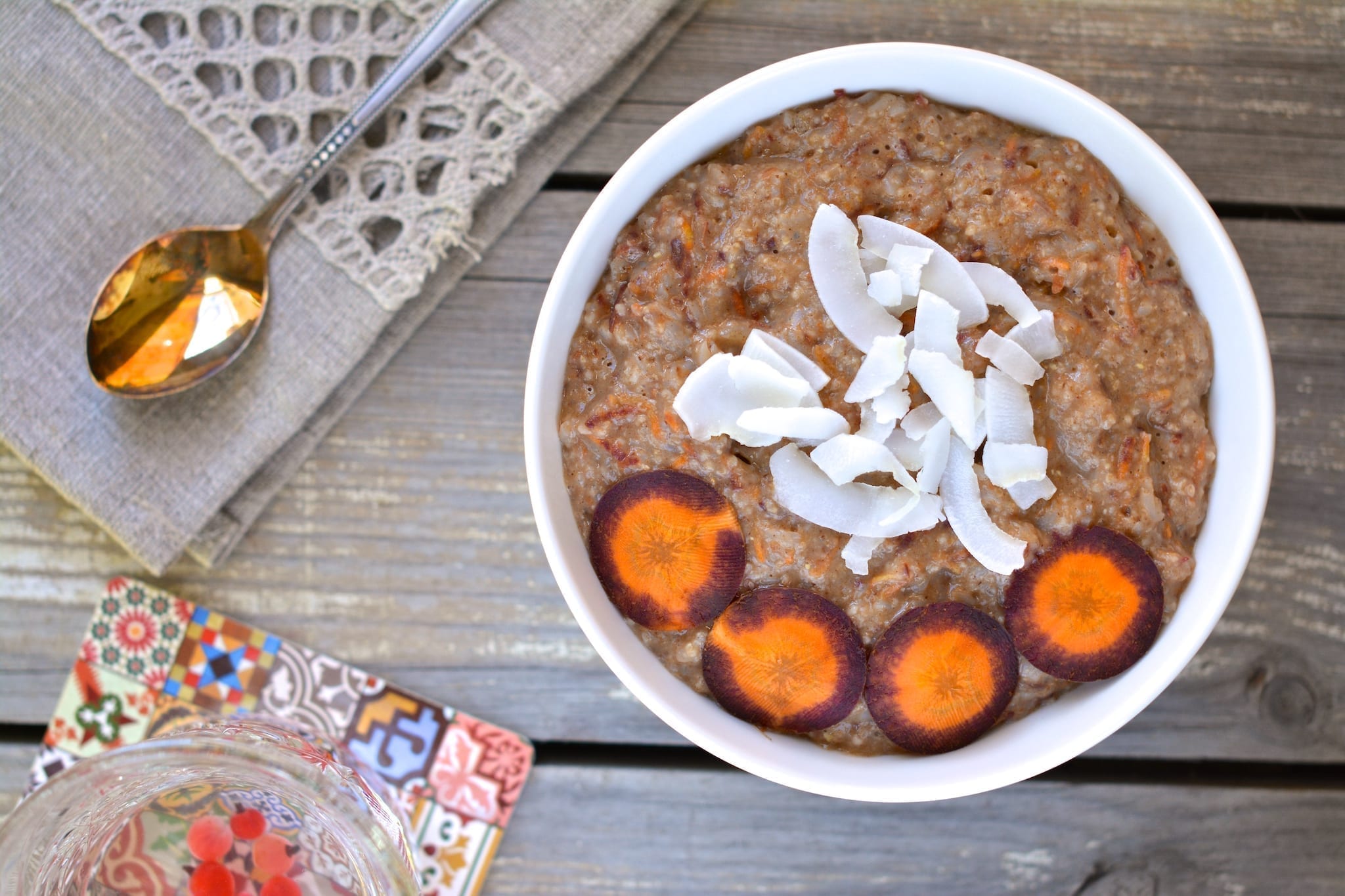 I was also getting a bit tired of oat bran alone and started to crave for buckwheat flakes that are made of roasted buckwheat. Yes, you read that right – me, who's been only eating raw buckwheat for years now, suddenly yearned for the taste I remembered from many years back. So, I got myself to supermarket and bought a package. I'm not sure whether roasted buckwheat flakes are available around the globe, but I hope they are.
I really took my time preparing this Candida fighting oat bran-buckwheat carrot cake porridge putting a lot of love and effort into it. I added all ingredients one bit at a time to make sure I didn't overdo with anything.
Proportion of half oat bran and half buckwheat flakes seemed right from the beginning, so I went with that and started with water only, adding some soy milk at a later stage. When the porridge was done I began adding carrot cake flavours, i.e. cinnamon, ginger powder and gingerbread spice making sure it didn't become too spicy or overly flavoured.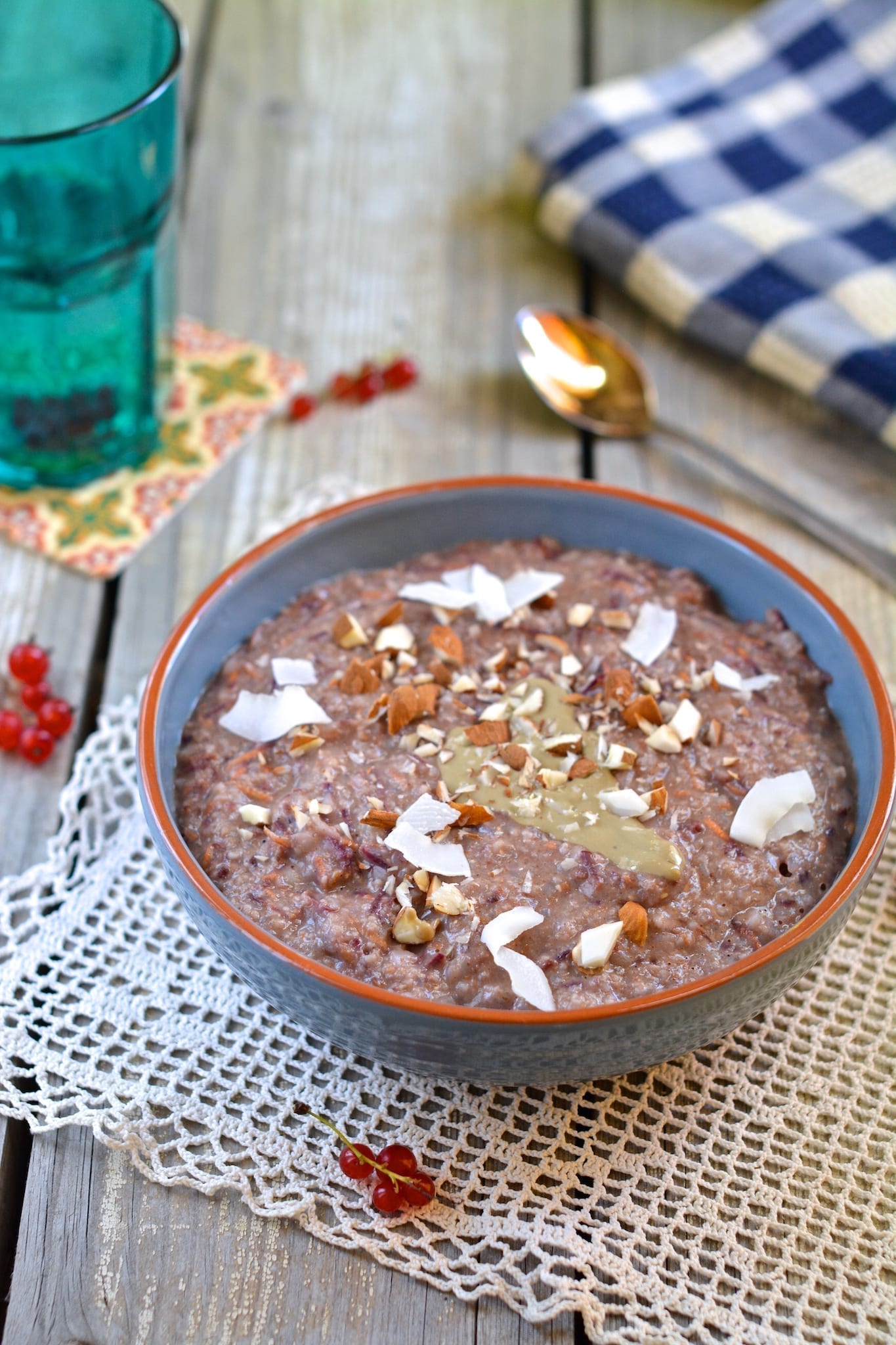 When the porridge was ready and in the bowl I opened the window as it was a fine and sunny day, sat on windowsill in the sun and literally wallowed in the taste of it until every last bit was gone.
Oat Bran-Buckwheat Carrot Cake Porridge
Ingredients:1 fair serving
40g oat bran
40g roasted buckwheat porridge flakes
400g water
50g soy milk
1 tsp. (not heaped) cinnamon
½ tsp. (not heaped) ginger powder
¼ tsp. gingerbread spice or cardamom (optional)
Himalayan salt to taste
Sweetener of choice to taste
50g of finely grated carrot
Directions
Measure your oat bran and buckwheat flakes.
Bring water to boil.
Reduce the heat and pour in oat bran whisking vigorously. Keep on whisking and simmering for 6 minutes.
Add soy milk and bring to boil again.
Mix in buckwheat flakes and simmer for 1 minute whisking at the same time.
Turn off the heat, cover with lid and let sit for 2 minutes.
Add salt, taste and adjust until it is to your satisfaction. Repeat the same with sweetener.
Throw in cinnamon, ginger powder and gingerbread spice and mix well. Taste and adjust if necessary.
Finally mix in finely grated carrots.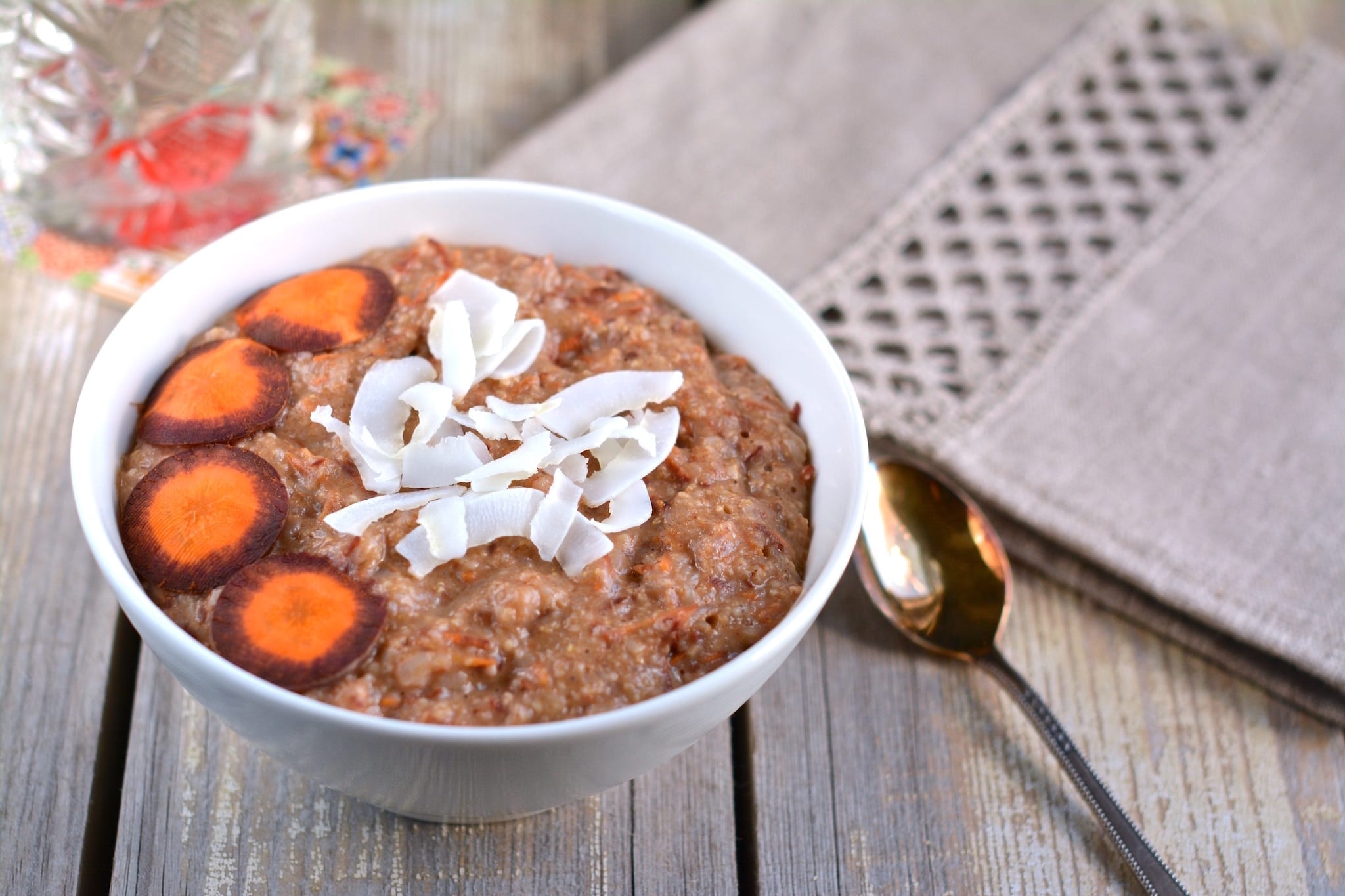 Tips:
Sweetener options: maple syrup, agave syrup, honey, stevia, xylitol, and coconut sugar. I used a combo of stevia and xylitol – 5 drops of stevia + a modest tsp. of xylitol.
Toppings: any nut or seed butter or coconut milk, nuts and seeds, coconut flakes. I usually add 1 tsp. of sunflower seed butter, some coconut flakes, and/or chopped almond. Almond and peanut butter would be delicious as well.
You can use any plant-based milk instead of soy milk. If you are also following Candida diet opt for unsweetened almond, hazelnut, quinoa, millet or soy milk