As you can see, I'm not done with hummus recipes! Last week I posted Black Bean-Veggie Hummus recipe and the week before Beet-Red Bean Hummus recipe. And I've got a few more up my sleeve, now is Chickpea Hummus with Potatoes and Bell Pepper!
This time finally my hummus consists of chickpeas, which actually is the true meaning of hummus in Arabic. Originally hummus was a Levantine Arab dip or spread made of chickpeas (or garbanzo beans) that have been cooked and mashed, then blended with tahini (a paste made of sesame seeds), olive oil, lemon juice, garlic and salt.
Since I started to make different hummuses every day, it became my kid's favourite lunch – he's spreading hummus over his favourite unsweetened, yeast-free and whole grain rye bread. I actually started to add veggies to hummus to make it a balanced lunch. Now it's got everything to make it a complete meal – good fats, grains, legumes and veggies. Add a bit of fresh lettuce and you are a health model!
This week my hummus has a really vibrant orange colour. It already gives pleasure just laying your eyes on it. And it's even better when you get the taste of it!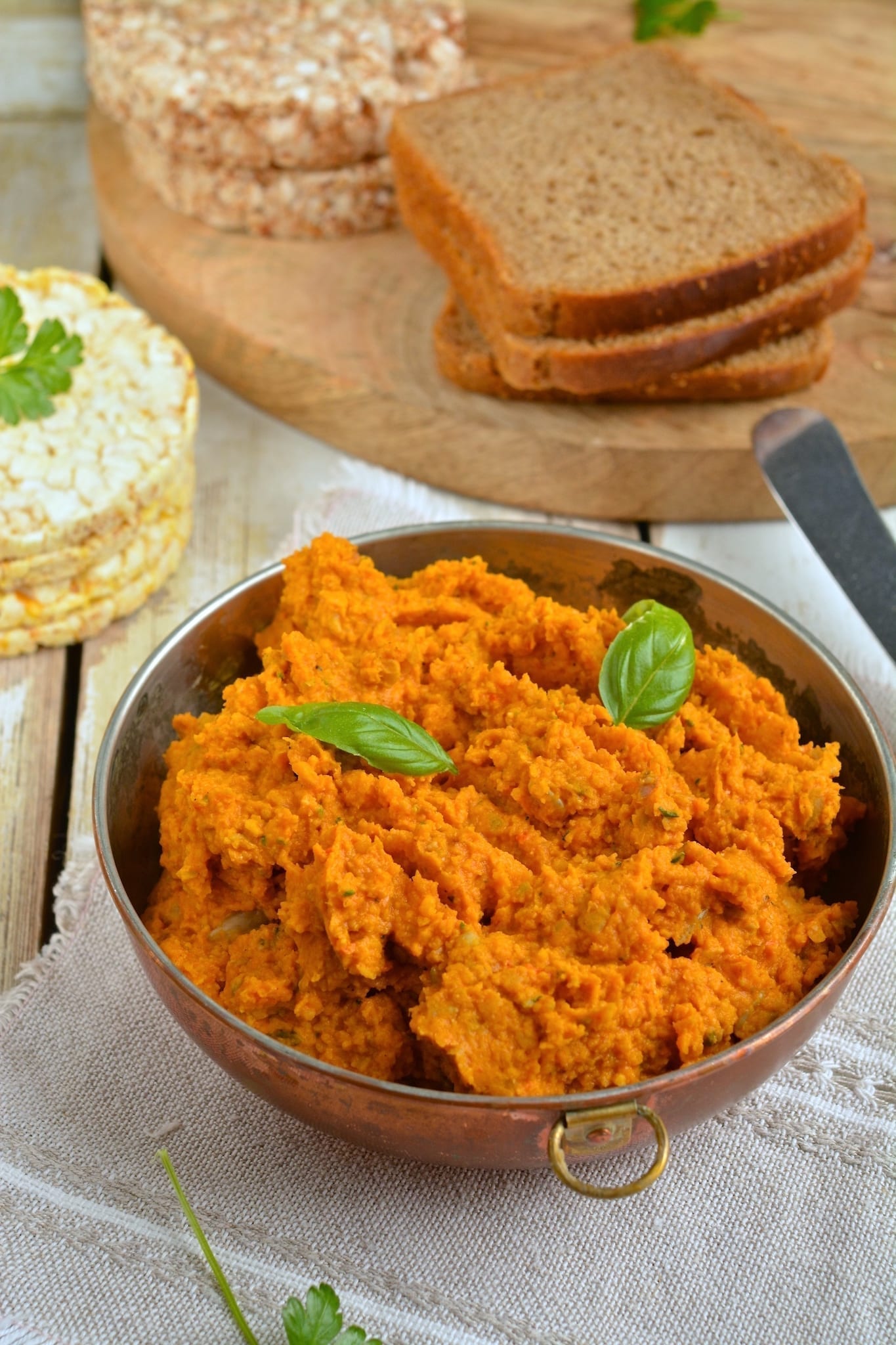 I use olives and tahini or any other nut butter or nuts/seeds for the good fats instead of oil in my hummus recipes. I have also discovered that adding a vegetable (beet, eggplant, carrot etc.) makes the hummus a complete meal and save myself from cooking something separately. I try to save some oven-baked veggies (carrots, beets, potatoes, eggplant, summer squash etc.) from dinner, store them in fridge and use in my hummus the next day at lunchtime. As I like to eat something crunchy with hummus, I have bites of fresh or fermented cucumbers with my sandwich.
You just have to love hummus because it is so easy to fix and has such a hearty consistency making it perfect for a quick lunch, dinner or snack.
Finally, please tag me in social media whenever you try one of my recipes and leave me a comment bellow if you have any questions! I'd love to see your creations! Instagram @thenutriplanet and Facebook @nutriplanet.health.hub
Print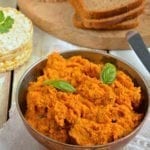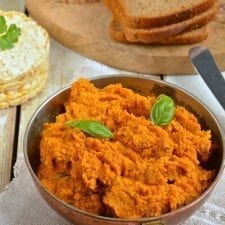 Chickpea Hummus with Potatoes and Red Bell Pepper
---
---
1

can unsalted chickpeas, rinsed and drained

1 cup

oven-baked potato cubes

1 cup

oven-baked red bell pepper

13

green olives

1 tsp

. turmeric

½ tsp

. garam masala

1 tbsp

. lemon juice

1.5

tbsps. of sunflower seeds

3

garlic cloves or

1 tsp

. garlic powder

3

tbsps. nutritional yeast
black pepper to taste

2

tbsps. fresh basil
---
Instructions
Throw all ingredients into blender or food processor and process until homogenous hummus forms.
Taste and add salt/pepper if necessary.
Depending on how dry or wet your bell pepper is and whether you are using blender or food processor you might need to add a bit of water.
Notes
In this hummus you'll have small crunchy sunflower seed pieces that I love because it's good to have something to chew on.
Nutrition
Serving Size:

1/3 of the recipe

Calories:

257 kcal

Sodium:

242.9mg

Fat:

7g

Carbohydrates:

29g

Fiber:

10g

Protein:

12.6g
Keywords: chickpea hummus
Tips:
Chickpea Hummus with Potatoes and Red Bell Pepper is perfect to spread onto corn, buckwheat or any other other cracker, whole grain bread, pita bread, or tortillas. I especially love it with corn crackers and my fermented buckwheat bread.
Have some fresh cucumber slices and/or salad leaves on the side and you've got yourself a full meal.