Everybody I know likes hummus; regardless of weather they are herbivores or omnivores. I guess it is the paste-like consistency and heartiness that appeals to so many.
Hummus actually means "chickpea" in Arabic. It is a Levantine Arab dip or spread made of chickpeas (or garbanzo beans) that have been cooked and mashed, then blended with tahini (a paste made of sesame seeds), olive oil, lemon juice, garlic and salt. Chickpeas have been cultivated throughout the Middle East and India for thousands of years. Some sources say that they grew in the gardens of Babylon. The earliest known recipes for a dish similar to hummus are recorded in cookbooks published in Cairo in the 13th century.
Nowadays any bean and/or vegetable spread is referred to as hummus, e.g. black bean hummus, red bean hummus, white bean hummus, lentil hummus, pea hummus, beet hummus, eggplant hummus, carrot hummus, corn hummus etc. So, basically today hummus means plant-based paste or spread containing legumes and/or vegetables.
Evidently, as a whole food plant-based diet advocate, I make my hummus oil-free. Instead there are olives and tahini or any other nut butter or nuts/seeds for the good fats. I also like to add vegetables (beet, eggplant, carrot etc.) to make the hummus a complete meal and save myself from cooking something separately. I usually save some oven-baked veggies (carrots, beets, potatoes, eggplant, summer squash etc.) from dinner, store them in fridge and use in my hummus next day at lunchtime. This way my lunch is hearty and filling and ready in no time. I also like something crunchy to go with hummus, so I have bites of fresh or fermented cucumbers with my hummus sandwich.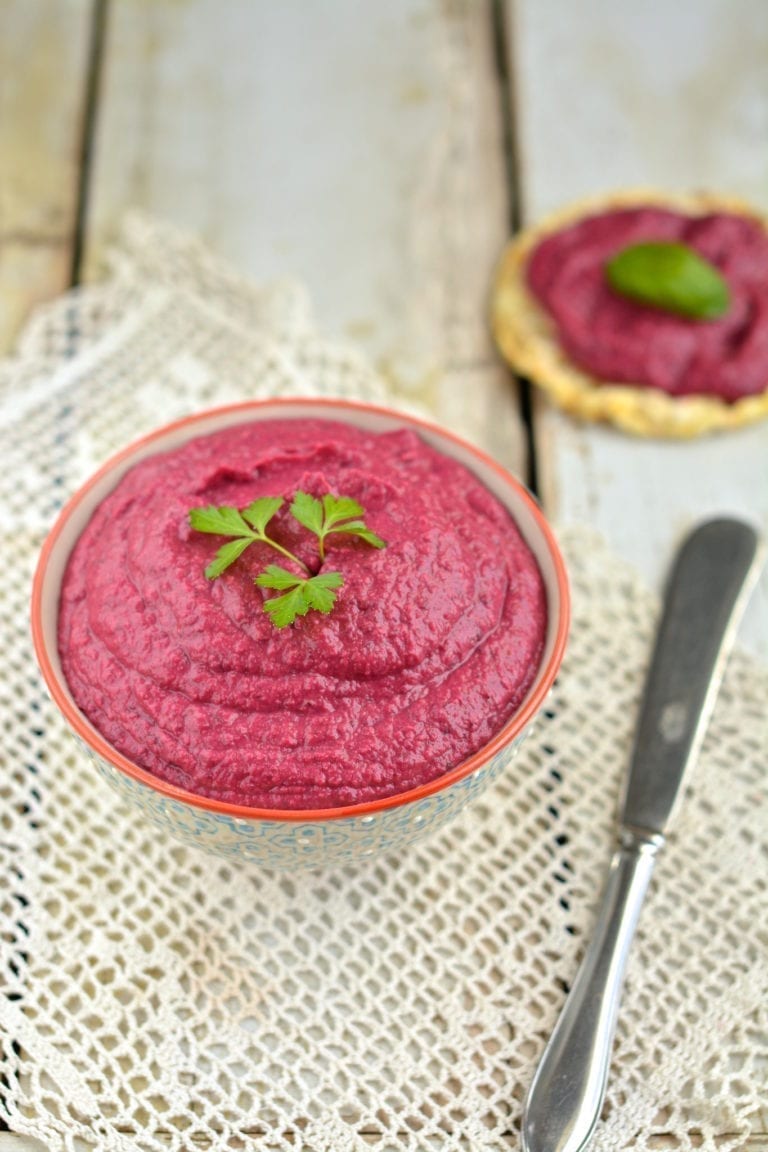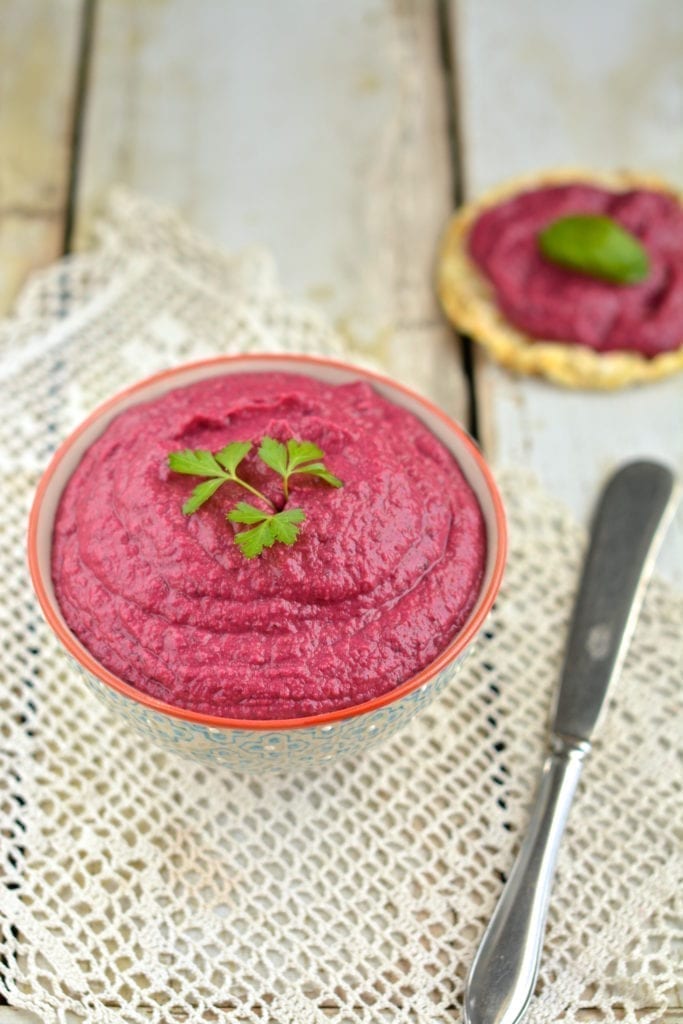 I love hummus because it is so easy to fix and has such a hearty consistency making it perfect for a quick breakfast, lunch, dinner or snack.
Beet-Red Bean Hummus
Ingredients:3 servings
1 can unsalted red beans, rinsed and drained
1 cup beetroot cubes, oven-baked or cooked
3 tbsps. nutritional yeast
½ tsp. garam masala or ground cumin
1 tsp. unsalted tahini
2 tbsps. lemon juice
5 green olives
3 garlic cloves or 1 tsp. garlic powder
Black pepper and cayenne pepper to taste
1 tbsp. chopped fresh parsley
Directions
Throw all ingredients into blender or food processor and process until homogenous hummus forms.
Taste and add salt/pepper if necessary.
Depending on how dry or wet your beet is and whether you are using blender or food processor you might need to add a bit of water. Add more if you want the hummus to be more liquid and less if you prefer it thicker.
Nutritional info per serving (1/3 of the recipe): 174 kcal, 21g carbohydrates (48% of kcal), 2.5g fats (13% of kcal), 11g protein (25% of kcal), 8.2g fibre, 143.3mg sodium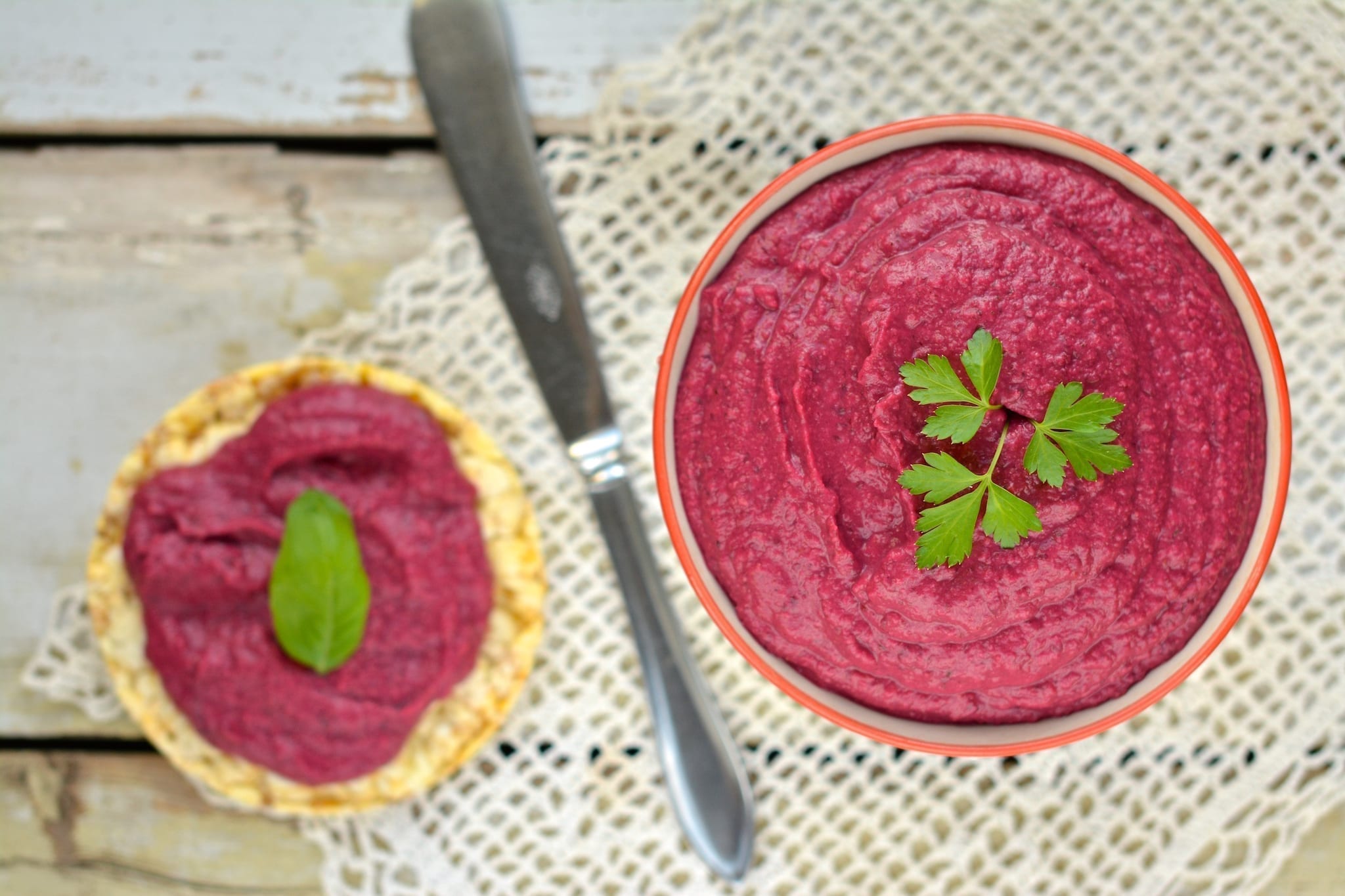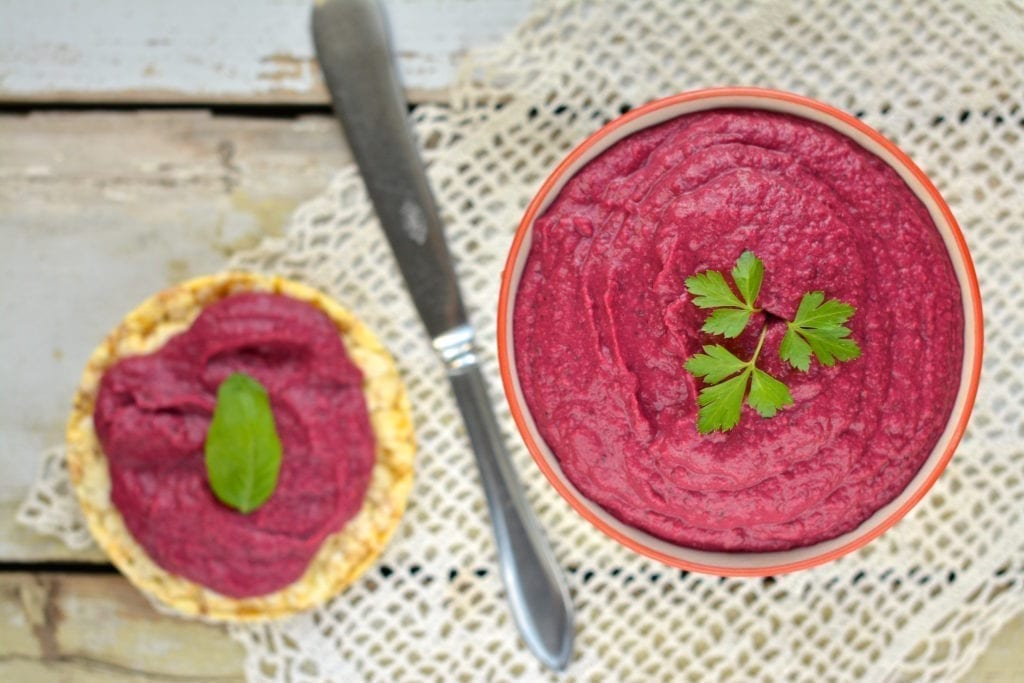 Tips:
Beet-Red Bean Hummus is perfect on corn, buckwheat and other crackers, whole grain bread, pita bread, or tortillas. I especially love it with corn crackers and my fermented buckwheat bread.
Have some fresh cucumber slices and/or salad leaves on the side and you've got yourself a full meal.
You can make your hummus as smooth as you like by adjusting the time of processing. I myself like my hummus a bit chunky so there's something to chew on.
Make a double or triple batch and store in a sealed container for 3-4 days.