As I created these buckwheat-oat bran muffins for my Candida diet, they do not contain any fruits, refined grains or sugar, gluten and by my own choice also oil.
I'd been on the diet for five weeks, when I finally took the matter of muffins into my hands. I've always loved to eat my whole food plant-based muffins daily and now I was suddenly forced to manage without. Nevertheless, the yearning was always there and so I stood in the kitchen and began to figure out the ingredients.
Choosing the grains was actually quite easy as I had grown to love oat bran during the five weeks of my diet and buckwheat had been a staple in my kitchen for years already.
I soaked buckwheat overnight to blend it into batter the next morning – this is my favourite method for muffins, pancakes and even porridges these days. Soaking reduces or removes phytic acid (which reduces mineral absorption), releases the enzyme inhibitors that store nutrients while growing and prevents premature germination, and even boost vitamin B content.
Instead of bananas and applesauce I used sunflower and sesame seed paste and replaced oat milk, which I used quite often, with almond milk. Finely grated zucchini gives the muffins just a perfect amount of moistness.
It's very easy to sweeten cakes and muffins when you're allowed to have dried fruits and bananas. However, Candida diet rules these goodies out, so the only option left was to experiment with stevia and xylitol. With my first batch I used the combination of both, but with second I stuck to xylitol only.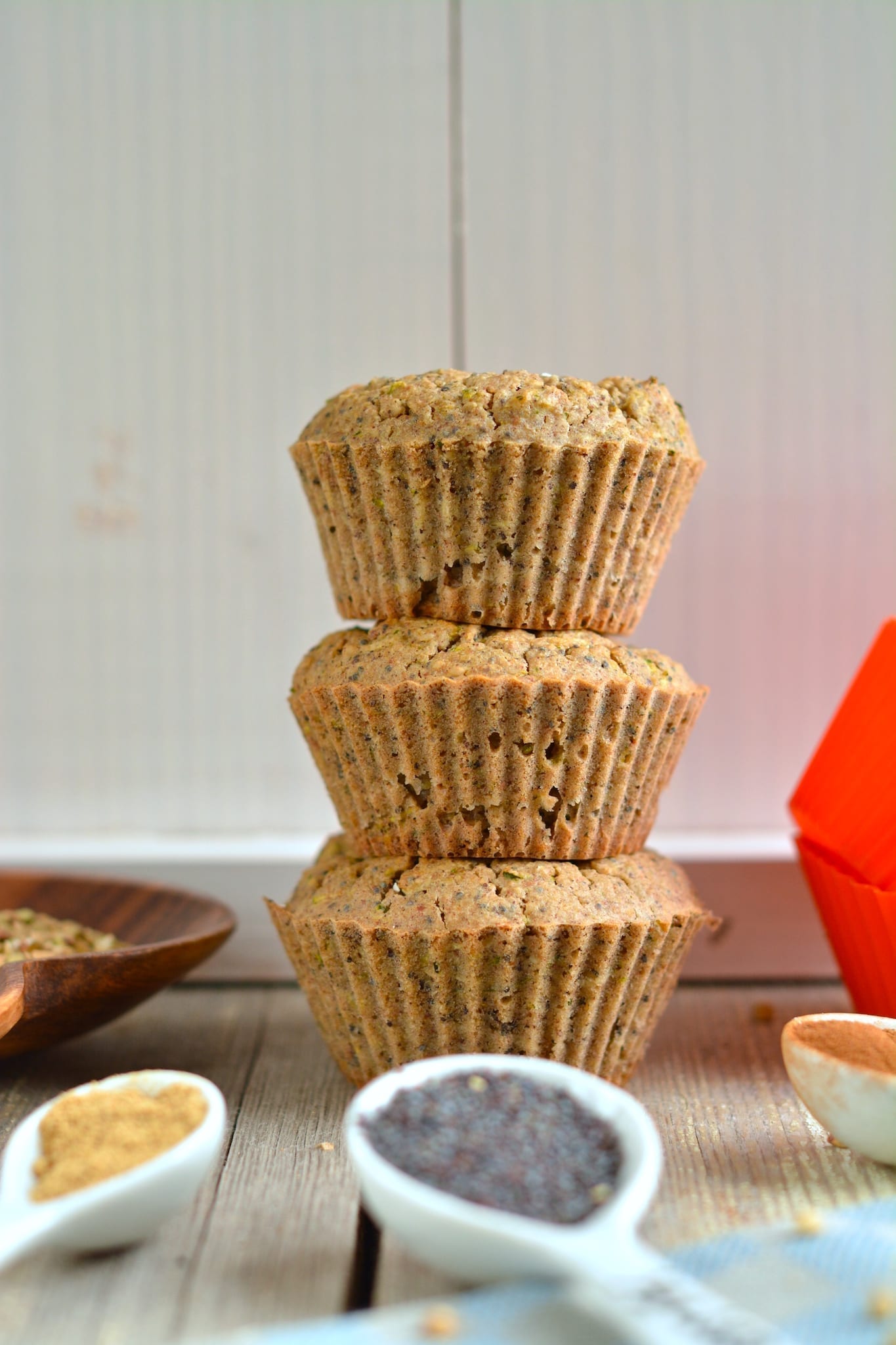 I was really surprised at how moist they came out! So, I can confirm these muffins to be an excellent substitution for those on strict diet yearning to enjoy a muffin every now and then. These muffins also have much lower glycemic load than my regular muffin recipes that use dried fruits and bananas, thus being perfect for those who struggle with blood sugar fluctuations.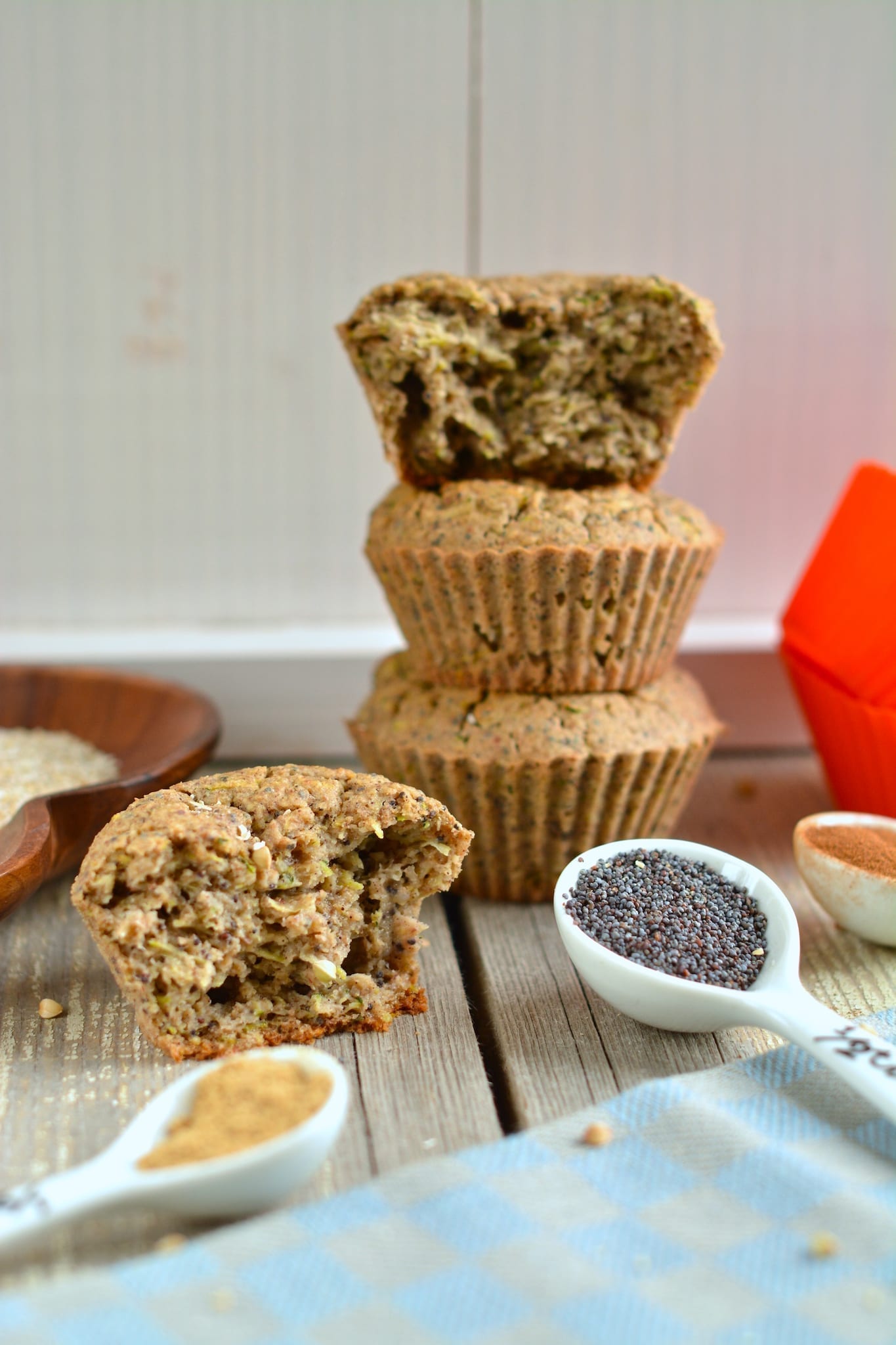 If you haven't followed my blog for the past two weeks and do not understand what I am talking about, then head to my previous posts about Vegan Candida Diet and Vegan Candida Diet Meal Planning.
My Candida diet buckwheat-oat bran-zucchini muffins are oil-free, gluten-free, refined sugar free, plant-based, vegan and contain no fruits.
If you are lucky enough to be able to eat all the goodies that whole food plant-based diet offers, head to my other muffin recipes, i.e. Buckwheat-Spirulina Muffins, Turmeric-Chocolate Muffins, Chocolaty Plum Muffins, Millet-Buckwheat Muffins with Blackcurrants, Spicy Cherry-Poppy Seed Muffins.
Finally, please tag me in social media whenever you try one of my recipes and leave me a comment bellow if you have any questions! I'd love to see your creations! Instagram @thenutriplanet and Facebook @nutriplanet.health.hub
Print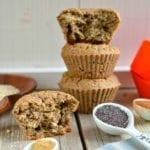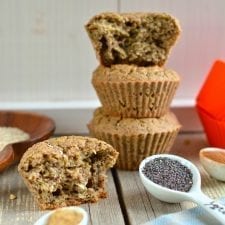 Buckwheat-Oat Bran-Zucchini Muffins
---
Author:

Nele Liivlaid

Total Time:

35 minutes

Yield:

12

muffins

1

x
Description
As I created these buckwheat-oat bran muffins for my Candida diet, they do not contain any fruits, refined grains or sugar, gluten and by my own choice also oil.
---
---
Instructions
Soak buckwheat groats overnight, then rinse and drain.
Heat oven to 175 C (350 F).
Grate the zucchini finely.
Put all ingredients, except zucchini, poppy seeds and baking powder, into blender and blend into smooth batter.
Blend in the baking powder.
Finally mix in poppy seeds and grated zucchini.
Transfer the batter into muffin forms.
Bake in the middle rack for 35 minutes. Remove from oven and let cool.
Cook Time:

35 minutes

Method:

Baking
Keywords: buckwheat-oat bran muffins
Tips:
My buckwheat-oat bran muffins are not overly sweet. Should you prefer them sweeter, add more stevia and/or xylitol.
Should it be your first date with stevia, be careful and maybe use more xylitol as stevia has an aftertaste that not everyone appreciates. I've used it for 6 weeks now and notice the taste much less than I did in the beginning.
You can replace sunflower seed paste with tahini and vice versa. You can also use any other nut or seed butter that you find suitable.
If you don't like the taste of cardamom, just ditch it or use less.
Freeze the leftover muffins and heat them up in the oven whenever needed. I do just that every morning – one for my kid's lunchbox and another for myself for the drive to kindergarten.
Enjoy!