How to make nutritious porridge. Learn 5 different methods to cook porridge – I bet many of you didn't know the last one!
As continuation to my last week's post 9-Step Guide to Preparing Balanced Porridge, I'll be explaining 5 ways to make nutritious porridge.
The below chart gives you a quick overview of what can be done with your favourite grains: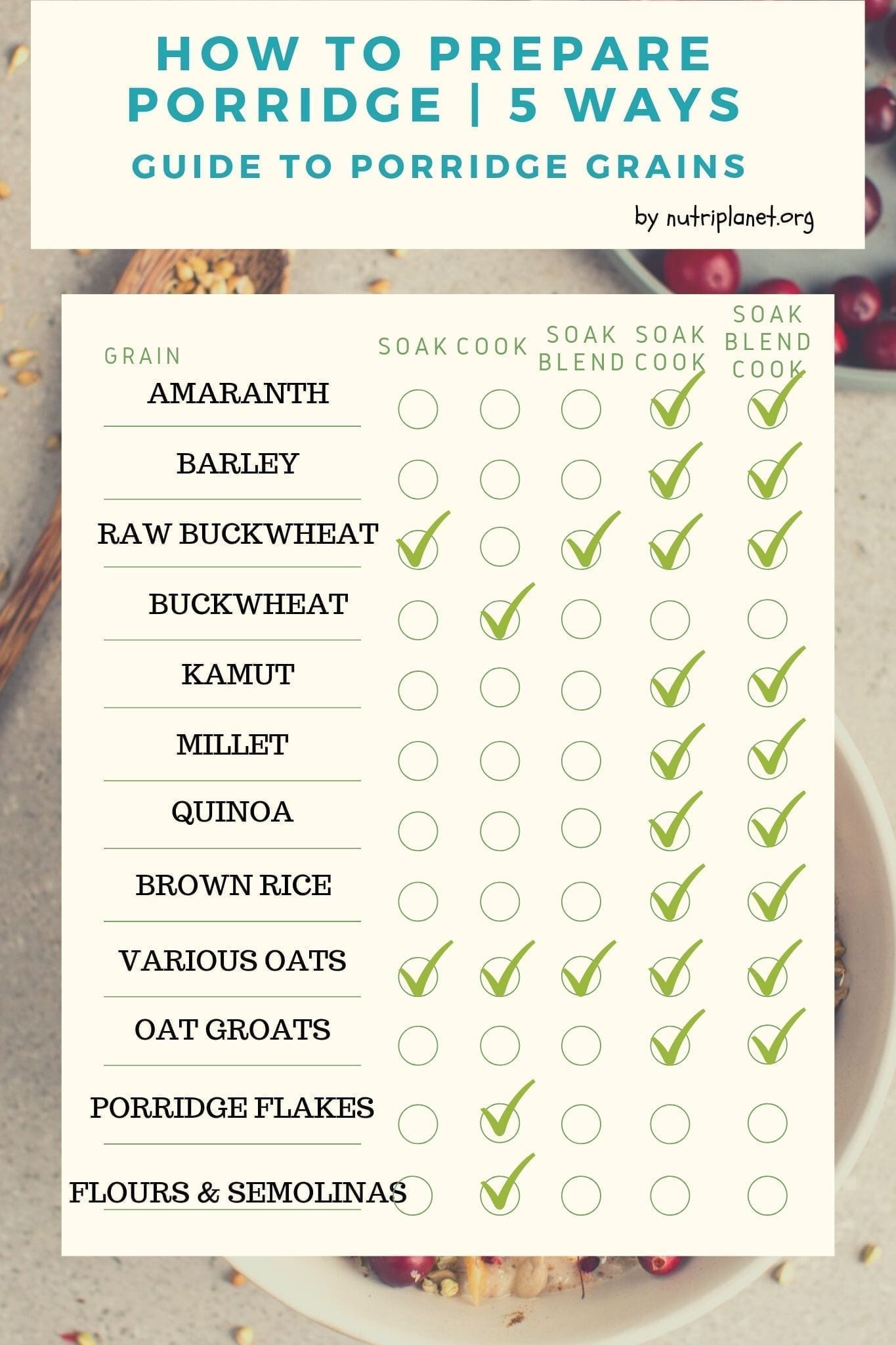 1. Soaking
You can prepare your nutritious porridge by just soaking with a few grains:
Oats
Oats are definitely one of my favorites to use for making porridge as it's ready in no time and has an awesome texture and taste. You can choose between different types of oats for soaked porridge:
Jumbo rolled oats or flakes – whole oats that have been softened with steam and then flattened between rollers to make flakes. You can make a really quick porridge using jumbo oats as they absorb the liquid in no time.
Rolled oats – steel cut oats that have been softened with steam and then rolled to produce flakes. They are smaller than jumbo flakes and cook quicker making a finer, smoother porridge.
Oatmeal – made by using grooved rolls to break up the oats to produce different grades of oatmeal, from coarse oatmeal, to medium or fine oatmeal. Use fine oatmeal for soaking.
Tip:
I usually pour enough hot water over my oats to just about to cover them and later add some plant-based milk to make it softer and creamier.
Raw buckwheat
Raw buckwheat is a staple at our house – I use it for fermented buckwheat bread, porridges, buckwheat-banana creams, buckwheat muffins, plant-based pancakes, oil-free cakes, brownies, stews, and curries. I love it because it can be eaten both raw and cooked.
Preparation method:
Soak raw buckwheat for 6-8 hours, then rinse and drain carefully and follow my 9-Step Guide to Preparing Balanced Porridge from step 6.
2. Soaking + Blending
This method basically applies to raw buckwheat only and it's my favourite in summer as it's nutritious and hearty as well as cold and refreshing.
A few raw buckwheat recipes for breakfast: raw buckwheat ricotta, Raw Buckwheat-Carob Cream Breakfast with Chia Pudding
Note:
You could go ahead and blend your soaked oats as well, if you want your porridge to be super creamy.
3. Soaking + Blending + Cooking, Video
I guess this method is unknown to many of you. I first tried blended batters for pancakes, bread, muffins and cakes and then thought why not make porridge as well.
I recommend this method to those who enjoy porridges made of flour for their creaminess. With soaking + blending + cooking you have the same result, but at the same time you get a much healthier porridge, as soaking makes the grains more easily digestible and enhances the absorption of minerals.
The grains that you can use for soaking + blending + cooking:
Raw buckwheat groats, quinoa berries, millet berries, amaranth berries, oat groats, steel cut oats, oatmeal, and barley groats.
Oat and barley groat porridge prepared using this method will not be creamy, but a bit chunky as oat and barley groats are harder than other grains in this list.
Tip:
Go ahead and also try soaking + cooking + blending. In this case it is easier to use immerse blender in the same pot after you have cooked your grains. I personally prefer blending + cooking because the preparation time is much shorter.
In this video I make creamy millet amaranth porridge using soaking + blending + cooking method.
4. Soaking + Cooking
This method applies to whole groats and berries: raw buckwheat groats, quinoa berries, millet berries, amaranth berries, barley groats, oat groats, kamut berries, and whole grain rice.
Your can also soak + cook various types of oats (steel cut, rolled, meal), if you like your porridge warm rather than cold.
5. Just cooking, Video
Just measure, add liquid and cook without any soaking or blending:
Porridge flakes
There are porridge flakes of all grains you can imagine – buckwheat, millet, quinoa, kamut, amaranth, oats, rice, spelt, rye, barley, multi-grain, wheat.
Just choose whole grain and possibly organic porridge flakes and prepare them according to the instructions on the package.
Steel cut oats, rolled oats, bran and oatmeal
Follow the instructions on package.
Oatmeal takes longer to cook and usually has a much thicker texture compared to rolled oats.
Semolina and flours
Semolina is basically a coarse grind of a grain or corn, i.e. barley semolina, corn semolina, wheat semolina, spelt semolina, rye semolina, and buckwheat semolina.
Tips:
Follow the instructions on the package in terms of semolina and water ratio as well as cooking time and add some more liquid if you'd like it more moist.
Flour porridges usually cook for 10 minutes whereas semolina takes about 20 minutes. For me also 10 minutes active cooking + 10 minutes resting (covered) works very well.
Use a whisk when pouring semolina or flour into boiling water to avoid any lumps.
I also use the following trick when making flour porridges – I put flour in a glass and gradually add water to get a pourable homogeneous batter and then add the batter to boiling water while whisking. I find it much easier than messing with dry flour.
Note:
Always choose whole grain semolina and whole grain flours with coarser grind.
Pre-roasted buckwheat porridge (kasha)
There is no need to soak pre-roasted buckwheat to make porridge.
In my opinion pre-roasted buckwheat goes well with vegetables (grated carrot, pumpkin puree) and not with fruits or berries.
Be cautious with millet to use in your nutritious porridge!
If you have a thyroid condition, avoid millet as it has adverse effects on thyroid function.
Here's the soaking, cooking time and grain/liquid ratio chart I've been mentioning above:

Notes for nutritious porridge:
Grain and liquid ratio 1:3 means that you measure one part of dry berries or groats, soak them in water for required time and then cook them with 3 parts of liquid.
The cooking time depends on how old your groats or berries are and how much water they have absorbed while soaking.
The grain and liquid ratio can vary according to your personal taste and liking.
It is recommended to start cooking with water only and add plant-based milk at the end to moist the porridge as grains absorb water better.
Cook without salt and add it only at the end as salt can inhibit water absorption.