It's been a while since I last posted a muffin recipe – in November to be precise. It doesn't mean that I haven't been baking – in fact I have, but just the same recipes over and over again. Turmeric-Chocolate Muffins have been my favourite for a long time.
When I started to create a new muffin recipe, I first thought which colour I'd like my next vegan muffins to be and decided that green would be awesome. Many people bake Matcha cakes and muffins, but you actually need to use a lot of it to make the bake visibly green making it too strong for my taste. That's the reason I decided to give spirulina a go – I had already tried it in my oatmeal and I knew that just a little is necessary to get that beautiful green colour. Of course, the colour of the batter is much more intense while baking will smooth it out and make it darker.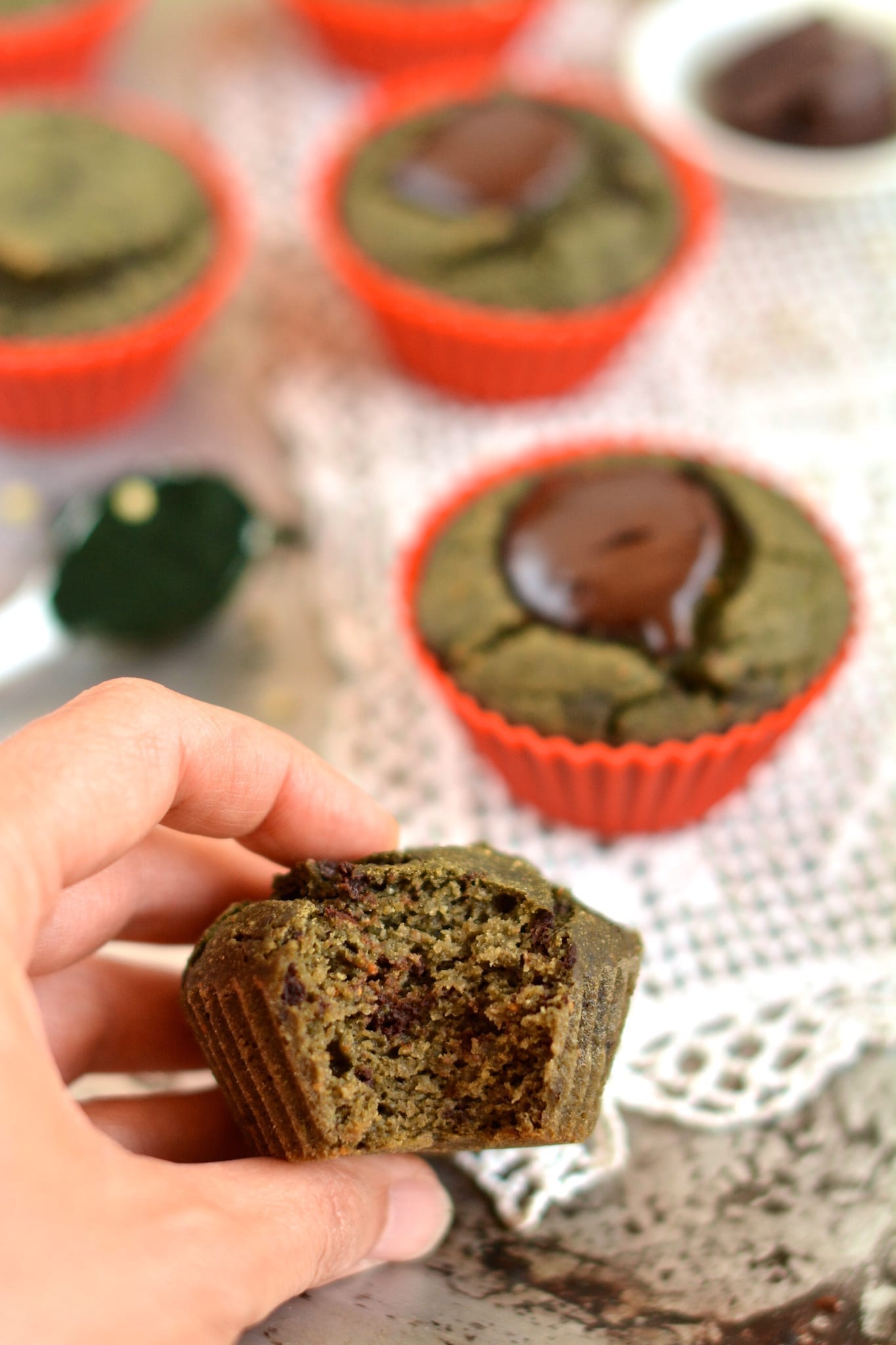 I use spirulina in my muffins mainly because of visual effect and taste. Should you want to consume spirulina for its health benefits, do not heat it, as many of its good qualities are lost during heating.
Instead, add it to smoothies, banana ice-cream, raw buckwheat porridge and oatmeal. Don't add more than ½ tsp. to your oatmeal or porridge though, as the taste would become too strong for most people. However, should you add a jam made of dried fruits or any other sweetener like agave or honey to your porridge or oatmeal, you might as well add more spirulina, as in my experience sweetness soothes its taste. My 6-year-old for example loves his green oatmeal.
The main benefits of spirulina are:
High-quality protein content.
High vitamin A concentration.
Essential fatty acids: linoleic acid (LA) and g-linolenic acid (GLA).
High bio-available iron content.
Good source of calcium, copper, zinc, potassium, selenium, magnesium, manganese.
High content of chlorophyll, which helps to remove toxins from the blood and boost the immune system.
Great source of vitamins B1, B2, B3, B6 and B9 (folic acid), C and E.
My spirulina muffins are gluten-free as I use raw buckwheat and also flourless because the recipe uses soaked grains instead of flour. As a rule, my vegan muffins are always oil-free and sugar-free. I use banana, peanut butter and applesauce for moistness and the sweetness comes from dried figs, oat milk and banana.
Spirulina-Buckwheat Muffins, Oil-Free & Sugar-Free
Ingredients
200g (7oz) raw buckwheat, soaked
6 Turkish figs (about 85g, 3oz), chopped
100g (3.5oz) water
185g (6.5oz) naturally sweet plant-based milk (oat or rice)
1 ripe banana
1 heaped tbsp. applesauce
1 tbsp. peanut butter
3 tsps. (about 9g, 0.3oz) spirulina powder
2 tsps. baking powder
50g (1.8oz) dark chocolate, chopped
Directions
Soak buckwheat overnight (or for at least 4 hours). Wash and drain.
Soak chopped figs in 100ml of water for 30 minutes. Use hot water to quicken the process.
Heat oven to 175 C (350 F).
Put all ingredients except baking powder and chocolate in blender and blend until smooth batter is formed.
Now, blend in baking powder. Finally mix in (DON'T BLEND) the chopped chocolate.
Divide the batter between 12 muffin forms, top with additional chocolate buttons (if you like) and bake for 30 minutes until the muffins are golden.
The spirulina-buckwheat muffins make a delightful breakfast or mid-morning/afternoon snack with tea or coffee.