I've been preparing a lot of lazy meals these days. Lazy or time-saving for me means skipping peeling and chopping onions and garlic and instead using onion flakes and granulated garlic as well as preparing one-pot stews and curries that take max 15-20 minutes to cook.
Preparing your meals quickly
Taking this artichoke-bean-summer squash stew as an example, the only preparation you need to make beforehand is peeling and cutting half of a sweet potato into cubes. Now, that doesn't take long, does it? All the other ingredients that need to go onto saucepan at first, can be taken straight from freezer (artichoke hearts and corn) or kitchen counter (spices, onion flakes, granulated garlic). After which you have 5 minutes to prepare your summer squash before it needs to be added and then another five minutes before chopped kale and beans go in, i.e. you can easily prepare them while the stew is already cooking.
Whole grain pasta can also be prepared while the stew is on as it only takes 6-7 minutes to cook the pasta. Should you prefer rice, quinoa or barley, put the grains to soak in the morning or already in the evening before to reduce the cooking time, enhance mineral absorption and make the grains more easily digestible.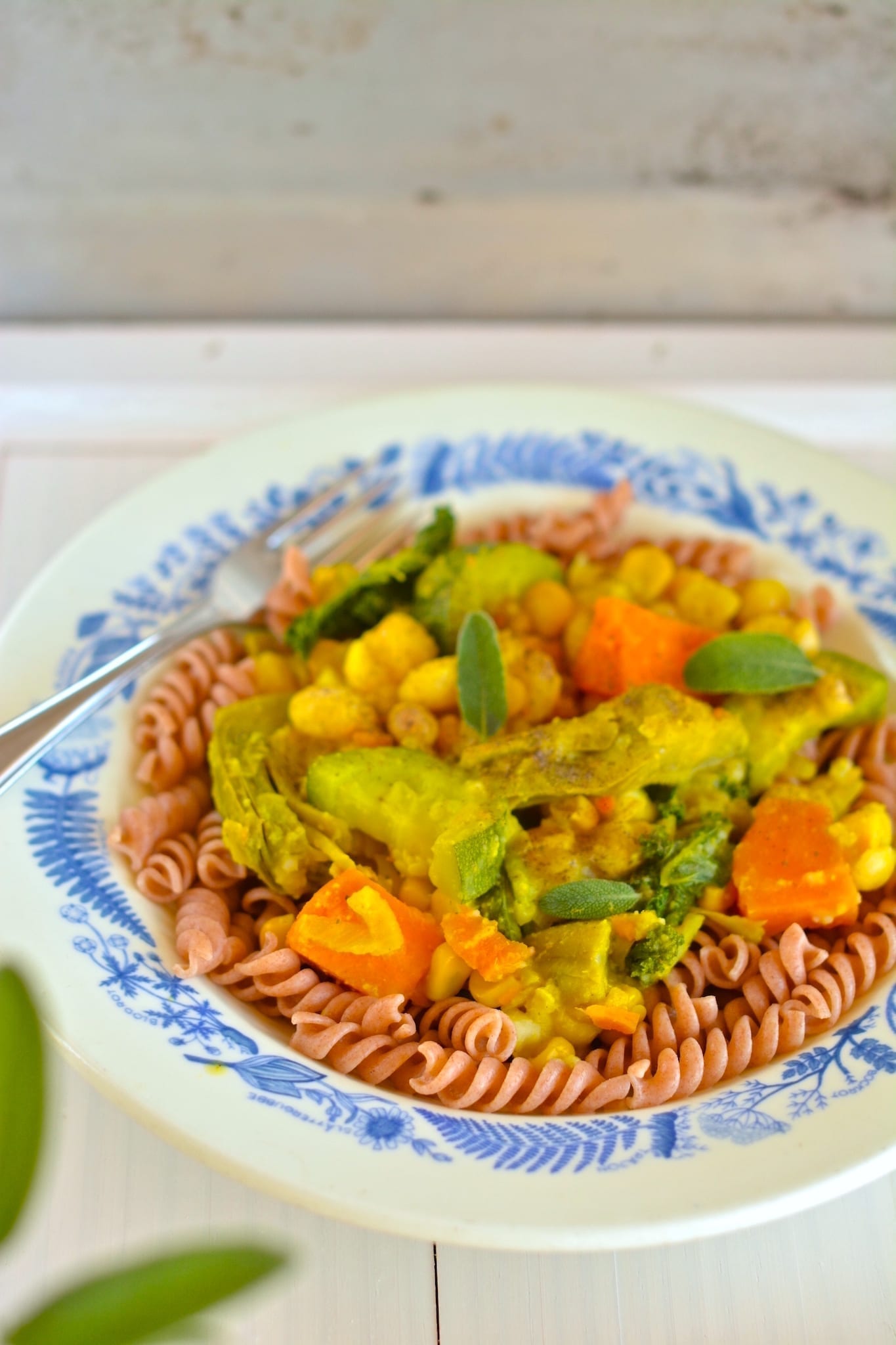 To be honest, for me this kind of cooking is the only way to go at lunchtime (when I cook from scratch), because when I arrive home with my kid who's been using up all his energy in the kindergarten, we need to have something really quickly.
Very often I also cook a bigger batch, so that we have next day's lunch already in the fridge waiting to be heated.
If you are interested in reading more on how to plan your day and save time, read my blog post Plant-Based Diet: How to Plan Your Healthy Day.
This artichoke-bean stew is whole food plant-based, oil-free, sugar-free and gluten-free.
Artichoke-Bean-Summer Squash Stew |4 servings|
Ingredients
3 tbsps. onion flakes
½ tbsp. granulated garlic
1 tsp. (not heaped) vegetable broth powder
1 tsp. turmeric
¼ tsp. curry powder
1.5 cups frozen artichoke hearts
½ sweet potato, cut into smaller cubes
1 cup sweet corn, fresh or frozen
1 small summer squash, cut into half-slices
2 cans unsalted white beans, rinsed and drained
1.5 cups chopped kale
½ cup plant-based milk or coconut milk
Directions
Throw onion flakes, granulated garlic, broth powder, turmeric, curry powder, frozen artichoke hearts, sweet potato cubes and corn onto a saucepan or into a small pot. Add enough water to almost cover the veggies (don't drown them). Stir well, bring to boil and let simmer for 5 minutes.
When 5 minutes is up, add summer squash slices cut into halves and simmer for another 5 minutes.
When the second 5 minutes is up, it's time stir in rinsed and drained white beans and lay chopped kale on top. Cover and simmer for the final 5 minutes. Check whether the kale is ready and if necessary simmer for another 1-2 minutes.
Finally pour in ½ cup coconut milk or any other plant-based milk, stir well and bring to boil and then turn off the heat.
Nutritional info per serving (1/4 of the recipe): 292 kcal, 42g carbohydrates (57.5% of kcal), 1.8g fats (6% of kcal), 17g protein (23% of kcal), 15g fibre, 263mg sodium.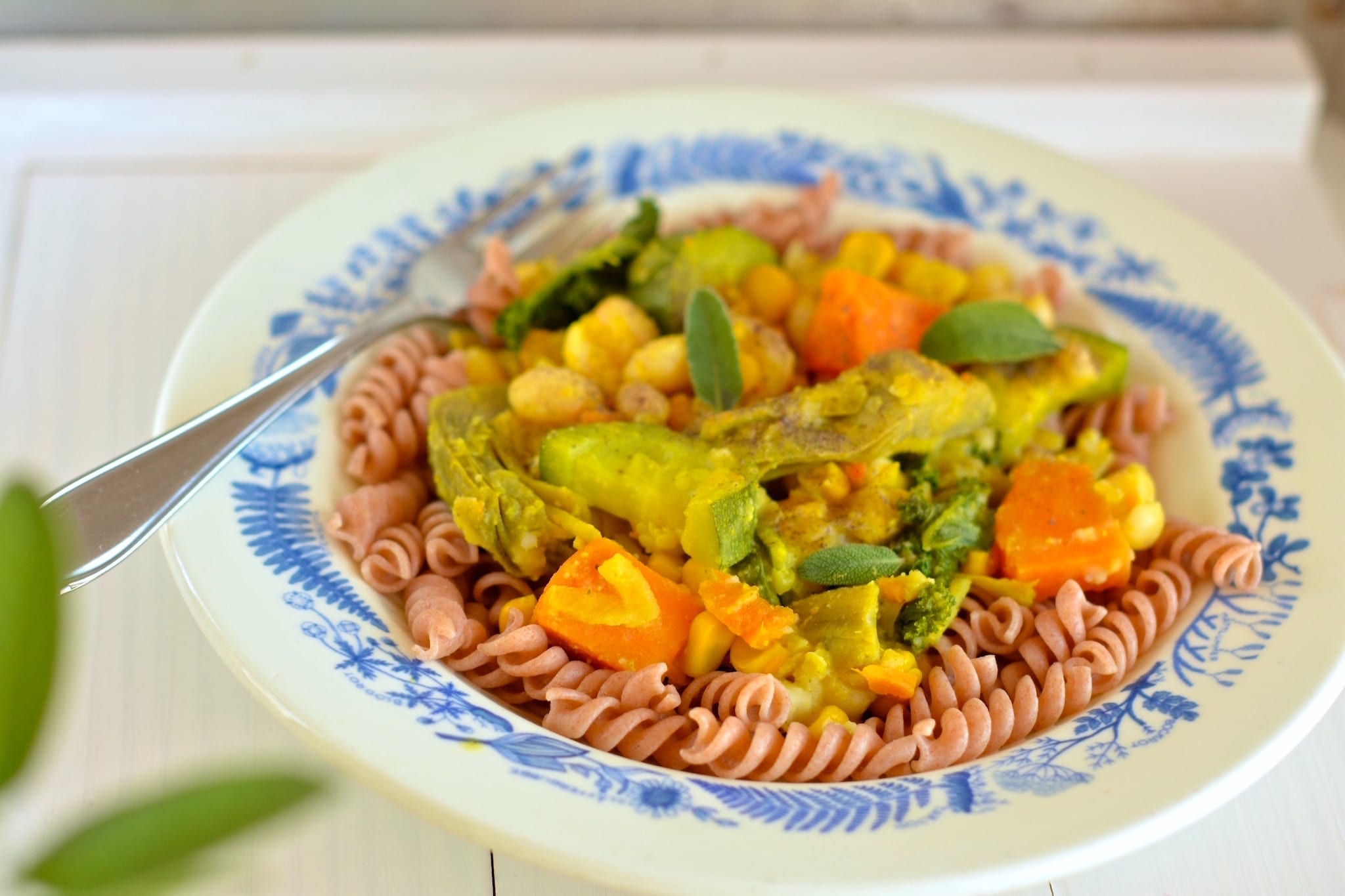 Tips:
Sprinkle some nutritional yeast on top for cheesy flavour and group B vitamins.
Serve it over whole grain pasta, rice, quinoa or buckwheat (about 50 grams of dry grains per serving) and have some lettuce aside.
If you don't like coconut milk or want to make the meal leaner, use any other plant-based milk.
If you want more sauce, just add more liquid (and more spice) and thicken it with starch. Pour in a mixture of starch and water (1 tbsp. corn starch + 2-3 tbsps. water) stirring at the same time. Bring to boil again and turn off the heat.