It's autumn and at least here in Spain plums are still in season. I order them organic along with apples, pears, grapes, carrots, potatoes, chard, leek, cabbage etc. from a local farmer. It is so heart warming to see Miguel at our doorstep with the abundant veggie box every Saturday; his boots still dirty from harvest and a smile on his face.
I think I might be obsessed with muffins – I bake them 2-3 times a week and create a new recipe at least once a month. So, it is not a surprise that some of the plums went into muffins as the rest were enjoyed raw.
Last year, when it was plum season I delighted you with Cardamom-Plum Muffins, but this time I had a desire for chocolaty cacao muffins.
My plum muffins with chocolate are plant-based, oil-free and sugar-free. You can also make them gluten-free by using gluten-free oat flour.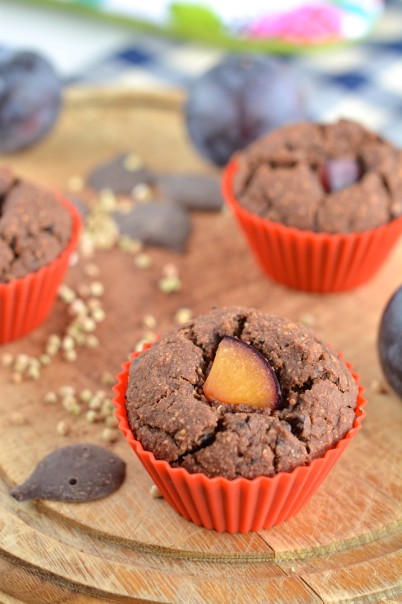 Ingredients |12 big muffins|
Dry:
155g (5.5oz) oat flour
120g (4.2oz) raw buckwheat flour
2 tbsps. cacao powder
2 heaped tsp. baking powder
1 tsp. cinnamon
Wet:
10 figs
280 ml water or plant-based milk (I use unsweetened oat milk)
2 ripe bananas
2 tbsps. applesauce, unsweetened
1 heaped tbsp. peanut butter
A pinch of seal salt
3 big plums, cut into 4 pieces
50g dark chocolate, chopped
Preparation:
In a small bowl, cover the chopped figs with 280ml water or plant-based milk and let soak for about 30 minutes.
In a big bowl, mix together the flours, baking powder, cacao, and cinnamon.
Place the figs with the soak water, bananas, peanut butter, salt and applesauce into a blender and blend until smooth.
Add the wet mixture to the bowl of dry ingredients, and mix until all the dry ingredients have disappeared. Finally mix in chopped chocolate.
Spoon the batter into a silicone muffin pan or parchment muffin papers in a metal pan. Place a plum quarter in every muffin case, by pressing it down with your finger.
Heat oven to 350 F (175 C). Bake for 30-35 minutes. The muffins will be done when cracks appear, and when a toothpick inserted comes out clean. Let cool in the pan for at least 15 to 20 minutes before removing.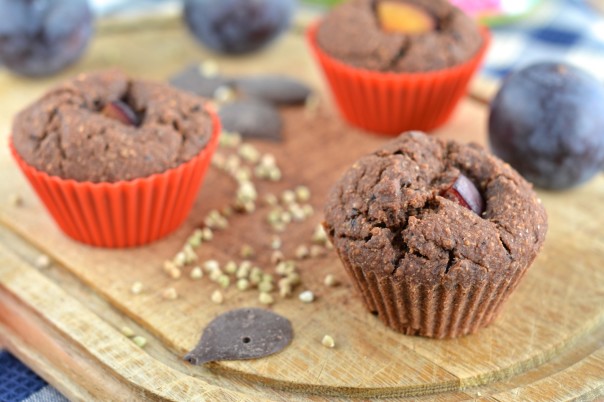 Tips:
you can use carob powder instead of cacao
store the leftover muffins in freezer. Heat up in oven whenever needed.
grind your flours yourself using the same amount (weight) of buckwheat groats and oats
Enjoy!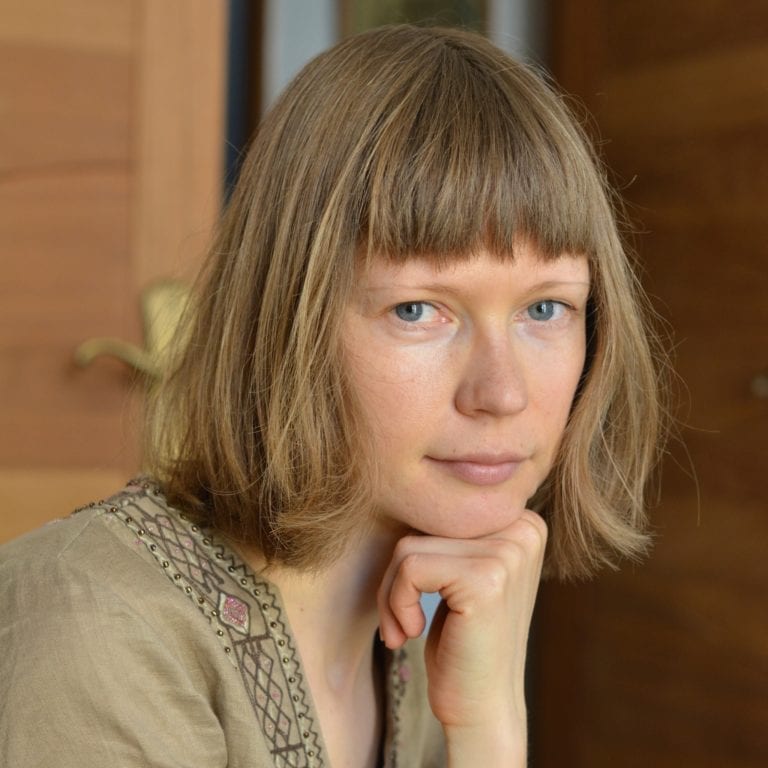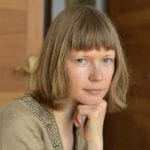 Nele Liivlaid: founder of Nutriplanet.org She has been into healthy eating for many years, but developed a more profound interest in nutrition and related diseases when she started reading The China Study and other special books on nutrition. After being in real estate and hospitality business for more than 10 years she decided to totally change her path to spread the word about healthy and sustainable nutrition and lifestyle.