I was supposed to pack this morning, as we are going away to Barcelona for the winter in less than a month. Instead I felt the urge to bake something good and smell the heavenly smell coming from the oven. I've been doing a lot of chocolaty goodies lately – brownies and muffins; therefore I craved for something light-coloured with cardamom. I still had some plums in the fridge from the weekend (made my Plum Brownie with cashew icing for a birthday party), open jar of peanut butter and coconut cream; and of course there is the need to use the hazelnuts from the freezer before the move; so taking all this into consideration Plum-Hazelnut-Peanut Butter Muffins were born.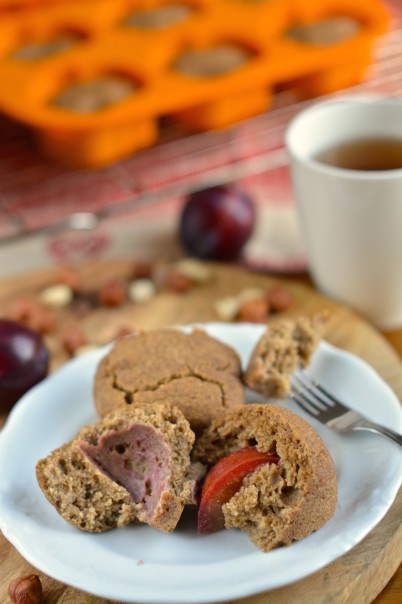 Ingredients:
Dry:
155g oat flour
120g raw buckwheat flour
2 tbsp hemp flour (optional)
2 tsp baking powder
1 tsp cinnamon
½ – 1 tsp cardamom (depends how much you like it)
Wet:
15 dates (use 20 if you are a sweet-tooth)
200 ml water or plant-based milk
2 ripe bananas
big handful of soaked hazelnuts (or other nuts)
1 heaped tbsp peanut butter
50 ml coconut milk (if thick then 2 heaped tbsp)
250 ml apple sauce, unsweetened
Preparation:
In a small bowl, cover the chopped dates with 200ml water and let soak for about 30 minutes.
In a big bowl, mix together the flours, baking powder, and spices.
Place the dates with the soak water, bananas, nuts, peanut butter, and coconut milk into a blender and blend until smooth. Add applesauce and blend again.
Add this date mixture to the bowl of dry ingredients, and mix until all the dry ingredients have disappeared.
Place a plum half in every muffin case.
Spoon the batter into a silicone muffin pan or parchment muffin papers in a metal pan. This recipe makes 15 big muffins.
Heat oven to 350 F (175 C). Bake for 30-35 minutes. The muffins will be done when cracks appear, and when a toothpick inserted comes out clean. Let cool in the pan for at least 15 to 20 minutes before removing.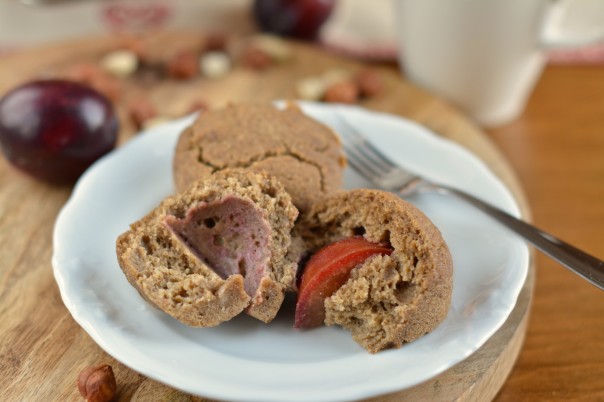 Tips:
make your own apple sauce – peal 4 small or 2 big apples and boil in a bit of water for 5 minutes. Let cool.
If you use tartrate baking powder (like I did), add 10 g to the dry ingredients.
store the leftover muffins in freezer. Heat up in oven whenever needed.
Nutritional info (1 muffin): 129 kcal
| | | |
| --- | --- | --- |
|   | Grams | % of total energy |
| Carbohydrates | 22.2 | 68.8 |
| Fats | 2.96 | 20.6 |
| Protein | 3.4 | 10.5 |
| Fibre | 2.95 | |

Enjoy!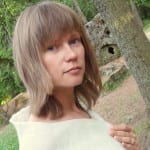 Nele Liivlaid: founder of Nutriplanet.org She has been into healthy eating for many years, but developed a more profound interest in nutrition and related diseases when she started reading The China Study and other special books on nutrition. After being in real estate and hospitality business for more than 10 years she decided to totally change her path to spread the word about healthy and sustainable nutrition and lifestyle.