This gluten-free vegan egg salad sandwich is super easy and quick to make as you'll only need 1 bowl, a fork and 10 minutes of your time. Spread it on a slice of toasted bread and bite into egg-flavoured creamy deliciousness!
My vegan egg salad recipe is perfect for batch cooking and packing your kids' school lunch or your own lunch box – super quick and effortless! You can even have it instead of tofu scramble for breakfast or add to a simple salad bowl for protein and extra creaminess.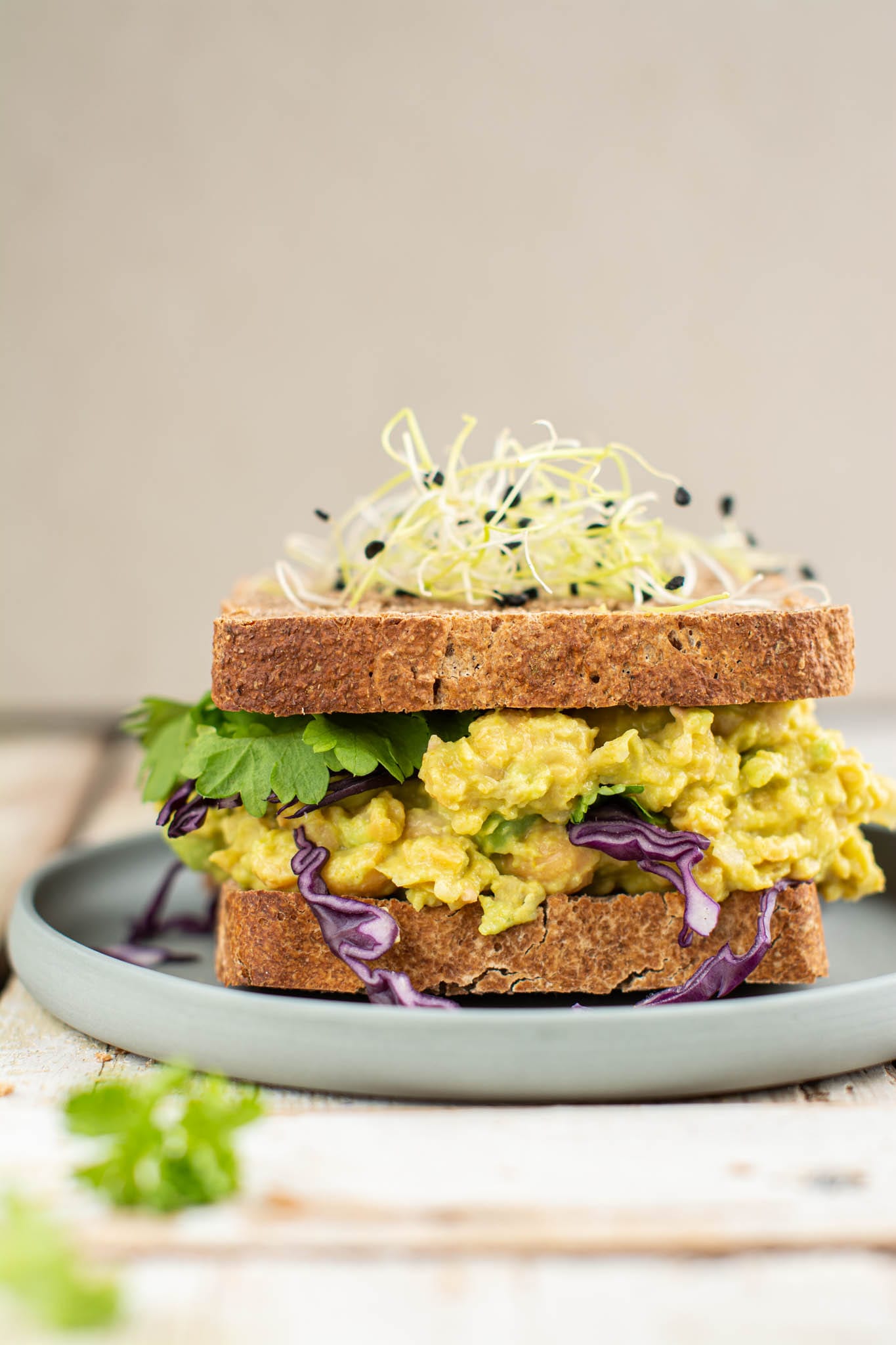 Why do vegans use the word egg in their recipes?
Some non-vegans might tell you plump to your face that you still crave eggs, if you need to make vegan "egg" salad! An adequate response would be that you just like the taste of black salt 🙂 How's that?
Why use the word egg in the recipe at all? Well, because this is what we've become used to when describing this particular taste. I might call the recipe black salt salad, but it wouldn't make sense to most! People looking for vegan egg would not find it, would they? Besides, the ingredients and final result is much more important than any name we decide to give to our creations. Do you agree?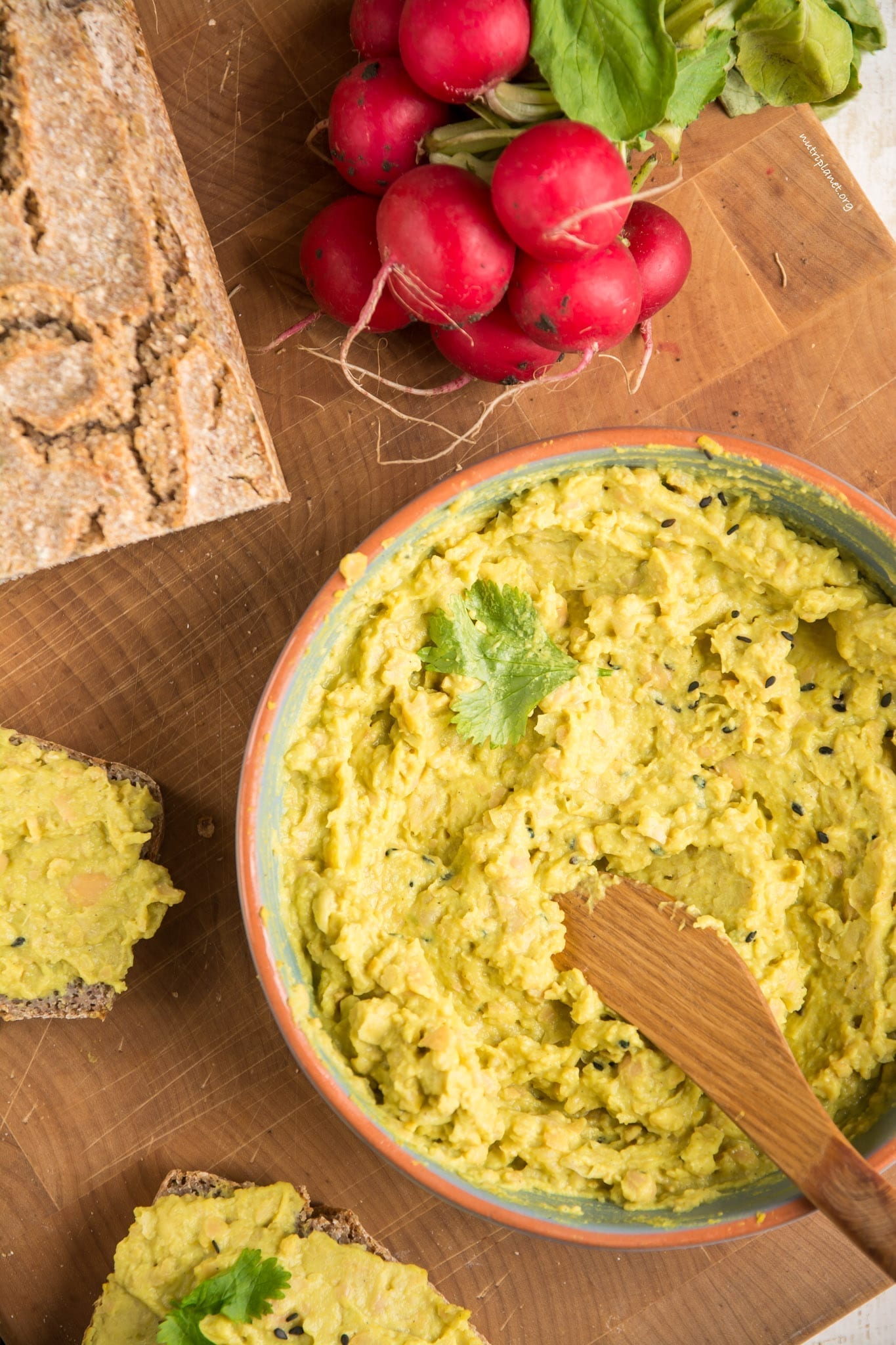 What is black salt?
Black salt (also known as Himalayan black salt) has a very interesting origin. It was first discovered by Maharishi Charak, the father of Ayurvedic medicine. Today it is known as a cooling spice and used for many different purposes. Vegans love it as replacement for eggs as it has this pungent smell. The sulfur compounds cause the salt to smell like hard-boiled or rotten eggs. But don't worry, the finished dish won't smell like rotten eggs at all!
Black salt is also known to help digestive problems. Furthermore, it is helpful to those looking for a table salt alternative since black salt contains less sodium.
NB! Make sure to get Indian black salt aka kala namak and not black lava salt (black in colour) that is regular sea salt mixed with activated charcoal (often also labelled as Hawaiian black salt).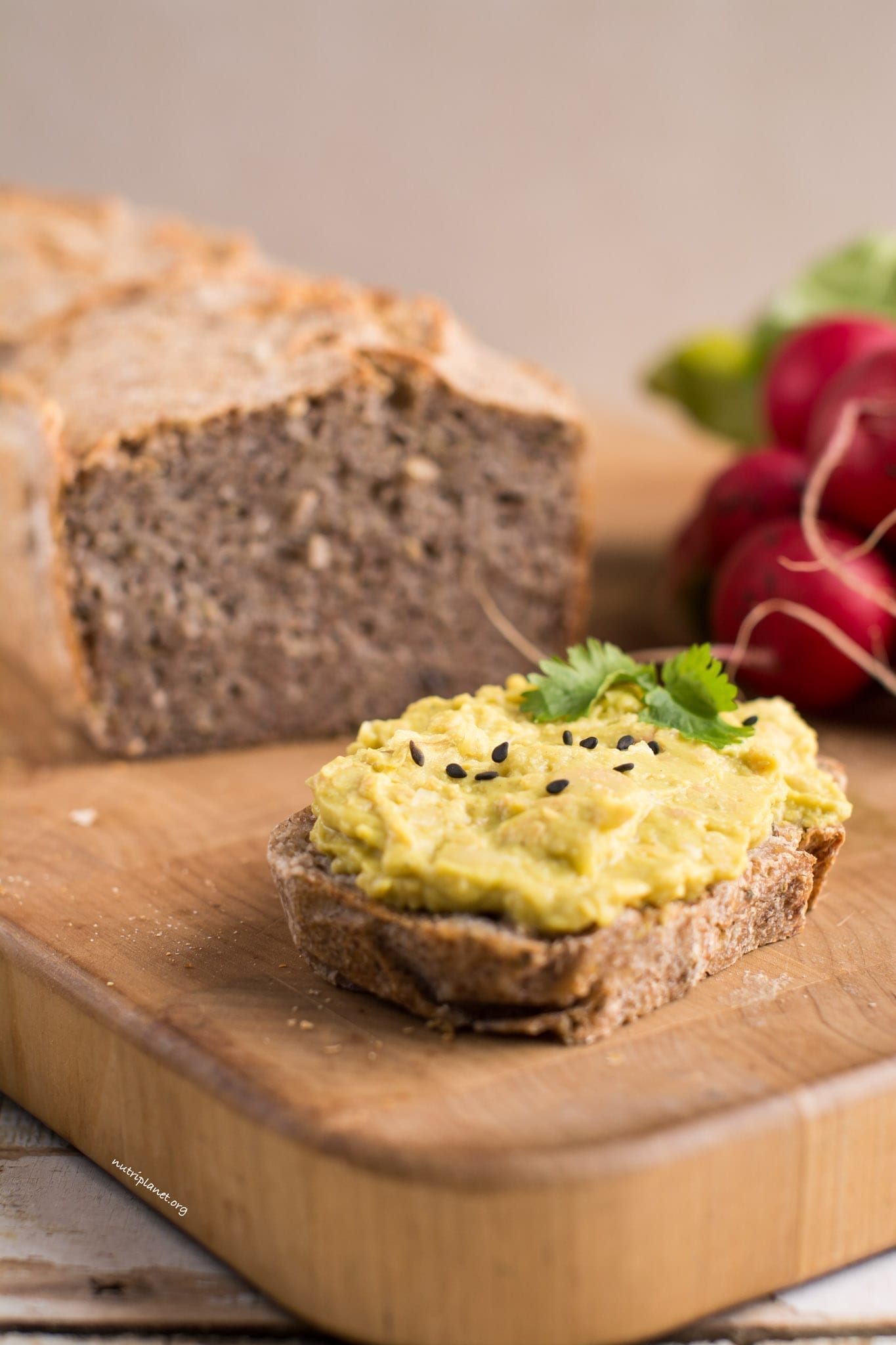 How to make a healthy vegan egg salad
I've seen many vegan tofu egg salad recipes that use firm tofu and vegan mayo. Once again, I must differ! Soy yogurt is healthier than tofu as it's cultured with friendly bacteria. Furthermore, unless you make your own, store-bought vegan mayo tends to be packed with sinister ingredients. My solution is adding a bit of crushed mustard seeds, lemon juice, and garlic powder while soy yogurt gives the mayo consistency. Here you have it!
Can you already imagine yourself biting into this heavenly vegan egg salad sandwich?
I love this recipe so much, because it's:
So quick and easy to prepare.
Perfect for batch cooking and lunch packing.
So creamy and satiating.
Do you have numerous dietary restrictions? Don't worry, you still can have my vegan egg salad sandwich, as it's:
Gluten-free
Oil-Free
Soy-free
Nut-free and peanut-free
Candida diet friendly
Low glycemic
Grain-free (if you have it without bread or with grain-free bread/crackers)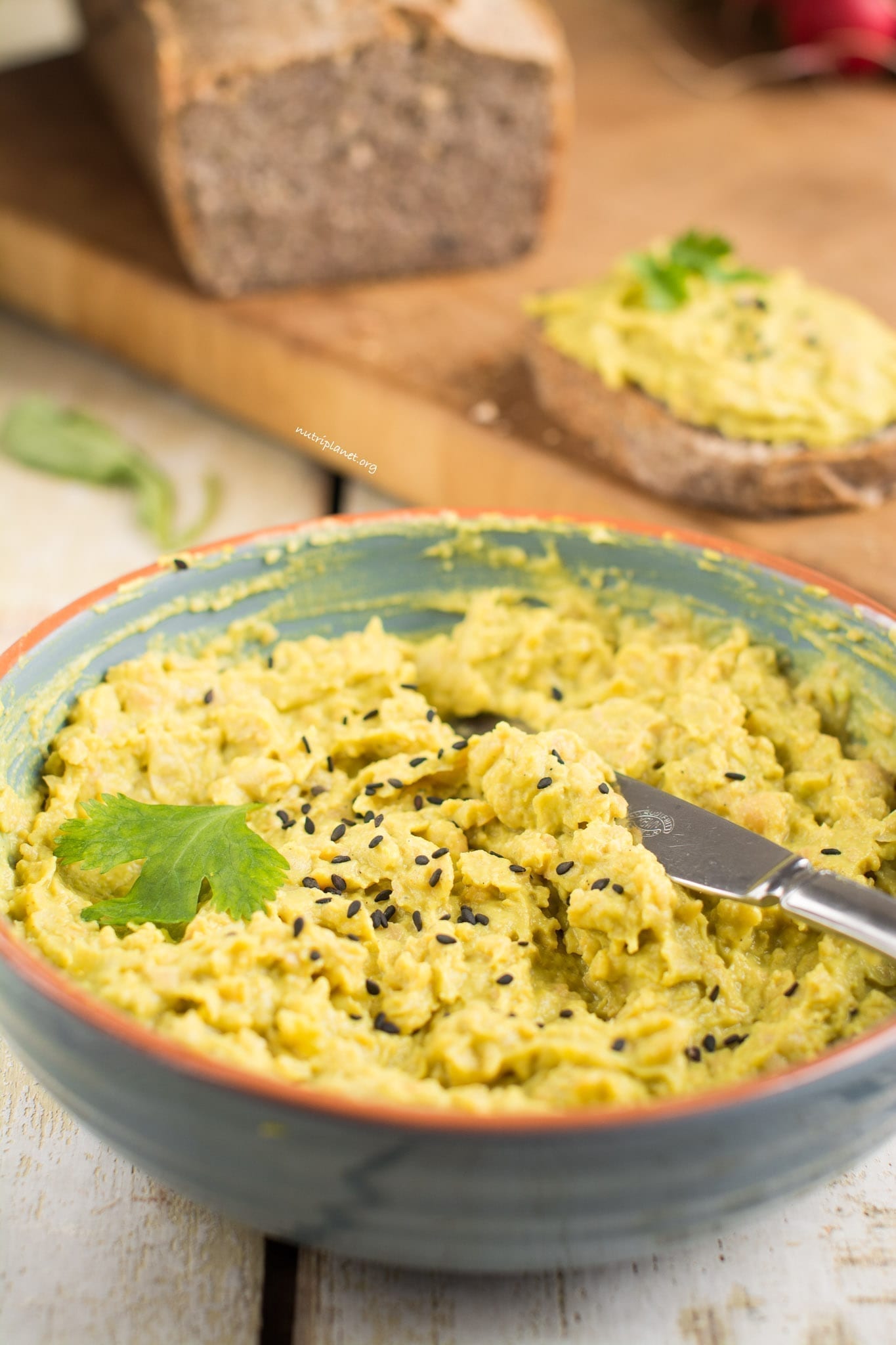 Finally, I'd love to hear from you! Have you made vegan egg salad before? What ingredients did you use? Share any tips you might have in the comments below! And tag me if you share any of my creations in social media, so that I'd get notified.
Instagram @thenutriplanet and Facebook @nutriplanet.health.hub
And if you're into chickpeas, check out Baked Chickpea Falafels, Chickpea Curry, Tahini-Chickpea Dressing, and Chickpea Cookie Dough Bites.
Print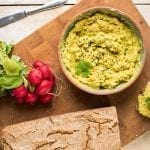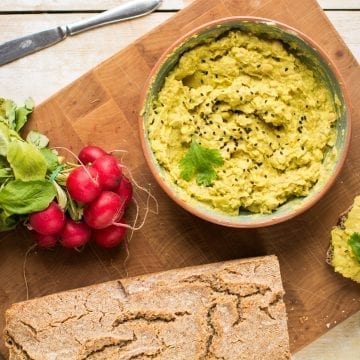 Vegan Egg Salad Sandwich
---
Author:

Nele Liivlaid

Total Time:

10 minutes

Yield:

4

servings

1

x
Description
This gluten-free vegan egg salad sandwich is super easy and quick to make as you'll only need 1 bowl, a fork and 10 minutes of your time. Spread it on a slice of toasted bread and bite into egg-flavoured creamy deliciousness!
---
1

can (240g, 8.5oz) unsalted chickpeas

1

medium avocado (about

100g

,

3.5oz

of flesh)

2

tbsps. lemon juice

½ tsp

. turmeric

¾ tsp

. Indian black salt (kala namak), max ¼+

⅛ tsp

. (

1.4g

,

0.05oz

) for Plantricious version

½ tsp

. crushed mustard seeds

½ tsp

. garlic powder

2

tbsps. nutritional yeast

4

tbsps. plain plant yogurt
Black pepper to taste
---
Instructions
First, rinse and drain the chickpeas. Then, in a bowl or on a plate mash them with avocado (using a fork or potato masher).
Next, mix in lemon juice and add turmeric, black salt, pepper, mustard seeds and garlic powder. Mash or mix well before throwing in nutritional yeast and yogurt. Make it creamier or leave coarser/chunkier – it's up to you!
Give it a final stir, taste (adjust if necessary) and spread on a slice of bread or cracker or top your salad with this yummy egg-flavoured creaminess.
Prep Time:

10 minutes

Method:

Mashing or Mixing
Nutrition
Serving Size:

¼ of recipe (Plantricious version)

Calories:

153 kcal

Sodium:

146mg

Fat:

6.8g

Carbohydrates:

12g

Fiber:

6.4g

Protein:

7.66g
Keywords: vegan egg salad
Tips on my vegan egg salad sandwich spread:
You may use home cooked chickpeas instead on canned ones. Even yellow split peas would work really well in this recipe.
Make sure to buy unsalted chickpeas, as you'll want all the saltiness coming from black salt for the egg flavour.
Home cooked chickpeas can be drier than the canned version, so add a bit of water or some extra plant yogurt.
Leave the chickpeas coarser and you've got yourself tofu scramble substitute that require no cooking.
Turmeric is optional, but it does give this nice yellow colour.
Mustard seeds are there for the mustardy flavour. So don't ditch them, unless of course you hate mustard.
Another optional ingredient is nutritional yeast, but I like its nutty-cheesy flavour. Ditch, if you're on Candida cleanse.
Try to opt for plain tasting plant yogurt – I find soy yogurt to be the best match for this recipe. However, additive-free almond or cashew yogurt would be a great substitution, if you can't have soy for some reason.
For an extra tweak, add a few drops of liquid stevia or a dash of date sugar (for Plantricious version).
How to eat my vegan egg salad:
Disclaimer: this post contains affiliate links.