Those soft cardamom cookies with cranberries will be on spot for your afternoon cup of tea or coffee. You'll only need 20 minutes of your time, a bowl and a blender.
My cardamom cookies:
use only wholesome ingredients,
are super easy to make,
fill your kitchen with heavenly flavours,
are perfect for batch cooking,
make an ideal healthy grab-and-go snack.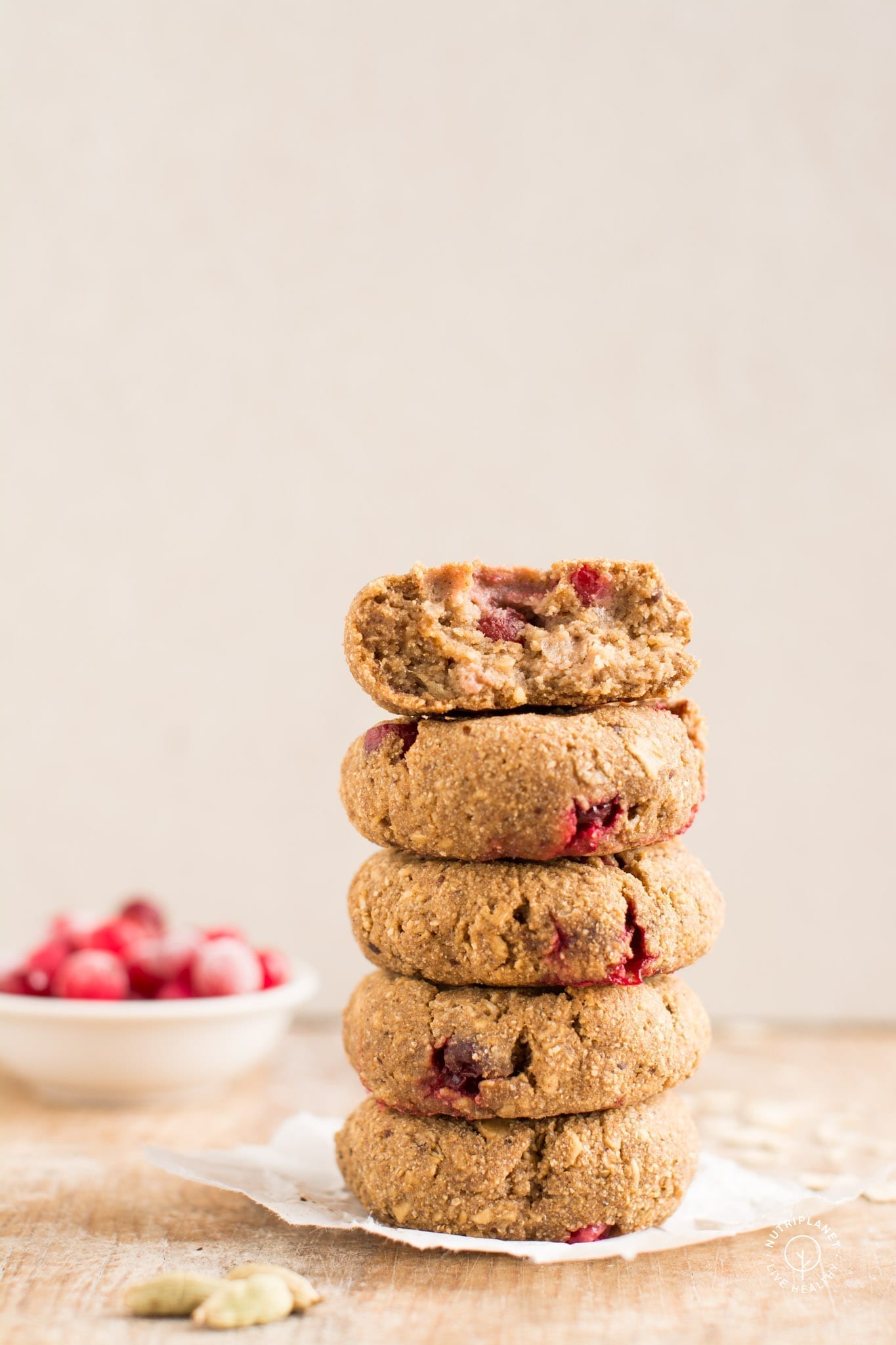 What's the thing with cardamom?
There's a story that goes with those cardamom cookies! I must admit that this recipe was totally unplanned. As I was reading Michael Greger's How Not to Die, I got to the chapter where he explains the benefits of cardamom. Apparently, wild blueberries and cardamom are among the best foods you can give your immune system – the first increasing the number of our natural killer-cells and the latter boosting their activity. Natural killer cells are a type of white blood cell that's a vital member of the immune system's rapid-response team against virus-infected and cancerous cells. What's more is that they don't require prior exposure to a disease to be activated. So, you wanna be boosting those guys up!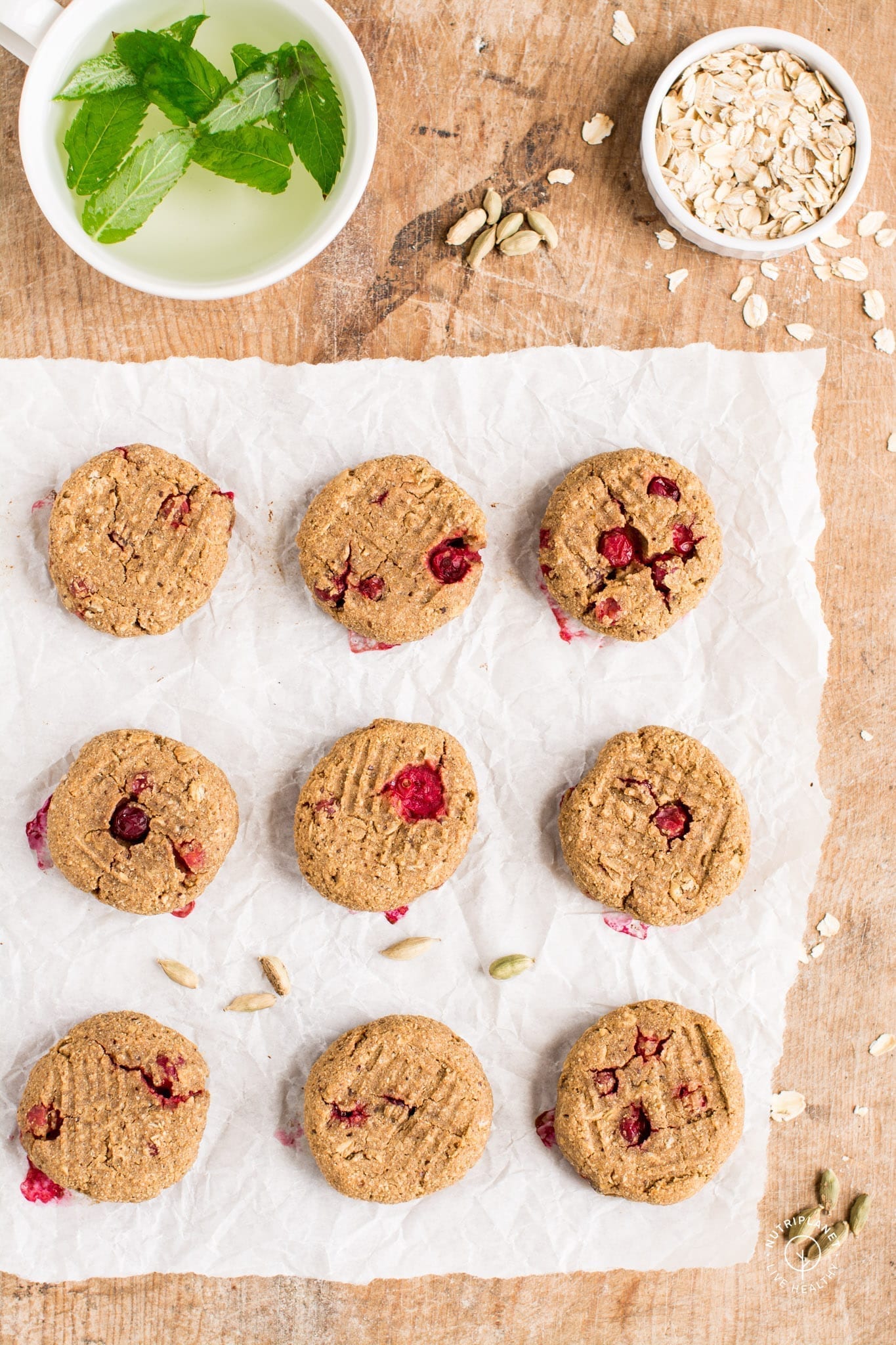 I'm the kind of person wishing the best for my body, so as soon as I learn some new information about beneficial foods or practices I immediately want to incorporate those into my daily routine. Needless to say, my morning blueberry porridge got an addition straight away, i.e. cardamom! Fortunately I've always been cardamom lover, but I know some people struggle with the taste. So, if you fall under the last category, I'd suggest you start developing taste for it! Begin with very small quantities and then work your way up.
The Healthy Ingredients in My Cardamom Cookies
Conventional cookies are a combination or butter and sugar, but not those cardamom cookies! My recipe does not contain any sugar or oil, not even coconut oil. So, you don't need to melt butter or make a mess with confectioner's sugar. More importantly, you can enjoy those cookies without the adverse effects of conventional or store bought varieties.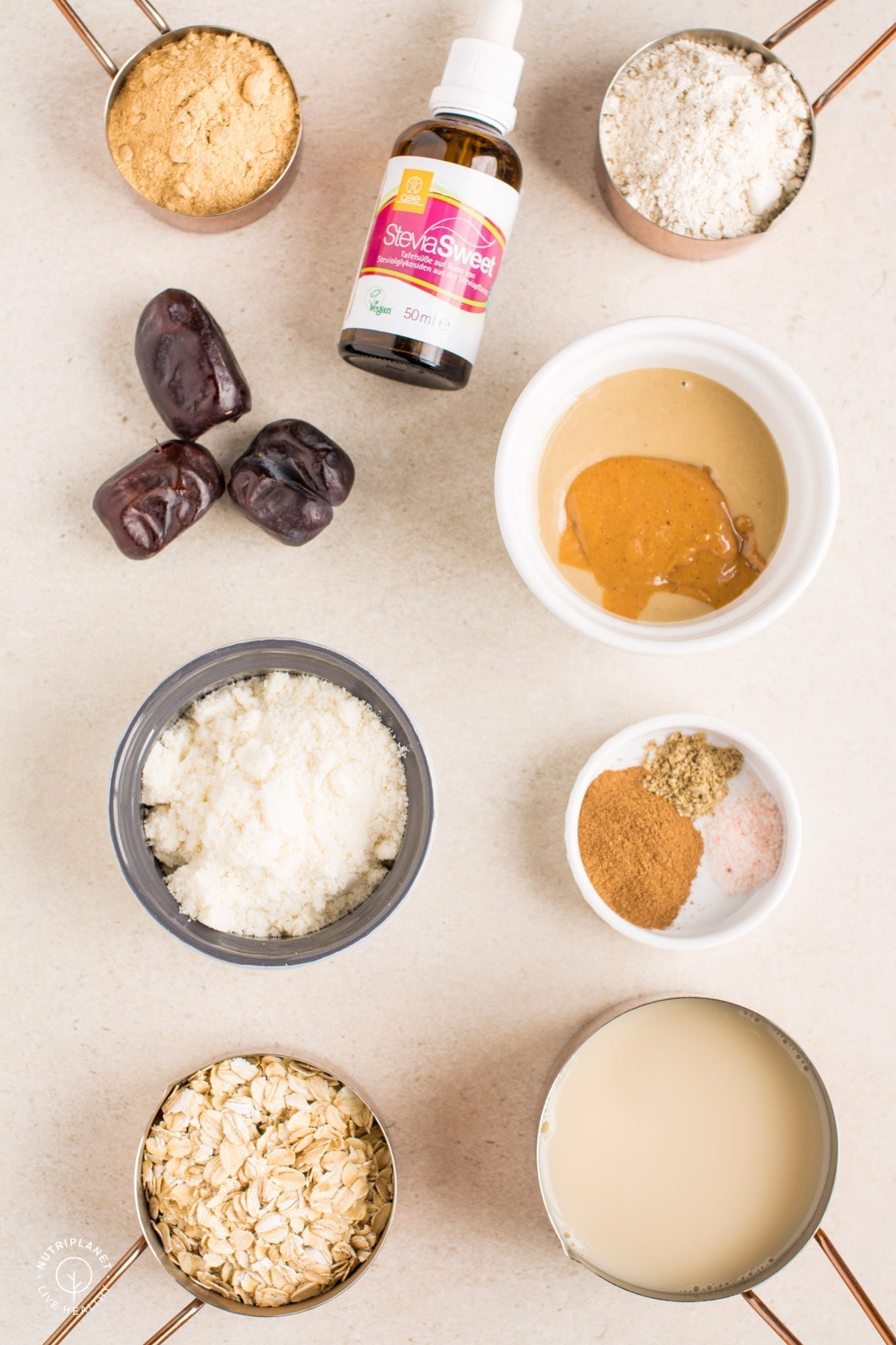 The combination of oats, oat flour, coconut flour and nut butter make those cookies so hearty and filling. Furthermore, dates and mesquite flour add divine caramelly sweetness that you can't resist. Yes, you read that right – dates! I started experimenting with dates again after being off them since 2016. And to my great surprise I tolerate a few dates a day with no adverse effects or my Candida symptoms reappearing. However, I'm aware that many of my followers are still adhering to Candida diet, so I tested an equally yummy date-free version of those cookies as well. Get substitution info below the recipe.
My cardamom cookies with cranberries are:
Vegan
Gluten-free (opt for GF oats)
Oil-free
Candida diet friendly (sub xylitol for dates)
Soy-free
Peanut-free and nut-free (use seed butter)
Finally, I'd like to hear from you! Are you obsessed with cardamom as much as I am? And cranberries? Any questions and/or wisdom are also highly appreciated! So, simply comment below! Also, please tag me in social media when you share your creations! Instagram @thenutriplanet and Facebook @nutriplanet.health.hub
Print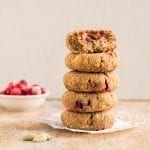 Cardamom Cookies with Cranberries [Vegan, Oil-Free]
---
Description
Those soft cardamom cookies with cranberries will be on spot for your afternoon cup of tea or coffee. You'll only need 20 minutes of your time, a bowl and a blender.
---
Ingredients: Dry
Ingredients: Wet
Ingredients: Add later
½ cup

(

60g

,

2.12oz

) fresh or frozen cranberries
---
Instructions
In a medium bowl, combine all the dry ingredients.
Then, in a mixing beaker or regular blender, process the wet ingredients until well incorporated.
Next, pour the wet mixture over dry ingredients and mix until you have homogeneous batter. Cover the bowl with plastic wrap or a lid and refrigerate for at least half an hour. If you use fresh cranberries, fold them in before cooling the batter.
Heat oven to 180°C (355°F).
After chilling the dough, mix in frozen cranberries. 
Now, start shaping the dough into about 40g (1.4oz) cookies – form a cookie ball between your palms and then press it down a little. Place the cookies on baking sheet lined with parchment paper. I use kitchen scale to get even cookies. Finally, press the cookies down with a dessert fork.
Bake for 16 minutes until golden brown. Place the lightly browned cookies onto rack to cool completely.
Notes
Store in fridge in a sealed container for up to 3 days. For longer keeping, freeze the cookies and heat up in microwave (for soft result) or regular oven (for crispy cookies) whenever needed.
If you're on Candida diet and can't have dates yet, replace them with 3 tbsps. of xylitol. Also, add 2 tbsps. (30g, 1.06oz) LESS plant milk.
24 drops of liquid stevia can be substituted with 2 tbsps. of any preferred sweetener, e.g. coconut sugar or date sugar.
Grind your own oat flour using rolled oats. Use the same weight.
Prep Time:

20 minutes

Cook Time:

16 minutes

Category:

Dessert

Method:

Bake
Nutrition
Serving Size:

1 cookie

Calories:

115.5

Sugar:

5.4

Sodium:

70.9

Fat:

4.9

Saturated Fat:

1.3

Trans Fat:

0

Carbohydrates:

11.3

Fiber:

4

Protein:

3.5

Cholesterol:

0
Extra tips:
As far as nut butters are concerned, I used half tahini and half peanut butter. However, you can go for any preferred butter like store bought almond butter or homemade almond butter, homemade cashew butter or even sunflower seed butter.
Some oat milks are sweeter than others, even without added sugar. This is because some brands use digestive enzymes (amylase) to convert carbohydrates such as starch into glucose molecules and therefore make their products taste sweeter. The salivary glands in our mouths also make amylase that breaks down starch when you chew your food, converting it into maltose, a smaller carbohydrate. So, should your oat milk be less sweet, you might want to use a bit more sweetener in this recipe.
Disclaimer: this post contains affiliate links. As an Amazon Associate I earn from qualifying purchases.