Try this super easy vegan basil cashew pesto recipe that only requires 10 minutes of your time. This is a great recipe for anyone who loves aromatic pesto with pasta, salad or slice of bread.
What makes my vegan pesto recipe so great is that it's:
super easy to make,
perfect for batch cooking,
so handy for quick meals.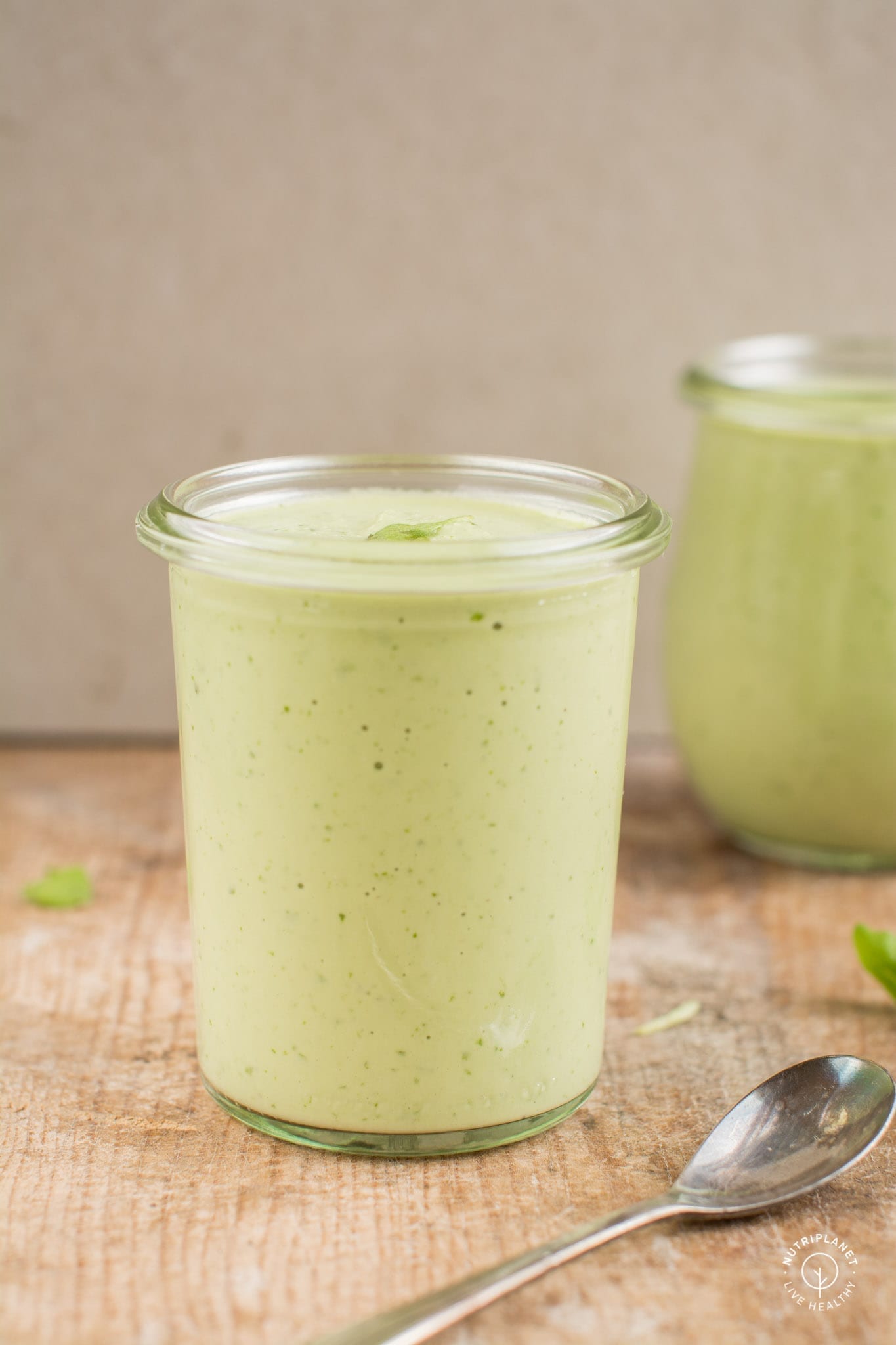 The Ingredients in My Vegan Basil Cashew Pesto
What makes my dairy-free pesto recipe unique is that besides being vegan it's totally oil-free. Conventional vegan pesto recipes use tons of extra virgin olive oil. In fact, they'd ask you to add more olive oil at the end of the recipe 🙂 But not me!
Cashew nuts contain enough fats to give this pesto its heartiness and creaminess. Even without any added oils, 66% of calories of my basil pesto come from fat! Furthermore, I don't see any point in using oil as thinner – water and lemon juice do the job wonderfully!
Usually Parmesan cheese is added to conventional pesto recipes or store bought pesto. Now, in a vegan recipe the cheesy flavour is achieved by adding nutritional yeast as well as cashews. In fact, vegan Parmesan is so often made combining those two ingredients with some salt.
It's noteworthy that I didn't feel the need to add any salt to my pesto recipe. In my opinion, the taste bouquet of basil, lemon juice, nutritional yeast and cashews is just perfect. There's sweetness from cashews, sourness from lemon juice, the earthy and cheesy flavour of nutritional yeast and above all, the aromas and clove scent of sweet basil (the most commercially available basil used in Italian food).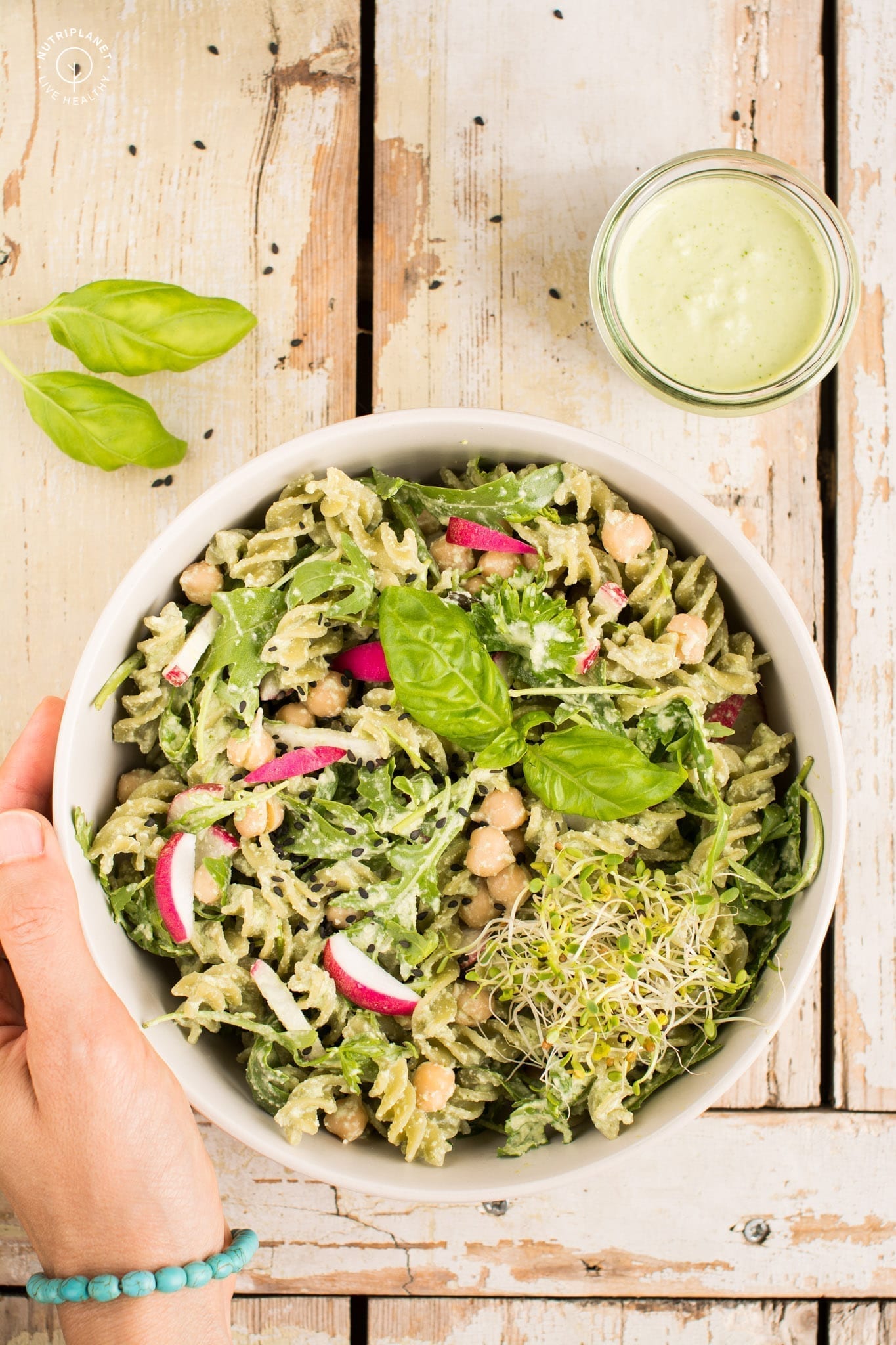 The Powers of Basil Plants
Basil, also known as Saint Joseph's Wort, is an herb belonging to the mint family. Basil's benefits include:
anti-inflammatory,
antibacterial,
may contain compounds that fight the effects of ageing, (1)
cancer fighting, (2)
reducing effects of oxidative stress. (3)
When you cook with fresh basil, make sure to stir it in at the end of cooking as heat removes the flavour and if cooked for too long can result in bitterness.
Different Types of Basil
As mentioned above, sweet basil has a strong clove scent. That's due to its high concentration of the chemical agent eugenol.
Alternatively, lime and lemon basil have a strong citrus scent because of their high concentration of limonene. Lemon basil is great for grilled veggies, desserts and teas. Lime and lemon basil together make an excellent pair when cooking sauces, desserts and teas.
Genovese basil is the classic Italian basil with extra large dark green leaves. It has a stronger and more aromatic flavour compared to sweet basil.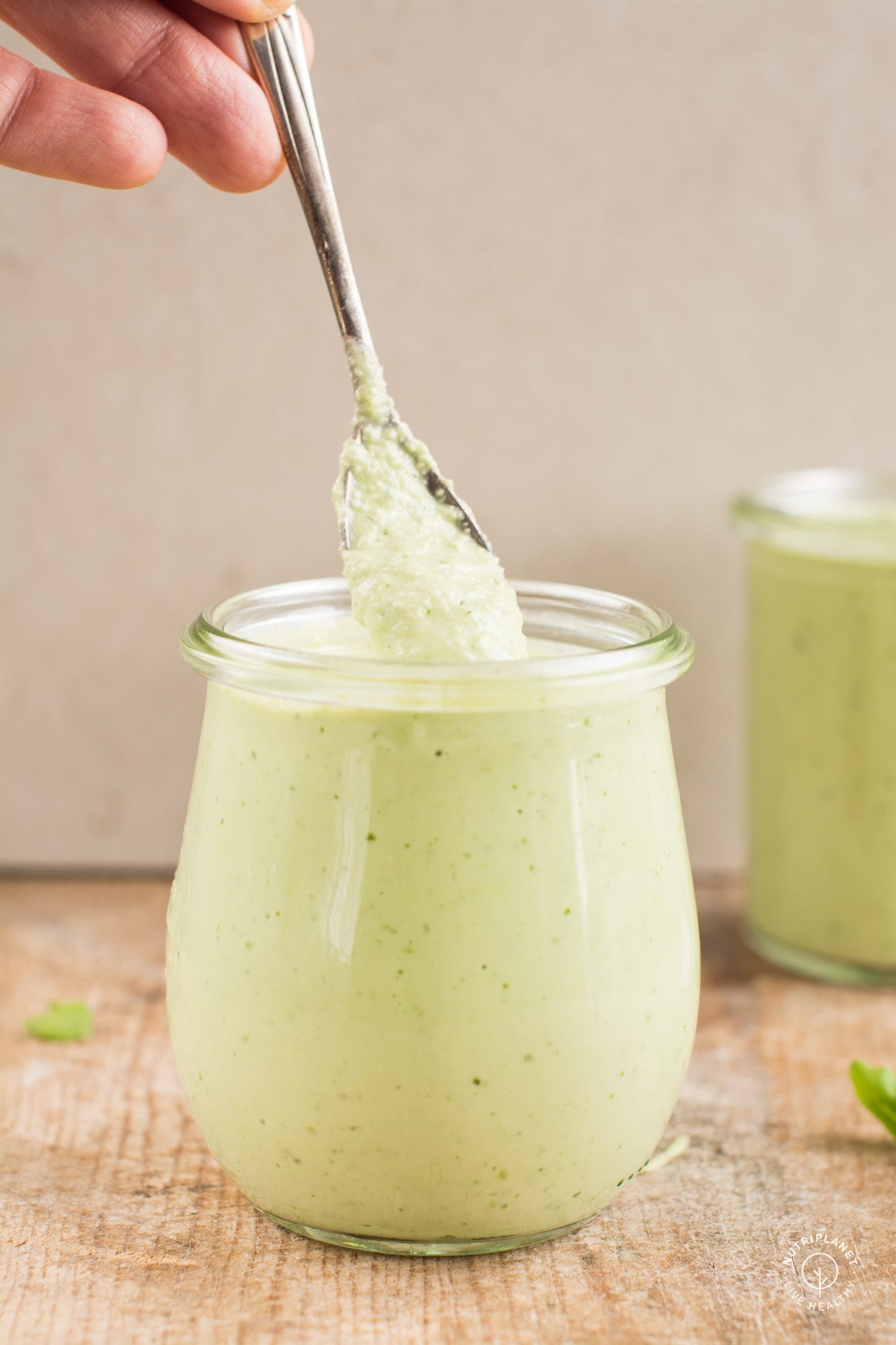 Thai sweet basil has smaller dark pointed leaves and has a spicy liqorice flavour. It's great in Asian dishes. Thai basil also keeps its flavour at higher cooking temperatures.
Purple basil has a stronger clove taste and is not as sweet as other basil varieties.
Lettuce basil has large wrinkly floppy leaves. It's a great addition to your salads and fresh dishes with its mild flavour.
Read more on different types of basil (green ruffles, holy basil, cinnamon basil, African blue basil, cardinal basil, Greek basil, spicy globe basil, and Summerlong).
To sum it up, the best basil varieties to use in pesto recipes are sweet basil, Genovese basil, and Summerlong. Of course it would be the best to use the basil in your garden, but if that's not an option, go for organically grown basil.
Watch how to make homemade cashew yogurt:
My basil cashew pesto is:
Gluten-free
Dairy-free
Grain-free (for grain-free pasta dish use a pasta made of legumes, i.e. lentil, chickpea, bean or pea pasta)
Plant-based
Oil-Free
Soy-free
Peanut-free
Candida diet friendly (use sunflower seeds in the cleanse phase)
Low glycemic
Finally, let me know which are your favourite pesto recipes! Also, which other homemade pesto recipes would you like me to create? Simply comment below! Also, please tag me in social media when you share your creations! Instagram @thenutriplanet and Facebook @nutriplanet.health.hub
Print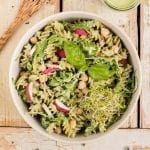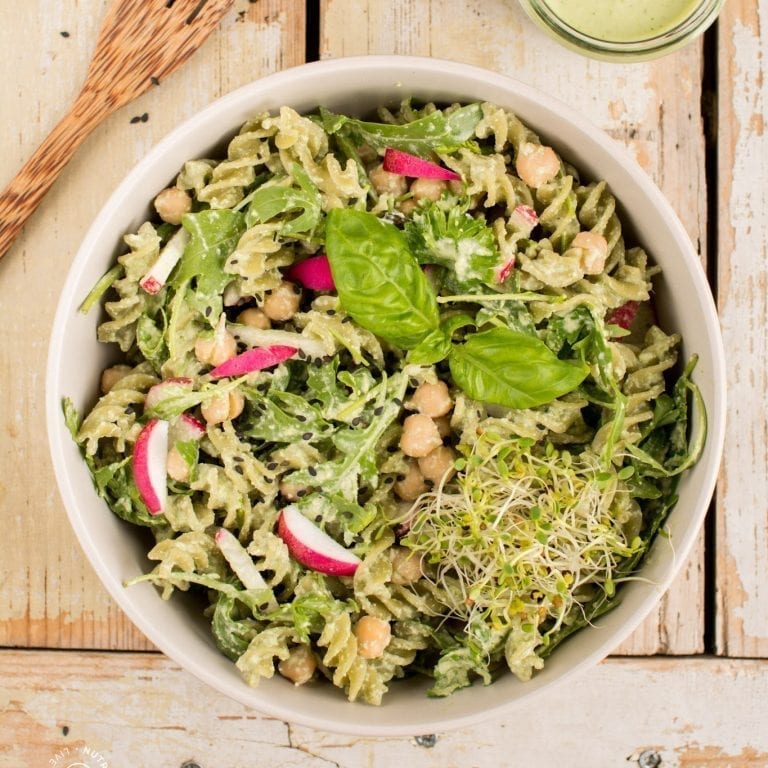 Vegan Basil Cashew Pesto [Dairy-Free, Oil-Free]
---
Description
Super easy vegan basil cashew pesto recipe that only requires 10 minutes of your time. This is a great recipe for anyone who loves aromatic pesto with pasta, salad or slice of bread.
---
1 cup

(

135g

,

4.8oz

) raw cashews, soak

3

tbsps. lemon juice

3 cups

(750ml) loosely packed fresh basil (

30g

,

1.06oz

)

175g

(

6.2oz

) filtered water

2

tbsps. nutritional yeast
---
Instructions
Start by soaking cashews for 2 hours. Discard the soaking water and rinse. For quick soaking, pour hot water over cashews and let soak for 15 minutes. The soaked cashews will weigh about 160g (5.6oz).
Next, add 3 cups of loosely packed fresh basil leaves into a beaker or blender. Pour in also soaked cashews, lemon juice, water and nutritional yeast. Blend or process the mixture with immersion blender until you've got smooth consistency.
For pesto pasta salad, boil preferred pasta according to instructions on the package. Then drain and rinse with cold water. Next, pour the cooked pasta back into pot and mix in the basil pesto. Add also some arugula, chickpeas and cherry tomatoes or sun dried tomatoes. Sprinkle on some extra nutritional yeast for cheesy flavour and enjoy!
Notes
You may add Himalayan salt or sea salt if needed (max ⅛ tsp. per serving for Plantricious version).
Store the leftover pesto in sealed container in fridge for up to 4 days. If you're concerned about oxidation, you may pour a thin layer of olive oil on top of your pesto and scrub it off later. However, in my experience lemon juice included in the recipe does a fine job by itself.
For longer keeping, pour the pesto into ice cube trays and freeze.
You may use this basil cashew pesto as salad dressing, dipping sauce, pasta sauce or even spread it on a slice of bread or cracker.
Should you still be in the cleanse phase of your Candida diet, feel free to use sunflower seeds instead of cashews. Measure the same weight. Also, you might want to add a few drops of liquid stevia, as sunflower seeds are not sweet per se.
I don't recommend using food processor, as you'd not get as creamy result.
Nutritional info per serving with 50g (dry weight) of whole grain pasta (a bit less than a cup cooked pasta), 5 cherry tomatoes, ¼ cup cooked chickpeas and a handful of arugula: 414.5 kcal, 56.2g carbohydrates, 6.4g sugars, 13.6g fats, 2.3g saturated fats, 15.4g protein, 6.4g fibre, 14.6mg sodium.
Prep Time:

10

Category:

Side

Method:

Blender

Cuisine:

Italian
Nutrition
Serving Size:

1/5 of recipe

Calories:

163.3

Sugar:

1.8g

Sodium:

6mg

Fat:

12g

Saturated Fat:

2.1g

Carbohydrates:

8.3g

Fiber:

1.7g

Protein:

6.7g
Disclaimer: this post contains affiliate links. As an Amazon Associate I earn from qualifying purchases.