This easy gluten-free vegan rhubarb cake has only 10 ingredients (not counting sweetener and salt) and doesn't require advanced baking skills. The dairy free filling is creamy and moist perfectly combining the sweetness of the batter and sourness of rhubarb.
As soon as the rhubarb season began, I started thinking about rhubarb cake recipe. However, only at the end of the season did I manage to whip up my first ever vegan rhubarb cake.
It makes me so happy that even my husband, who's not a big fan of rhubarb, approved the taste and texture. Furthermore, when I asked my 8-year-old to describe it, he couldn't say other than it was so good 🙂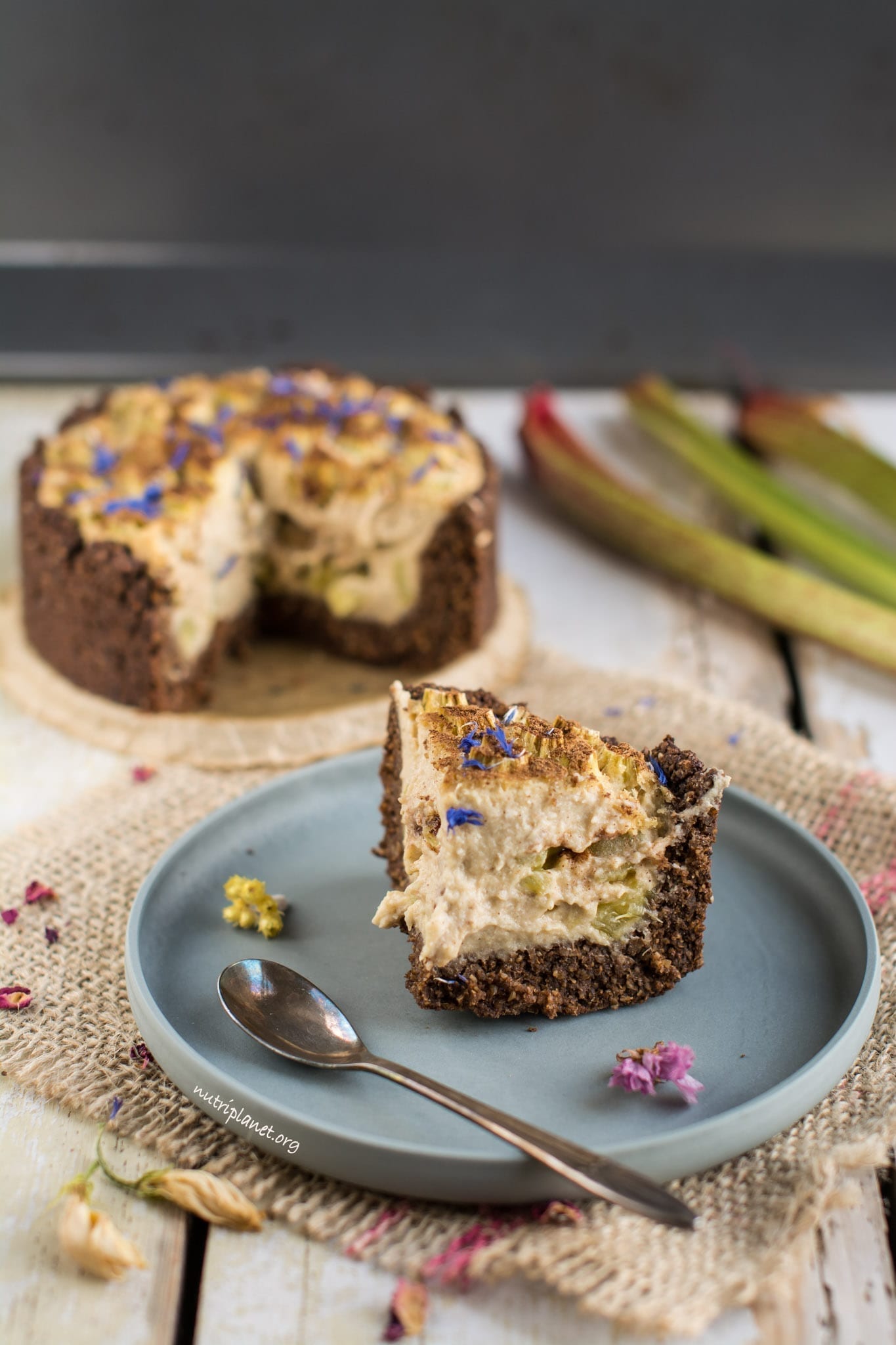 I started with soaking organic walnuts for the crust. Soaking makes the nuts more digestible and enhances mineral absorption by reducing the amount of phytates. Because I used soaked walnuts, I also added a bit of tahini to get the oily consistency. Other option would be to dehydrate the walnuts and process them until the oils start to separate.
Next, I decided to use oat bran instead of rolled oats to keep the glycemic load of my rhubarb cake really low. However, feel free to add rolled oats if it's no concern to you (see more under tips).
Now, let's move on to psyllium husk powder, the true wonder in gluten-free and grain-free baking. It's the substance that glues everything together or makes your mixtures thicker. In fact, it works as a binder in the crust and as thickener in the filling.
I don't even know how I came to the idea to combine chickpeas and coconut milk to achieve this divine custard-cream-like outcome. However, it's just perfect! By the way, don't be intimidated by the overly sweet taste of the filling as baking and the sourness of rhubarb will smooth it out. I'm sure some people would add even more sweetener though 🙂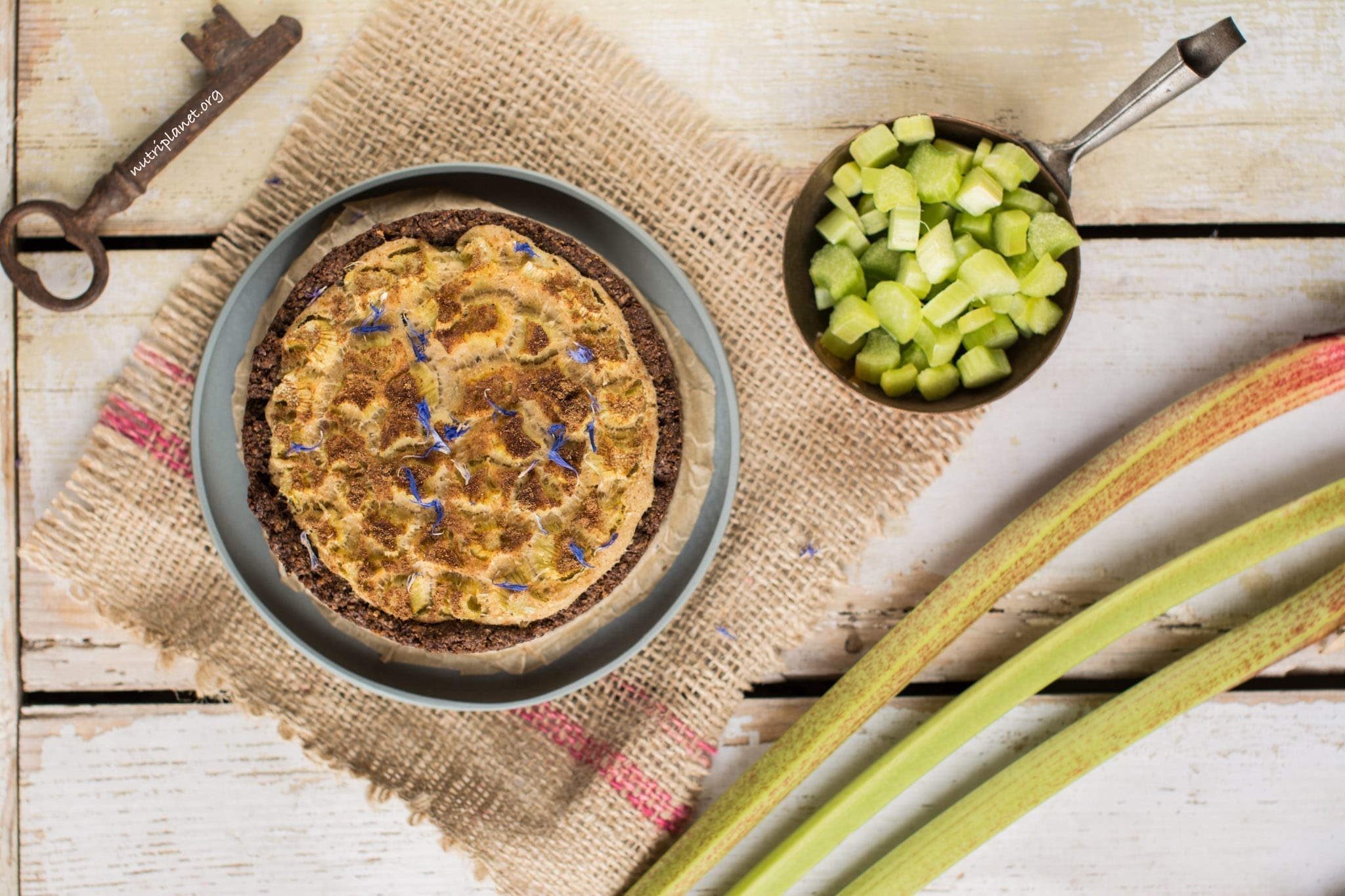 When it comes to sweeteners I went for xylitol and stevia, as I'm willing to live Candida free. However, many people tolerate other sweeteners and can therefore use something else (see more under tips).
As you will see from nutritional info, my rhubarb cake is quite high in fat. Now, should you prefer it leaner, sub coconut milk in the crust with any other plant milk and add less of tahini. However, even if you leave the recipe as it is and have one serving of the cake per day, your macros will be fine. Besides, no one eats cake all day long, right?
I also have a leaner rhubarb recipe back from the old days – Rhubarb Muffins. In addition, you might enjoy my Rhubarb-Fig Jam.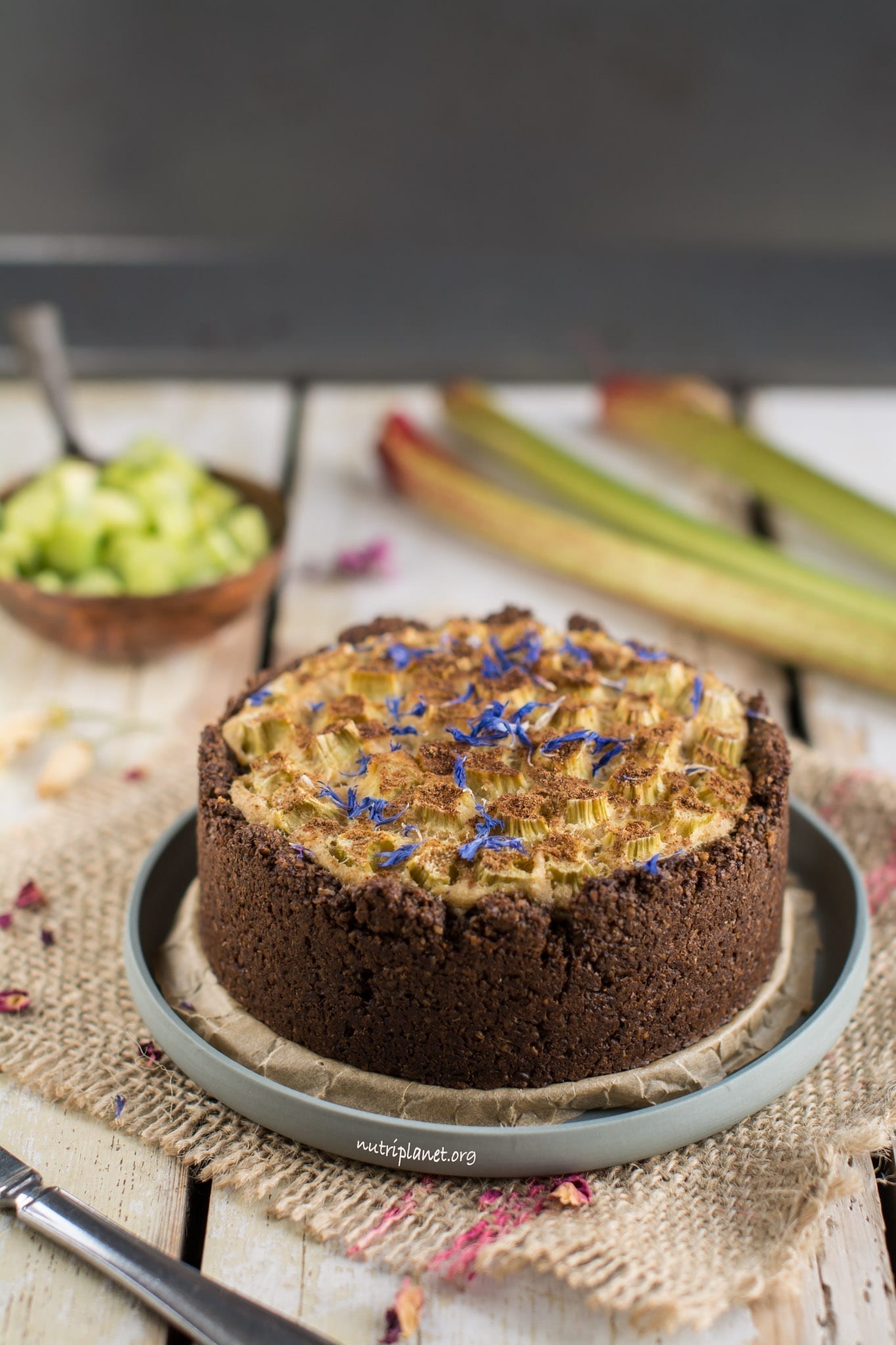 To sum it all up, the main benefits of my easy vegan rhubarb cake are:
Gluten free
Dairy free
Oil free
Soy free
Peanut free
Low glycemic
Diabetic friendly
Candida diet friendly
Besides the above dietary features, I need to emphasise how easy, satisfying and creamy this rhubarb cake is!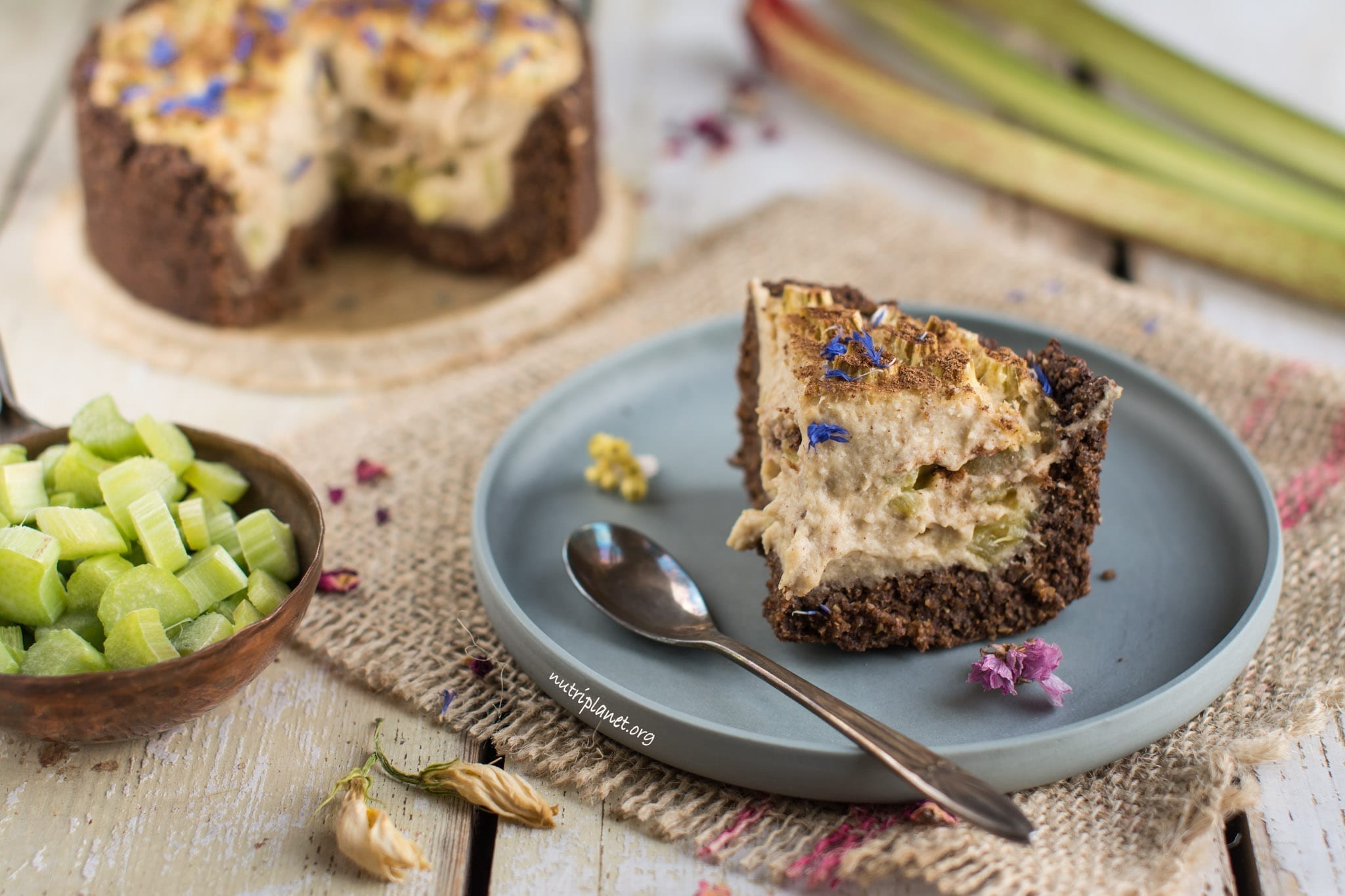 Please let me know in the comments below if you have any questions or if you make this cake! Enjoy!
Easy Vegan Rhubarb Cake
Ingredients:Crust
¾ cup (75g, 2.6oz) walnuts, soak
1 tbsp. (25g, 0.9oz) tahini (additive-free)
Pinch of Himalayan salt
3 tbsps. (18g, 0.6oz) oat bran
1½ tbsps. (14g, 0.5oz) carob powder
1 tbsp. birch xylitol
¼ + ⅛ tsp. (1.5g, 0.05oz) psyllium husk powder
⅛ cup (30g, 1.06oz) coconut milk (unsweetened)
Directions
Start by soaking walnuts for at least 4 hours. Then rinse and drain.
Next, throw walnuts with tahini and salt into food processor or blender and process until you've got a fine mass. Add the remaining crust ingredients and process again until homogeneous batter forms.
Line the bottom of a small 11 cm (4 inch) baking dish with parchment paper and press the crust batter into the tin all the way up to the sides.
Then, process all filling ingredients (except rhubarb) in a blender or use immersion blender. Finally, mix in chopped rhubarb.
Pour the filling onto crust, sprinkle some extra cinnamon on top and bake at 175°C (350°F) for 40-45 minutes.
Finally, let cool completely before slicing. Preferably put the cake in fridge for a few hours.
Enjoy the cake plain or with Healthy Chocolate Sauce, Caramel Sauce, healthy vegan ice cream or even blended berries of choice.
Nutritional info (⅙ of cake): 212 kcal, 10.5g carbohydrates (30.9% of kcal), 15.1g fats (64.4% of kcal), 5.58g protein (10.5% of kcal), 5.47g fibre, and 3.5 GL points.
Tips on my easy vegan rhubarb cake:
Instead of walnuts you could use any other preferred nuts – almonds, cashews, hazelnuts, pecans, macadamia nuts.
Tahini can be substituted with any other nut or seed butter – almond butter, cashew butter, sunflower seed butter, hazelnut butter.
You could use rolled oats instead of oat bran, but add 2 tablespoons instead of 3.
Should you feel that the cake is too heavy for you, substitute coconut milk in the crust with any other plant milk – almond milk, soy milk, oat milk, rice milk, cashew milk, hemp milk etc.
If you're not struggling with Candida overgrowth, feel free to substitute xylitol and stevia with any other preferred sweetener – coconut sugar, coconut nectar, agave syrup, maple syrup.
Instead of mixing chopped rhubarb right into the filling, you might also add layers of rhubarb and the filling by turns leaving rhubarb on top. Feel free to sprinkle some extra cinnamon on rhubarb pieces.
You can make this rhubarb cake even more blood sugar and gut friendly by sprouting the chickpeas before cooking them. Follow the instructions in my Vegan Paleo Brownies recipe for sprouting. Chickpeas will take about 24 hours to have 1-2mm sprouts.
Finally, if rhubarb season is over, use any sour berries such as redcurrant, blackcurrant, bilberries, sour cherries, sea buckthorn or even strawberries and sour apples.
Disclaimer: this post contains affiliate links.