This creamy vegan spinach dip combines the simple, but divine flavours of onions and garlic with the subtle sweetness of coconut and saltiness of spinach. It's an easy vegan side dish that is ready in less than 15 minutes.
P.S. Don't forget to watch the short video below where I show you the consistency of this dip.
So, there I was, munching on this tasty and creamy wilted spinach in my favorite vegan buffet in Tallinn, when I knew I had to make this at home!
It was the next day when I bought some frozen chopped spinach and coconut milk to start testing the recipe for creamy vegan spinach dip. I was so happy that it turned out perfectly after the first attempt. My husband and 8-year-old totally approved. Needless to say, the whole thing was gone at one go.
Moving on to the ingredients of this vegan spinach dip, I have to say it's actually so simple. It's because when you have onions and garlic with some turmeric, coconut milk and salt/pepper to taste, you can't go wrong! The spinach just adds to the bomb of flavours and creamy texture.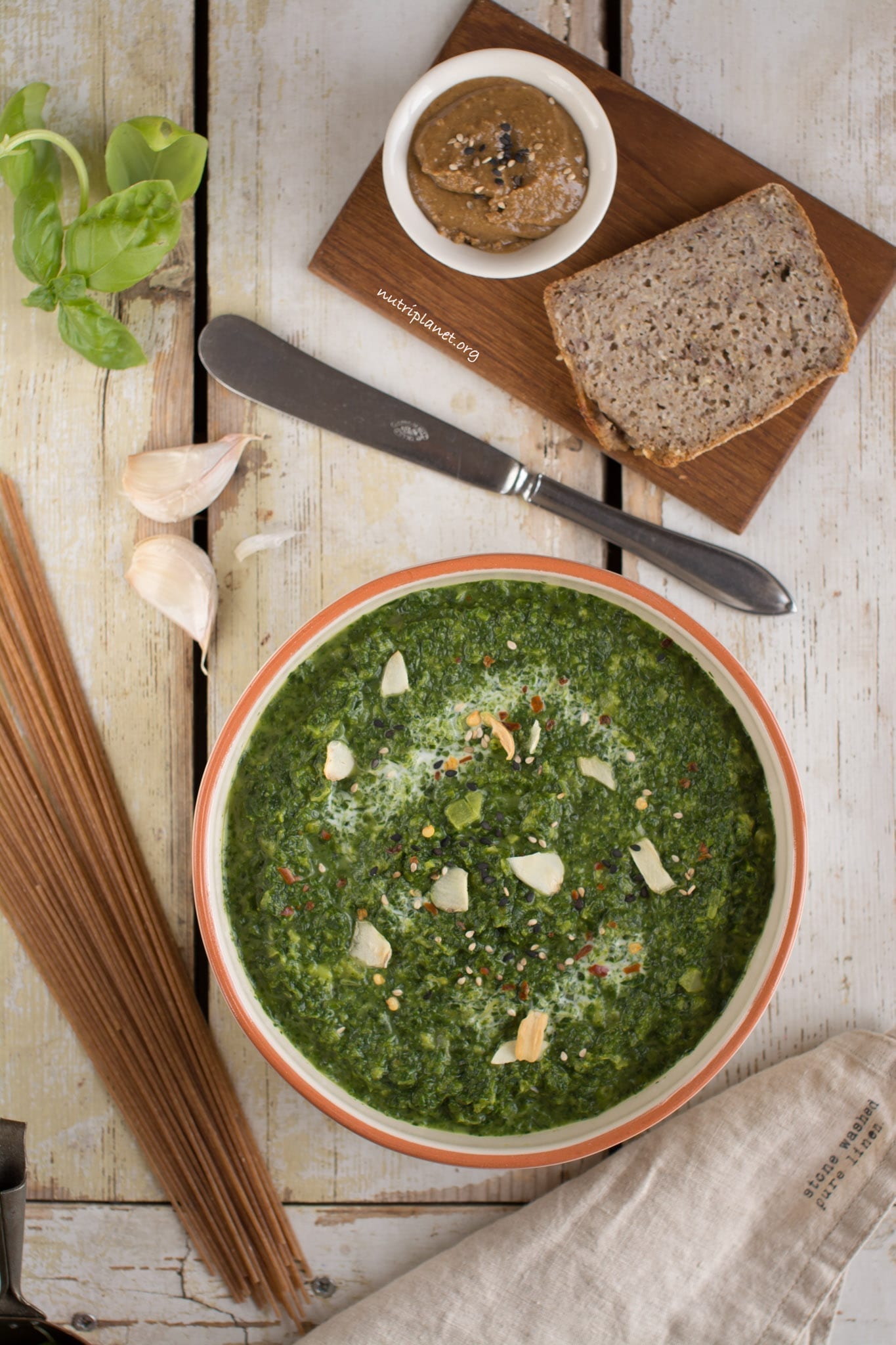 Should you be among those who don't like coconut, scroll down and get tips for substitutions. Furthermore, if you're a lazy cook, you don't even need to bother chopping all that onion and garlic. Again, move on to tips' section for more information.
Before all the people who follow low-fat diet for health reasons start to raise their voices, let me say the following:
Yes, the recipe is quite high fat, as almost 56% of kcal comes from fat. However, it's a dip and it's meant to be eaten with other foods, e.g. raw veggies, wholesome bread or crackers and salads. So, it evens out.
Should you still be worried about the fat content, feel free to add less of coconut milk or replace it altogether with leaner alternatives, e.g. other plant-based milks (soy, almond, oat etc.).
Now, if we leave the fat content to be, my creamy vegan spinach dip suits most people's diets as it's:
Plant based
Gluten free and grain free
Sugar free
Dairy free
Soy free
Peanut free
Candida diet friendly
Low glycemic
Oil free
Paleo vegan.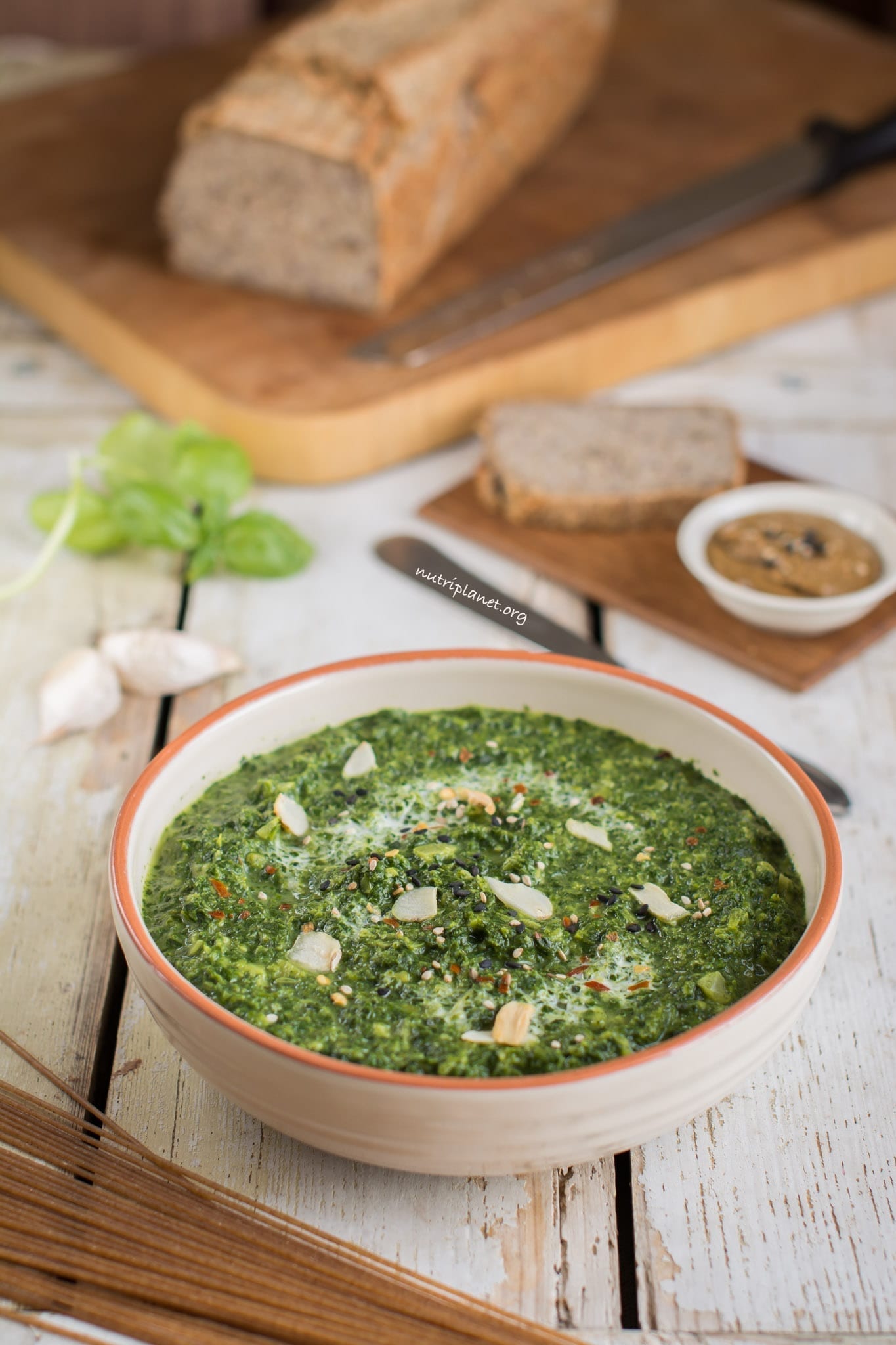 Besides all the dietary advantages, this vegan spinach dip is also very versatile in terms of use. You can spread it over a slice of bread, dip raw veggies into it, use over pasta dish, or have as a simple side to complete your meal.
Finally, even those who have just made their first steps in the kitchen can try it out, as the recipe is so easy and quick to prepare.
Please let me know if you make this vegan spinach dip recipe in the comments below and tag me in social media if you share photos of your creation! Instagram @thenutriplanet and Facebook @nutriplanet.health.hub
Enjoy!
Print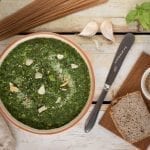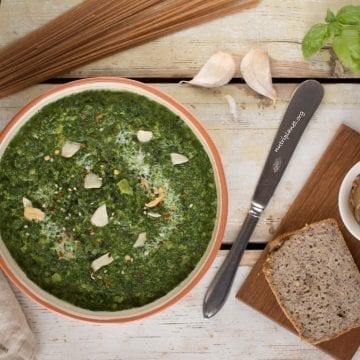 Creamy Vegan Spinach Dip
---
Author:

Nele Liivlaid

Total Time:

14 minutes

Yield:

3

–

4

servings

1

x
Description
This creamy vegan spinach dip combines the simple, but divine flavours of onions and garlic with the subtle sweetness of coconut and saltiness of spinach. It's an easy vegan side dish that is ready in less than 15 minutes.
---
For 3-4 servings
1

small onion (about

70g

,

2.5oz

)

3

garlic cloves (

9g

,

0.3oz

)

70g

(

2.5oz

) coconut milk

¼ tsp

. turmeric

450g

(

15.9oz

) frozen chopped spinach
Himalayan salt to taste
Black pepper and chili pepper flakes to taste
---
Instructions
First you need to thaw spinach. You can do that at room temperature (it'll take hours) or use microwave oven's thaw program. Discard any excess water.
Then, chop onion and use garlic press to crush garlic cloves. Alternatively use frozen pre-chopped onion and chop garlic into really fine pieces.
Next, in a small skillet or pot heat 2 tablespoons of water. When it starts to sizzle, add onions and garlic, mix briefly, cover and sauté over medium heat for 3 minutes.
Then, add turmeric, stir and pour in coconut milk.
Bring to boil before adding spinach. Stir, bring to boil and simmer until spinach is cooked, about 3 minutes.
Finally, season with Himalayan salt, black pepper and garnish with some chili flakes.
Let cool a bit before serving and sprinkle with some vegan Parmesan (cashews or other nuts ground with some Himalayan salt and nutritional yeast).
Notes
One serving has 2 GL points.
Prep Time:

8 minutes

Cook Time:

6 minutes

Method:

Boiling
Nutrition
Serving Size:

1/4 of recipe

Calories:

56.9 kcal

Fat:

3.53g

Carbohydrates:

5.1g

Fiber:

2.66g

Protein:

3.11g
Keywords: spinach, gluten-free
How to have this vegan spinach dip:
Tips on my creamy vegan spinach dip recipe:
You can also use fresh spinach instead of frozen. However, if you want the final result to have a dip consistency, chop the spinach finely before cooking. Should you want wilted spinach instead, throw the leaves in as they are. When using fresh spinach, boil it in a separate skillet for one minute, drain the boiling water (it contains acids) and mix the spinach into the other ingredients.
If you're lazy and don't want to bother chopping onion and garlic, use garlic powder and onion powder instead.
Here are some alternatives for coconut milk – vegan sour cream, cooking cream or béchamel sauce (I'm not a fan because of all the added oils), soy milk, almond milk, or cashew cream + some water.
I know there are people out there who are allergic to garlic. Tragic, I know! Should you be one of them, just leave it out and use a bit more of onions. If you tolerate wild garlic (the green leaves), chop some of those into your dip for garlicky flavour.
Disclaimer: this post contains affiliate links.