Rhubarb season here in Northern Europe has definitely begun, and one of my favourite recipes with this fine vegetable is a muffin. Yes, muffins again 🙂
Why should you eat rhubarb?
Rhubarb is low in saturated fat and sodium, and very low in cholesterol. It is also a good source of magnesium, and a very good source of dietary fibre, vitamin C, vitamin K, calcium, potassium and manganese.

This rhubarb muffin recipe is oil-free, sugar-free, lactose-free, casein-free, gluten-free (if you use gluten-free oat flour), vegan.
Ingredients:
Wet:
15 dates, pitted and chopped
250ml water
1 big banana
2 handfuls of soaked almonds
200ml apple sauce
Dry:
155g (5.47oz) oat flour
150 g (5.29oz) raw buckwheat flour
2 tsp cinnamon
40g goji berries
2 tsp baking powder
350 ml peeled and chopped rhubarb
Preparation:
STEP 1: In a small bowl, cover the chopped dates with 250ml water and let soak for at least 15 minutes.
STEP 2: In a big bowl, mix together the flours, baking powder, goji berries, and cinnamon.
STEP 3: Place the dates with the soak water, banana, and almonds into a blender and blend until smooth. Add applesauce and blend again.
STEP 4: Add this date mixture to the bowl of dry ingredients, and mix until all the dry ingredients have disappeared.
STEP 5: Fold in the rhubarb. Spoon the batter into a silicone muffin pan or parchment muffin papers in a metal pan. This recipe makes 12 big muffins or 24 smaller ones.
STEP 6: Heat oven to 350 F (175 C). Bake big muffins for 30-35 minutes, and small ones for 25 minutes. The muffins will be done when cracks appear, and when a toothpick inserted comes out clean. Let cool in the pan for at least 15 to 20 minutes before removing.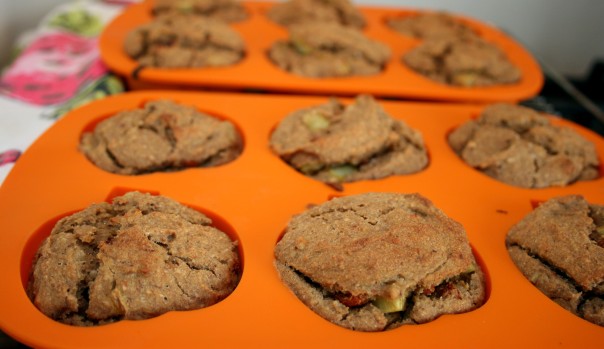 Tips:
Make your own apple sauce – peal 4 small or 2 big apples and boil in a bit of water for 5 minutes. Let cool.
If you use tartrate baking powder (like I did), add 10 g to the dry ingredients.
If you do not have oat flour, you can just measure 155 g of oats and grind them into flour.
Store the leftover muffins in freezer. Heat up in oven whenever needed.
Nutritional info (1 big muffin): 161 kcal, 30.09g carbohydrates, 2.02g fats, 4.66g protein, 4.25g fibre, 48.1mg calcium.
Bon appetite!
Author: Nele Liivlaid (Nutriplanet)