These cinnamon rhubarb muffins are perfect breakfast or a lean snack to enjoy in the afternoon with tea. Besides being quick and easy to make they are also oil-free, sugar-free, dairy-free, gluten-free (if you use gluten-free oat flour) and of course vegan.
Rhubarb season here in Northern Europe has definitely begun, and one of my favourite ways to prepare this fine vegetable is in a muffin recipe. It's because muffins are so versatile by nature – you can have them as breakfast, snack and even dessert.
The sweetness of those vegan rhubarb muffins comes from dates, goji berries and banana. So, not suitable for those on Candida diet or diabetics, but definitely a healthier alternative to refined sugar for everyone else.
Gluten free baking is so easy with flours made of oats and buckwheat. Make sure to use gluten free oats though (look for a sign on the package). Another thing you should pay attention to is to look for raw buckwheat flour, i.e. flour made of not roasted buckwheat. That's because roasted buckwheat has distinct flavour that some people don't enjoy.
I don't know why I was so worried about oil-free baking when it's super easy! Applesauce and bananas give just the right amount of moistness for those rhubarb muffins without all those added oils. Read more from my post How to Cook Oil-Free and Sugar-Free.
Why should you eat rhubarb?
Rhubarb is low in saturated fat and sodium, and very low in cholesterol. It is also a good source of magnesium, and a very good source of dietary fibre, vitamin C, vitamin K, calcium, potassium and manganese.
Easy Vegan Cinnamon Rhubarb Muffins
Ingredients:Wet
15 dates, pitted and chopped
250ml water
1 big banana
2 handfuls of soaked almonds
200ml apple sauce
Ingredients:dry
155g (5.47oz) oat flour
150g (5.29oz) raw buckwheat flour
2 tsps. cinnamon
40g goji berries
2 tsps. baking powder
350 ml peeled and chopped rhubarb (add later)
Directions
In a small bowl, cover the chopped dates with 250ml water and let soak for at least 15 minutes.
In a big bowl, mix together the flours, baking powder, goji berries, and cinnamon.
Place the dates with the soak water, banana, and almonds into a blender and blend until smooth. Add applesauce and blend again.
Add this date mixture to the bowl of dry ingredients, and mix until all the dry ingredients have disappeared.
Fold in the rhubarb. Spoon the batter into a silicone muffin pan or parchment muffin papers in a metal pan. This recipe makes 12 big muffins or 24 smaller ones.
Heat oven to 350 F (175 C). Bake big muffins for 30-35 minutes, and small ones for 25 minutes. The muffins will be done when cracks appear, and when a toothpick inserted comes out clean. Let cool in the pan for at least 15 to 20 minutes before removing.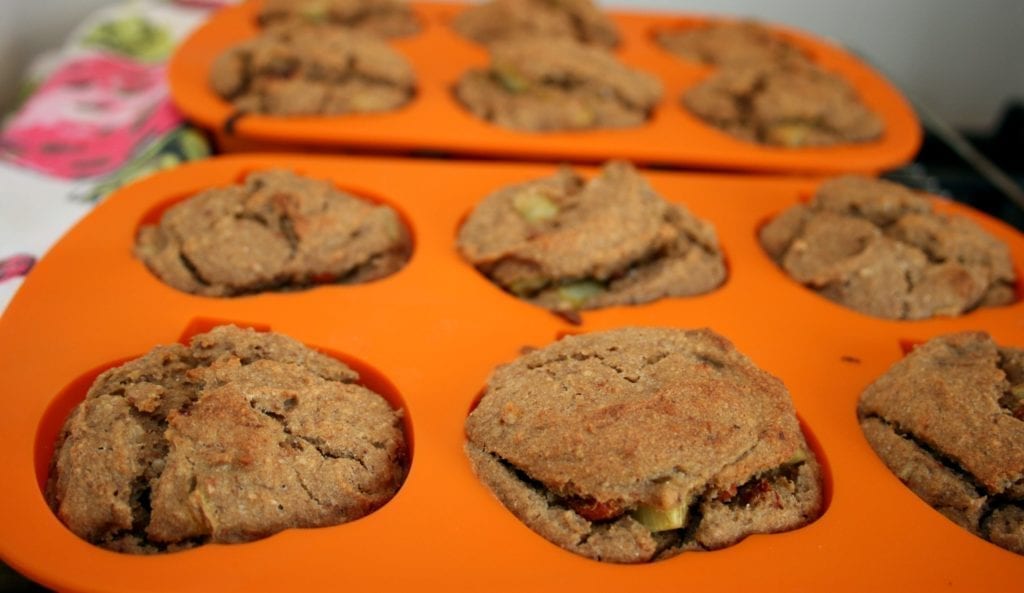 Tips on my vegan cinnamon rhubarb muffins:
Make your own apple sauce – peal 4 small or 2 big apples and boil in a bit of water for 5 minutes. Let cool.
If you use tartrate baking powder (like I did), add 10 g to the dry ingredients.
If you do not have oat flour, you can just measure 155 g of oats and grind them into flour.
Store the leftover muffins in freezer. Heat up in oven whenever needed.
Nutritional info (1 big muffin): 161 kcal, 30.09g carbohydrates, 2.02g fats, 4.66g protein, 4.25g fibre, 48.1mg calcium.
Bon appetite!