Soft and fudgy whole food plant-based chocolate beet brownies that are gluten-free and exceptionally easy to make. You'll only need a food processor and 15 minutes of your time.
To point out the good qualities of my vegan beet brownies, let me say that they are:
Extremely simple to make.
So soft and fudgy.
Perfect healthy afternoon snack with a cup of tea.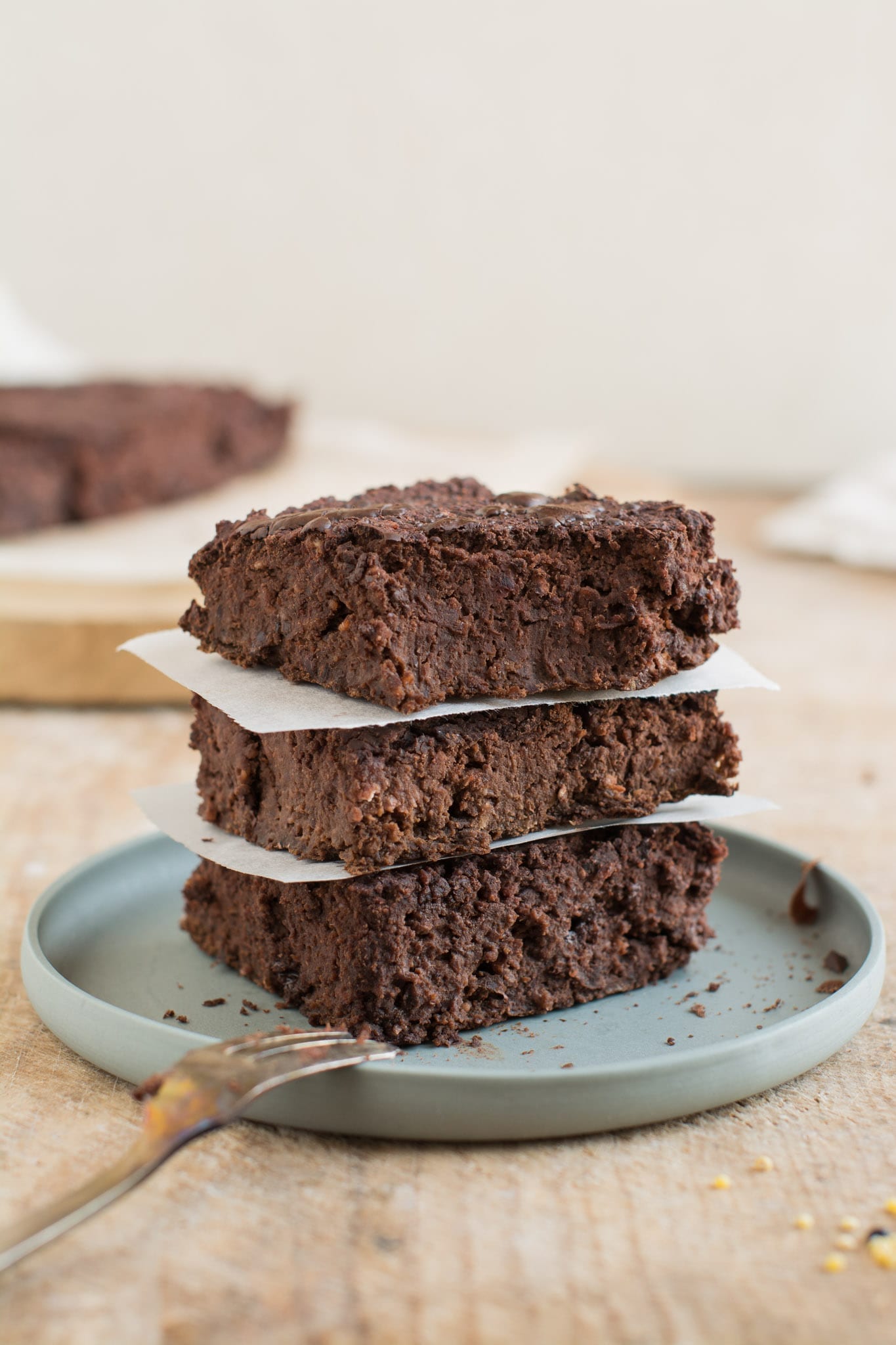 Beet Brownies' Ingredients
As mentioned, this beet brownie recipe is whole food plant-based and therefore does not contain any refined oils or sugar. Instead, you'll find only whole and healthy ingredients in the list below.
Wet Ingredients
First, the main ingredient giving the most mass are black beans. I find the latter so healthy, tasty and versatile that I like to use them quite often in both sweet and savoury recipes.
As you might guess, next comes beetroot giving the brownies the red velvet look. Although to be honest, the look fades away in the oven.
Why add beets though? It is because I love beets! They are sweet and juicy at the same time. Consequently, they make an excellent addition to many dishes and recipes.
I used store bought boiled and grated beetroot. However, you're welcome to cook beets yourself either by boiling or baking them in oven. The recipe includes a whole cup of grated beetroot, but you absolutely do not need to worry about overwhelming beet flavour as it remains fairly subtle.
Peanut butter is frequently part of my brownie recipes because it simply makes everything so much better! You do not have to worry, if you are allergic to peanuts, because almond butter works as well.
Next, to bind everything together and achieve a nice and smooth brownie batter, I add some oat milk. Again, any plant milk will do as soon as it does not have any unwanted additives.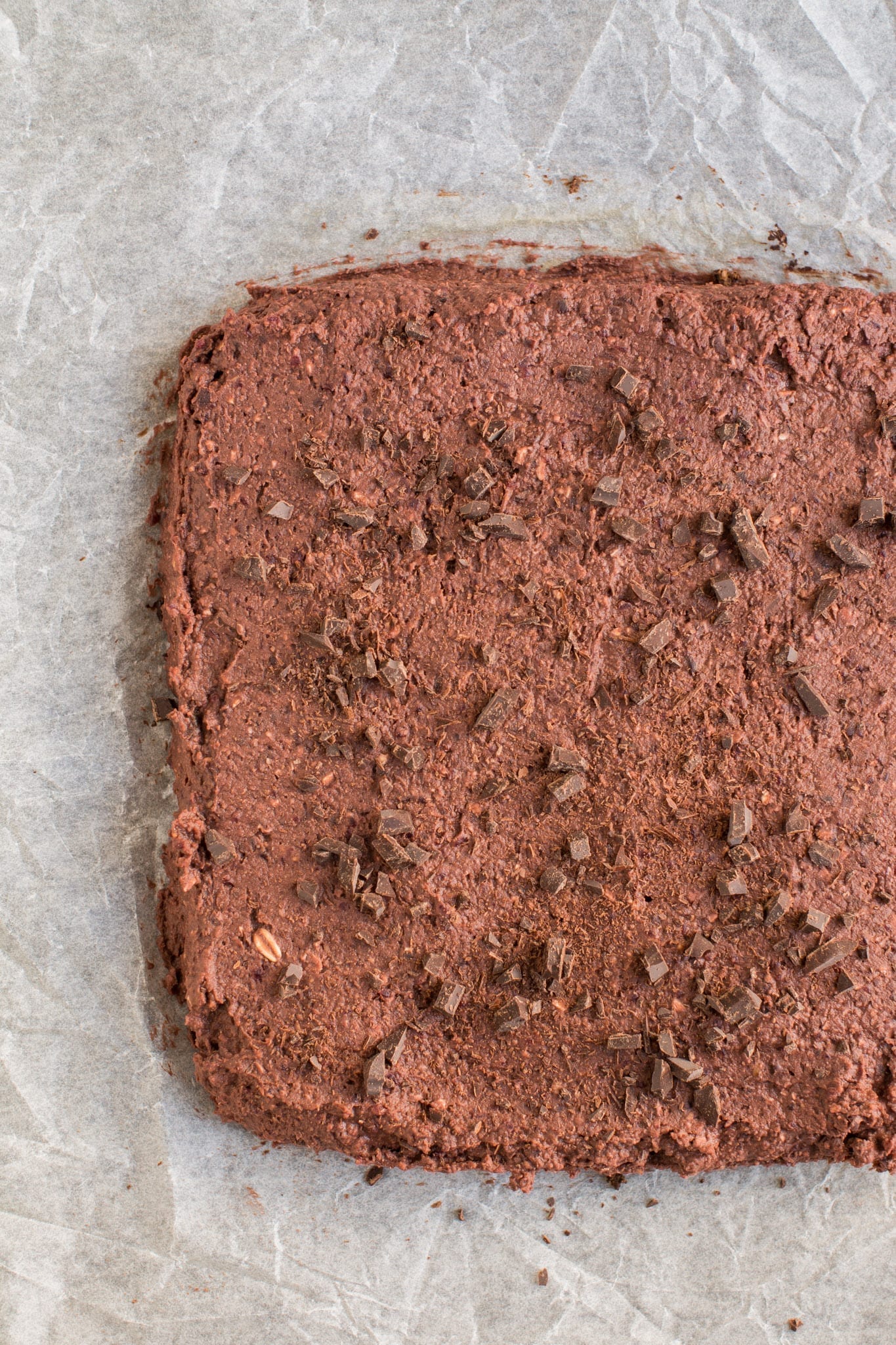 Dry Ingredients
Let's move on to dry ingredients. I used rolled oats and coconut flour instead of all-purpose flour or simply gluten-free flour. You could substitute rolled oats with oat flour, but you would probably need to use a bit less as flour absorbs more liquid.
As far as sweeteners are concerned, I decided to go for medjool dates (juicy dates). To clarify, it is the soft variety that usually comes with stones and that you can easily squeeze open. That being said, make sure to remove the stones!
After being on Candida diet since 2016 I'm in the stage where I can have some dates here and there, so I take advantage of it. However, if you're not there yet, substitute the dates with either xylitol or erythritol. And if you are more advanced, you can even try coconut sugar.
And finally come the ingredients that make my beet brownies chocolaty – carob, cocoa powder and cacao liquor. I used the latter instead of regular dark chocolate chips in order to keep those beet brownies Plantricious. However, you are free to use any dark chocolate that you have on hand. Furthermore, try adding melted chocolate into your brownies instead of chopped chocolate or chocolate chips.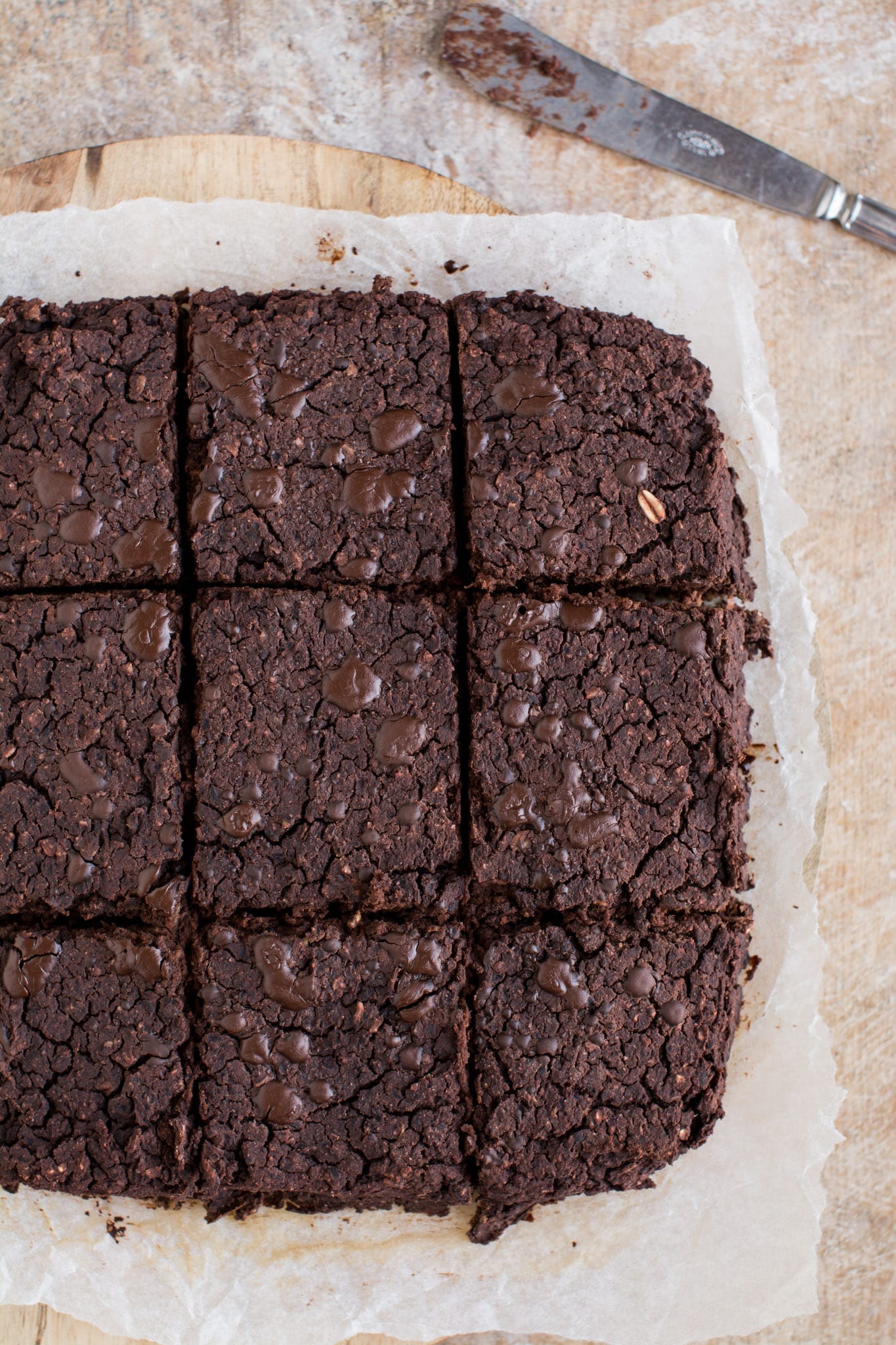 For festive occasions, I'd suggest decorating those vegan beet brownies with either my Chocolate Frosting or Cashew Cream Frosting.
As you are here, I'm guessing you like brownies, right? Therefore, I suggest you check out my other brownie recipes as well: Paleo Brownies, Lentil Brownies, Sweet Potato Brownies, Chocolate Mint Brownies, White Bean Brownies, and Spicy Plum Brownies.
By the way, my Lentil Brownies have a very similar process! Check them out here: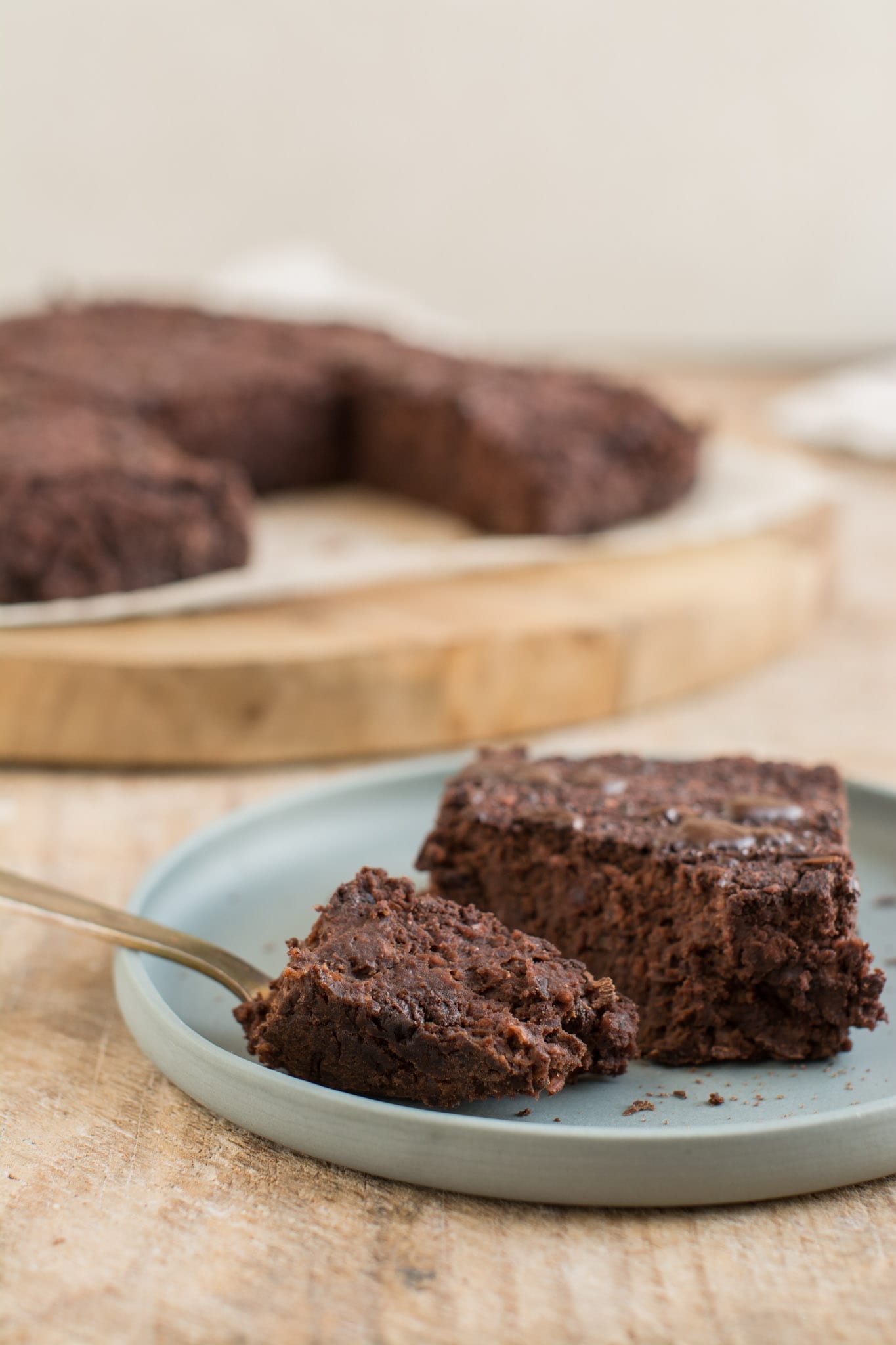 In summary, my beet brownies are:
Plant-based
Gluten-free
Low-fat (relatively)
Can be made Candida diet friendly
Oil-free
Allergy friendly
Soy-free
Can be made peanut-free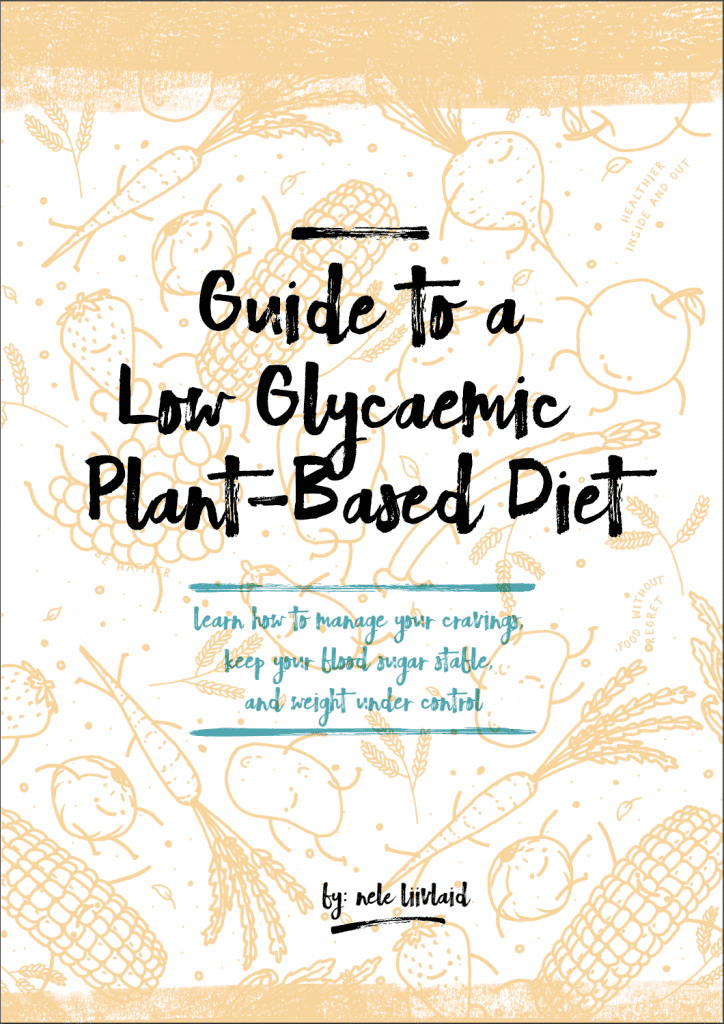 Print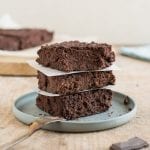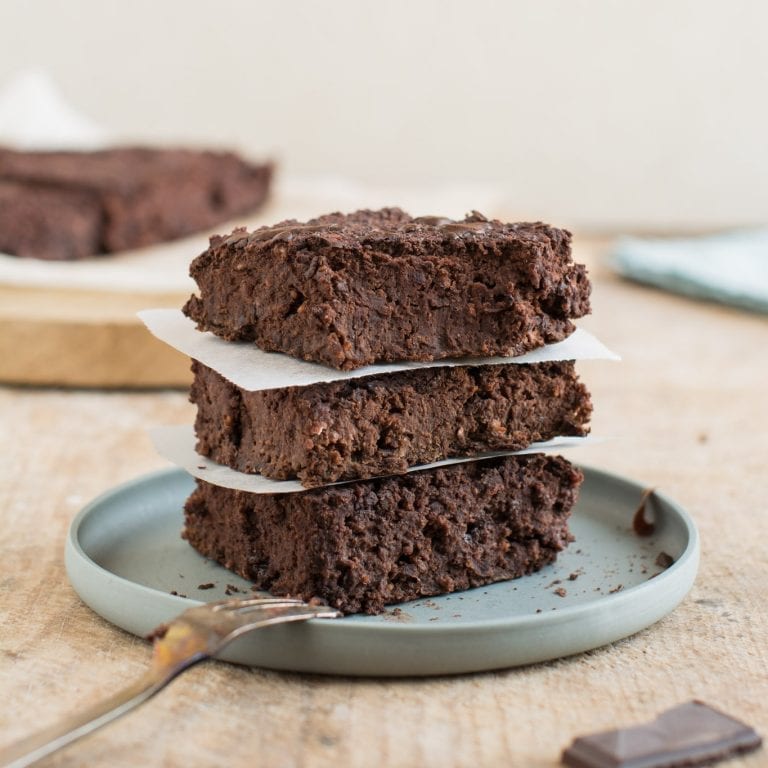 Beet Brownies [Vegan, Oil-Free]
---
Author:

Nele Liivlaid

Total Time:

45 minutes

Yield:

9

servings

1

x

Diet:

Vegan
Description
Soft and fudgy whole food plant-based chocolate beet brownies that are gluten-free and exceptionally easy to make. You'll only need a food processor and 15 minutes of your time.
---
---
Instructions
Simply add all ingredients (except cacao liquor) into food processor and process until you have homogeneous batter.
Preheat oven to 175C (350F).
Next, chop cacao liquor (if you don't use chips or buttons) and mix it into brownie batter leaving a quarter to sprinkle on the brownie.
Pour the mixture onto baking sheet lined with parchment paper and, using a spatula, form a square of about 19×19 cm (7.5×7.5 inches). 
Sprinkle the remaining cacao liquor onto the brownie and bake for 30 minutes. Those brownies will remain of a soft and moist side. So, you don't need to check any toothpicks inserted in the centre. Let cool before slicing.
Notes
Storage tips: store on kitchen counter in a container with lid loosely on for up to a day. Then transfer the container to fridge where they'll be alright for 3 additional days. For longer keeping, put your brownie pieces into freezer.
You can use beet puree, in which case weigh 130 grams (4.6oz).
Feel free to substitute dates with 3-4 tablespoons of date sugar, coconut sugar, xylitol or erythritol. This is especially valid, if you're on Candida diet, but would still like to enjoy those beet brownies.
Any additive-free nut butter will do in this recipe, e.g. almond butter or hazelnut butter.
Same goes for plant milk – use any preferred one like soymilk, almond milk, rice milk. However, I would not suggest pea milk as it would change the taste quite a bit. I know that because I made the mistake with my sorghum muffins when I had run out of other plant milks.
In addition, should you not follow Plantricious guidelines, you're free to substitute dark chocolate or chocolate chips for cacao liquor. 
Finally, for extra festive look, serve these beet brownies with Chocolate Frosting or Cashew Frosting.
Prep Time:

15 minutes

Cook Time:

30 minutes

Method:

Oven
Nutrition
Serving Size:

1/9 of recipe

Calories:

217 kcal

Sodium:

87.7mg

Fat:

5.4g

Carbohydrates:

27g

Fiber:

8.9g

Protein:

8.2g
Keywords: brownies, chocolate, beetroot, black beans
Disclosure: this post contains affiliate links. As an Amazon Associate I earn from qualifying purchases. For every purchase made from the links in this post, you'll be able to support my work. So you can look after your health, and contribute to my mission at the same time. Thank you!
You're most welcome to PIN the below image of my beet brownies: