Rich and hearty yet oil free and refined sugar free vegan gluten free brownies using black lentils for perfect texture and moistness. Moreover, they are not only gooey and delicious but also super easy to make.
The tutorial video further down illustrates perfectly the simplicity of those vegan gluten free brownies!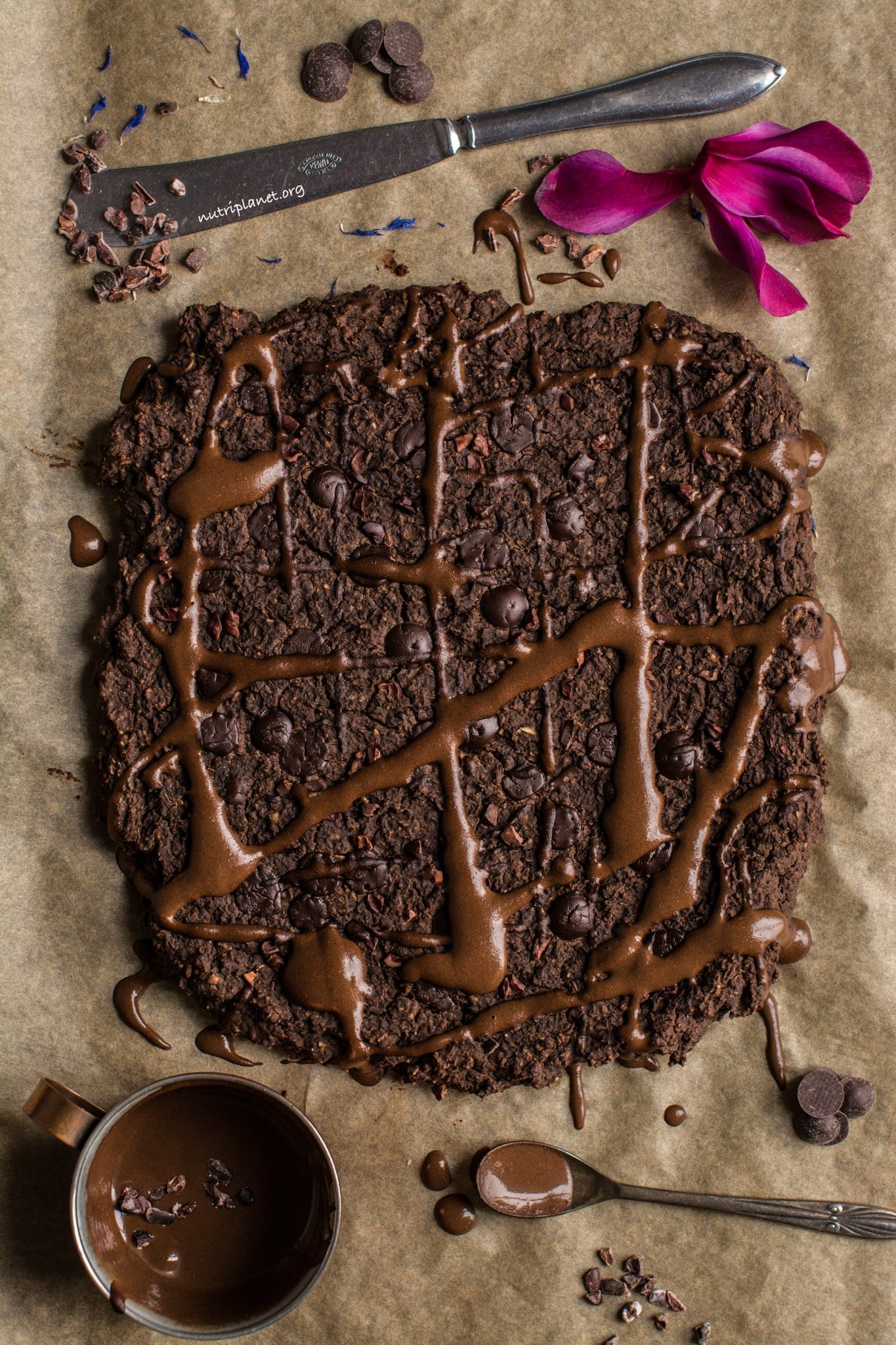 Now, my husband described those lentil brownies very well when he said they felt so rich when bitten into. And all that without any excessive fat! In fact, my vegan gluten free brownies are quite low in fat (27% of kcal) when compared to the conventional ones or even to most of the vegan versions that use vegan butter and/or oils.
I myself discovered another awesome quality of those lentil brownies. Surprisingly enough, they remind me of the conventional baked ricotta (the Eastern European version) cake that I loved so much when I was a child. Aren't lentils just amazing? I love that even after being plant-based for already 6 years I still discover new interesting combinations that blow my mind 🙂 That's a great illustration of how exciting the plant world is!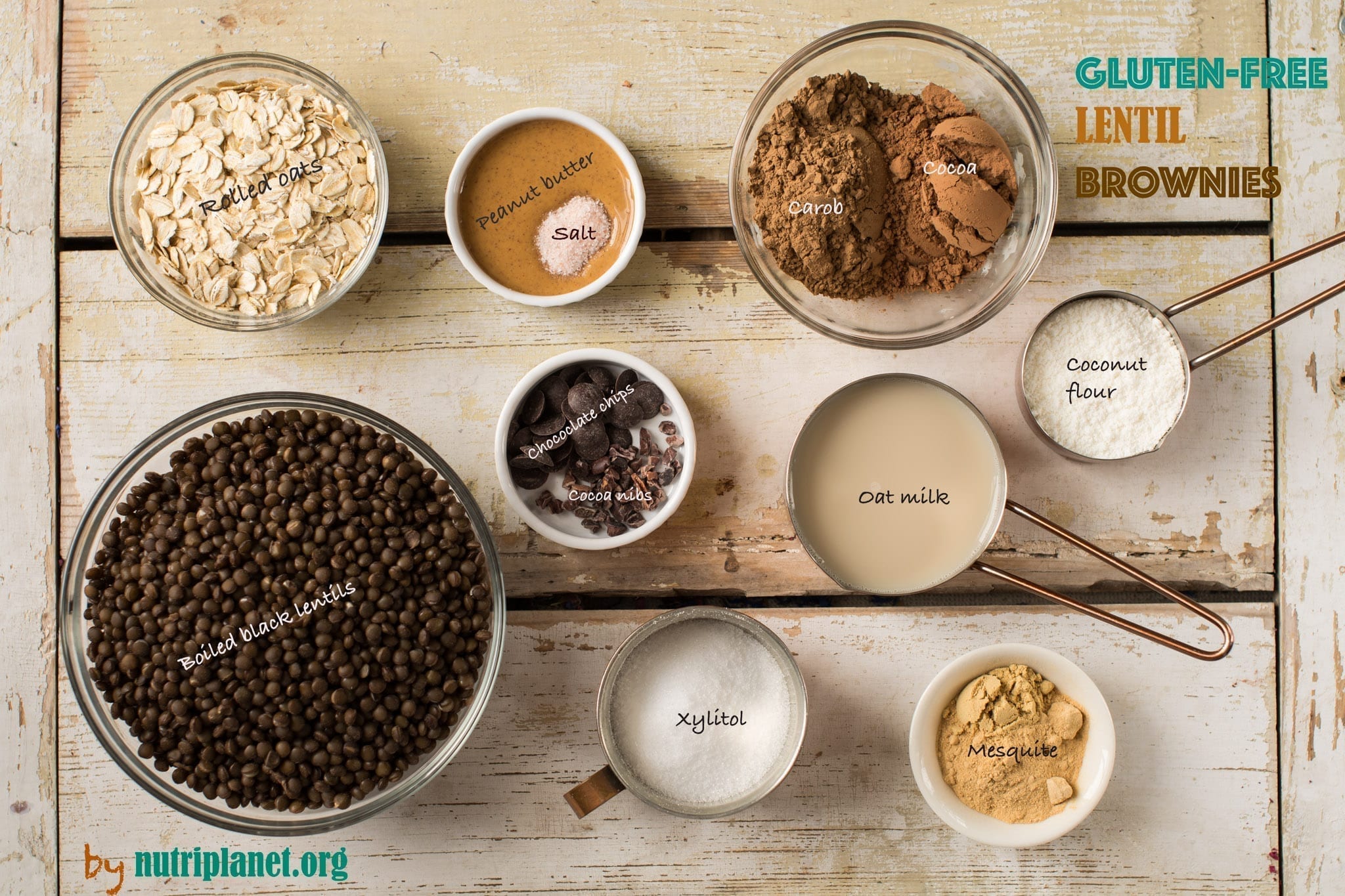 I came up with this vegan gluten free brownies recipe when I substituted chickpeas with lentils in my Chickpea Cookie Dough Bites recipe and added more carob and cocoa. Then, being too lazy to form cookies, I just spread the batter out on baking sheet and voilà – lentil brownies were born!
While many vegan brownie recipes include flax eggs or chia seeds as binding agent, I find that no egg replacement is needed. On the contrary, all my vegan muffins, cakes, cookies and brownies bind excellently without any special ingredients. In fact, vegan baking is much easier than many might think!
I dedicate a whole chapter on cooking/baking without dairy, eggs, oils and sugar in my book Plant-Based Made Easy: The Complete Practical Guide To Transitioning To Healthy Whole Food Diet. Read shorter version here: How to Eat and Cook Dairy Free and Egg Free.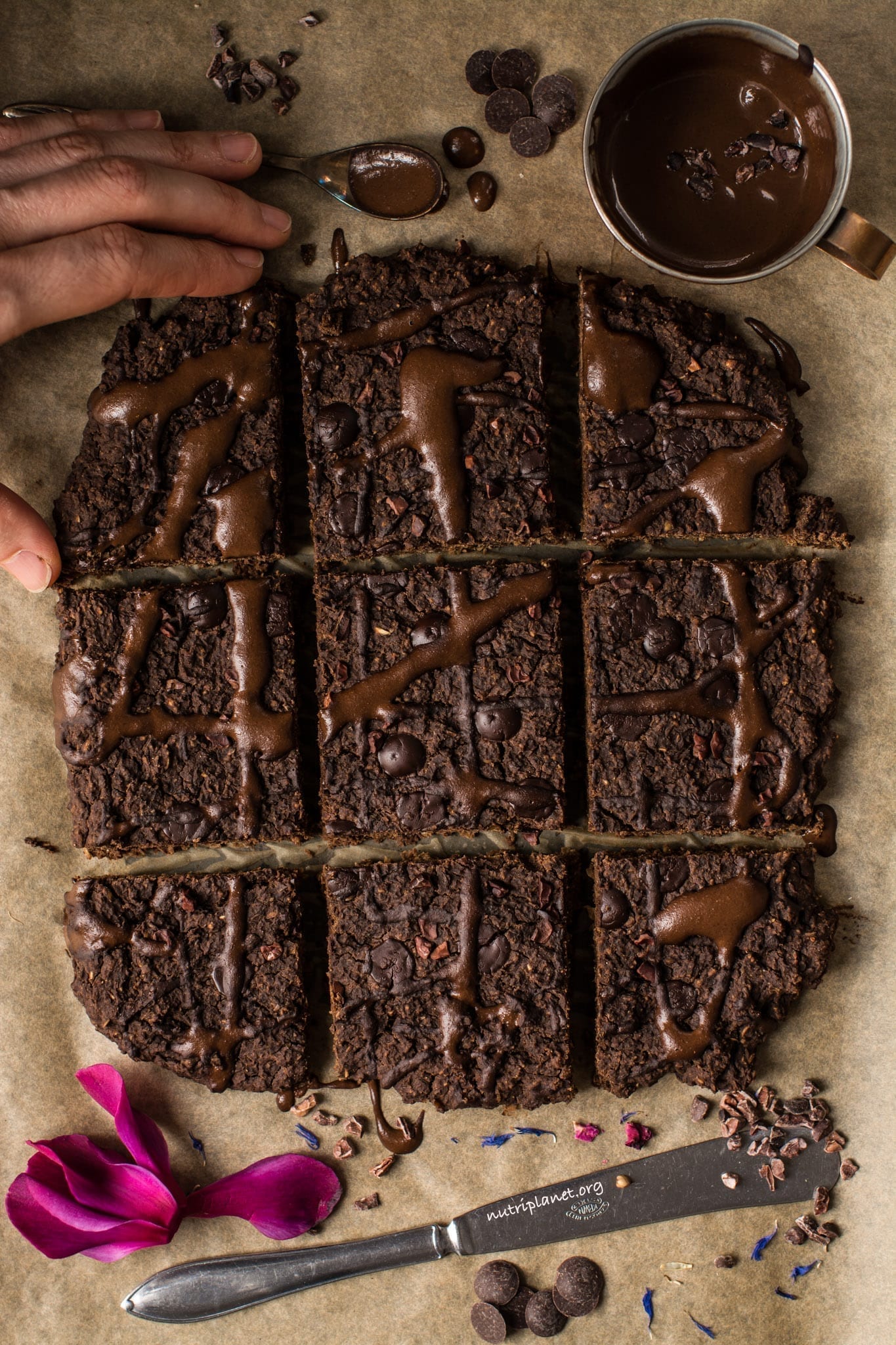 In addition, I don't see the need to use baking powder in this lentil brownie recipe as it's supposed to remain quite dense and moist. The only a bit unusual ingredient in my brownie recipe is mesquite flour, which I love for its sweetness and caramel taste. Check out the tips below for substitution options.
In conclusion, I love my vegan gluten free brownies with lentils because they are:
So gooey, rich and hearty
Relatively low in fat
Refined sugar free
Vegan Candida diet friendly
Oil-free
Actually healthy and protein-rich bites
Dairy-free
Egg-free
Awesome snack for midmornings and afternoons
Great go-to breakfast
Super easy to make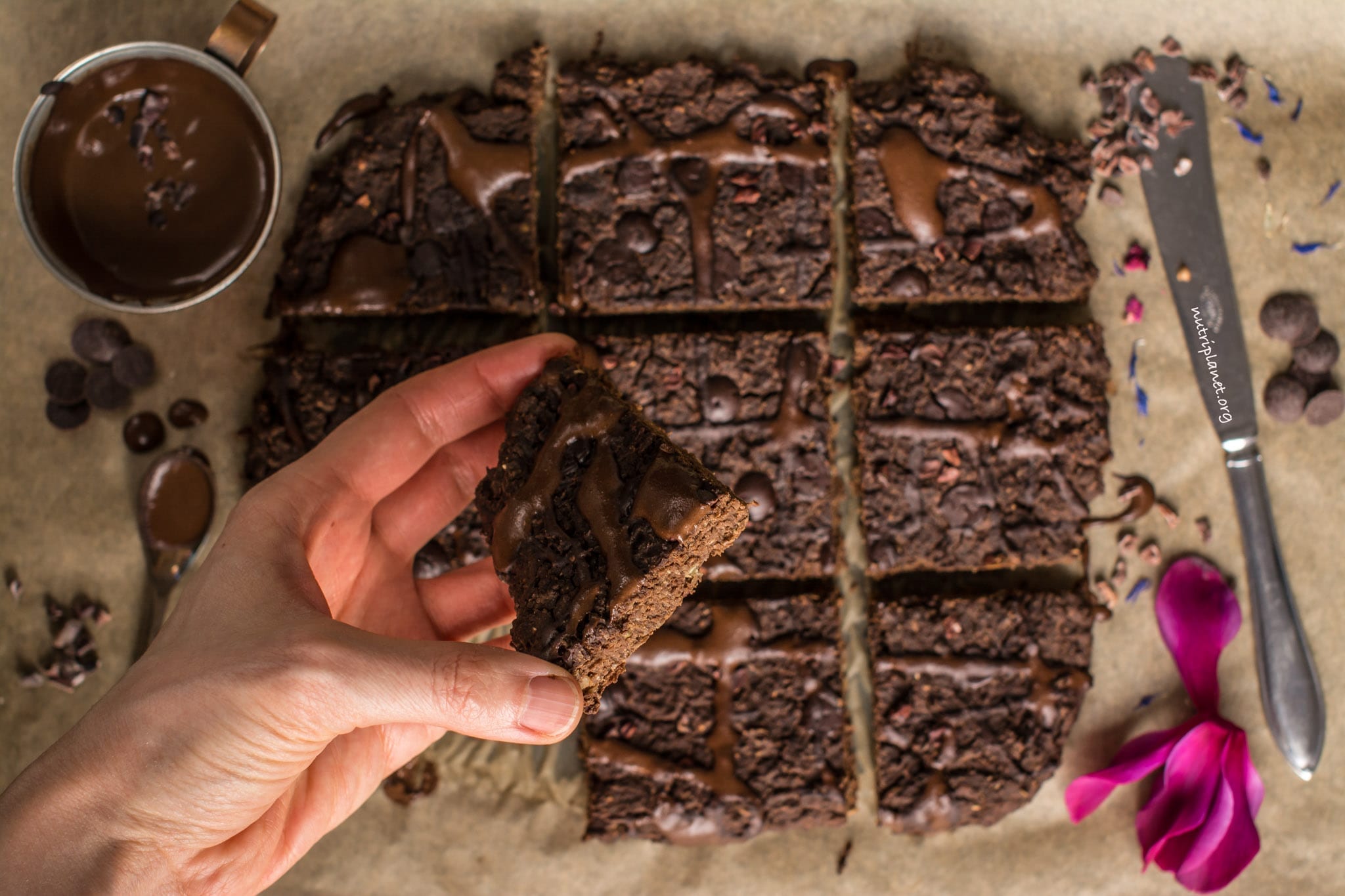 Please do let me know if you make those brownies, because I'd love to know! I'd love to hear from you! Please also tag me in social media whenever you make and share my recipe. Instagram @thenutriplanet and Facebook @nutriplanet.health.hub
Print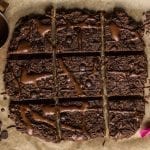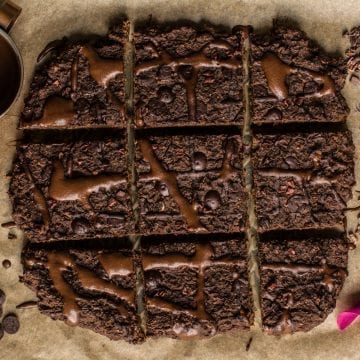 Vegan Gluten Free Brownies with Lentils
---
Author:

Nele Liivlaid

Total Time:

30 minutes

Yield:

8

servings

1

x
Description
Rich and hearty yet oil free and refined sugar free vegan gluten free brownies using black lentils for perfect texture and moistness. Moreover, they are not only gooey and delicious but also super easy to make.
Soaking time: 8 hours
---
---
Instructions
Start with soaking Beluga lentils for 8 hours. Then rinse, drain and boil the lentils. 2 cups of boiled lentils is about 115g (4.06oz) dry lentils. Or buy enough of canned lentils. Make sure to rinse and drain those as well.
Next, add all the ingredients (except chocolate chips and cocoa nibs) into food processor and process until you have homogeneous and smooth batter. You'll need to scrape the sides every now and then.
Then, transfer the batter onto baking sheet lined with parchment paper and spread it out into about 17x17cm (6.8 inch) square.
Finally, sprinkle on some chocolate chips and cocoa nibs, press them down and bake the brownies at 175°C (350°F) for 30 minutes. Let cool before slicing.
Cook Time:

30 minutes

Method:

Baking
Nutrition
Serving Size:

⅛ of the recipe

Calories:

126 kcal

Fat:

3.81g

Carbohydrates:

19.9g

Fiber:

5.41g

Protein:

6.29g
Keywords: vegan brownies, gluten free
Tips on my vegan gluten free brownies with lentils:
Could you use other lentils than Beluga? You could! However, if they turn out more of a mushy side (rather than grit), you'd need to add up to 50g (1.8oz) of LESS plant milk to the batter.
Furthermore, also mung beans are wonderful in this recipe. Add the same weight (it'll be a bit more than 2 cups of boiled mung beans). As with other types of lentils, add a bit less oat milk, i.e. 30-50g less.
If you use pink/red lentils (hulled lentils), the GL points per serving would rise to 9.5 points.
Any plant milk can be used instead of oat milk. Should you use unsweetened and naturally NOT sweet milk, you might need to add a bit more sweetener.
You can substitute mesquite flour with lucuma or yacon. Should you not be able to get hold of any of those wonderful flours, add an additional tablespoon of coconut flour (or any other nut flour) to the batter.
And, by all means, if you're not on vegan Candida diet, any sweeteners are fine in this recipe, e.g. raw cane sugar, coconut nectar, coconut sugar (great to replace the caramel taste of mesquite), date paste, maple syrup, agave syrup.
Finally, you'll find storing tips at the end of my Sweet Potato Brownies recipe.