I could not have imagined putting beans into a brownie, the first time I stumbled upon a vegan brownie recipe with beans at Talia Fuhrman's website two years ago. However, after trying it out, it became one of my favourite sweet treats.
Now, when I offered this brownie to my guests for the first time, I did not advertise it a vegan brownie recipe with beans. Instead, let them guess the ingredients. Of course, no one guessed right, but almost everyone liked it. So far, I've only had one exception.
To make this vegan brownie recipe a bit leaner, prepare it without the cashew cream on top. Instead, serve it with banana-berry ice-cream or with a simple berry sauce.
To sum it up, my vegan brownie recipe with white beans and peanut butter is plant-based, sugar-free, oil-free, and gluten-free.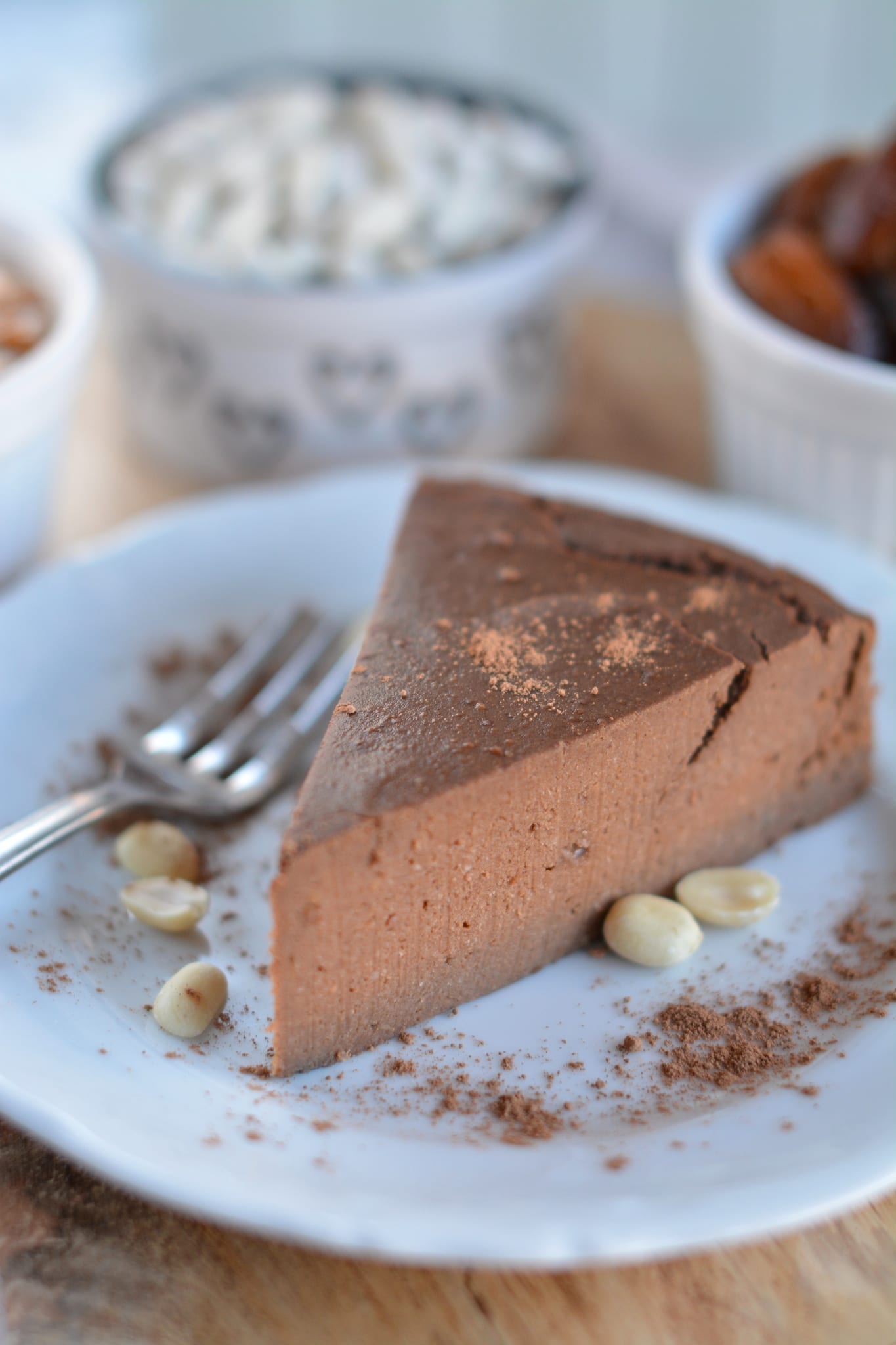 Vegan Brownie Recipe with White Beans
Ingredients:the brownie
13 dates
Enough almond or other plant-based milk to cover the dates + 100g (3.5oz)
3 ripe bananas
2 cans white beans, washed and drained
2 tbsps. peanut butter
2 tbsps. carob powder
2 tbsps. cacao powder
4 level tbsps. oat flour
½ tsp. sea salt (only if your beans come unsalted)
Ingredients:cashew cream
½ cup (about 2 handfuls) of cashews
Enough water to cover cashews
Juice of ⅓ of a lemon
1 tbsp. agave syrup
Pinch of Himalayan salt
Directions:
First, chop the dates and put them in a small bowl with enough milk to cover them. Let soak for at about 30 minutes.
Next, add dates with soak milk + 100g of extra of milk, beans, bananas, peanut butter, carob powder and cacao powder (EXCEPT the oat flour) into blender and process until everything is blended, but still chunky (use a spoon for help).
Remove half of the batter and put in a bowl. Now, process the half in the blender until nice and smooth. Then, pour the blended half into a bigger bowl.
Now, put the half of the batter that you removed earlier back into blender and process until smooth. Add this to the big bowl and stir well with a spoon. Mix in 4 tbsps. of oat flour – be careful not to leave any flour chunks into the batter. You can also add 2 tbsps. of oat flour to one half of the batter and blend until well mixed and the remaining 2 tbsps. to the other half of the batter and blend again. Then, mix the two halves together.
Heat your oven to 175°C (350°F). Line a round 24 cm (9.45 inch) baking tin with parchment paper, pour the batter in and bake for about 30-35 minutes, until you see cracks forming on top of the brownie. Let cool.
Finally, to make cashew cream, throw all ingredients in a grinder (if you make bigger batch, use blender). Grind or blend until smooth and creamy. Transfer to a bowl and pour on a brownie slice or keep in fridge and spread on cooled brownie.
Nutritional value:
1/16 of brownie: 124 kcal, 22.4g carbohydrates (72% of kcal), 1.84g fat (13.3% of kcal), and 4.55g protein (14.7% of kcal).
1/6 of cashew cream: 87.8 kcal, 6.72g carbohydrates (30.6% of kcal), 5.89g fat (60.4% of kcal), and 1.97g protein (8.99% of kcal).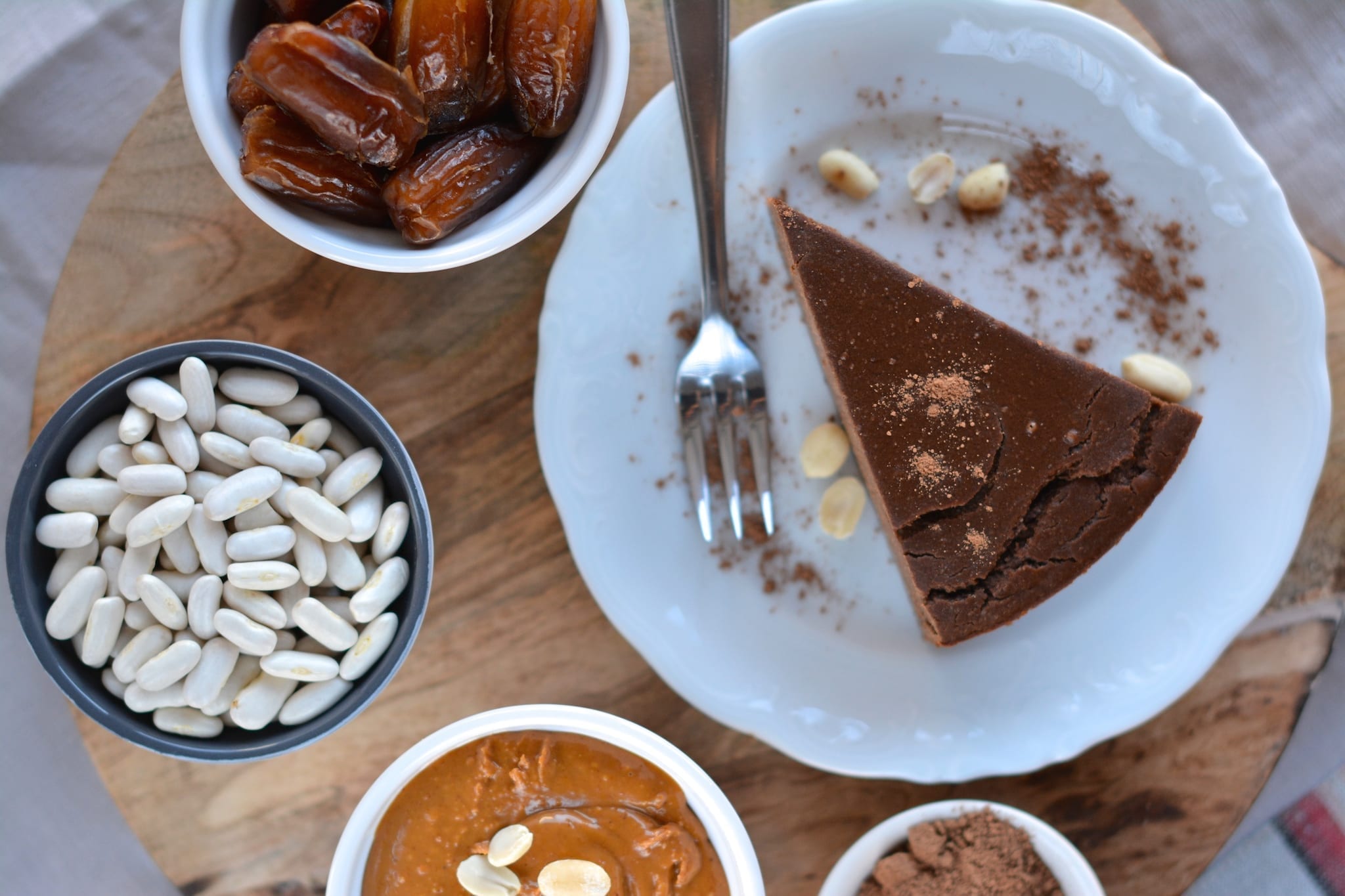 Tips on my vegan brownie recipe:
You can use any plant-based milk or even water. I usually go for what I happen to have in the fridge – almond, soy, oat or rice milk.
Instead of blender, you can use food processor to process the brownie ingredients. However, I never get the desired smooth and silky result – there are always chunks of dates in the mixture.

Try it with black beans as well. I find that white beans give the best consistency. 

Instead of mixing carob and cacao you can also use 4 tbsps. of either of them. 

Use any other nut or seed butter, if you are allergic to peanuts.

The cashew cream is enough for 5-6 portions or for a thin layer on the brownie.
Disclaimer: the recipe contains links to products that I recommend and that meet my requirements.