Superbly flavourful vegan tomato zucchini casserole with mozzarella that is oil-free and gluten-free. Excellent Mediterranean vegan recipe for side dish or main meal.
This tomato zucchini casserole with eggplant and mozzarella is:
An ideal weekend meal or side dish.
Full of heavenly Mediterranean flavours.
Particularly comforting with all that vegan cheese.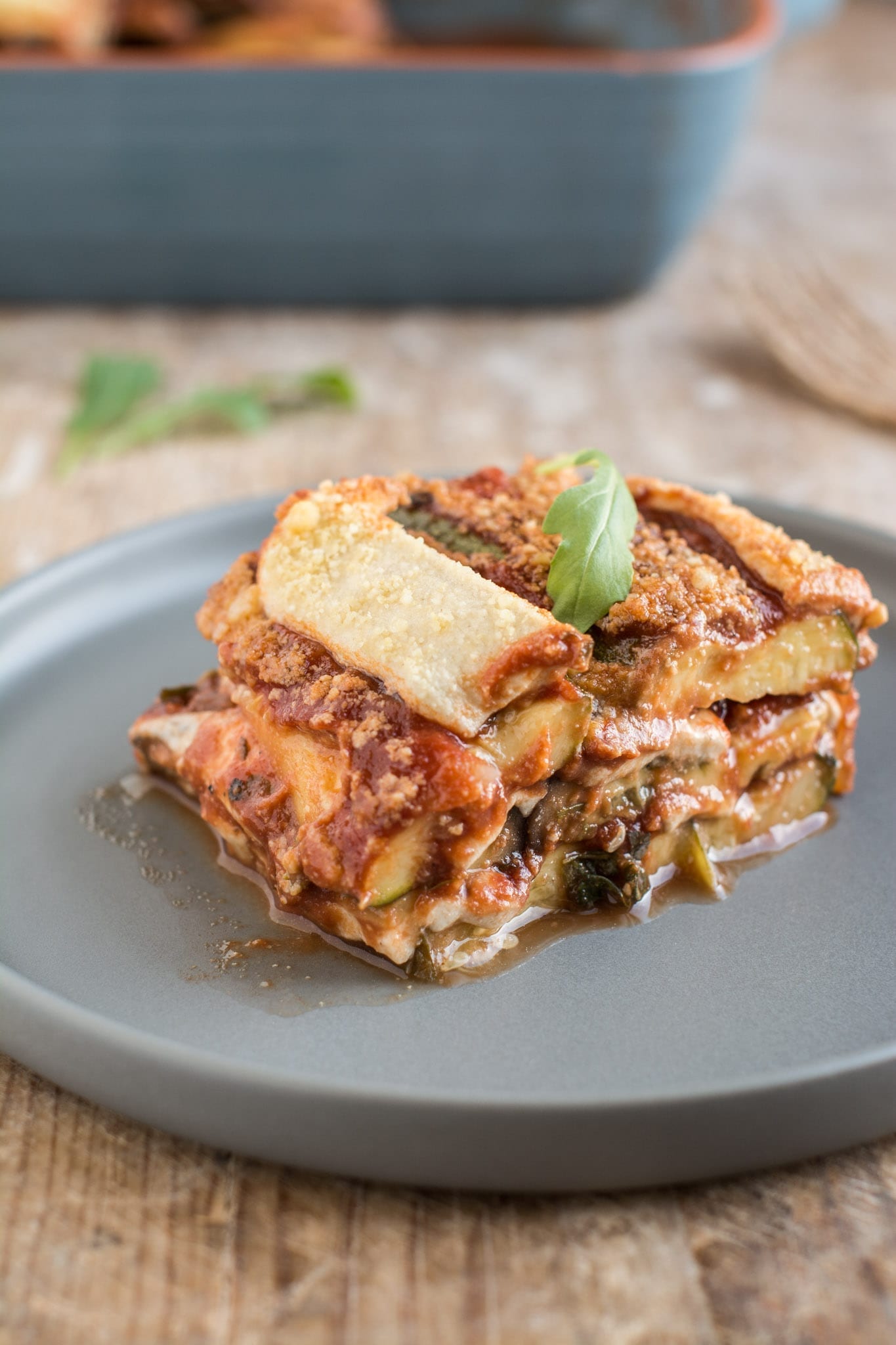 What's more is that my vegan casserole recipe is:
Gluten-free
Soy-free
Oil-free
Whole food plant-based
The Ingredients
Conventionally all Mediterranean dishes contain a considerable amount of olive oil. However, my zucchini and tomato casserole recipe aims to differ by omitting all refined ingredients. Consequently, all that's left is whole food plant-based ingredients that will nourish you inside out.
As the name of the recipe implies, we are going to use summer squash aka zucchini and tomatoes. In addition, I included one of my favourite summer vegetables, i.e. eggplant, which is simply heavenly in this summery casserole.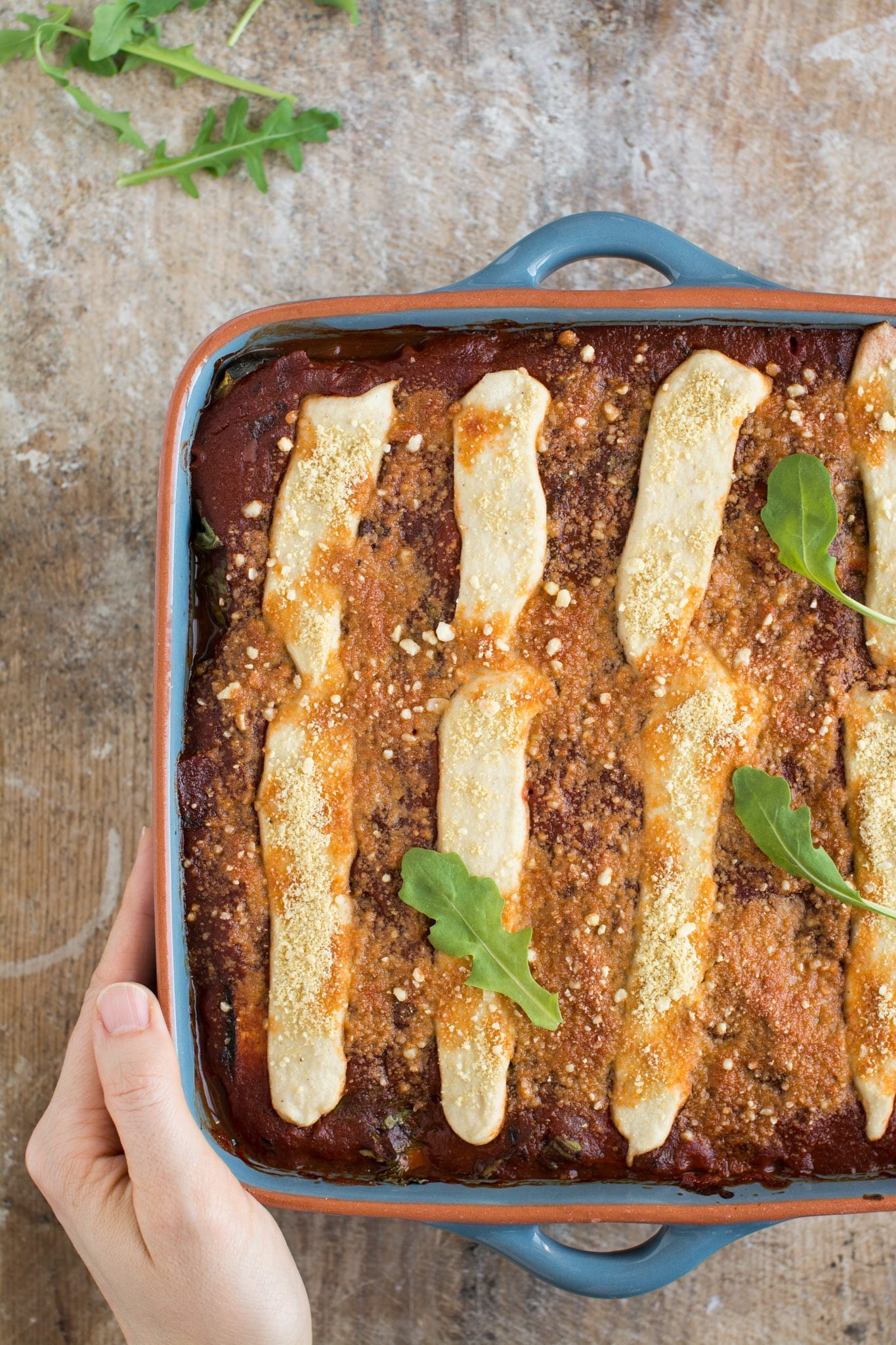 Tomato Sauce
As far as tomato sauce is concerned, you can either get store bought or make your own. It's important to read the label to make sure there are no unwanted additives like oils and sugars.
Alternatively, tomato paste can be used in this recipe as well. Should you decide to make homemade tomato sauce, you will need simple ingredients such as additive-free pureed or diced tomatoes, onion, garlic, basil, salt and pepper.
Vegan Mozzarella
Again, you have the option to get store bought or make your own healthy version with wholesome ingredients. My vegan mozzarella consists of cashews, plain soy yogurt, lemon juice, psyllium husks, salt and water.
Vegan Parmesan
Another crucial ingredient to this Mediterranean casserole is vegan Parmesan cheese. The latter is made of three ingredients – cashews, salt and nutritional yeast.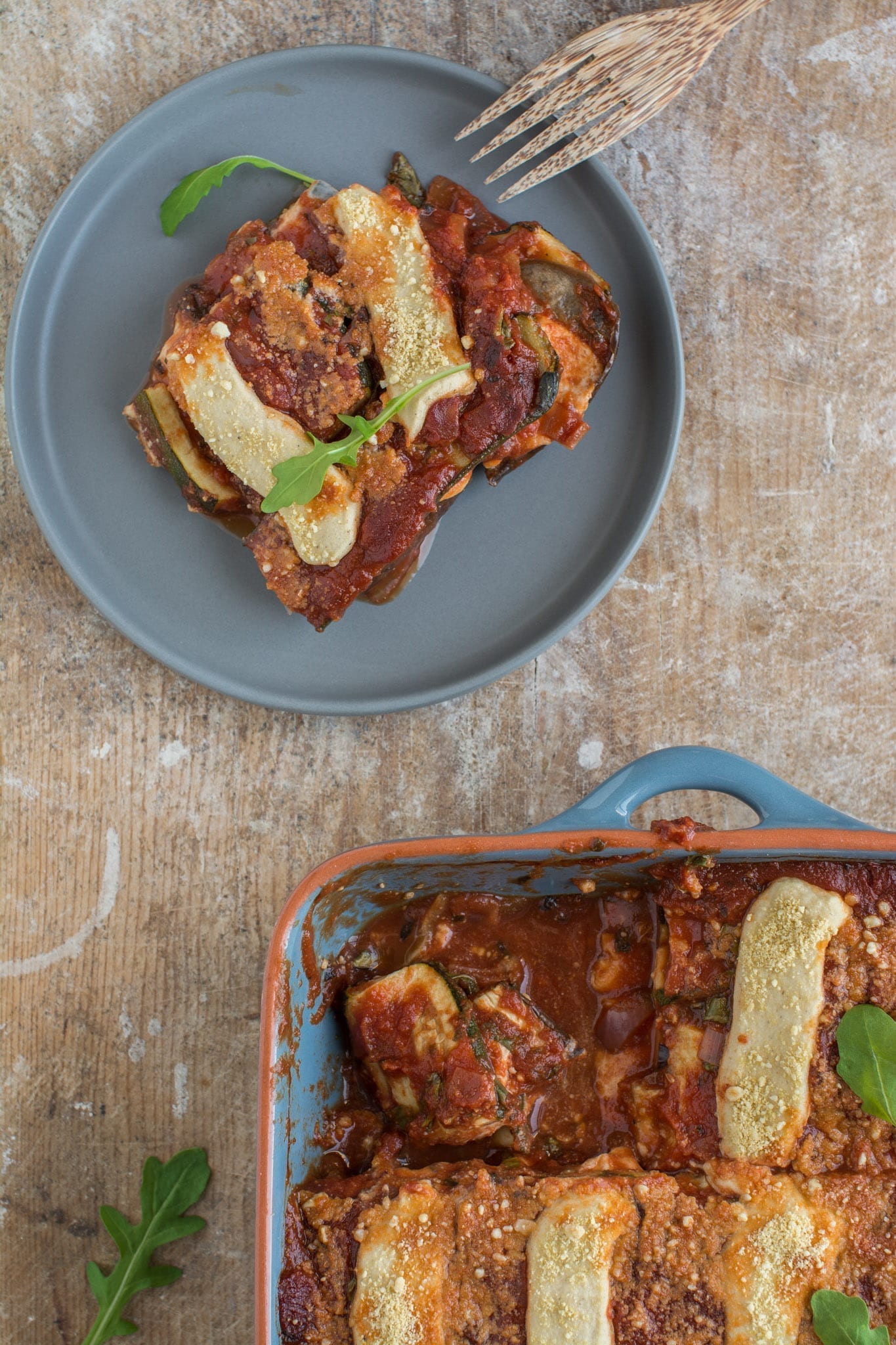 The Process
Since this tomato zucchini casserole consists of several different recipes, it might seem intimidating at first. However, let me assure you that if you follow my prep tips, you can save a lot of time! Let's make one thing clear though – it's not a recipe you'd cook every day as it is a bit time consuming. However, good things come to those who wait, right?
Let's assume you are going to make everything from scratch. Now, in case you are planning to have the casserole for dinner, prepare the vegan mozzarella already in the morning. This way it will have enough time in the fridge to be ready for slicing in the evening.
Let us move on to the actual process of making the casserole. I'd advise you to start by slicing up zucchini and eggplant lengthwise and laying them on baking sheet lined with parchment paper. Next, sprinkle them with salt and set aside for 15 minutes. Now you can begin preparing tomato sauce. Then, pat dry the veggies and bake them in oven. While the zucchini and eggplant are baking and tomato sauce simmering, grind cashews, salt and nutritional yeast for vegan Parmesan. Now you have all the components to start layering and baking the casserole.
Watch how I make this vegan tomato zucchini casserole in the below video: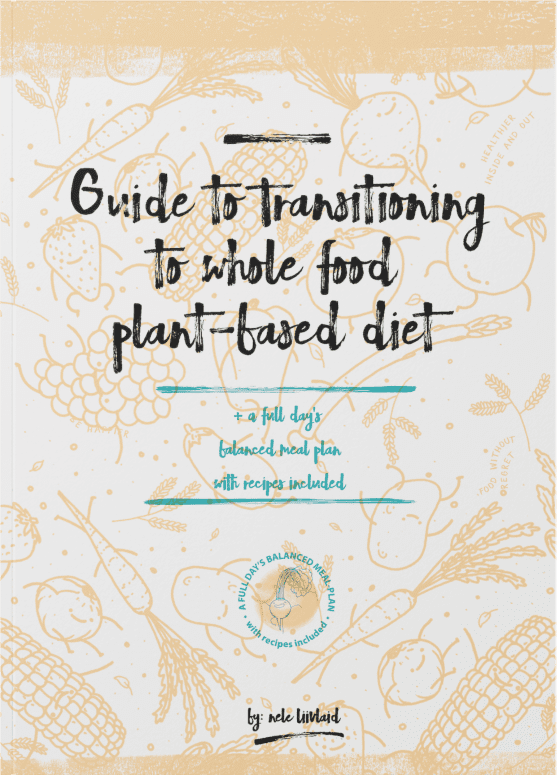 Download my FREE Guide to Plant-Based Diet
Including a full day's meal plan!
Learn the basics, prepare your kitchen and pantry, compile a balanced meal plan, handle challenges with family and friends, learn the tricks of dining out as well as travelling.
Learn the secrets of weight loss, better health and happiness!
Print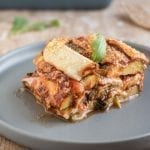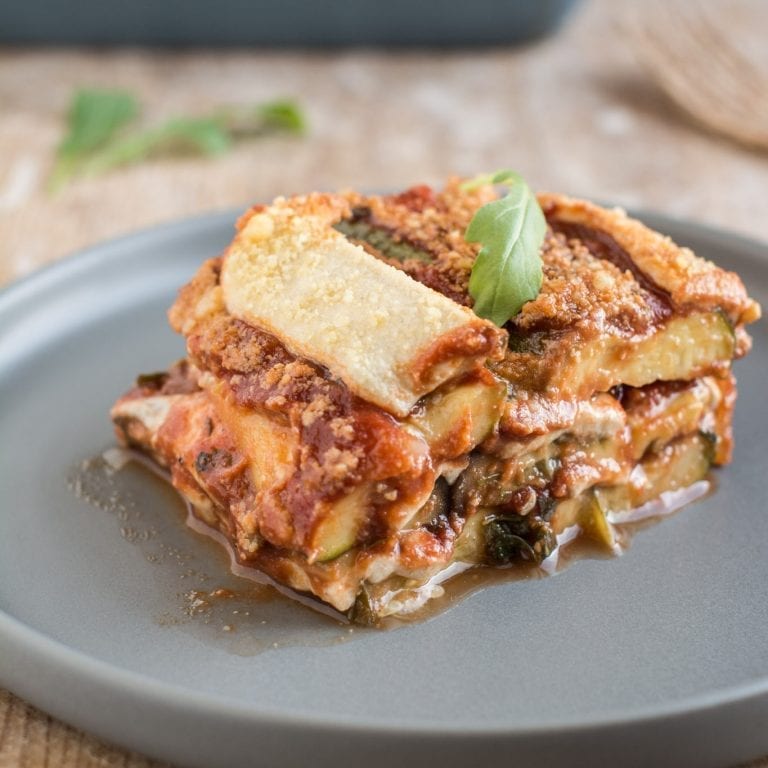 Vegan Tomato Zucchini Casserole with Mozzarella
---
Author:

Nele Liivlaid

Total Time:

1 hour 30 minutes

Yield:

6

servings

1

x

Diet:

Vegan
Description
Superbly flavourful vegan tomato zucchini casserole with mozzarella that is oil-free and gluten-free. Excellent Mediterranean vegan recipe for side dish or main meal.
---
For tomato sauce:
For vegan Parmesan:
Other ingredients:
*Serve with ½ cup cooked quinoa per portion.
---
Instructions
Start by preparing vegan mozzarella (or use store bought).
Then, slice up 3 medium summer squashes and one eggplant lengthwise. Place them on two baking sheets lined with parchment paper and sprinkle with Himalayan salt. Let sit for 15 minutes until water tears appear. Pat the excess water off with kitchen paper and bake at 190C (375F) for 15 minutes. Let cool.
While the veggies are baking, make tomato sauce (in case you decide to make one yourself) and vegan Parmesan.
For tomato sauce: first, sauté the chopped onion with 2 tablespoons of water for 5 minutes. Then, add tomato puree, oregano, garlic powder, and stir well. Let simmer over medium heat for 15 minutes stirring occasionally. Finally, mix in the tomato paste.
For vegan Parmesan: grind all ingredients in a spice/coffee grinder.
Next up is layering. Take a baking dish (I used this 23x23x6cm dish) and start with store-bought or homemade tomato sauce, then a layer of zucchini slices, vegan parmesan, mozzarella slices and fresh chopped basil. Repeat with tomato sauce and follow the pattern leaving one layer to baked eggplant. Note: add only a thin layer of tomato sauce, otherwise your casserole could become too liquid, i.e. there would be too much excess water.

Finish off with mozzarella strips and vegan parmesan. Bake at 190C (375F) for 35 minutes. Let cool almost completely before you try to slice it.
Notes
Storing: cover the baking dish with cling film or wax cloth and store in fridge for up to 3 days.
By the way, you'll have some tomato sauce left over. Store it in a jar in fridge and use on any savoury meals as sauce or dressing. 
Should you be in a hurry, feel free to use store-bought unsalted tomato paste instead of cooking tomato sauce from scratch. You'll use up about 500g (17.6oz). 
In case you still end up with too much liquid after baking, wait for the casserole to cool down. Then, simply take a straw and suck it out. I guarantee you a flavourful experience 🙂
You can substitute almonds for cashews in vegan Parmesan recipe.
In case you would like to use almonds instead of cashews in vegan mozzarella recipe, I'd recommend peeling them after soaking to avoid the peel pieces scattered all over the cheese. The latter is not obligatory of course – you would have more nutrition leaving the peels on.
Finally, if you you wish the meal to be lower in fat, simply don't use up all of the vegan Parmesan and/or mozzarella. Store any leftovers in a sealed container in fridge.
Prep Time:

40 minutes

Cook Time:

50 minutes

Method:

Oven

Cuisine:

Mediterranean
Nutrition
Serving Size:

1/6 of the recipe

Calories:

325 kcal

Sodium:

253mg

Fat:

10.5g

Carbohydrates:

39g

Fiber:

11g

Protein:

14.3g
Keywords: casserole, zucchini, eggplant
Disclosure: this post contains affiliate links. As an Amazon Associate I earn from qualifying purchases. For every purchase made from the links in this post, you'll be able to support my work. So you can look after your health, and contribute to my mission at the same time. Thank you!
You're most welcome to PIN the below image of my vegan zucchini tomato casserole with mozzarella: