Vegan oil-free cashew sour cream that is quick to make and serves perfectly as dairy-free salad dressing or vegan mayonnaise in Russian potato salad.
What I love about this cashew sour cream recipe is that it's:
extremely quick and easy to make,
truly versatile recipe,
full of flavour.
This cashew sour cream recipe is Plantricious friendly.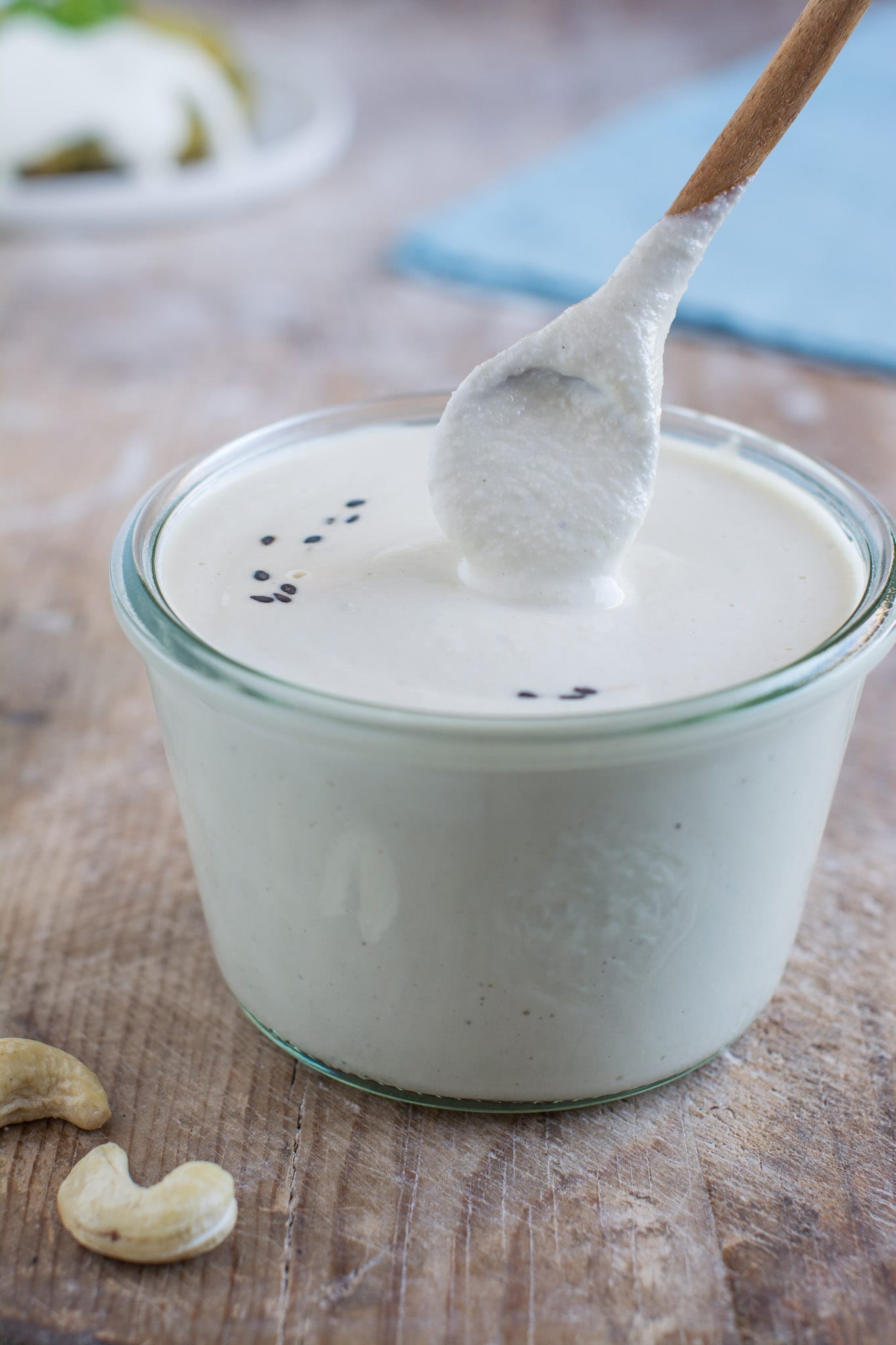 My problem with store-bought sour cream substitutes is their ingredients. They usually come with many unwanted and unnecessary additives such as oils, sweeteners and stabilisers. I created my own healthy plant-based version of real sour cream, because I have no wish to consume those substances.
In a nutshell, this vegan cashew sour cream or mayonnaise recipe is:
Gluten-free
Soy-free
Oil-free
Grain-free
Sugar-free
Peanut-free
Whole food plant-based
Here's a version of cashew cream with probiotics, called cashew yogurt 🙂
Cashew Sour Cream Ingredients
Needless to say, this rich and creamy vegan cashew sour cream is made of whole food plant-based ingredients containing no oil, no sugar, nor any other refined components.
As per the name of the recipe, the main ingredient is raw cashews. You can either soak the cashews or not before blending as the recipe works both ways. However, you'd better bear in mind that cashews absorb water when soaked, and therefore less liquid is needed when blending the sour cream. Remember to get more details from the recipe card.
Next, I added a little bit of lemon juice for acidity and Himalayan salt to balance the flavours.
Since my desire was to mimic the taste of mayonnaise, I decided to include nutritional yeast, mustard seeds, and garlic powder.
It's as easy as that! You only need raw cashews, lemon juice, salt, nutritional yeast, mustard seeds, and garlic powder to make this vegan sour cream or mayonnaise.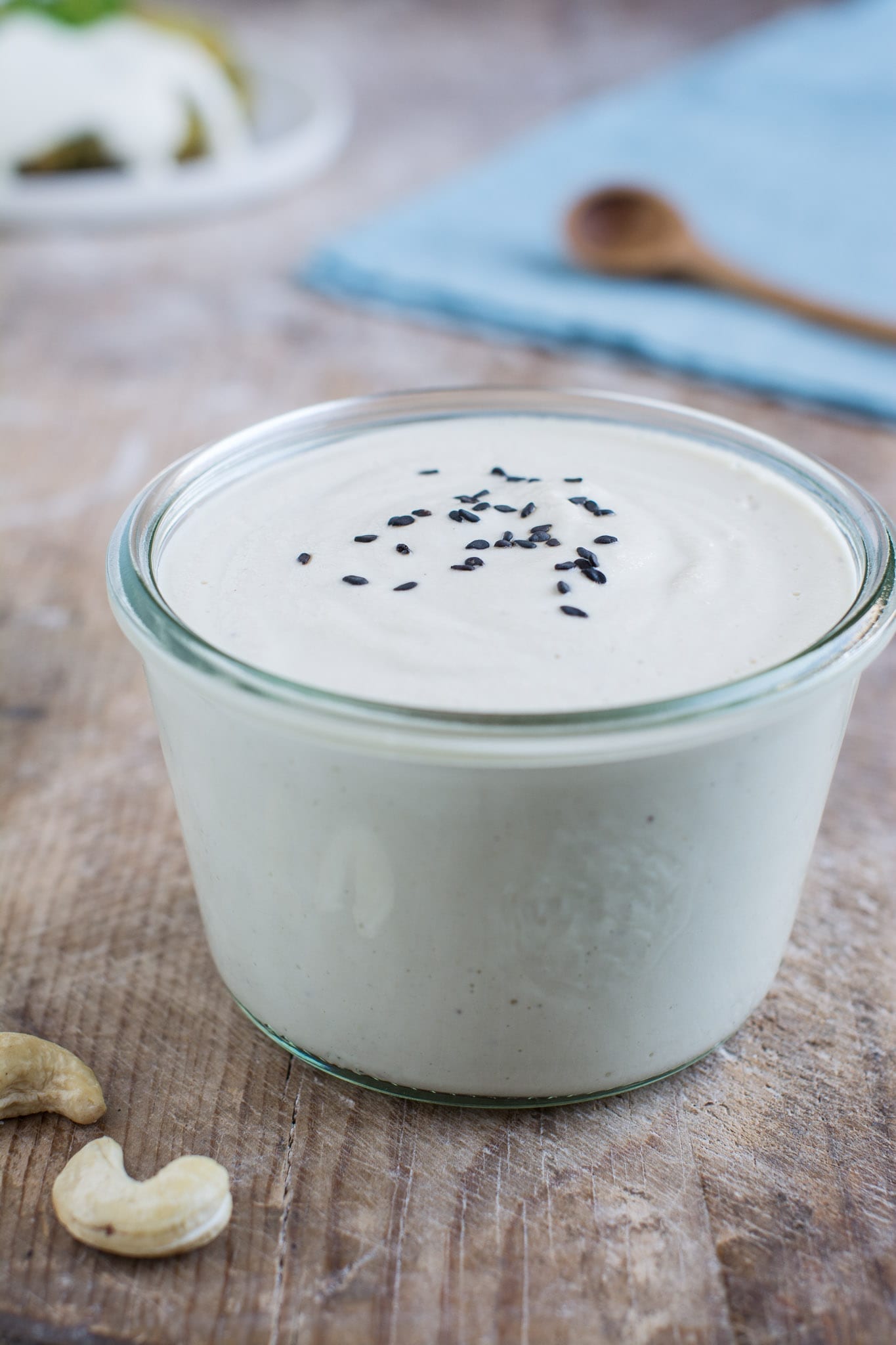 Should You Soak Cashews?
In general, soaking nuts, grains and legumes is especially important for those with sensitive digestive system. Unsoaked nuts have phytic acid that inhibits mineral absorption and causes digestive ailments. The good news is, you can easily neutralize the phytates and enzyme inhibitors by soaking the nuts in salt water (or salt and apple cider vinegar water) and dehydrating them at low temperatures.
In a few words, soaking is good to:
remove or reduce phytic acid and tannins,
increase the amounts of vitamins, especially A, C and B vitamins.
Neutralize toxins in the colon as well as enzyme inhibitors and to encourage the production of beneficial enzymes,
improve flavour and texture,
make the proteins more readily available,
prevent mineral deficiencies, bone loss and many other diseases and conditions.
If you're interested in the signs that indicate you definitely should soak your nuts and seeds, go and read my post Homemade Cashew Butter.
How to Soak Cashews
There are two ways you can soak cashews, the quick-soak method and the slow-soak method:
Quick-soaking cashews.

Pour boiling water over the cashews and let sit for at least ten minutes. Then drain and rinse. Some sources say you should boil them, but I haven't found it necessary.

Slow-soaking cashews.

Cover raw cashews with filtered water and soak for 2-6 hours. Then drain and rinse the nuts and use as directed. Optionally add ¼ tbsp of sea salt for each cup of nuts into the soaking water. Alternatively, use acidic medium such as lemon juice or apple cider vinegar.
Can You Over Soak Cashews?
The short answer is yes! Should you notice a change in smell and flavour or slimy water, discard those cashews and start again. As a rule of thumb, cashews should not be soaked for longer than 4-6 hours.
Uses of Cashew Sour Cream
I love how versatile this vegan sour cream is, i.e. you can use it many different dishes and occasions.
Add to salads and Buddha bowls as dressing (works especially well, if you opt for runnier consistency).
Thicker version is perfect to accompany vegan patties, burgers and loaves.
Use a dollop on you soup or stew bowl.
This cashew cream is excellent with cooked leafy greens.
Use half cashew sour cream and half plain soy yogurt in Russian potato salad.
It's absolutely divine with baked or boiled potatoes.
And finally, I love to top my oatmeal pancakes and pizza waffles with cashew sour cream.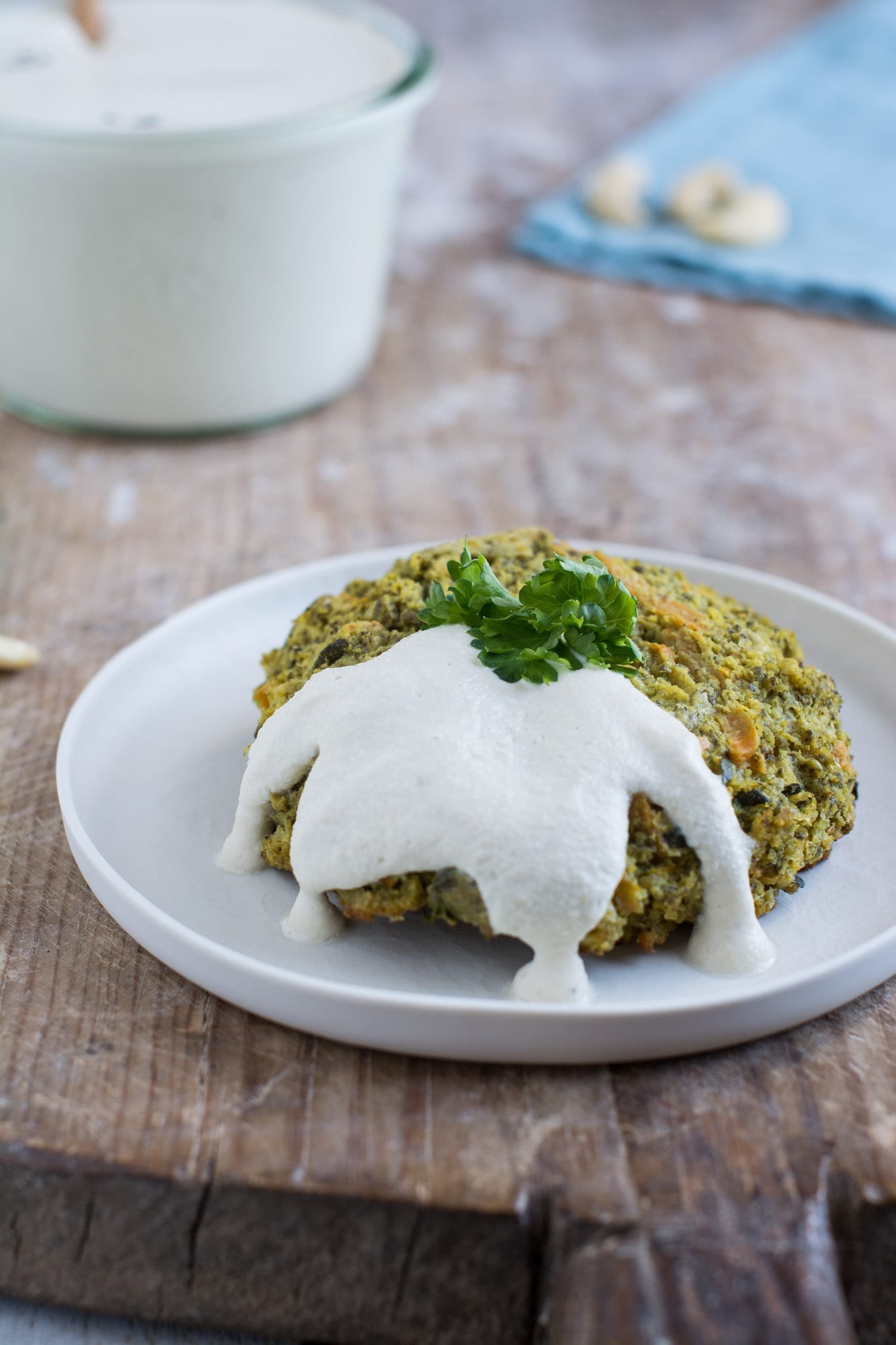 Make a sweet version of my cashew cream that you can use as frosting!
Finally, leave a comment below if you have any questions or want to share your experience!
Print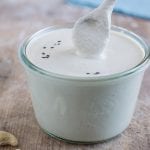 Cashew Sour Cream [Oil-Free, Dairy-Free]
---
Author:

Nele Liivlaid

Total Time:

5 minutes

Yield:

5

servings

1

x

Diet:

Vegan
Description
Vegan oil-free cashew sour cream that is quick to make and serves perfectly as dairy-free salad dressing or vegan mayonnaise in Russian potato salad.
---
1 cup

(250ml) water

1 cup

(

138g

,

4.9oz

) raw cashews

2

tbsps. nutritional yeast

¼ tsp

. crushed mustard seeds or mustard powder

¼ tsp

. Himalayan salt

½ tsp

. garlic powder
juice from

half a

lemon (

2

tbsps.)
---
Instructions
Process all ingredients in a high-speed blender until the mixture gets smooth and creamy with no chunks. It takes a few minutes.
Notes
Should you soak the cashews, add 4 tablespoons LESS water when blending.
My cashew sour cream is not super thick, so add less water if thick is what you're after. Alternatively, to achieve runnier consistency, add more water.
Store this cashew cream in a sealed container or jar in fridge for up to 4 days.
Prep Time:

5 minutes

Method:

Blender
Nutrition
Serving Size:

1/5 of recipe

Calories:

168 kcal

Sodium:

117.9mg

Fat:

12.4g

Carbohydrates:

8.6g

Fiber:

1.6g

Protein:

6.5g
Keywords: vegan sour cream, vegan mayonnaise
Disclosure: this post contains affiliate links. As an Amazon Associate I earn from qualifying purchases. For every purchase made from the links in this post, you'll be able to support my work. So you can look after your health, and contribute to my mission at the same time. Thank you!
You're welcome to PIN the below image!