I've baked so many pancakes over the past few months that I felt I needed a change. As I also craved for something savoury I decided to bake vegan gluten-free potato waffles that are also Candida diet friendly and almost oil-free (just a little is used to grease the silicone waffle forms).
Check the tutorial video further down!
I didn't intend to create pizza flavored potato waffles, but it just happened – after adding garlic, onion, oregano and sundried tomatoes it was pizza flavor all over 🙂 The crispy crust tasted cheesy even without using any nutritional yeast.
My hubby was especially happy with those gluten-free potato waffles and declared them to be the best thing ever 🙂 As the potato waffles have enough flavors themselves, they go so well with plain soy yogurt that kind of soothes them a bit.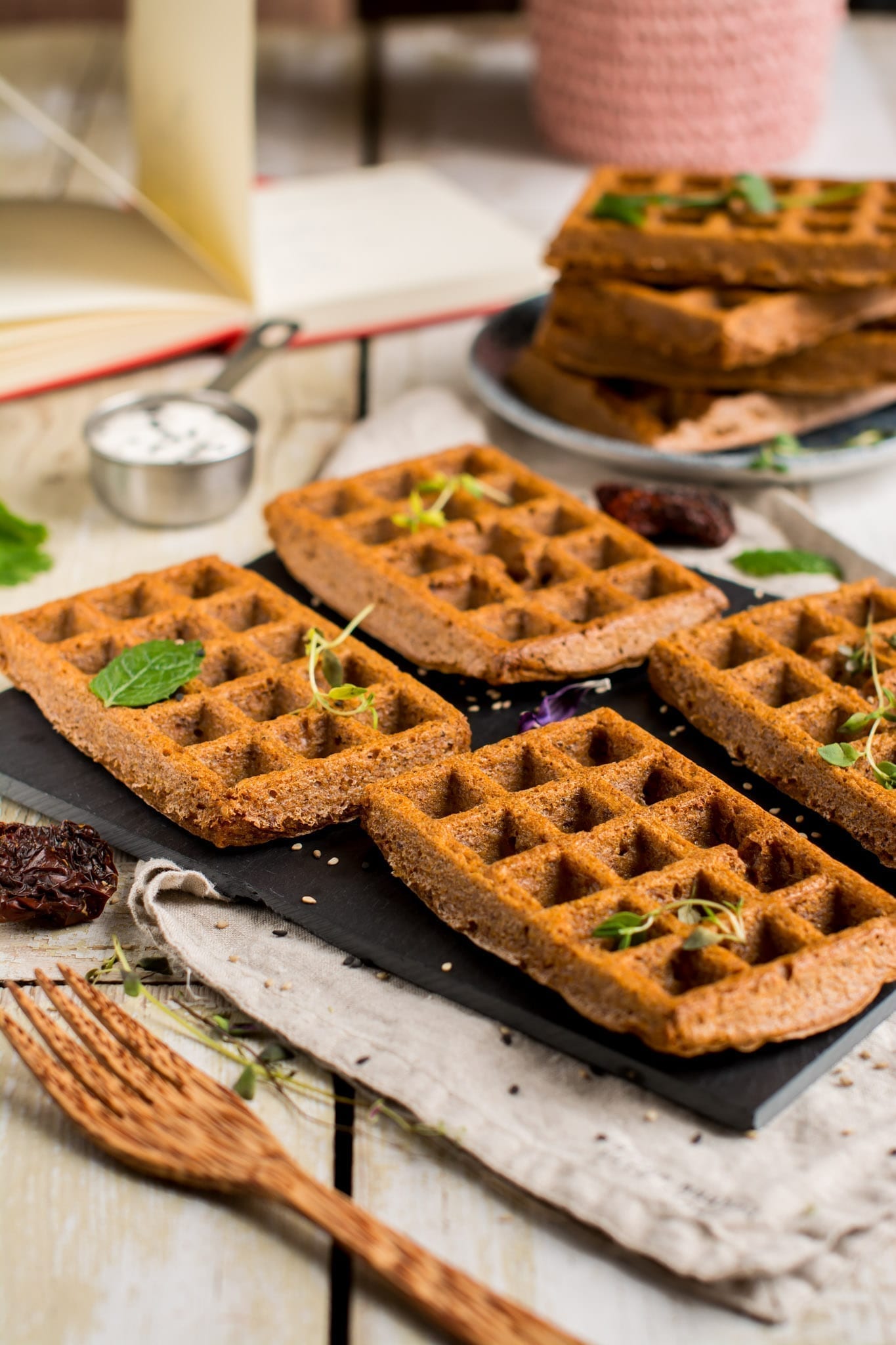 One thing I love about these vegan gluten-free potato waffles is that they require a lot less hands-on time than pancakes. The total time is more or less the same in both cases, but with waffles you get to do whatever you need to do while they spend time baking or cooling.
If you don't have silicone waffle forms, try using waffle maker instead. Alternatively, you can also make pancakes using my gluten-free potato waffles' batter.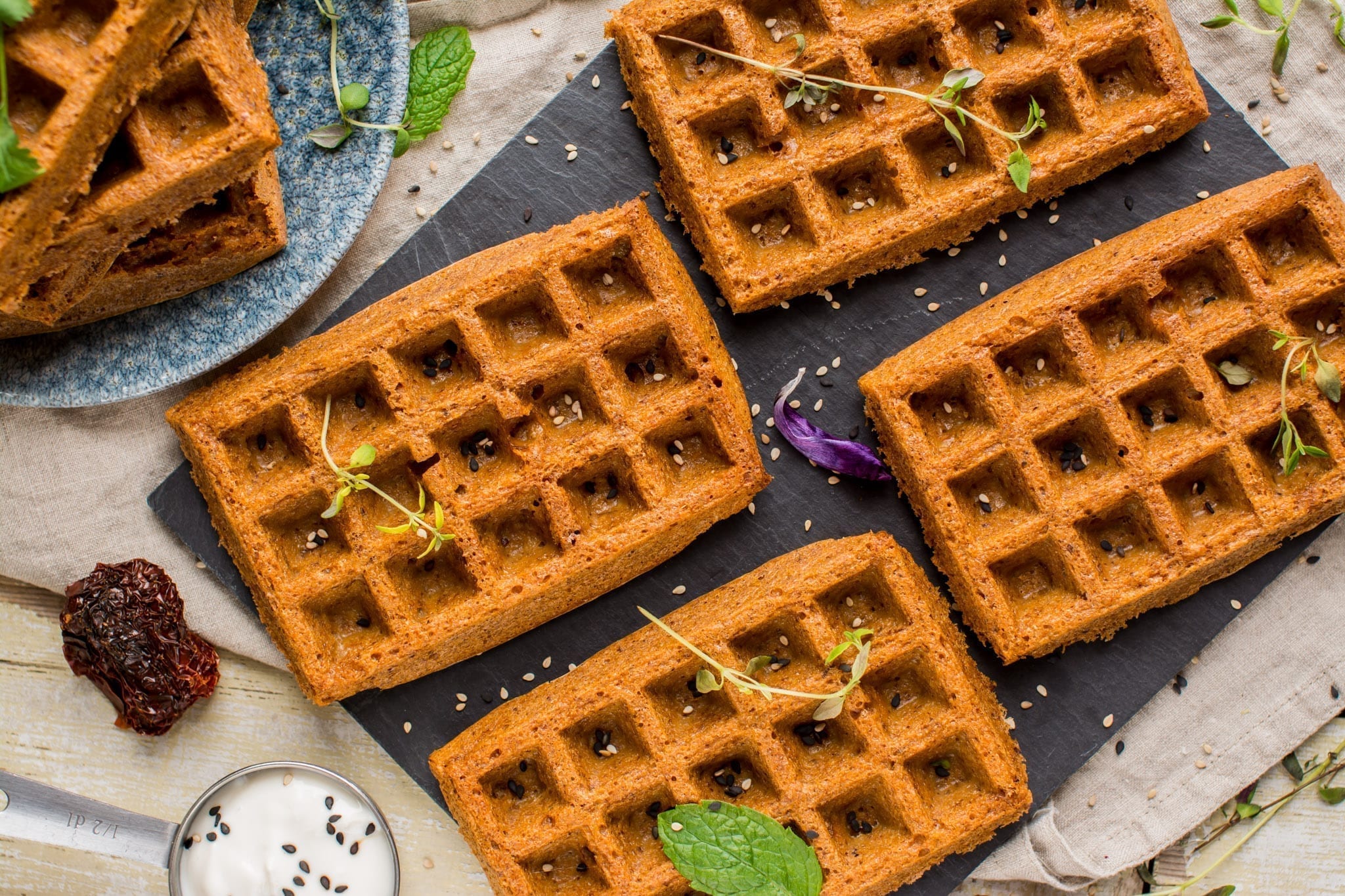 Should you prefer your waffles sweet check out my other oven waffle recipes: Millet-Buckwheat Oven Waffles and Plant-Based Oil-Free Oven Waffles.
Pizza Flavored Vegan Gluten-Free Potato Waffles
Ingredients:8 waffles
75g (2.6oz) raw buckwheat groats, soaked
75g (2.6oz) millet, soaked
80g (2.8oz) gluten-free jumbo oats
550g (19.4oz) water
1 tsp. dried garlic or 1 garlic clove
1 tbsp. onion flakes
1 tsp. dried oregano
2 tbsps. ground flax seeds
35g (1.2oz) oil-free sundried tomatoes, soaked
Himalayan salt and black pepper to taste
2 tsps. baking powder
2 medium potatoes, peeled and grated (add later)
Directions
Soak buckwheat and millet overnight. Wash and drain. The groats will absorb about 90g (3.2oz) of water.
Pour hot water over sundried tomatoes. Let them soak for at least 15 minutes.
Heat oven to 220°C (425°F).
Slightly grease the oven waffle forms – use a cooking brush or just your finger. Remember, just a tiny bit is needed. Place waffle forms on a baking sheet lined with parchment paper.
Finely grate potatoes. You'll have 1 cup of grated potatoes.
Drain and rinse the tomatoes, cut them into smaller pieces and add with all the other ingredients (EXCEPT potatoes) in blender and blend until homogeneous batter forms. Add liquid gradually.
Finally mix in (don't blend) grated potatoes. Let sit for 10 minutes.
Divide the batter between waffle forms using ladle.
Bake waffles for 25 minutes, until you see they are quite firm and golden. Remove from oven and let cool for a bit. Then turn the waffles upside down on the baking sheet and let cool almost completely (about 20-30 minutes). When you touch the forms they should feel similar to your hand temperature. If they are too hot, it'll be trickier to get them off nicely. Remove from silicone form. Bake the waffles for another 10 minutes until they start to turn golden.
Tips on my vegan gluten-free potato waffles:
Serve with plain soy yogurt.
Use more or less sundried tomatoes depending on how intense taste you prefer.
Alternatively chop soaked dried tomatoes and mix them into the batter with grated potatoes. Use about 50g less of water.
If your sundried tomatoes are the ones stored in oil, wash them thoroughly with hot water (no need to soak as they are already soft).
You might also try adding 2-3 tbsps. of nutritional yeast for extra cheesy flavor.