Delicious oil-free, vegan, Candida diet friendly and gluten-free stuffed flatbread paratha with potato-cauliflower filling.
I had been craving for stuffed flatbread (paratha) for some time as my hubby and kid bought them once a week from an Indian place. Unfortunately I couldn't have them, as they were not gluten-free nor Candida diet friendly. Even my hubby was not quite happy as they contained oil. So, he had asked me for quite some time to create my own healthy gluten-free stuffed flatbread version, when I decided to give it a go.
The Story Behind My Gluten-Free Stuffed Flatbread
It'd been a while since I tried someone else's recipe when I bought Vegan Street Food by Jackie Kearney. It has proven to be a really inspiring buy! Evidently there's a lot of adjusting to do making the recipes oil-free and vegan Candida diet friendly. However, I've always liked to give my own signature to whatever I do. Furthermore, I've been drawn to Indian cooking and spices lately, so the timing couldn't have been better. I especially like that she lists and explains the main spices and herbs that would be used in the recipes, so that it was easy to go shopping and have everything beforehand.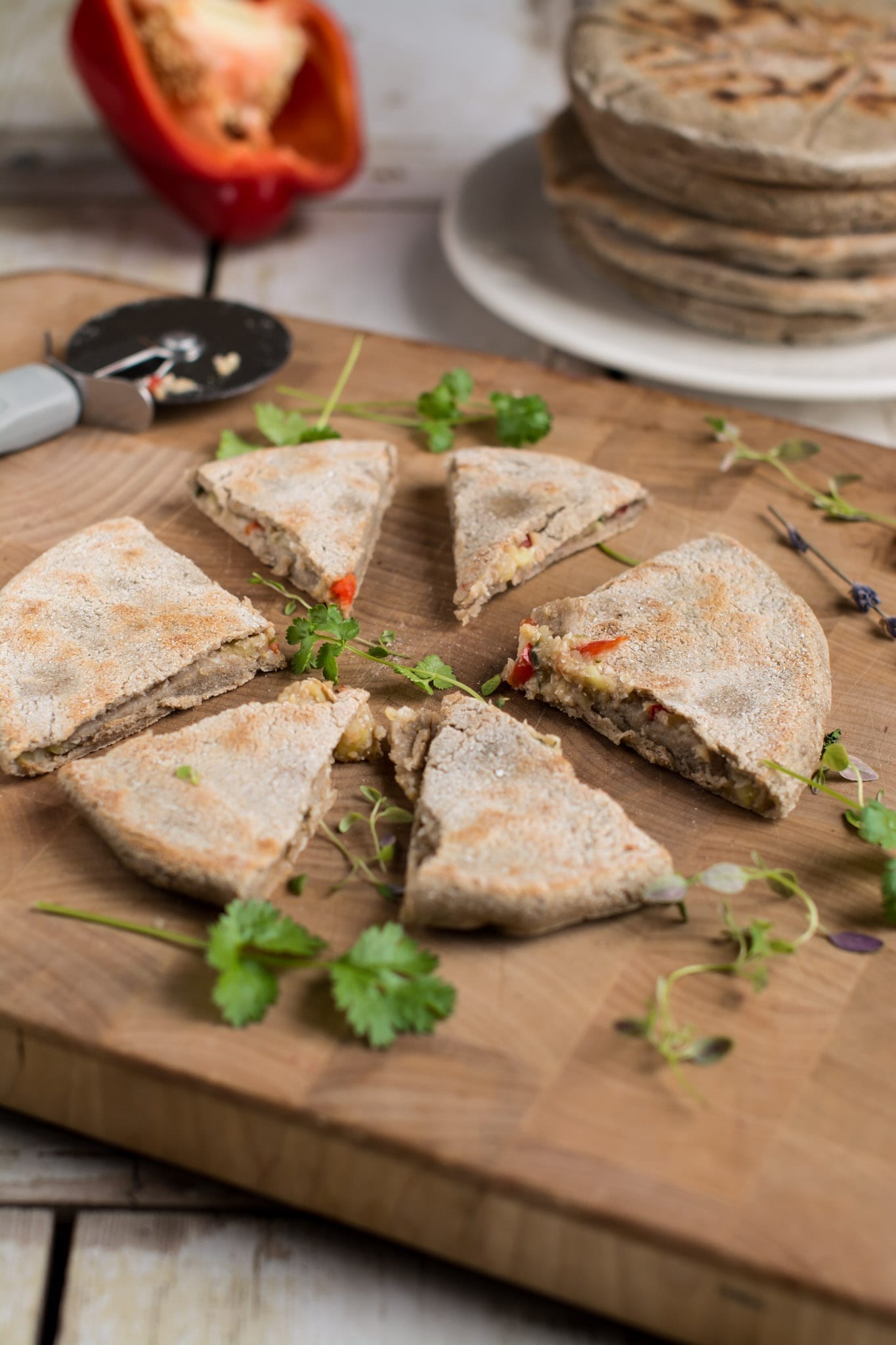 So, in the morning of my kid's 7th birthday I took on Jackie's recipe to make the gluten-free stuffed flatbread paratha for his parties in the evening and on the following day. I used raw buckwheat flour and a bit of chickpea flour (gram flour). To my great surprise the dough needed a lot more water than stated in the recipe, but I managed to find the right quantity.
I left the filling almost as it was, except I ditched the chillies and added a bit of red bell pepper. The second time trying the recipe I substituted potatoes with sweet potatoes and liked the result even better.
How it All Turned Out
My kid's birthday party with his grandparents was all Indian themed – besides the gluten-free stuffed flatbread paratha there was red lentil dhal and whole grain rice and of course lot's of fresh lettuce. Needless to say, everything was eaten. On the following day at kids' party I put the parathas on the table side-by-side with classic potato salad, hummus, raw veggies, beet salad and berry-mint infused water. The kids themselves called the stuffed flatbread paratha pizza and were happy 🙂
Enough story-telling! My version of stuffed flatbread paratha with cauliflower and potato is vegan, plant-based, oil-free, gluten-free and Candida diet friendly.
Please tag me in social media whenever you try one of my recipes and if you have any questions please leave me a comment bellow! I'd love to see your creations! Instagram @thenutriplanet and Facebook @nutriplanet.health.hub
Print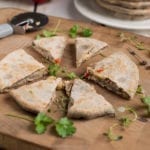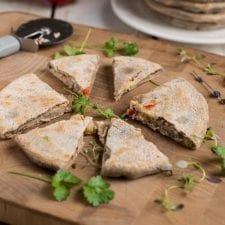 Gluten-Free Stuffed Flatbread Paratha with Cauliflower and Potato
---
Author:

Nele Liivlaid

Total Time:

30 minutes

Yield:

6

parathas

1

x

Diet:

Hindu
Description
My version of stuffed flatbread paratha with cauliflower and potato is vegan, plant-based, oil-free, gluten-free and Candida diet friendly.
---
DOUGH
FILLING
3

medium potatoes, cut into cubes

150g

(

5.3oz

) cauliflower, processed or grated

¼

red bell pepper, chopped

1/4 tsp

Himalayan salt 
Black pepper and chilli flakes to taste
A handful of fresh coriander, chopped
---
Instructions
Mix the batter ingredients and knead for 10 minutes. It should be a bit sticky, but not too much. If the dough doesn't come off your hands at all, add a bit of flour. Cover with kitchen towel and leave to rest for 30 minutes.
Prepare filling by boiling potato cubes until soft. Drain excess water and mash. Mix in the remaining ingredients.
Divide the dough into 6 equal pieces and the filling into 6 equal portions. It is the easiest to use kitchen scale.
Flour a non-stick surface. Take one piece of dough and first form a ball and then a thick flat circle (see video) by patting and shaping at the same time. Roll the dough out into a large circle (about 20-22 cm, 7.9-8.7 in. diameter).
Put one portion of filling into the centre and spread it out leaving a good 5 cm, 2 in. border.
Fold the dough into the centre making 5-6 folds around the paratha bringing the outer edge to the centre.
Gently roll the paratha again to get a circle of about 15-16 cm, 5.9-6.3 in. diameter. Repeat with the remaining dough balls and filling.
Fry (without oil) paratha until golden on both sides or bake in 175°C, 350°F oven for 20 minutes flipping the parathas at 10 minutes.
Cook Time:

30 minutes

Method:

Baking or Frying
Nutrition
Serving Size:

1/2 flatbread

Calories:

174 kcal

Sodium:

114.9mg

Fat:

1.6g

Saturated Fat:

0.3g

Carbohydrates:

30.8g

Fiber:

5.4g

Protein:

6.5g
Keywords: Flatbread, paratha
Tips for my gluten-free stuffed flatbread:
Should you be on Candida cleanse and still can't have starchy veggies or legumes, substitute potatoes with turnip or rutabaga mash and use buckwheat flour instead of chickpea flour.
Next, try using sweet potato instead of potatoes or the mixture of both.
A proper pastry mat comes in handy when shaping your parathas.
And finally, if you'd love your parathas more spicy, substitute red bell pepper with finely chopped red and/or green chillies.