I used to enjoy my raw buckwheat cream with frozen bananas every day before I started Candida diet. I remember it was the hardest thing to give up. However, I became accustomed to the new regime quite quickly as I overcrowded my menu with other yummy foods. All the same, when I was finally able to switch starchy veggies back into my diet I was literally in heaven! Try 2 months without any fruits or sweet starchy vegetables and sweet potato or butternut squash would feel like explosion of sweetness in your mouth! I can totally live without bananas if there's sweet potato and squashes on my plate 🙂
Make sure to watch the tutorial video below!
My sweet potato and raw buckwheat cream is so delicious and satiating being also a much better combination for my digestion than the version with bananas. Go to Right Food Combining for details. You can have it for breakfast instead of your usual porridge, as snack between meals or save it for dessert to enjoy after dinner.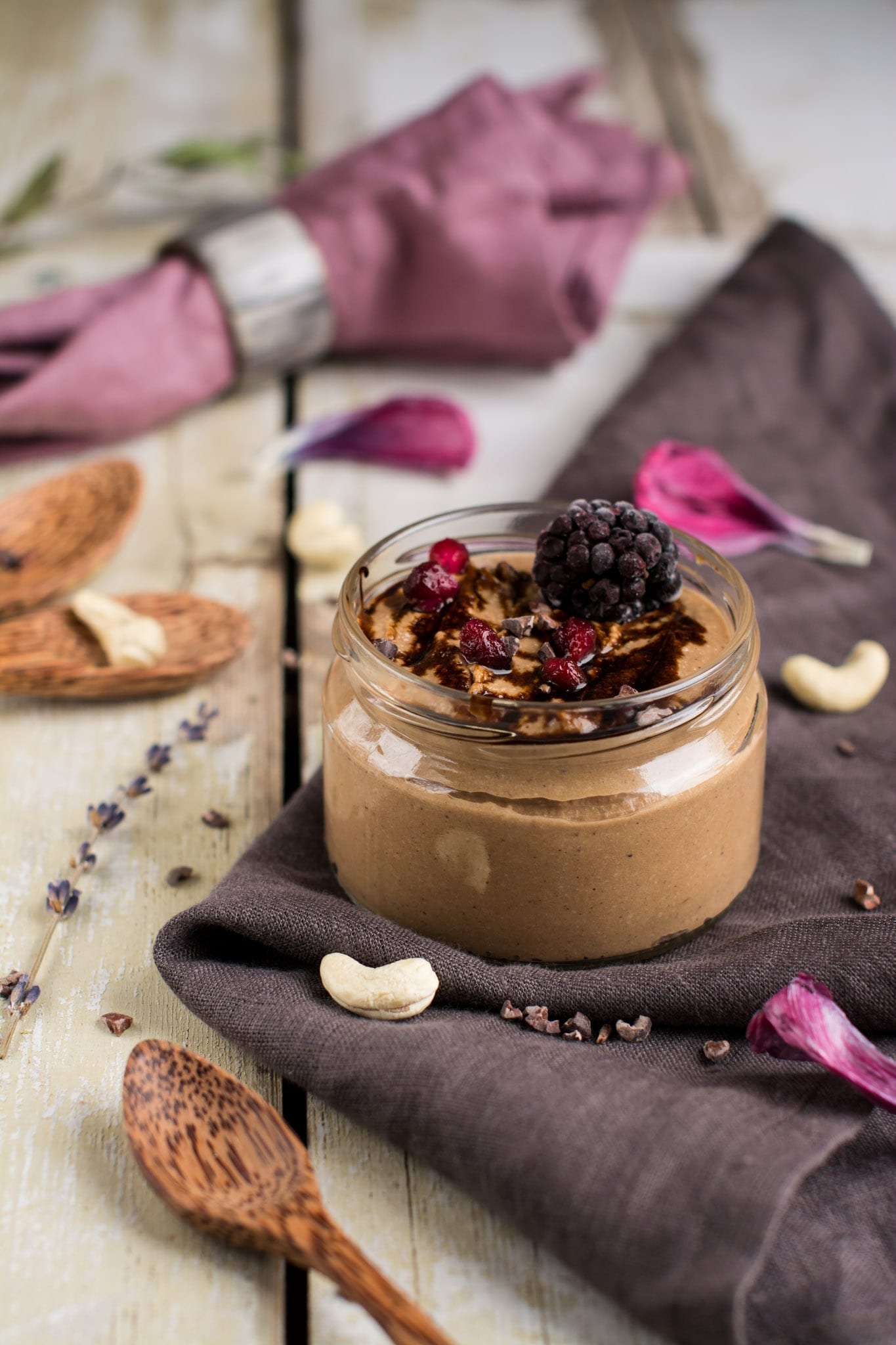 Benefits of Sweet Potato
Good source of bioavailable beta-carotene.
Anti-inflammatory properties.
Potential improvement of blood-sugar regulation in spite of their glycemic index (GI) rating of medium.
Excellent source of vitamin A.
Very good source of vitamin C, manganese, copper, pantothenic acid and vitamin B6.
Good source of biotin, potassium, fibre, vitamins B3, B1 and B2; and phosphorus.
I added some nuts to further increase the uptake of beta-carotene from sweet potatoes and to make the dessert creamier. However, only 3-5 grams of fat per meal is necessary to enjoy the benefits of beta-carotene, so you could actually add less nuts or omit them altogether as the recipe would contain 4.42 grams of fat even without the nuts.
My sweet potato and raw buckwheat cream should be suitable for almost everybody (except for those on Candida cleanse) as it's vegan, plant-based, dairy-free, sugar-free, oil-free, gluten-free and even grain-free as buckwheat is not considered a grain.
Chocolaty Raw Buckwheat Cream with Sweet Potato
Ingredients:1 serving
40g (1.4oz) raw buckwheat, soaked
100g (3.5oz) naturally sweet plant milk (oat or rice)
100g (3.5oz) steamed sweet potato cubes
2 tbsps. unsweetened applesauce
1 tsp. carob
1 tsp. cacao
½ tsp. cinnamon
Pinch of Himalayan salt
Splash of lemon juice
1 tbsp. (8g, .3oz) cashews or almonds, soaked (optional)
Directions
Soak buckwheat and almonds overnight or at least for 6 hours. Rinse and drain. Cashews require 2 hours.
Steam sweet potato cubes until soft (about 7 minutes).
Put all ingredients into blender and process until smooth.
Tips:
Prepare beforehand and store in fridge in sealed container.
Use unsweetened nut butter instead of nuts (cashew, hazelnut, almond).
Use 1 tbsp. of coconut milk instead of nuts and diminish the quantity of plant milk accordingly.
To those on Candida cleanse – definitely use almonds instead of cashews, go for brown rice milk, substitute cacao with carob and omit applesauce.
More about the benefits of sweet potatoes