Smoky split pea soup with meat and barley is a traditional Estonian Shrove Tuesday meal. Since I don't eat meat and neither can have barley because it contains gluten, I made my own vegan Candida diet friendly version of it using brown rice noodles I found from Umami store to give it an extra kick.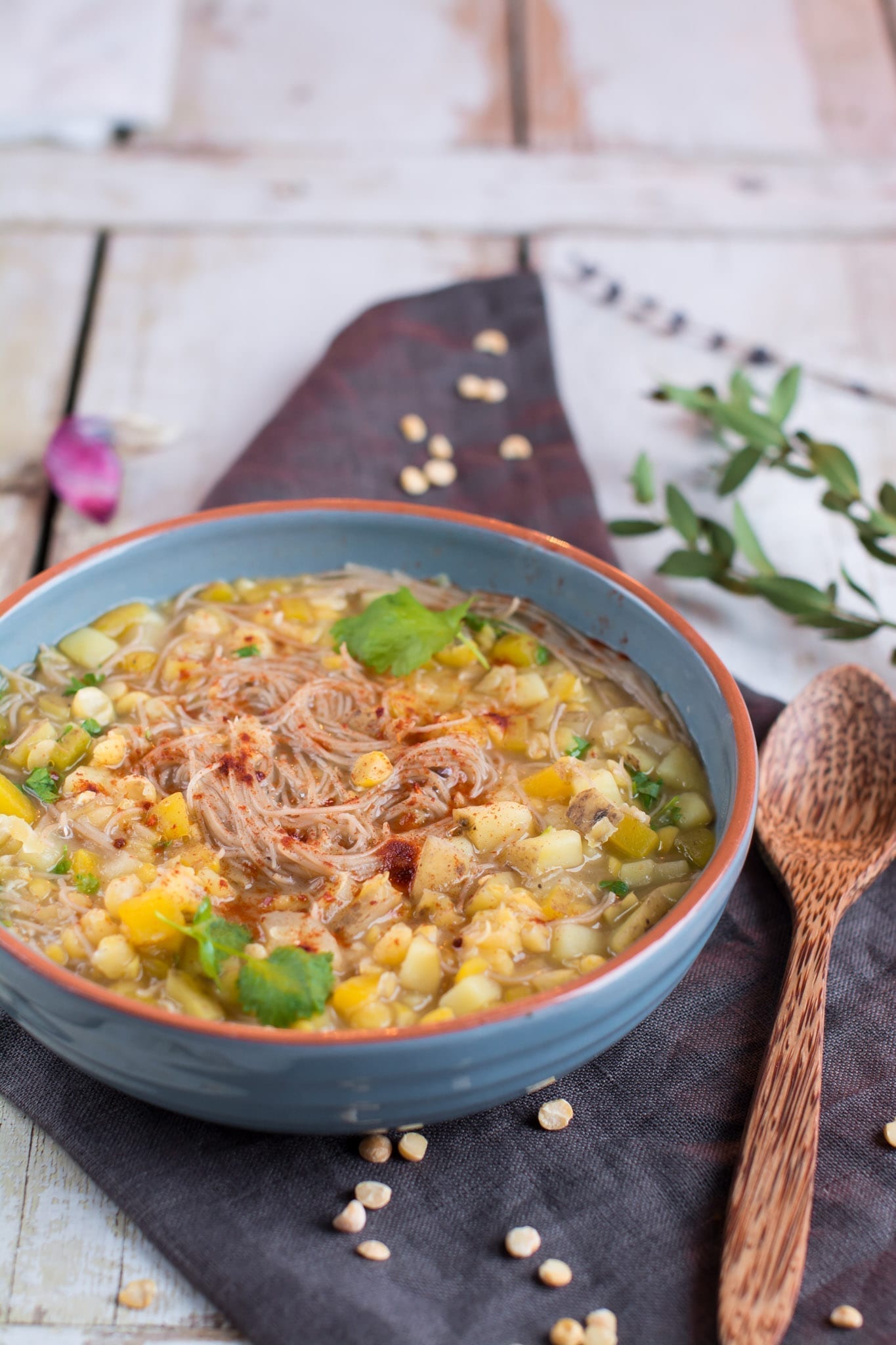 Health Benefits of Dried Peas
Very good source of cholesterol-lowering fibre.
High fibre helps stabilize blood sugar levels.
Good source of vitamins B1 and B5, manganese, copper, folate, phosphorus, potassium and protein.
Contain isoflavones, consumption of which has been linked to a reduced risk of certain health conditions, including breast and prostate cancer.
Very good source of soluble fibre, which forms a gel-like substance in the digestive tract that binds bile (which contains cholesterol) and carries it out of the body.
Good source of potassium, which may decrease the growth and development of blood vessel plaques and is also good for lowering high blood pressure.
Excellent source of the trace mineral, molybdenum, which detoxifies sulphites. Sulphites are preservatives added to prepared foods. People who are sensitive to sulphites may experience rapid heartbeat, headache or disorientation. A cup of cooked dried peas provides 196.0% of the daily value for molybdenum.
Read more about the history and benefits of dried peas.
My smoky split pea soup is a very lean yet comforting and satisfying meal suitable for lunch or dinner, and not only on Shrove Tuesday.
I used smoked paprika for the smoky flavour and it works perfectly. However, I wouldn't suggest eating smoked food too often as it is potentially carcinogenic. According to a study smoked paprika seems to be safer than other smoked products, i.e. liquid smoke, meat, fish, fish sauce, cheese. Read what dr Michael Greger has written about dangers of smoked food.
Besides being vegan, my smoky split pea soup is also gluten-free, oil-free and Candida diet friendly.
Smoky Split Pea Soup with Brown Rice Noodles
Ingredients:5-6 servings
200g (7oz) yellow split peas, soaked
1 onion, chopped
2 garlic cloves, minced
2 small carrots (about 55g, 1.9oz each), chopped
4 medium potatoes (about 60g, 2.1oz each)
About 1.31 litres (46.2oz, 5.24 cups) water
2 tsps. smoked paprika
75g (2.6oz) brown rice noodles
Black pepper and sea salt to taste
Fresh parsley, thyme and dill to garnish
Directions
Measure 200g dried split peas. Soak them overnight, then rinse and drain.
Boil a kettleful of water.
Add all ingredients (except rice noodles) into a medium pot. Pour over with 1.31 litres of boiling water, mix well and bring to boil. Simmer until the peas are done (mine took about 50-60 minutes).
Turn off the heat, mix in a big handful on chopped fresh parsley, and add dry brown rice noodles. They will soften in about 3 minutes.
Let cool a bit, taste and add boiled water and pepper/salt if necessary.
Tip:
Instead of rice noodles you can also use whole grain rice, barley, quinoa or millet. Soak the grains/seeds first, rinse and drain and add into soup as follows: whole grain rice and barley – 10-15 minutes before the soup is ready; quinoa and millet – 5 minutes before the soup is ready.
Enjoy!