Here's a vegan mozzarella cheese recipe that is oil-free and gluten-free yet so creamy, soft and tasty. No need to cook or bake anything – simply throw all ingredients into blender and you're done.
Whole food plant-based cashew mozzarella cheese is one of those healthy comfort foods that you can love and that loves you back. In other words, it's a healthy temptation that you don't have to regret succumbing to.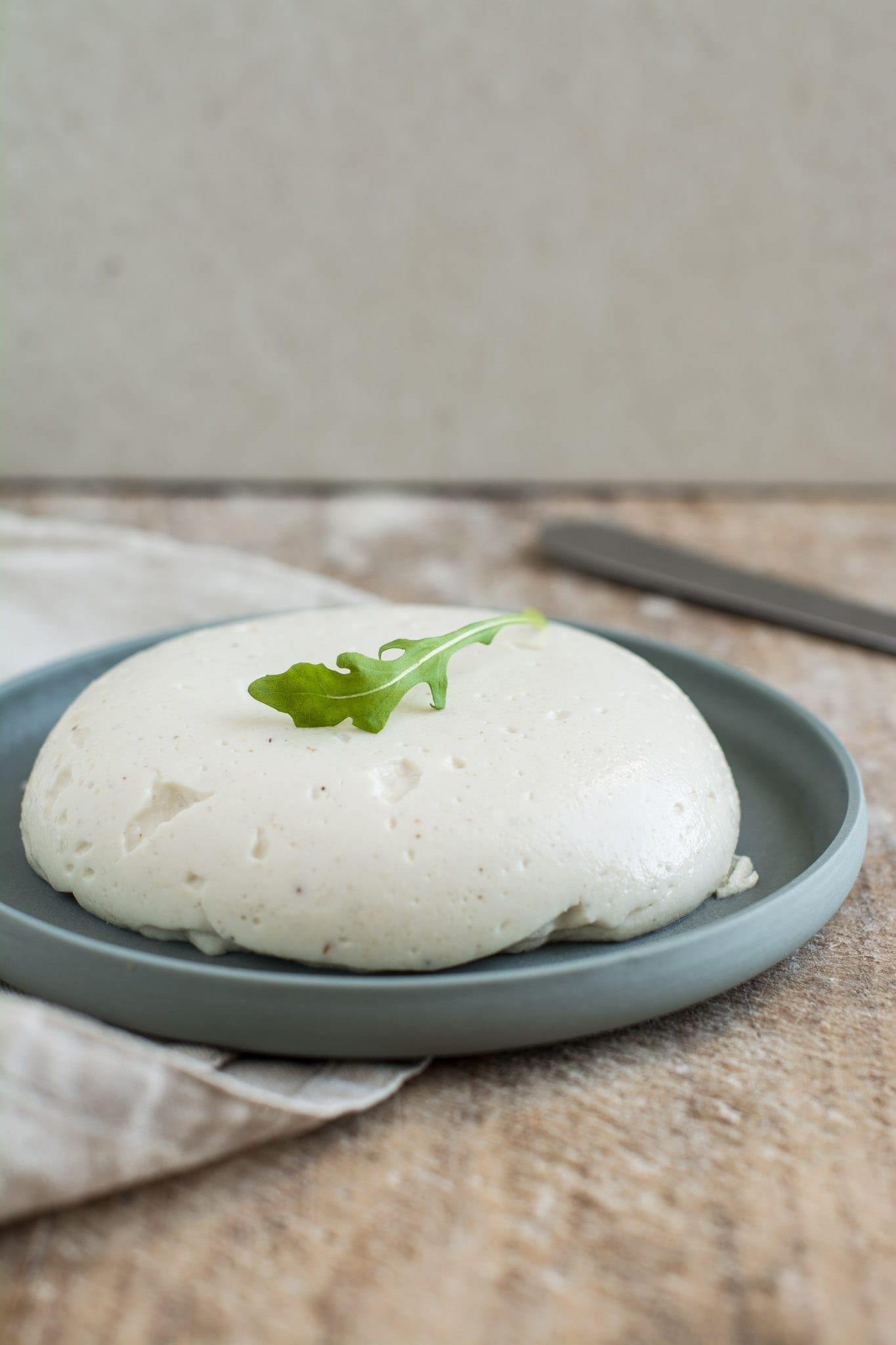 In dietary restriction terms, my cashew mozzarella cheese is plant-based, oil-free and gluten-free. It's also slightly lower in fat than most vegan cheeses as it incorporates whole nuts and not adding any extracted/refined oils. That being said, my cashew mozzarella has 66% of calories come from fat, whereas a recipe with added oils would be in the range of 75-80%.
What makes this vegan mozzarella cheese so loveable is that:
It's so simple to make.
It doesn't require any cooking or baking.
The cheese holds together super well.
It has the neutral taste inherent to mozzarella.
The Story
I was inspired by Ferdinand Beck [Vegainsfood] to use psyllium husks in vegan mozzarella recipe. After all, psyllium is one of my favourite binders in gluten-free recipes.
Check out Epic Cinnamon Rolls, Gluten-Free Pizza Rolls, and Oatmeal Pancakes.
I've made mozzarella also in the past using tapioca flour, but psyllium makes the recipe much simpler and quicker to prepare as is doesn't require any cooking or baking. I first tried the cheese recipe as Ferdinand had created it (go and check out his Instagram for the recipe) and then added my own tweaks to mimic the original taste even more.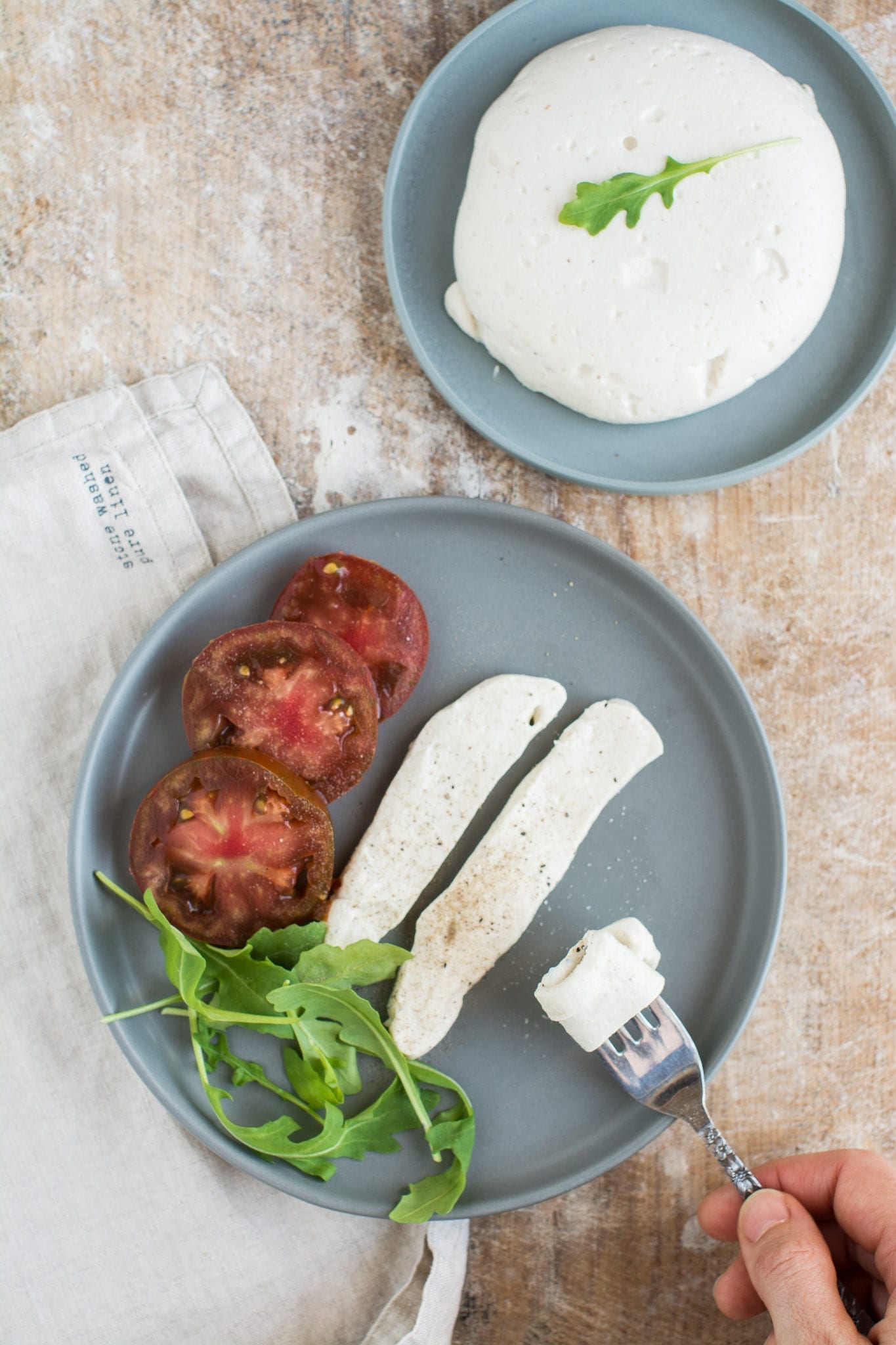 The Ingredients in My Vegan Mozzarella Recipe
Let me start by disclosing what's NOT in my plant-based cashew mozzarella. Many vegan mozzarella cheese recipes include refined coconut oil, but not mine! Cashews contain plenty of healthy fats and we don't need to add to it.
What's more is that I wanted to keep my mozzarella with neutral flavour – as close to the original thing as possible. Since mozzarella cheese doesn't have the distinguishable cheesy taste, there's no point to include nutritional yeast into the recipe. Same goes for the extra flavours such as garlic powder and smoked paprika. Mozzarella itself is supposed to be neutral leaving the possibility to add different flavours to whatever dish you're preparing with the cheese.
To begin with, I soaked the cashews, which obviously is the main ingredient providing the cheese with its creaminess and cheese-like consistency.
Psyllium husks are an excellent binder in any gluten-free recipe. If you're not familiar with psyllium, it is a form of fibre made from the husks of the Plantago ovata plant's seeds.
I decided to add plain soy yoghurt for its tangy flavour to mimic the taste of original mozzarella. In addition, yoghurt makes the colour of the cheese much whiter.
Finally, there's also Himalayan salt and some lemon juice to balance out the tastes.
How to Use Homemade Vegan Mozzarella Cheese
Should you need ideas for consuming cashew mozzarella cheese, here are some suggestions:
Salad bowls.

Simply add it to your salad bowls instead of dairy cheese.

Pair with tomato and basil.

Sprinkle the cheese with some vinegar and/or pepper and some extra salt (if needed) and pair with tomato slices and fresh basil or other herbs, i.e. parsley, arugula or even coriander.

Mozzarella cheese sandwiches.

Make vegan mozzarella cheese sandwiches by placing the cheese on your favourite slice of bread with tomatoes. Season with salt, pepper, vinegar and herbs. If you're looking for a healthy bread recipe, check out my gluten-free, yeast-free and no-starter fermented buckwheat bread. If you're craving a grilled cheese sandwich, simply toast the bread with cheese on top in oven. Or try it on buckwheat crackers or as a filling in burritos, tacos and tortillas.

Pizza and lasagne.

Top your vegan pizza with the mozzarella slices and use them in lasagne.

Casserole.

Make a Mediterranean style oven casserole with zucchini, eggplant, tomato sauce and vegan mozzarella.

Top pancakes and waffles.

This vegan cheese would also make an excellent topping for savoury pancakes and waffles. For example, those healthy gluten-free plant-based Oatmeal Pancakes and Pizza Flavoured Waffles.

Grilled cheese.

Finally, you can grill the cheese by placing mozzarella slices on baking sheet lined with parchment paper and baking at about 190C (375F) for as long as you have reached the desired degree of baking.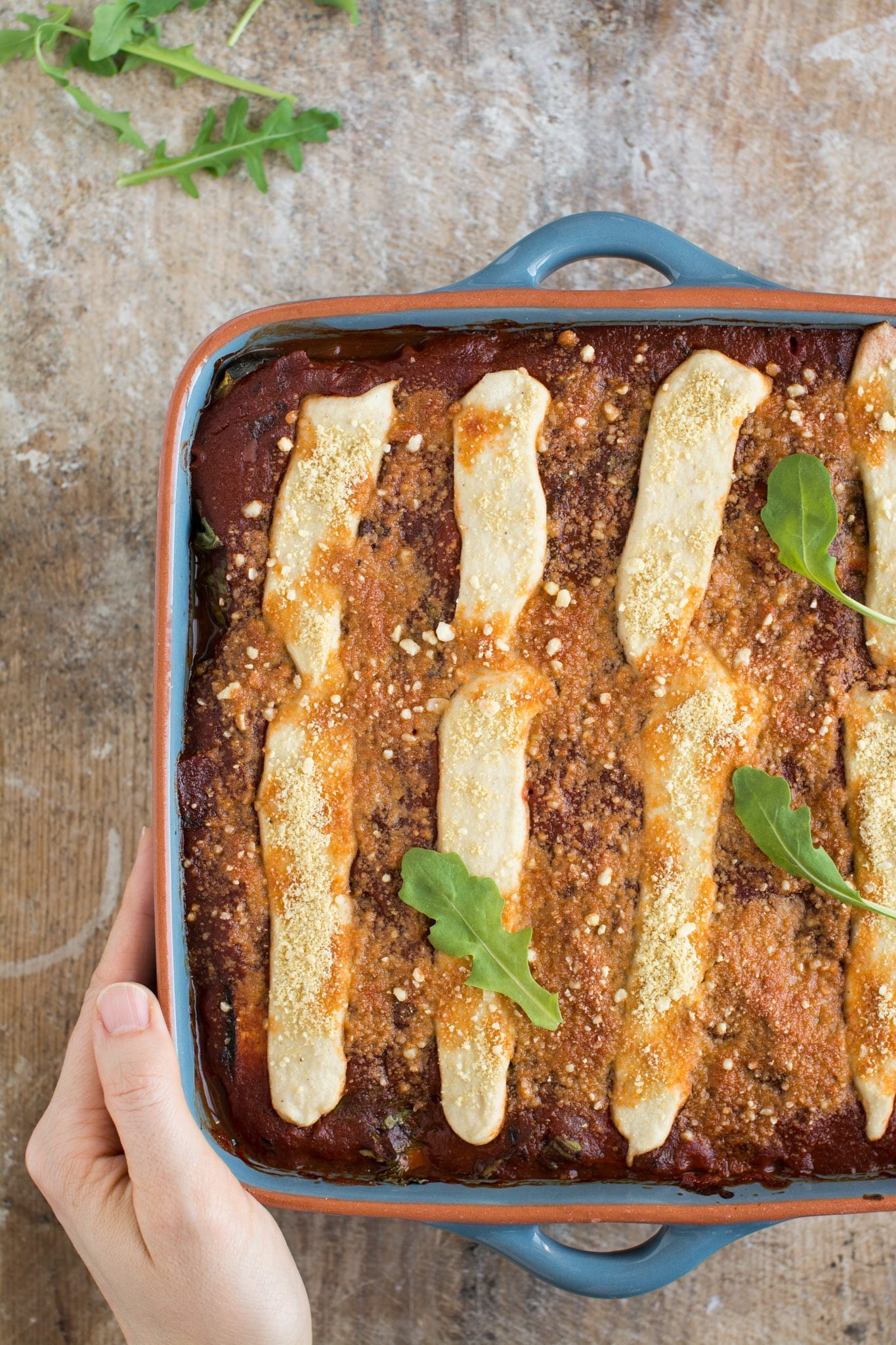 I was especially happy to veganise the Mediterranean style oven casserole that I had been missing dearly with this vegan mozzarella. Before, I had simply substituted other ingredients such as lentils, beans or chickpeas for the mozzarella. However, now I was able to recreate a version that is basically the same as the original – at least it feels and tastes the same!
Watch how I make my cashew mozzarella and the casserole in this video:
Check out the casseroles on my blog: Cheesy Veggie-Lentil Casserole with Tomato Sauce, Vegan Squash Casserole Recipe.
Does This Vegan Mozzarella Melt?
The short answer is no. It doesn't melt like conventional dairy cheeses or vegan cheese with lots of added oils do. The reason is that my recipe doesn't contain saturated fats that would be solid in fridge and then melt at higher temperatures.
However, when baked, this cashew mozzarella loses its shape a bit. At the same time, it stays soft inside and even develops some crisp, especially if you turn your oven onto grill mode.
Finally, once you try this recipe out, definitely let me know how you liked it. You can do so in the comments below.
Print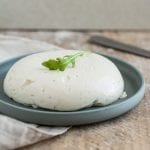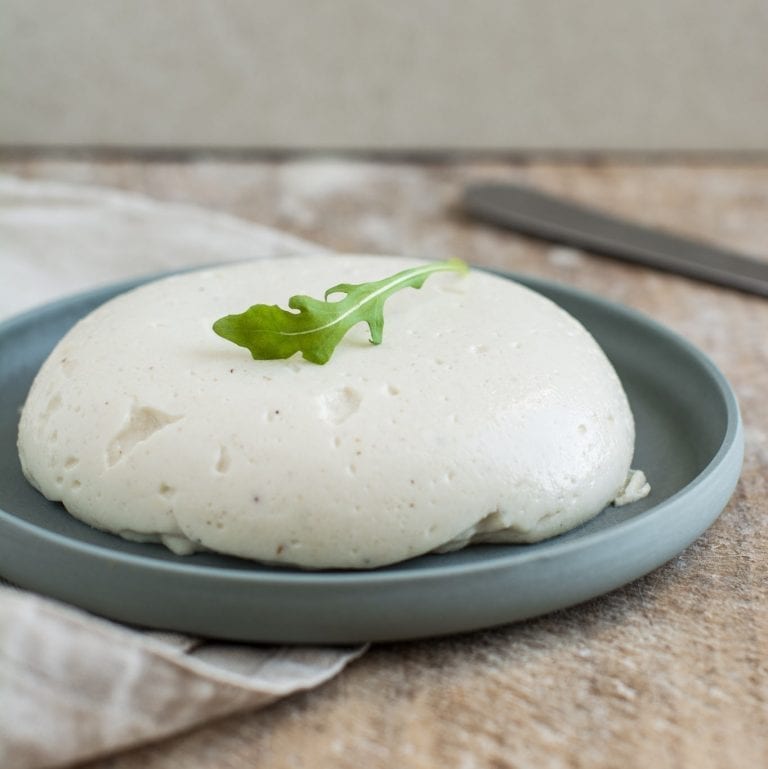 Vegan Mozzarella Cheese Recipe
---
Author:

Nele Liivlaid

Total Time:

3 hours

Yield:

12

servings

1

x

Diet:

Vegan
Description
Here's a vegan mozzarella cheese recipe that is oil-free and gluten-free yet so creamy, soft and tasty. No need to cook or bake anything – simply throw all ingredients into blender and you're done.
Soaking time: 1-2 hours
Chill time: 1 hour
---
---
Instructions
Soak cashews in water for 1-2 hours. Alternatively, pour boiling water or hot water over the nuts and soak for 10 minutes. Drain and rinse.
Mix psyllium husks and water and let sit for at least 5 minutes.
Next, add the soaked cashews, psyllium and water mixture with the rest of the ingredients (soy yoghurt, salt and lemon juice) into a high-speed blender or small food processor and process until completely smooth.
Now, you can put the cheese mass into one small bowl, cover with lid or plastic and refrigerate for at least an hour. For mozzarella balls, wrap a ball of desired size into cling film or cheese cloth, shape a ball with your hands and fix with a ribbon or rubber band. Put the wrapped balls into a container and refrigerate.
Notes
You can substitute psyllium husk powder for whole psyllium husks. Use 12 grams in total, i.e. 4 level teaspoons.
There is 130 grams of cashews in a cup and 3 grams in a teaspoon. So, if you don't have a kitchen scale, measure ¾ cup + 1 teaspoon of raw cashews.
As far as the yoghurt goes, I find plain soy yoghurt to have the most neutral taste. However, you could also try out other plain unsweetened plant yoghurts, i.e. almond, cashew or even coconut.
This vegan cheese is not intended to be exactly like the original mozzarella – especially in terms of melting. Instead, it's a really simple yet delicious recipe requiring only a few common ingredients and basic skills.
Prep Time:

10 minutes

Category:

Cheese

Method:

Blender
Nutrition
Serving Size:

1/12 of recipe

Calories:

54.4kcal

Sodium:

54.7mg

Fat:

4g

Carbohydrates:

2.4g

Fiber:

1g

Protein:

2.4g
Keywords: vegan mozzarella, vegan cheese
Disclosure: this post contains affiliate links. As an Amazon Associate affiliate I earn from qualifying purchases. For every purchase made from the links in this post, you'll be able to support my work. So you can look after your health, and contribute to my mission at the same time. Thank you!