This sweet potato lentil stew is a delicious plant-based recipe for weeknight dinner that is ready in 30 minutes. It's one of those delicious recipes that are perfect for meal prepping.
My sweet potato lentil stew is: plant-based, gluten-free, grain-free, low-fat, Candida diet friendly, soy-free, low glycemic, nut-free, and peanut-free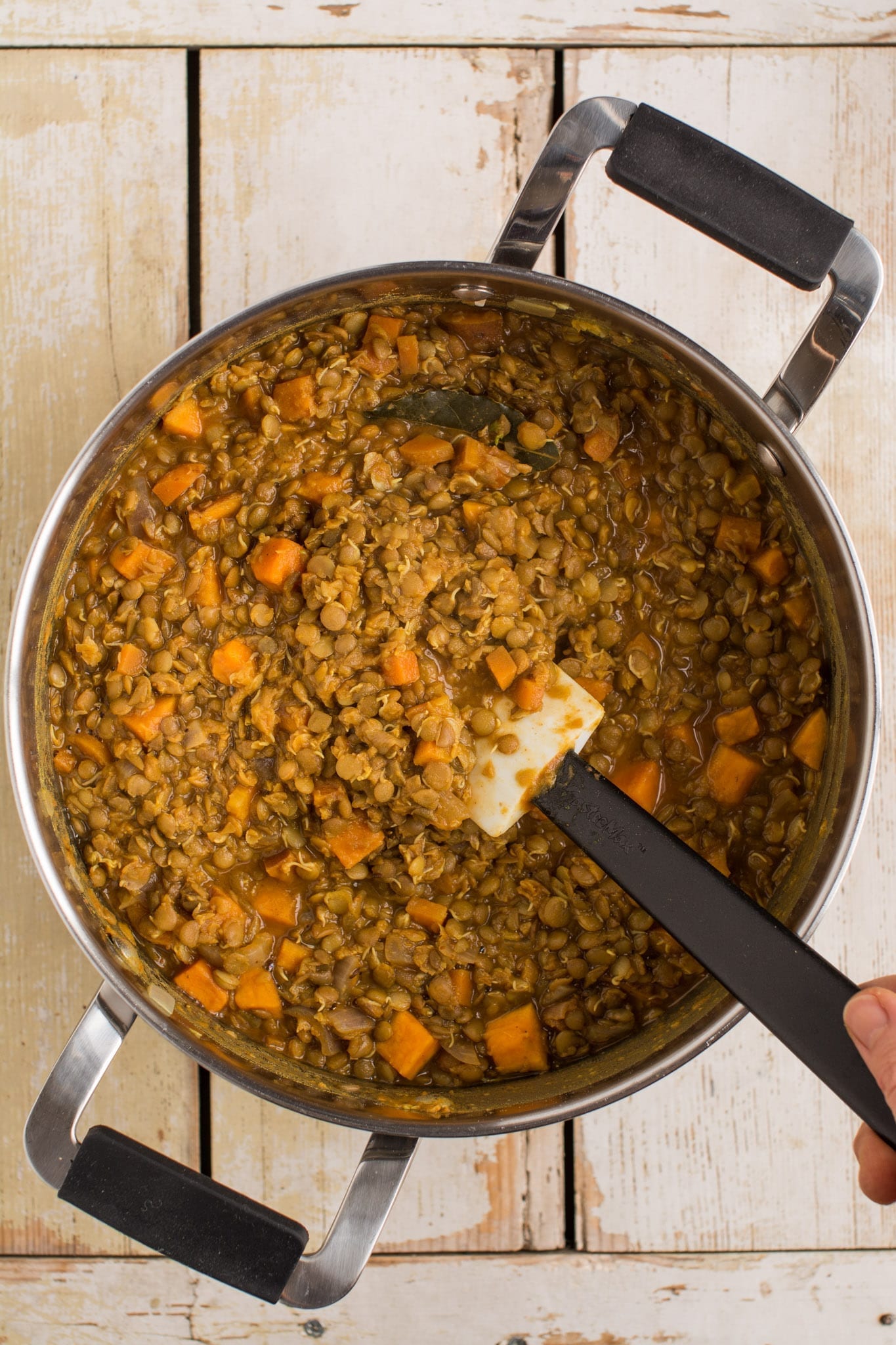 I'm especially into this lentil stew because it's a great recipe for batch-cooking and meal prepping. In fact, watch the full whole food plant-based meal prep video that includes this delicious lentil and sweet potato stew. Moreover, you'll see what I pair it with!
What I love about lentil stews is that they are easily convertible into lentil soups by simply adding more water. So, soup and stew recipes are interchangeable, giving you the opportunity to be creative and modify the recipes according to your needs.
See how I make this sweet potato and lentil stew in my Whole Food Plant-Based Meal Prep video.
Furthermore, I show you what I prep ahead for my morning low glycemic porridge as well as for wholesome snacks, dinners and lunches. Among other things, I'm mixing together my Gingerbread Spice Mix, making simple oven baked veggies, compiling a wholesome bowl with the sweet potato and lentil stew, preparing delicious bliss balls and baking savoury muffins.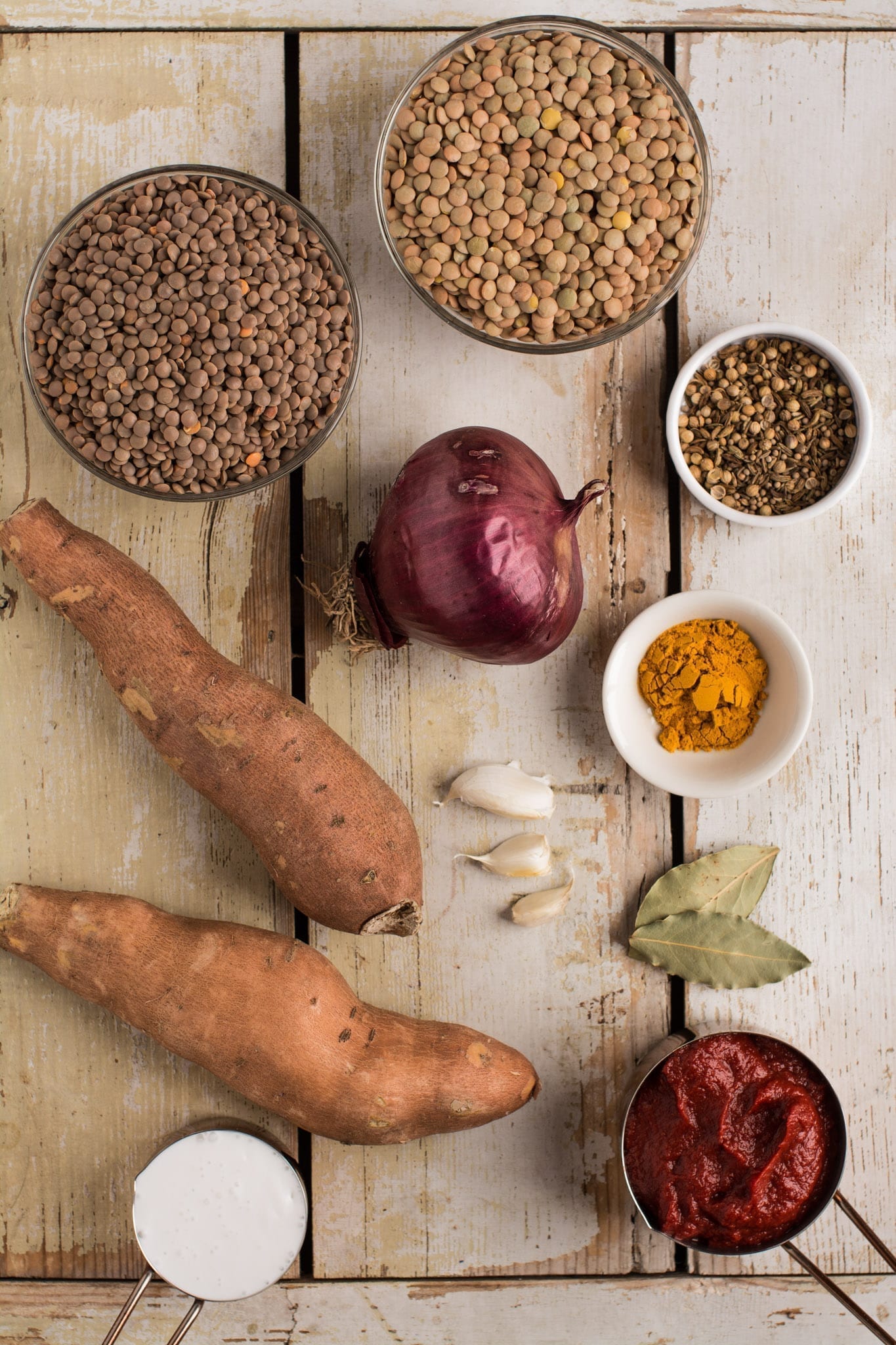 The Ingredients
Evidently the main ingredient is lentils. I chose to use unhulled red and green lentils. It's worth mentioning that I like to cook with unhulled lentils because they're simply more wholesome than hulled ones. The reason is that unhulled lentils have more fibre and therefore come with lower glycemic load. Read more on Low Glycemic Diet.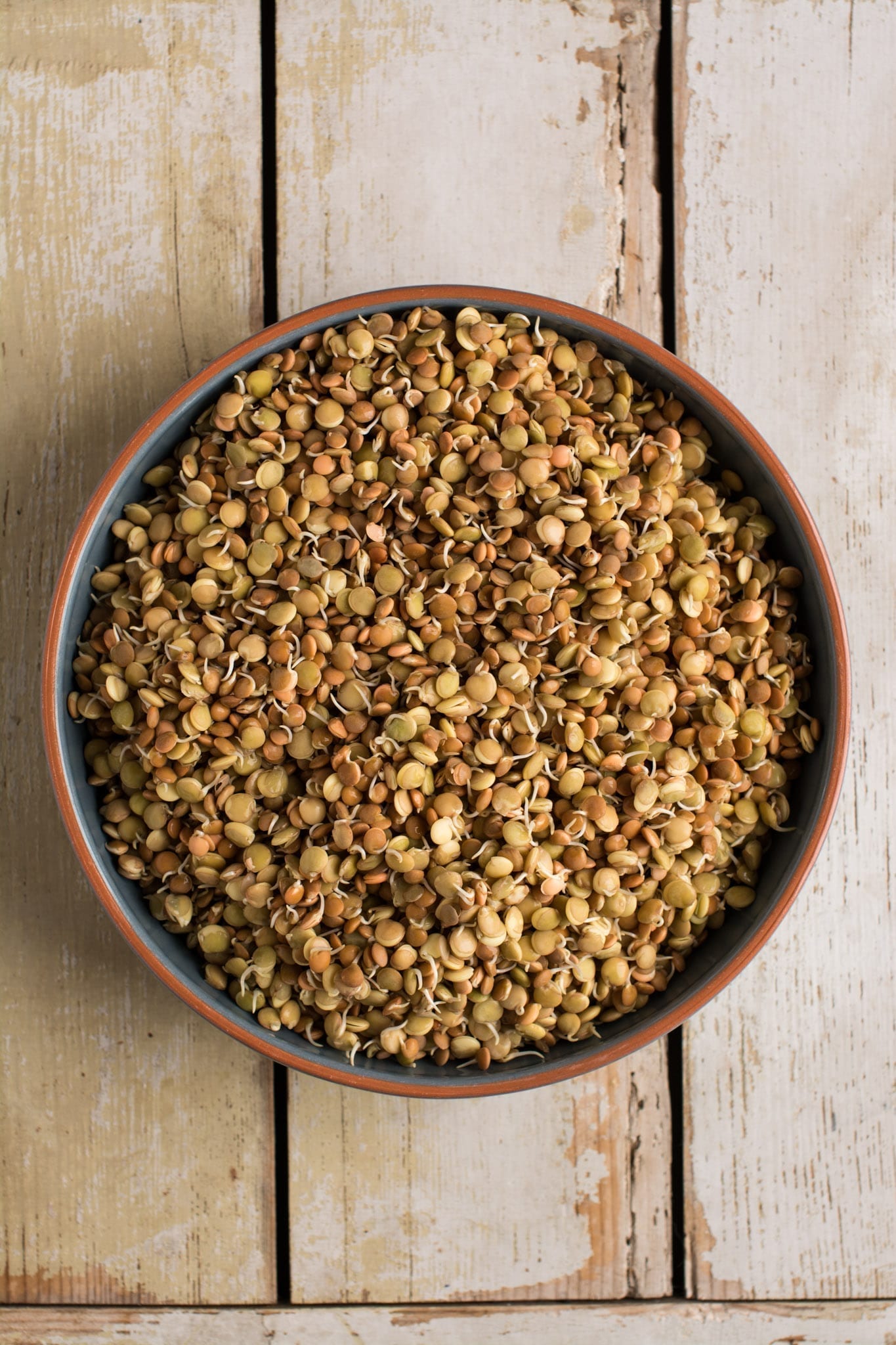 I usually sprout all my legumes, i.e. lentils, chickpeas and mung beans. However, should you be new to sprouting, I suggest reading my post Guide to Sprouted Chickpeas (there's also a video) and learn the tricks.
Whether I make a stew or simply cook my lentils, I always add bay leaves for their incredible flavour. Moreover, bay leaf also makes legumes easier to digest.
I decided to use red onions because in plant world more colour means more nutritional power.
Well, carrots are in almost every stew or curry I've ever made. How about you?
Needless to say, there's also garlic. I prefer to crush the garlic mix it into the stew when it has cooled down a bit to preserve the allicin in garlic.
Evidently, the name of the recipe indicates that there must be sweet potatoes in the stew. I must admit, sweet potatoes are one of my favourite starchy veggies to use in any stew or curry for their sweet taste and starchiness.
As for the rest of the flavours, my Indian Spice Mix does its job together with turmeric and tomato paste. And finally, adding some coconut milk for a little bit of extra creaminess.
How to Eat This Sweet Potato Lentil Stew
I'd suggest combining a healthy and balanced Buddha bowl with raw, cooked and/or baked vegetables. It's up to you whether you choose only a few or go for many. For more inspiration and guidance, watch the Meal Prep Video for my own bowl.
Raw vegetables, greens and herbs: lettuce of all kind, radishes, red cabbage, white cabbage, summer squash, cauliflower, bell peppers, sauerkraut, carrot, baby spinach, parsley, coriander, onion greens.
Steamed and/or sautéed vegetables: leafy greens (chard, kale, collard greens), broccoli, cauliflower, Brussels sprouts, asparagus, fennel.
Oven baked vegetables: beetroot, carrots, fennel, bell peppers, eggplant, summer squash, mushrooms.
I'm definite you'll find my post How to Cook Vegetables to Retain Nutrients very useful to find out the best cooking method for your favourite veggies.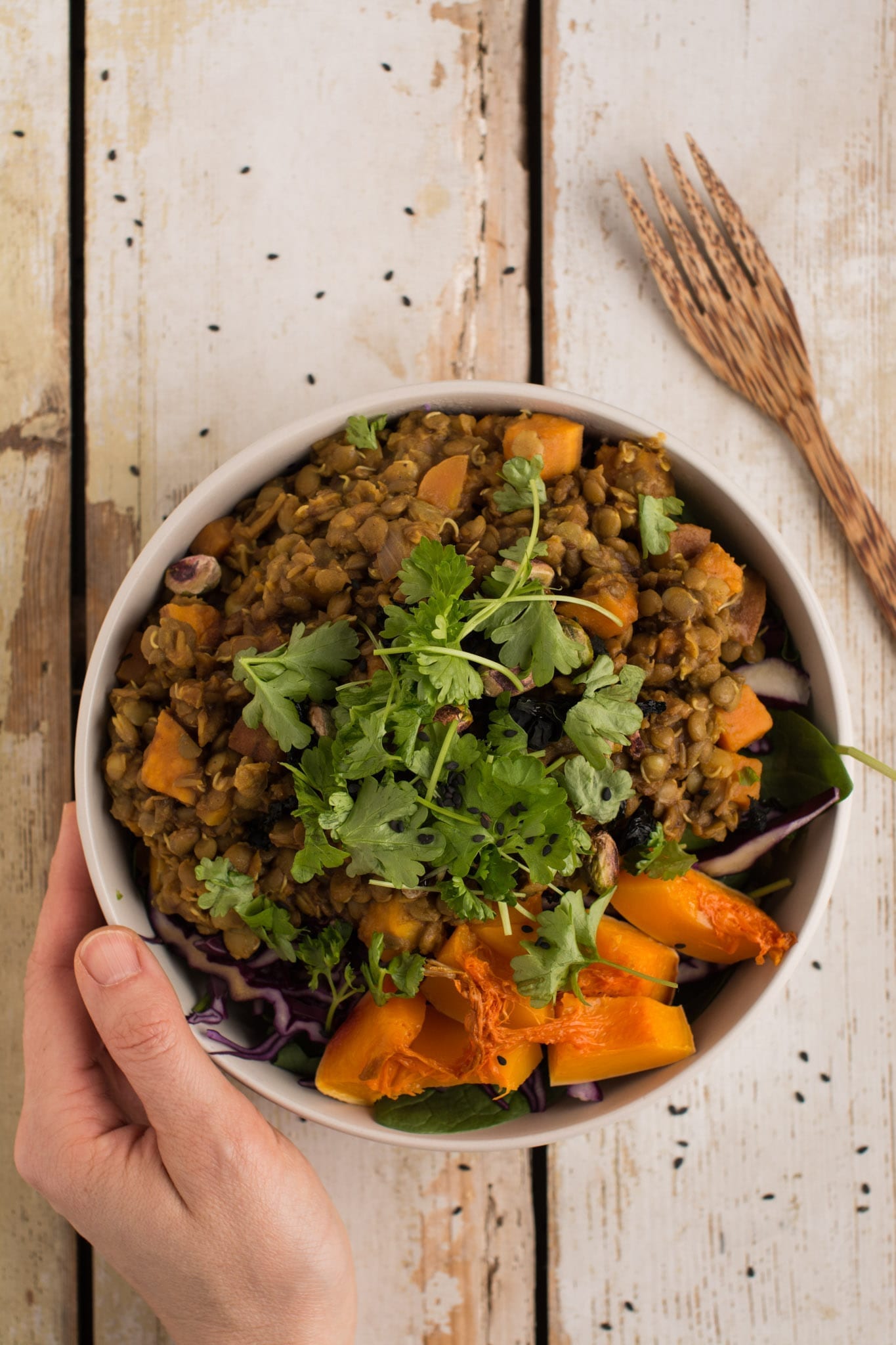 How to Store
Store this sweet potato lentil stew in airtight containers in fridge for up to 4 days. I recommend packing one to two portion sizes into one container. This assures that you won't need to open and close it too often and let the air in.
Warm it up on stovetop in a pot or stick it into microwave oven (should you use it) and add to your chosen veggies.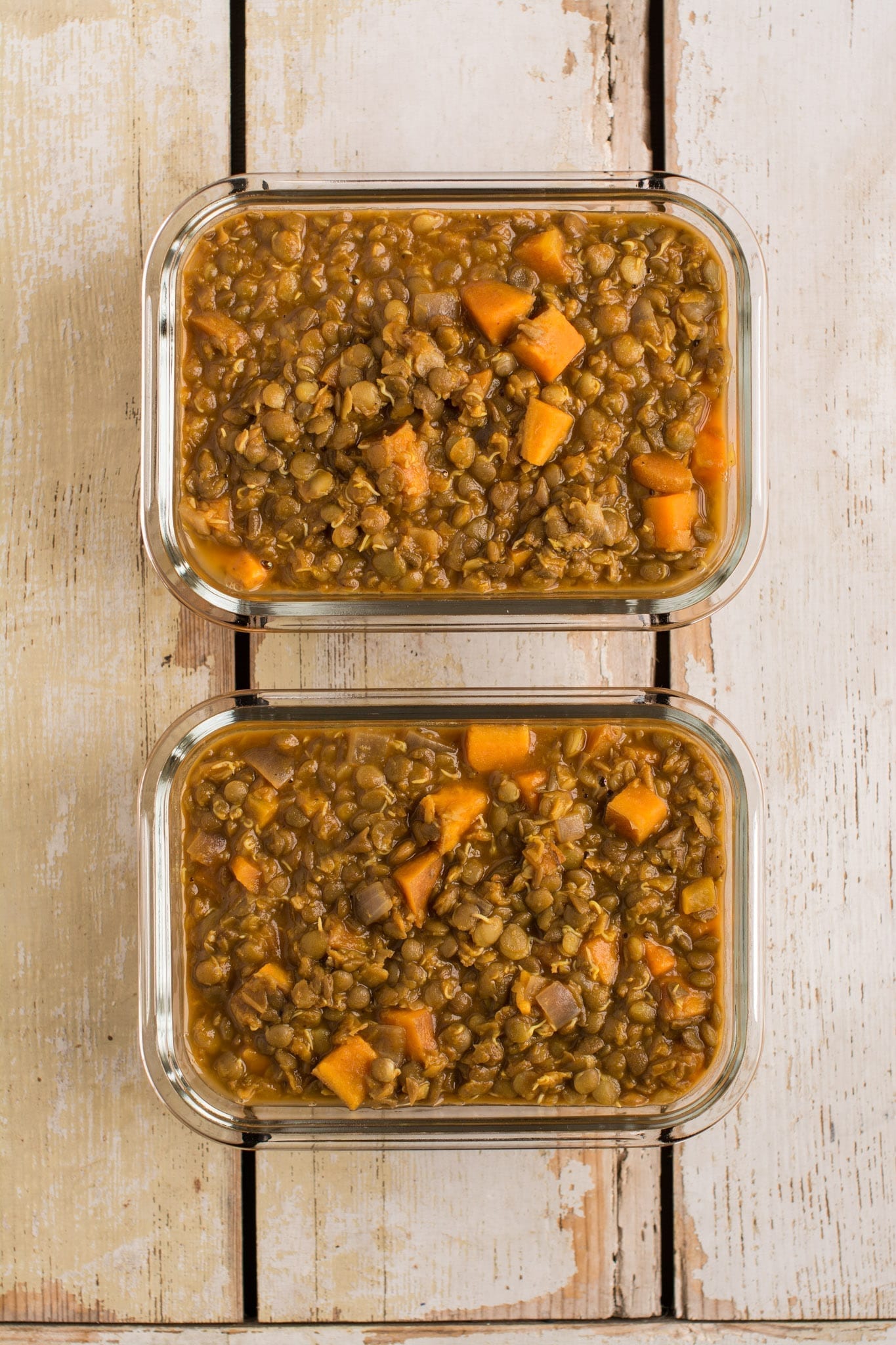 Finally, do let me know when you make this recipe or in case you have any questions or comments about the recipe. Feel free to comment below!
Print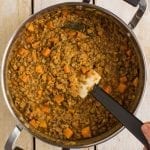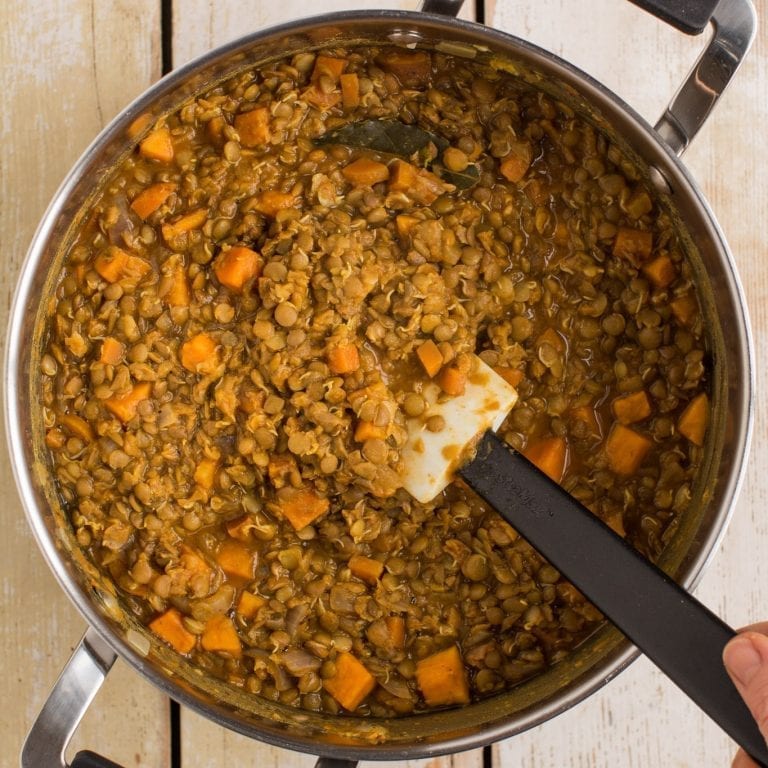 Sweet Potato Lentil Stew [Oil-Free]
---
Author:

Nele Liivlaid

Total Time:

30 minutes

Yield:

8

servings

1

x
Description
This sweet potato lentil stew is a delicious plant-based weeknight dinner that is ready in 30 minutes. It's one of those delicious recipes that are perfect for meal prepping.
*Soaking time: 6-8 hours
---
200g

(

7oz

, about a cup) dry green lentils, soak

250g

(

8.8oz

, about

1¼ cup

) dry unhulled red lentils, soak

1

large red onion (

165g

,

5.8oz

), chop

1

large carrot (

100g

,

3.5oz

), chop

1120g

(

39.5oz

) water (about)

2

bay leaves

1

large sweet potato (

370g

,

13oz

), cube

½ cup

(

140g

,

5oz

) tomato paste

3

garlic cloves

¼ cup

(

60g

,

2.1oz

) coconut milk

½ tbsp

. turmeric

1 tbsp

. Indian spice mix
---
Instructions
Start by soaking lentils for 6-8 hours. Rinse, drain and set aside. The lentils soak in about 520g (18.3oz) of water.
Next, prepare the Indian Spice Mix or use 1.5 tablespoons of ready-made curry powder instead of the spice mix and turmeric.
Then, crush garlic cloves, finely dice onion and chop up carrots, and sweet potato.
Heat up a few tablespoons of water in a skillet or large pan. After that, throw in onions and sauté them for 2-3 minutes stirring every now and then. Add water 1-2 tablespoons at a time whenever it evaporates.
Next go in the carrots. Give everything a good stir and sauté for another few minutes. Again, add extra water if necessary. 
Then, throw in a few bay leaves and pour in soaked lentils. Next, add enough water to almost cover the ingredients. Bring to boil, then reduce the heat and simmer covered for 5 minutes. At this point, add cubed sweet potato and press them into the water with a spoon or spatula. Cover and simmer until the potatoes and lentils are tender, about 10 minutes. Mix everything well and add the spices – turmeric and Indian spice mix. 
Next, stir in tomato paste and coconut milk and finally crushed garlic. 
Finally, let cool a bit before you add salt and black pepper to let the tastes settle. I don't add any salt to my stew.
Notes
As far as lentils go, they are interchangeable, i.e. red lentils can be substituted for green lentils and vice versa. Furthermore, other unhulled lentils such as brown lentils and even Beluga lentils (black lentils) can be used.
If you don't want to make the Indian spice mix yourself, you may replace turmeric and the spice mix with store bought curry powder. Use 1½ tablespoons in total.
Should you not have tomato paste, use 1 cup of diced tomatoes instead adding them 5 minutes before the stew is done.
For extra flavour you can use vegetable broth instead of water or substitute some of the water.
For extra nutritional value you may also let your lentils sprout before cooking them. Simply leave soaked, rinsed and drained lentils into a bigger sieve over a big bowl and cover with clean kitchen cloth. Rinse them about 3 times a day. Lentils will have small sprouts emerging already in a day.
Nutritional info per serving: 278 kcal, 34g carbohydrates (49% of kcal), 2.5g fats (8% of kcal), 15.9g protein (22.9% of kcal), 16.6g fibre, and 49.7mg sodium.
Prep Time:

10 minutes

Cook Time:

20 minutes

Category:

Stew

Method:

Stovetop
Nutrition
Serving Size:

1/8 of recipe

Calories:

278kcal

Sodium:

49.7mg

Fat:

2.5g

Carbohydrates:

34g

Fiber:

16.6g

Protein:

15.9g
Keywords: stew, lentils, comfort food
Suntrex® D3 is an organic vitamin D supplement that contains cholecalciferol — the biologically active form of vitamin D your body produces when exposed to sunlight. Derived from lichen, it's a plant-based, vegan-friendly formula that's perfect for everyone to meet their daily vitamin D requirements.
Make sure your supplements are actually working!
It's noteworthy that I've handpicked and double-checked all the supplements listed on my shop. Bioavailable forms. No gluten, dairy, GMO, corn, cheap fillers or other unwanted additives. Get the results you need!
Disclosure: this post contains affiliate links. As an Amazon Associate and Global Healing affiliate I earn from qualifying purchases. For every purchase made from the links in this post, you'll be able to support my work. So you can look after your health, and contribute to my mission at the same time. Thank you!