Healthy low-fat no dates chocolate bliss balls that make a great plant-based energy boosting sweet treat for work or kids' lunch boxes.
It's one of those vegan bliss ball recipes that is:
perfect for healthy snacking,
rich in minerals and vitamins,
super easy to make.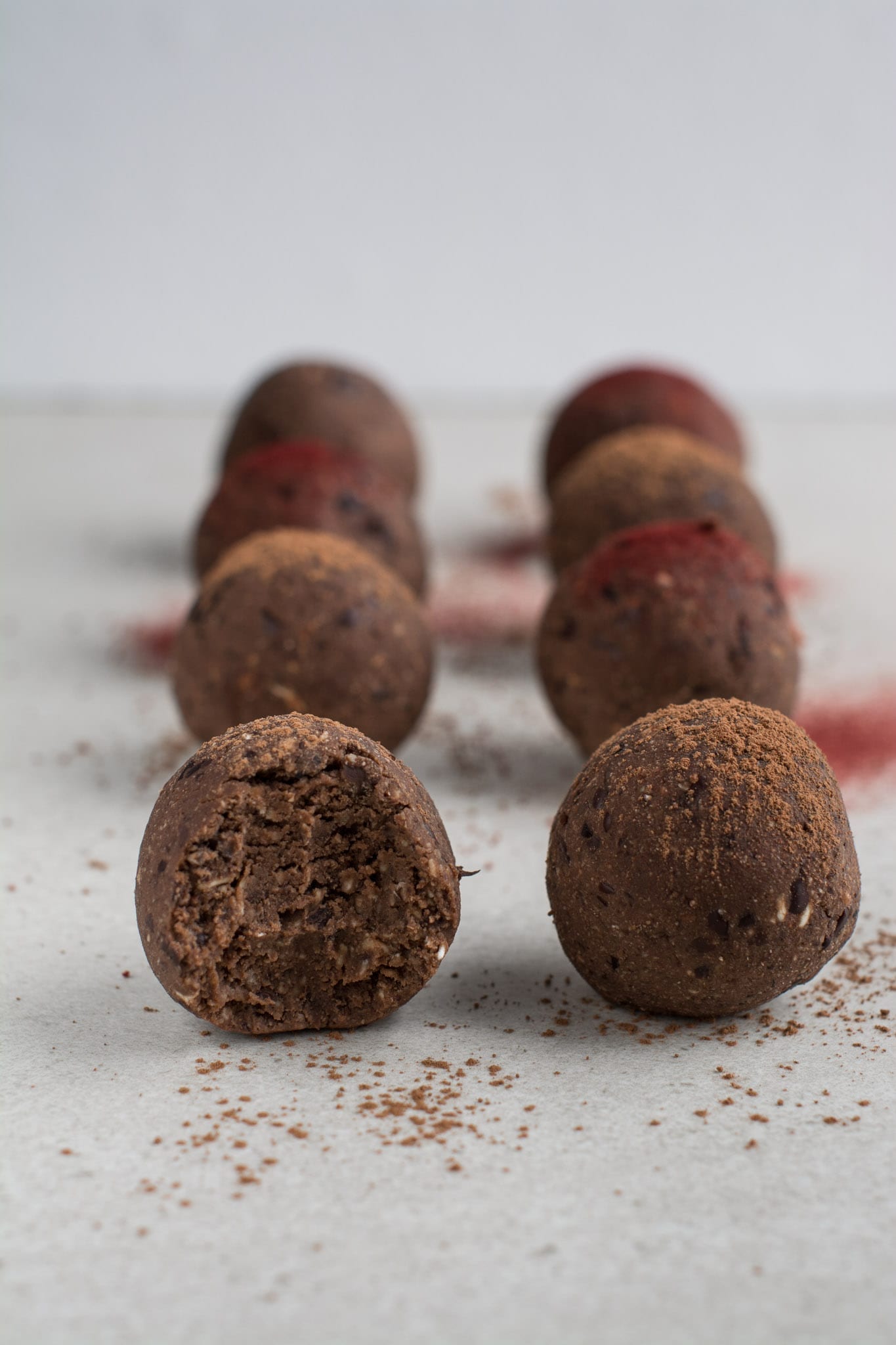 From eating two of those low-fat energy bites, you will get 45% of RDA of copper and manganese, 17% of vitamin B1, 9% of vitamin B2, 32% of folate, 31% of iron, 25% of magnesium, 16% of zinc, 15% of vitamin E, 13% of phosphorus, 11% of selenium, and 7% of potassium.
On another note, I took those bliss balls to my friends' house the other night to test them out and to my great pleasure everyone, the adults and kids loved them.
The Ingredients in My Low-Fat Vegan Bliss Balls
Needless to say, my healthy energy balls do not contain refined sugar or oils, not even coconut oil. In the pursuit of making those bliss balls a great snack also for those on low-glycemic diet and Candida diet, I excluded all high-glycemic sweeteners such as dried fruit, medjool dates, maple syrup, rice malt syrup or raw cane sugar.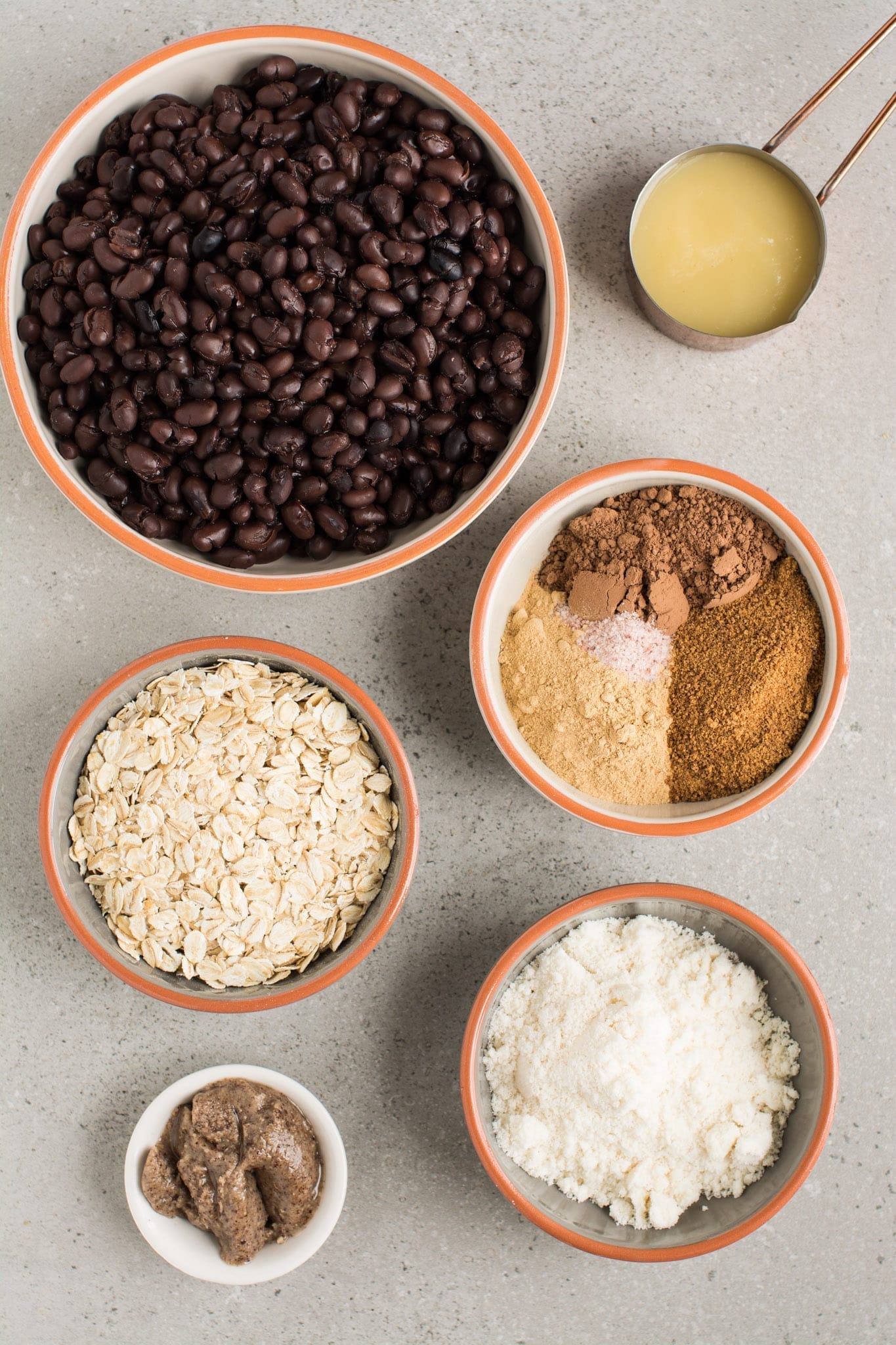 Bulk Ingredients
It might come as a surprise to you, but the main ingredient in my bliss balls is black beans. Hence the high mineral and vitamin content! Moreover, beans are an excellent low-fat substitution for nut butter that more conventional bliss balls usually consist of. It's worth mentioning that black beans are high in fibre, magnesium, vitamins B1 and E, folate, copper, iron, manganese, phosphorus, and zinc.
To be honest, blended beans alone don't equal delicious energy balls. So, let's add some rolled oats for bulkiness. Did you know that oats are high in selenium? Now you do, so eat your oats!
When it comes to bliss balls, coconut flour is one of my favourite ingredients. It's because it absorbs liquid extremely well and gives a nice coconut flavour without the fats present in whole coconut. In fact, you could as well call those bites coconut bliss balls for their delicious nutty taste. Make sure not to confuse coconut flour with ground coconut though. Coconut flour has most of the fat removed and therefore makes it more similar to protein powder.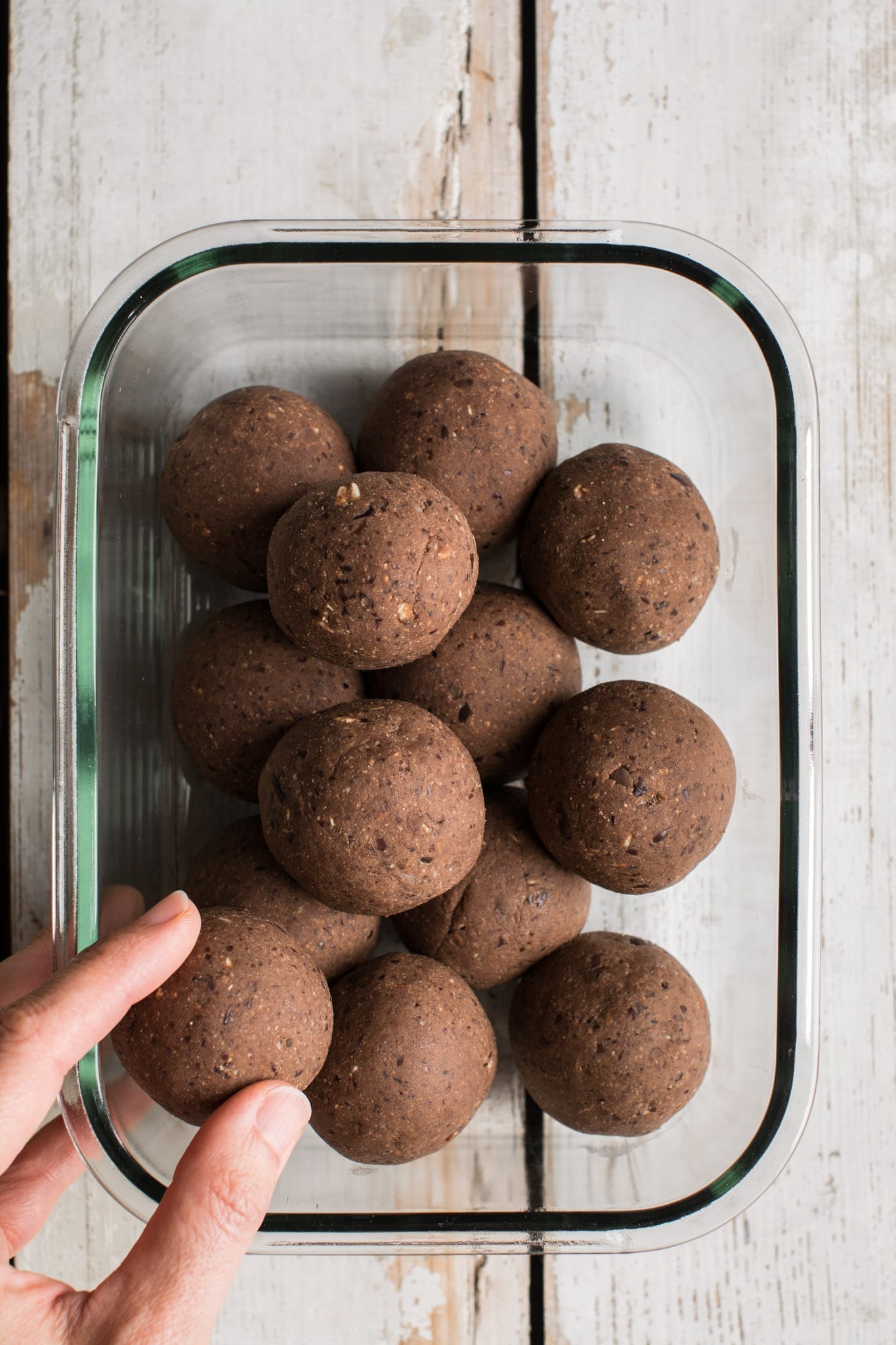 Extra Flavours and Moistness
I titled this healthy treat as chocolate bliss balls, hence the addition of cacao powder. The latter is an excellent way to achieve a chocolaty flavour without adding saturated fat into your diet. Moreover, raw cacao is an excellent source of magnesium.
The combination of mesquite powder and Himalayan salt is a brilliant way to supplement this perfect snack with salted caramel flavour as well as natural sweetness. However, should mesquite sound too foreign to you or should you not get your hands on it, opt for carob powder instead. The latter should be more easily accessible.
Applesauce adds some delicious moistness as well as sweetness. It's always best to choose unsweetened varieties that consist of apples only. Or even better, make your own homemade applesauce.
As it turns out even low-fat bliss balls can contain some nut butter without raising the fat percentage too high. So, I include some healthy fats full of vitamin E in the form of hazelnut butter or almond butter. The amount in the recipe is enough to give the hint of nutty flavour. Nevertheless, the calories from fat stay under 20% in my bliss balls, 19% to be more precise.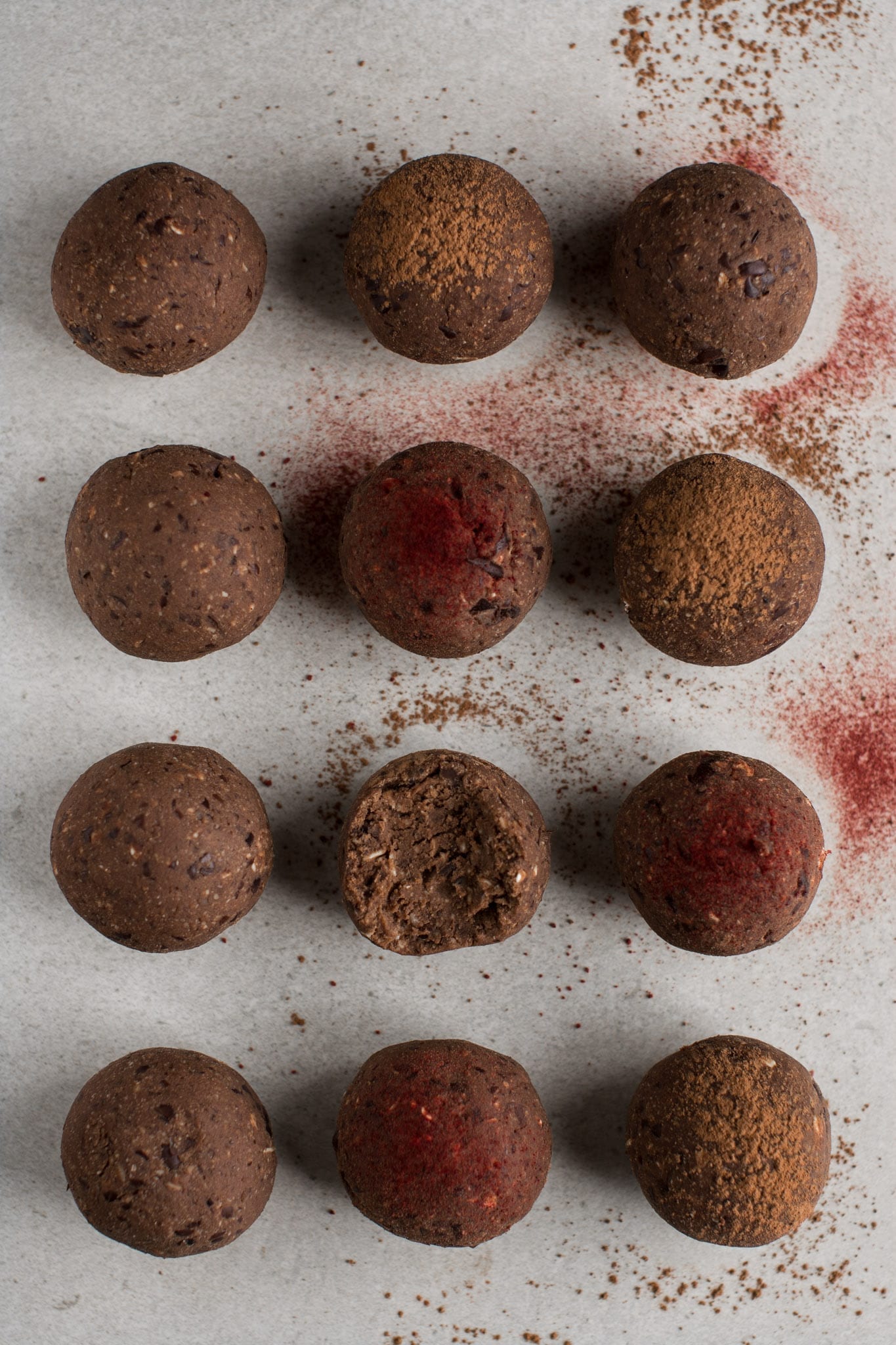 Sweetener
Finally, it would be wrong to say that my bliss balls come with no added sugar. Of course, date sugar basically is a whole food, but if you opt for low-glycemic sweeteners such as erythritol and xylitol, one might assume those to be added sugars indeed. That being said, if you don't struggle with blood sugar balance or Candida overgrowth and your aim is to eat whole foods, definitely choose date sugar to sweeten your bliss balls.
To sum it up, my vegan bliss balls are one of those delicious recipes that is:
Gluten-free
Dairy-free
Plant-based
Low-fat
Candida diet friendly
Soy-free
Peanut-free
Can be made nut-free (use seed butter)
Oil-free
Refined sugar free
Keep browsing my blog for more whole food plant-based gluten-free recipes and healthy low-glycemic sweet treats. For example, check out my Gingerbread Flavoured Vegan Energy Balls and Peanut Butter Protein Balls.
Watch how I make my Low-Fat Bliss Balls in the below video: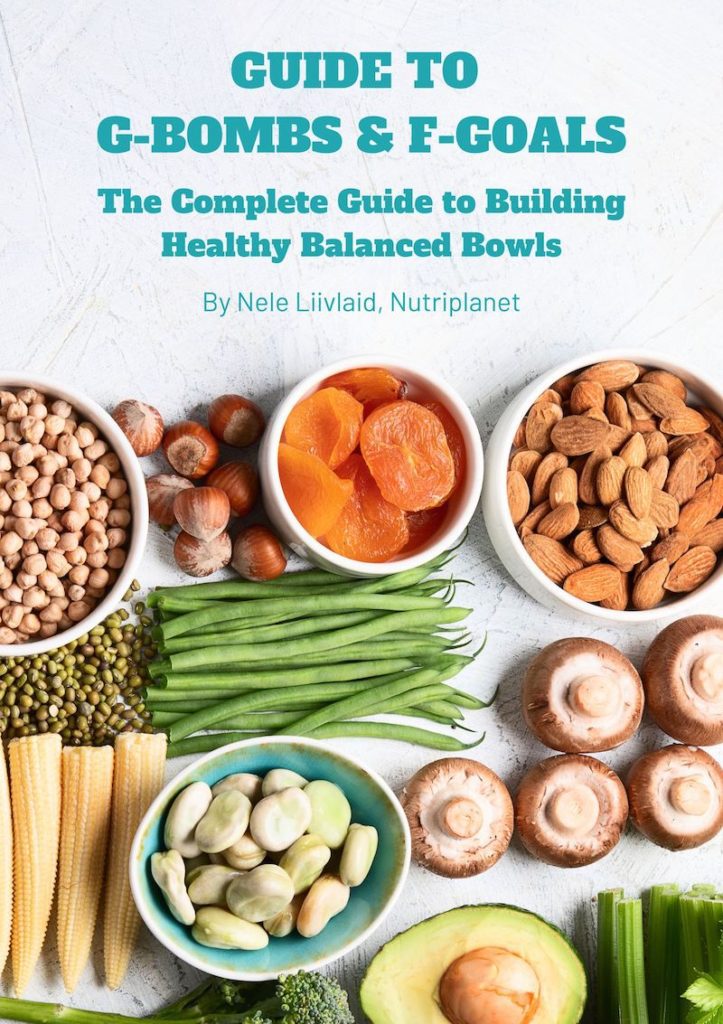 Step-by-step visual guide to building your own balanced bowls.
Print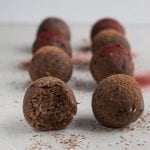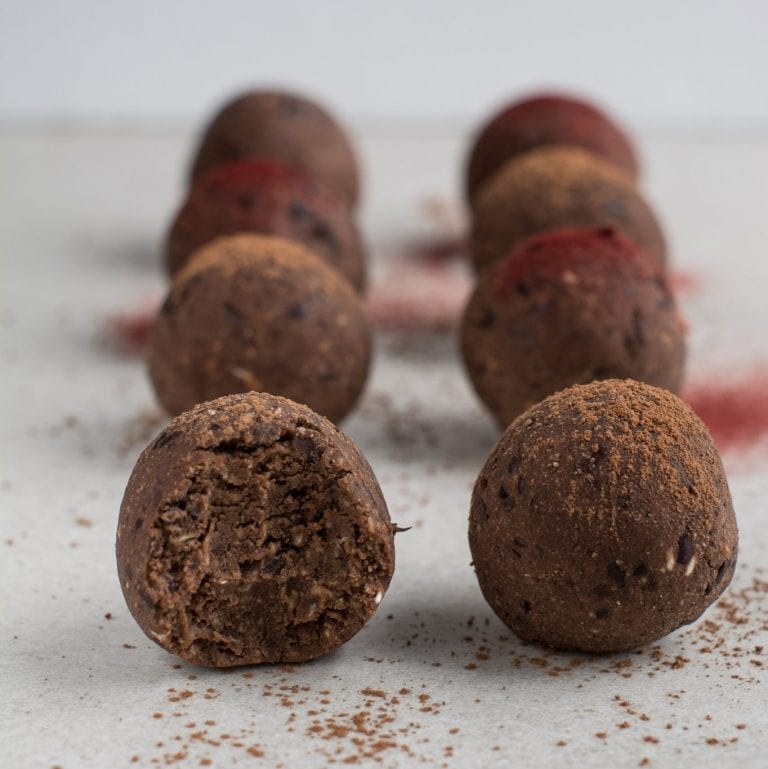 Healthy Chocolate Bliss Balls [Low-Fat]
---
Author:

Nele Liivlaid

Total Time:

30 minutes

Yield:

16

bliss balls

1

x

Diet:

Vegan
Description
Healthy low-fat and date-free chocolate bliss balls that make a great plant-based energy boosting sweet treat for work or kids' lunch boxes. 
---
---
Instructions
Start by rinsing and draining canned black beans.
Next, add all the bliss balls' ingredients into food processor and process until you have a homogeneous and sticky dough. Don't bother to process into a really smooth dough. Instead, leave some texture to the bliss balls.
Now, scoop out about 40-45g (1.4-1.6oz) of batter and form a bliss ball between your palms. The dough is supposed to be quite soft as it will thicken in the fridge. You will get 16-17 bite-sized balls, depending on how much batter you've tasted along the way. Gently place the balls into a bigger container and refrigerate for at least 2 hours. They will be extra good and buttery on the next day!
Notes
I wouldn't recommend substituting black beans. However, red kidney beans would be the closest. Definitely don't use chickpeas in this recipe as those tend to be much drier and you'd therefore need to adjust the quantities of other ingredients.
My bliss balls are not overly sweet. So, should you be more of a sweet tooth, feel free to add more sweetener. You can also use low-glycemic sweeteners such as erythritol and xylitol.
Carob powder can be used instead of mesquite flour.
You may use either cacao powder or cocoa powder. The first being raw and the latter heat-treated powder.
Make sure you indeed have coconut flour and not ground coconut, and definitely not desiccated coconut. Coconut flour has most of the fats removed and hence contains about 12 grams of fat per 100 grams of flour.
You're welcome to use store-bought applesauce, but make sure it comes without any additives. Alternatively, prepare homemade applesauce.
Storage: when the bliss balls have firmed up, cover the container with lid and keep in the fridge for up to 4 days. For longer keeping, store the balls in the freezer.
Prep Time:

30 minutes

Method:

Food processor
Nutrition
Serving Size:

1/16 of the recipe

Calories:

99.8 kcal

Sodium:

42.6mg

Fat:

2.1g

Saturated Fat:

0.75g

Carbohydrates:

11.5g

Fiber:

5.1g

Protein:

4.5g
Keywords: bliss balls, energy balls
More Tips on My Vegan Bliss Balls:
Eat my low-fat vegan bliss balls plain or sprinkle them with some cacao powder and/or beetroot powder for a more festive look.
The best nut butters for this bliss balls' recipe would be cashew butter, almond butter, peanut butter or hazelnut butter. In fact, I used the latter in my bliss balls. You could also mix in some hemp seeds or sunflower seeds. However, please don't even think of chia seeds as those absorb tons of liquid and therefore require adjusting the whole recipe.
In case you want to make this bliss ball recipe totally nut-free, use seed butter (sunflower seed butter or tahini) or coconut puree instead of nut butter.
If you are struggling with Candida overgrowth or blood sugar fluctuations, choose a low-glycemic sweetener instead of date sugar. The best options would be erythritol or xylitol. Should you be past the cleanse phase, coconut sugar might be considered as well. Alternatively, substitute some or all of the cacao powder with mesquite or carob, which are quite sweet per se. You'd therefore need much less (or not at all) of other sweeteners.
You might as well coat those bliss balls with chocolate, if you don't care about the fat content. Learn the basics from my gingerbread energy balls' video that I linked above!
Disclosure: this post contains affiliate links. As an Amazon Associate I earn from qualifying purchases. For every purchase made from the links in this post, you'll be able to support my work. So you can look after your health, and contribute to my mission at the same time. Thank you!
You're welcome to PIN the below image of my low-fat bliss balls: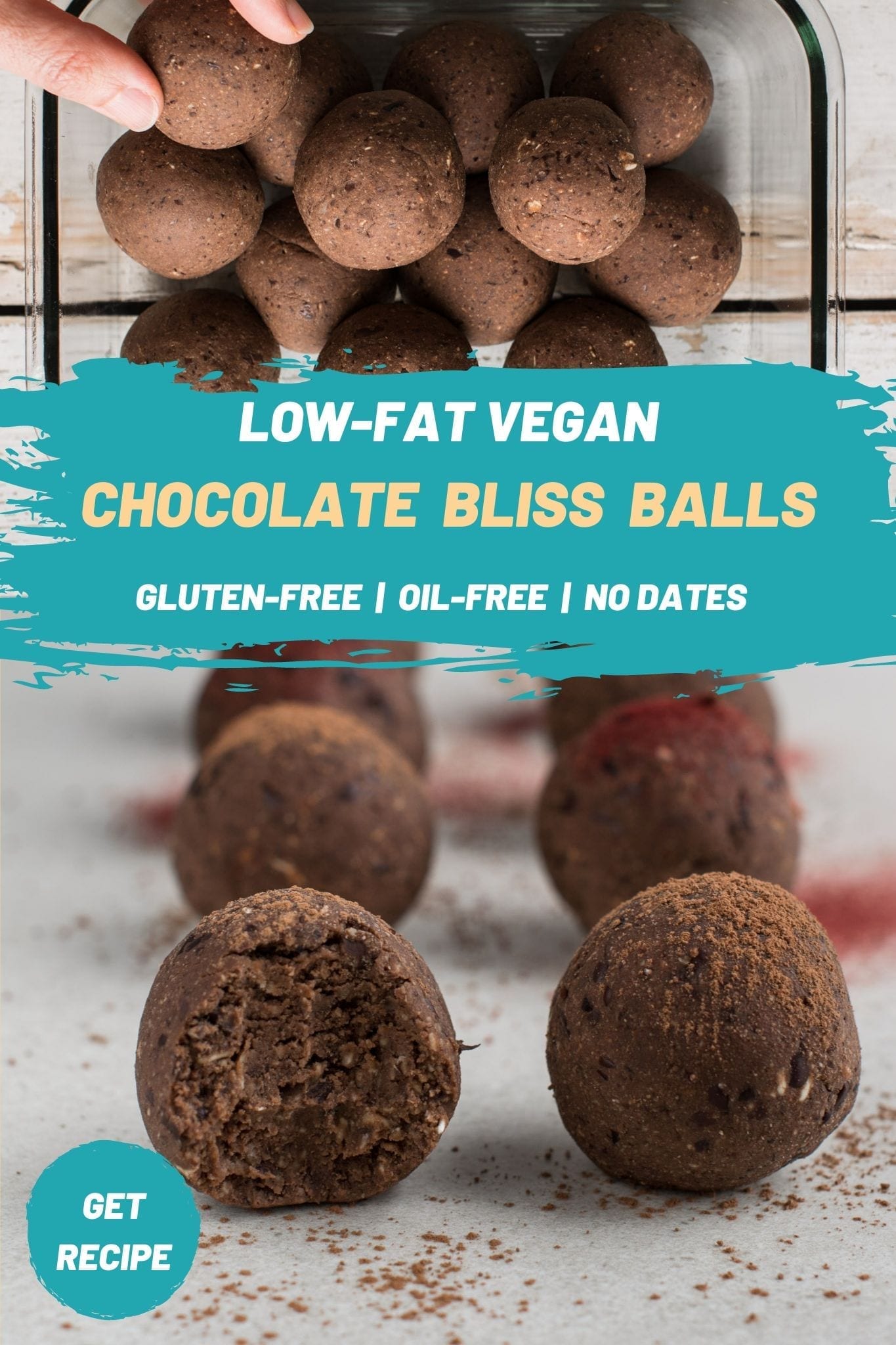 This post is also available in: Spanish