What are the healthiest foods and how much should you eat daily? Check out Dr. Greger's Daily Dozen checklist and Traffic Light system to benefit the most from your plant-based diet.
Michael Greger, M.D. FACLM, is a physician, author, and internationally recognised speaker on a number of important public health issues. All proceeds from his speaking engagements and the sale of his books and DVDs are donated to charity. His non-profit NutritionFacts.org is the first science-based, non-commercial website to provide free daily videos and articles on the latest discoveries in nutrition.
After the extensive research conducted to write his book How Not to Die, Dr. Greger created two simple tools to help people integrate healthy eating into their day-to-day life:
Traffic Light System to identify the healthiest options, and
Daily Dozen checklist that will help you incorporate the healthy foods that he considers essential to the optimal diet.
The Daily Dozen App
Download the free Daily Dozen App on Android and iPhone. It's noteworthy that the App has been updated with the 21 tweaks for weight loss within plant-based diet. Dr. Greger came up with those helpful tweaks in his book How Not to Diet.
The Scientific Meal Planner
There's even a better way for you to compile balanced meal plans that are in accordance with the daily dozen categories!
Check out the Scientific Meal Planner:
Currently you can choose between 415 whole food plant-based recipes from 18 bloggers (the number is increasing each week as new recipes are being added).
Each recipe is classified by the Daily Dozen categories they satisfy. Therefore, you're able to track how much a single serving of a recipe satisfies each of the daily dozen categories.
Combine as many recipes as you like to compile your meal plan.
As a result, you get an ideally balanced meal plan!
Sign up for 14-day free trail now!
Dr. Greger's Traffic Light System
In order to eat in the healthiest way, one should maximise green-light foods, minimise yellow-light foods and avoid red-light foods.
Green-light – unprocessed plant foods.
Yellow-light – processed plant foods and unprocessed animal foods.
Red-light – ultra-processed plant foods and processed animal foods.
Unprocessed foods have nothing bad added and nothing good taken away from them. For example, tomato juice is a green light food, but add salt to it and it becomes yellow-light food. Almonds are unprocessed, but almond milk on the other hand is not, because all the fibre has been removed.
Ultra-processed plant foods bear no redeeming nutritional qualities or resemblance to anything that grew out of the ground and often contain added rubbish.
Now stop for a minute and think what your daily diet mostly consists of. Is it mainly whole food plant-based unprocessed foods or maybe there's too much of the food items that belong to yellow-light as well as red-light and consequently into processed and ultra-processed food categories?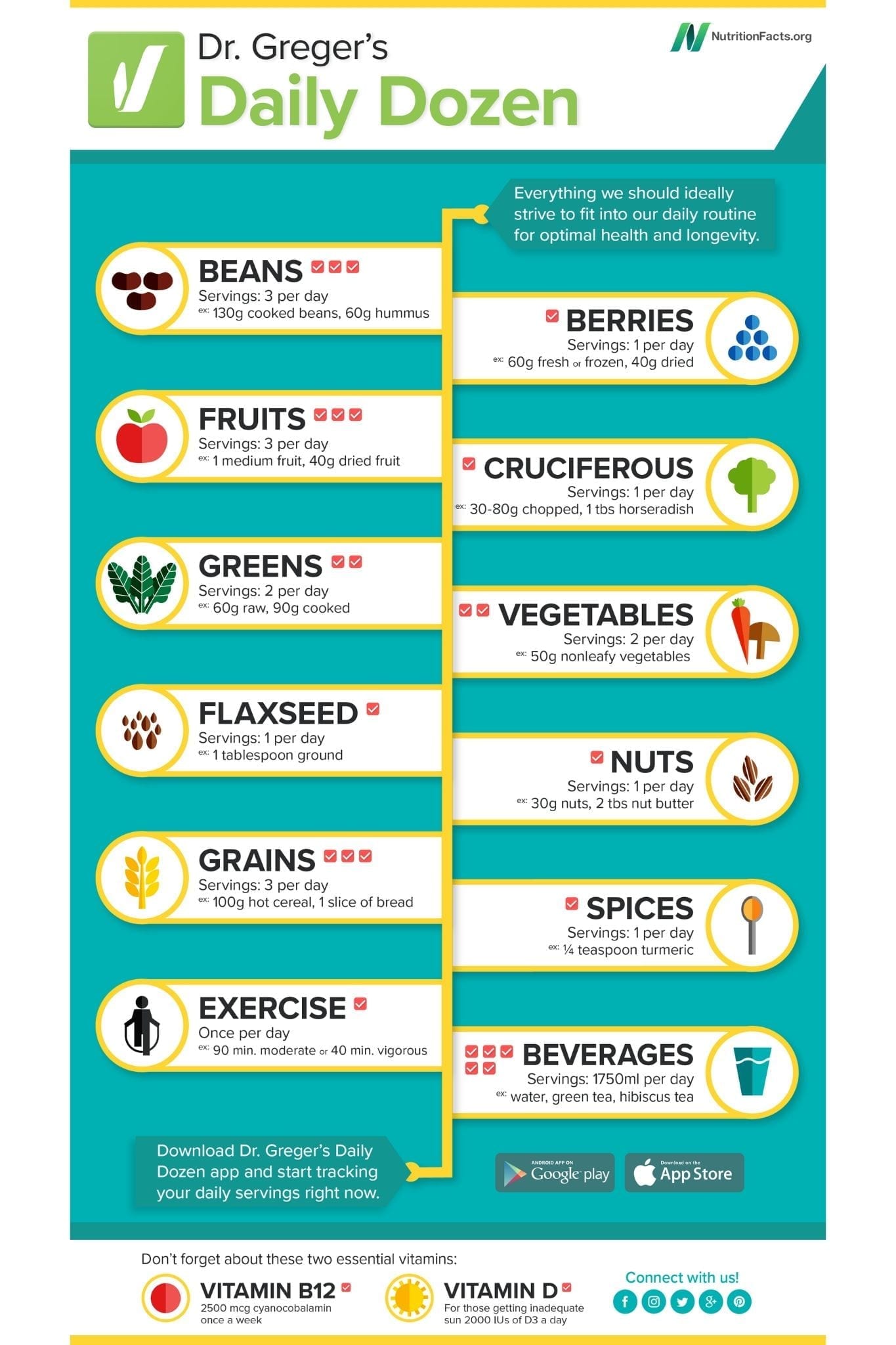 Dr. Greger's Daily Dozen Checklist
Within the daily dozen Dr. Greger recommends a minimum number of daily servings of beans (legumes), berries, other fruits, cruciferous vegetables, greens, other veggies, flaxseeds, nuts and seeds, herbs and spices, whole grains, beverages, and exercise.
Watch what I ate in a day for Dr. Greger's Daily Dozen Challenge:
Legumes: 3 servings
Black beans, black-eyed peas, butter beans, cannellini beans, chickpeas, edamame, english peas, great northern beans, kidney beans, lentils (beluga, french, and red varietes), miso, mung beans, navy beans, pinto beans, small red beans, split peas, and tempeh.
Serving sizes:
60g (¼ cup) of hummus
130g (½ cup) cooked legumes
150g (1 cup) fresh peas or sprouted lentils
50g dry beans or lentils
Whole Grains: 3 servings
Barley, brown rice, buckwheat, millet, oats, popcorn, quinoa, rye, sorghum, teff, whole wheat, and wild rice.
Serving sizes:
100g (½ cup) hot cereal or cooked grains, pasta, or sweetcorn kernels
50g (1 cup) cold cereal
1 tortilla or a slice of bread
½ bagel or English muffin
30g (3 cups) popped popcorn
Berries: 1 serving
Acai berries, barberries, blackberries, blueberries, cherries (sweet and tart), concord grapes, cranberries, goji berries, kumquats, mulberries, raspberries, and strawberries.
Serving sizes:
60g (½ cup) fresh or frozen
40g (¼ cup) dried
Other Fruits: 3 servings
Apples, apricots, avocados, bananas, cantaloupe, clementines, dates, figs, grapefruit, honeydew, kiwi, lemons, limes, lychees, mangos, nectarines, oranges, papaya, passion fruit, peaches, pears, pineapple, plums, pluots, pomegranates, prunes, tangerines, and watermelon.
Serving sizes:
1 medium-sized fruit
120g (1 cup) cut-up fruit
40g (¼ cup) dried fruit
Cruciferous Vegetables: 1 serving
Rocket, bok choy, broccoli, Brussels sprouts, cabbage, cauliflower, collard greens, horseradish, kale, mustard greens, radishes, turnip greens, and watercress.
Serving sizes:
30-80g (½ cup) chopped
12g (¼ cup) Brussels or broccoli sprouts
1 tbsp horseradish
Greens: 2 servings
Rocket, beetroot greens, collard greens, kale, mesclun mix (assorted young salad greens), mustard greens, sorrel, spinach, swiss chard, and turnip greens.
Serving sizes:
60g (1 cup) raw
90g (½ cup) cooked
Other Vegetables: 2 servings
Artichokes, asparagus, beetroot, peppers, carrots, sweetcorn, garlic, mushrooms, okra, onions, purple potatoes, pumpkin, sea vegetables, snap peas, squash, sweet potatoes/yams, and tomatoes.
Serving sizes:
60g (1 cup) raw leafy vegetables
50g (½ cup) raw non-leafy vegetables
125ml (½ cup) vegetable juice
7g (¼ cup) dried mushrooms
Flaxseeds: 1 serving
1 tbsp of ground golden or brown flaxseeds.
Nuts and Seeds: 1 serving
Almonds, Brazil nuts, cashews, chis seeds, hazelnuts, hemp seeds, macadamia nuts, peanuts, pecans, pistachios, pumpkin seeds, sunflower seeds, and walnuts.
Serving sizes:
30g (¼ cup) nuts or seeds
2 tbsps nut or seed butter
Herbs and Spices: 1 serving
Allspice, barberries, basil, bay leaf, cardamom, chili powder, cinnamon, cloves, coriander, cumin, curry powder, dill, fenugreek, garlic, ginger, horseradish, lemongrass, majoram, mustard seeds, nutmeg, oregano, smoked paprika, parsley, pepper, peppermint, rosemary, saffron, sage, thyme, turmeric, and vanilla.
Serving size:
¼ tsp of turmeric along with other salt-free herbs and spices.
Beverages: 5 servings
Black tea, chamomile tea, coffee, earl grey tea, green tea, hibiscus tea, hot chocolate, jasmine tea, lemon balm tea, matcha tea, almond blossom oolong tea, peppermint tea, rooibos tea, water, and white tea.
Serving size:
One big glass (12oz, 340ml)
Exercise: 1 serving
Moderate-Intensity Activites
Bicycling, canoeing, dancing, dodgeball, downhill skiing, fencing, hiking, housework, ice-skating, in-line skating, juggling, jumping on a trampoline, paddle boating, playing Frisbee, roller-skating, shooting baskets, shovelling light snow, skateboarding, snorkelling, surfing, swimming recreationally, tennis (doubles), treading water, walking briskly (4mph), water aerobics, water-skiing, gardening, and yoga.
Vigorous Activities
Backpacking, basketball, bicycling uphill, circuit weight training, cross-country skiing, football, hockey, jogging, jumping jacks, lacrosse, push-ups and pull-ups, racquetball, rock climbing, rugby, running, scuba diving, tennis (singles), skipping, soccer, speed skating, squash, step aerobics, swimming laps, walking briskly uphill, and water jogging.
Serving sizes:
90 minutes of moderate-intensity activity
40 minutes of vigorous activity
Supplements
B12: adults and adolescents should take 2000 mcg once a week or 50 mcg daily. For those over 65, the recommended daily dose is 1000 mcg daily. If you're pregnant or lactating, take 50 mcg daily or 1000 mcg twice a week. Children aged 6 months to 3 years should opt for 5 mcg daily, 4-5 year-olds 25 mcg daily, and children aged 11 and above 50 mcg daily or 1000 mcg twice a week. [sources]
D3: 2000 IUs daily (for those getting inadequate sun exposure)
Read more on those healthy foods and get additional tips from Dr. Greger's How Not to Die and How Not to Die Cookbook.
To get the idea of how much food eating according to the Daily Dozen Checklist means and how to compile a good eating plan, check out my own Daily Dozen Challenge.
Disclosure: this post contains affiliate links. As an Amazon Associate and The Scientific Meal Planner affiliate I earn from qualifying purchases. For every purchase made from the links in this post, you'll be able to support my work. So you can look after your health, and contribute to my mission at the same time. Thank you!
This post is also available in: Spanish