Delicious and satiating Daily Dozen meal plan including food for an entire day. Enjoy healthy and tasty breakfasts, lunch, dinner, dessert and snacks.
In order to know all about Dr. Greger's Daily Dozen checklist, go and check out my previous article. The latter explains all the healthy food categories, lists of foods to eat as well as recommended servings and portion sizes.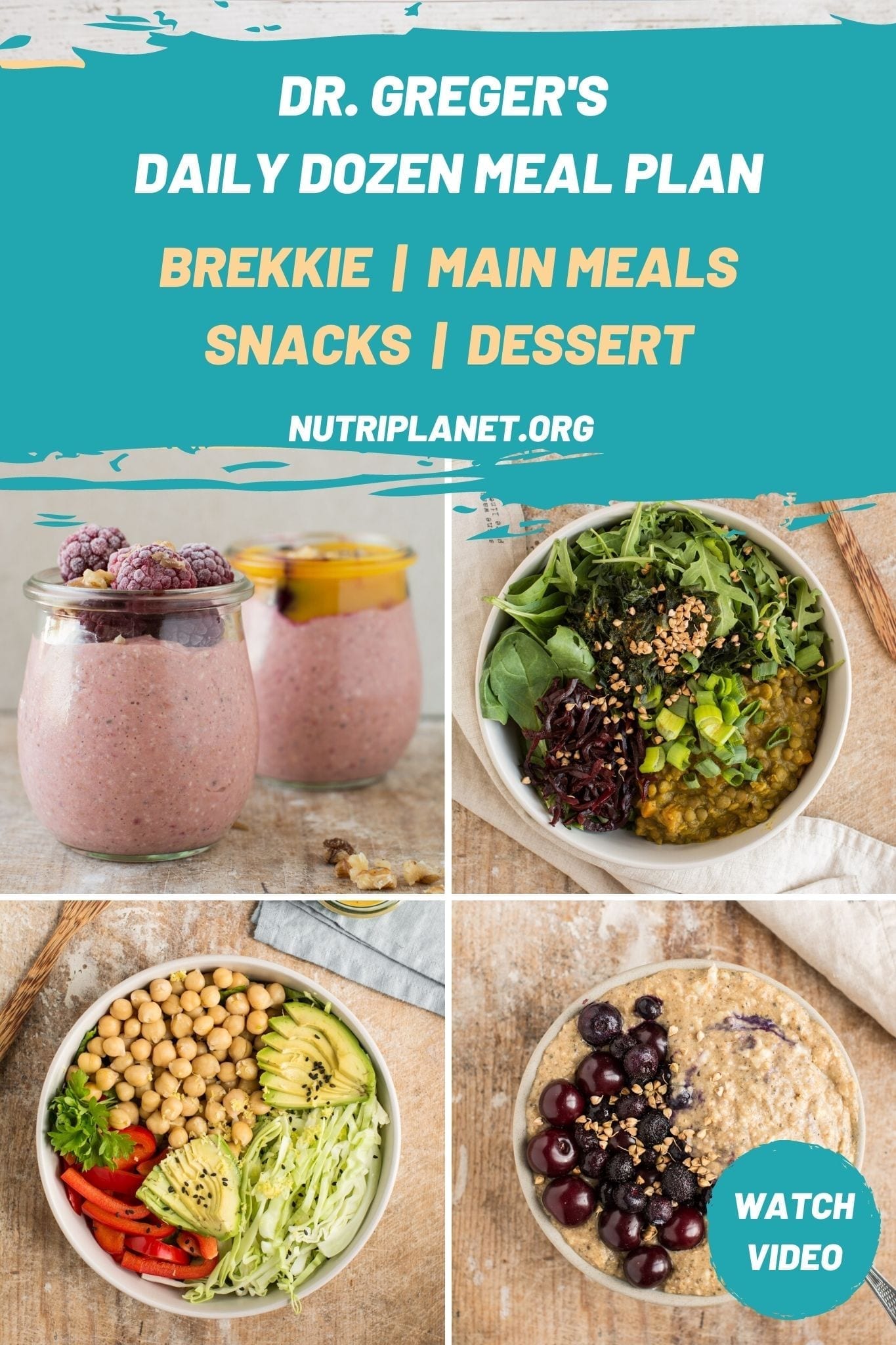 The Daily Dozen Meal Plan
My daily dozen meal plan is part of Dr. Greger's Daily Dozen Challenge and incorporates all those healthy plant foods in the recommended quantities. So, scroll down for breakfasts, lunch, dinner, dessert, snacks, beverages, and exercise.
Should you be more of a visual person, feel free to watch the below video:
Breakfasts
As I like to start my mornings light not to burden the digestive system, I had 2 medium pears as a first breakfast.
Nutritional value: 136 kcal.
Checked boxes: other fruits [2]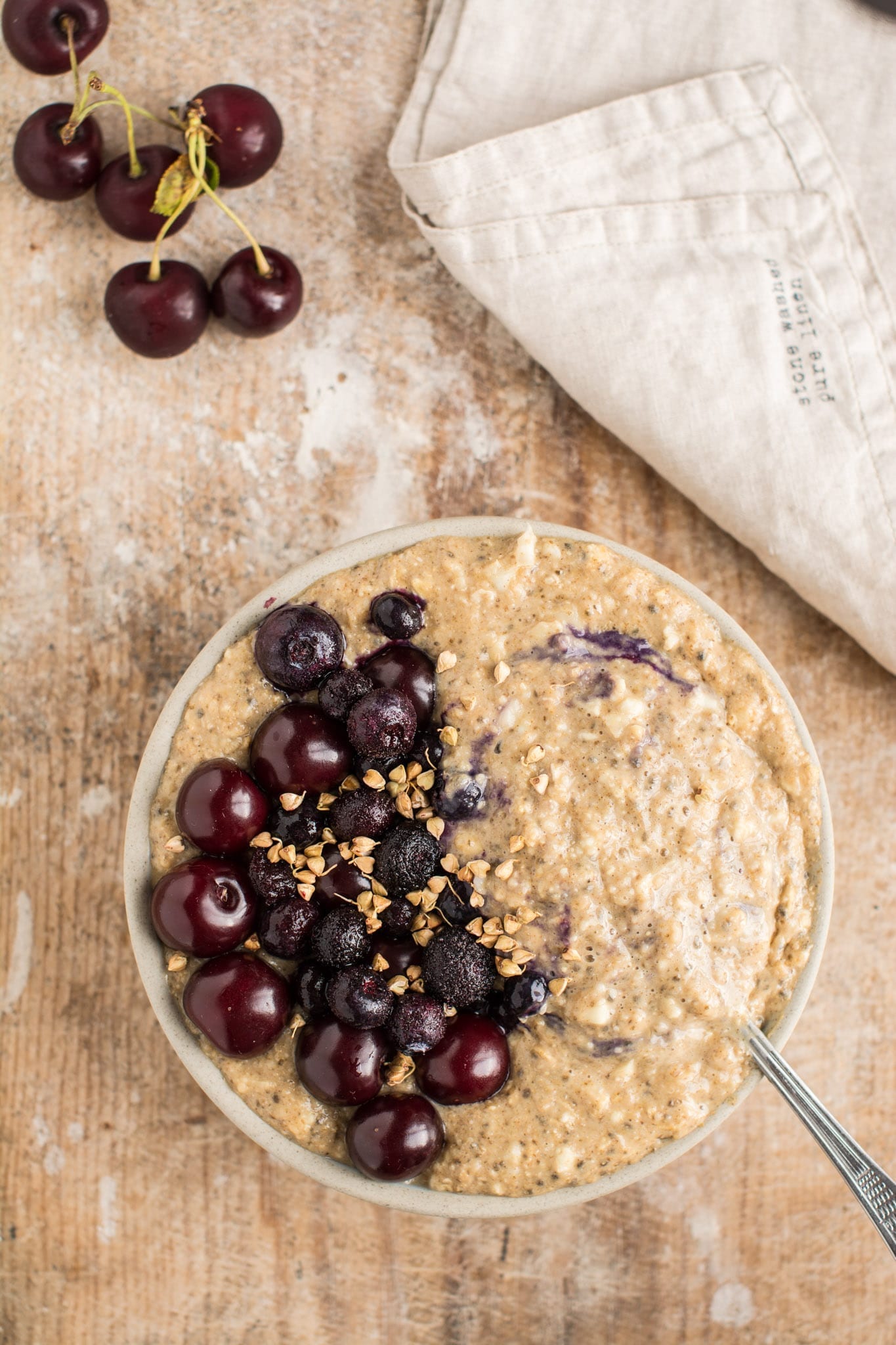 My main breakfast was Low-Glycemic Cauliflower Oatmeal. The only thing I changed was that I used 20g (0.7oz) rolled oats + 30g (1.06oz) oat bran and 50g (1.8oz) berries (blueberries and cherries).
Nutritional value: 259 kcal.
Checked boxes: grains [1], cruciferous vegetables [1], flaxseeds [1], berries [1].
Why low glycemic breakfast? Go and read my thorough blog post on Low Glycemic Diet.
For more inspiration, read Guide to Low-Carb Porridges and Savoury Porridge Guide.
Alternatively, watch the entire 4-part series on how to make balanced porridges:
Daily Dozen Meal Plan Lunch
It's worth mentioning that for easy and quick healthy lunches as well as dinners, I almost always prefer to compile a balanced Buddha bowl.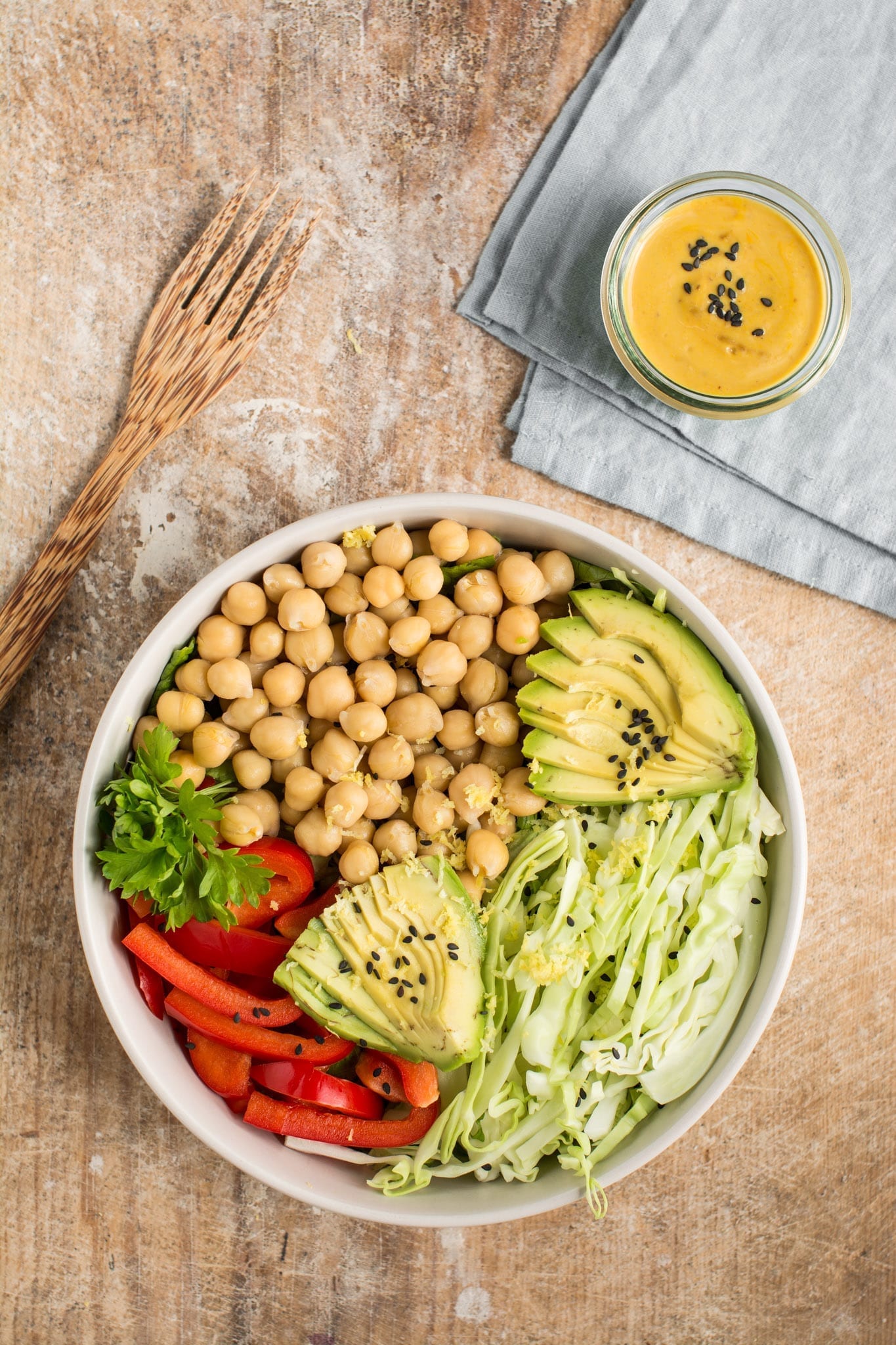 That being said, my lunch bowl consisted of:
60g (2.1oz) Romaine lettuce
50g (1.8oz) red bell pepper
50g (1.8oz) white cabbage
130g (4.6oz) chickpeas
half an avocado
The dressing:
4 tbsps oat yogurt
1 tsp miso paste
1 tsp Indian spice mix
1/4 tsp turmeric
1/4 tsp garlic powder
Simply mix all the dressing ingredients together, pour on the bowl and enjoy! I love to stir everything well to enhance flavours.
Nutritional value: 384 kcal.
Checked boxes: greens [1], other vegetables [1], legumes [1], herbs and spices [1], other fruits [1].
Daily Dozen Meal Plan Dinner
As mentioned above, my dinner was made in Buddha bowl style as well. Only this time I also included a warm and comforting dish, i.e. my sweet potato and lentil stew.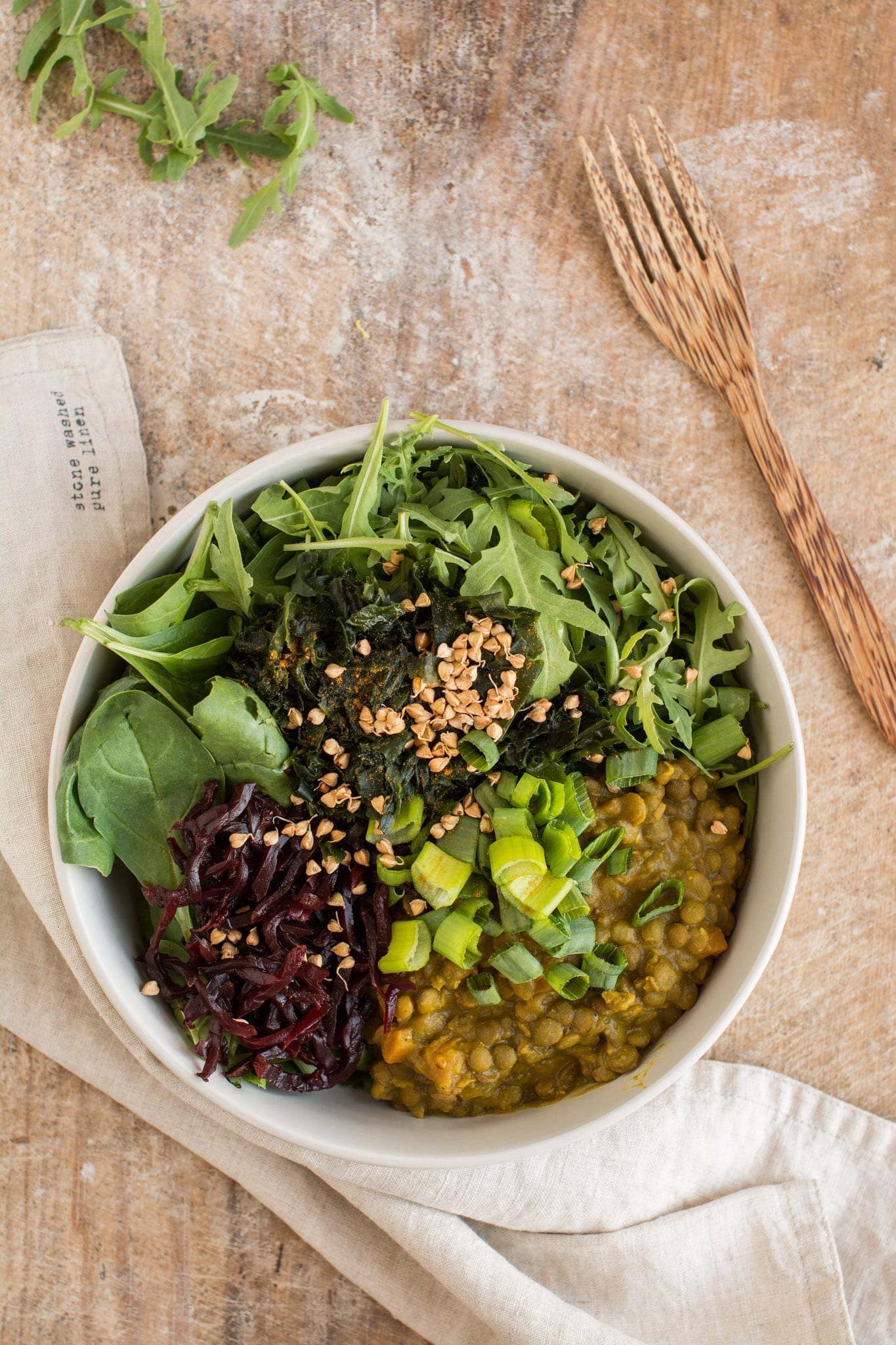 The ingredients in my dinner bowl:
40g (1.4oz) baby spinach
20g (0.7oz) rocket
1/10 of my sweet potato lentil stew
50g (1.8oz) beetroot
2g (0.07oz) dried wakame seaweed, rehydrate
Green onions
Furthermore, I sprinkled on some dehydrated sprouted buckwheat, just because I had some 🙂
Nutritional value: 253 kcal.
Checked boxes: greens [1], legumes [1], other vegetables [1].
Dessert
Let's move on to my daily dozen meal plan dessert. Since I'm literally in love with raw buckwheat and its versatility, the dessert is mainly made of this heavenly pseudo-grain.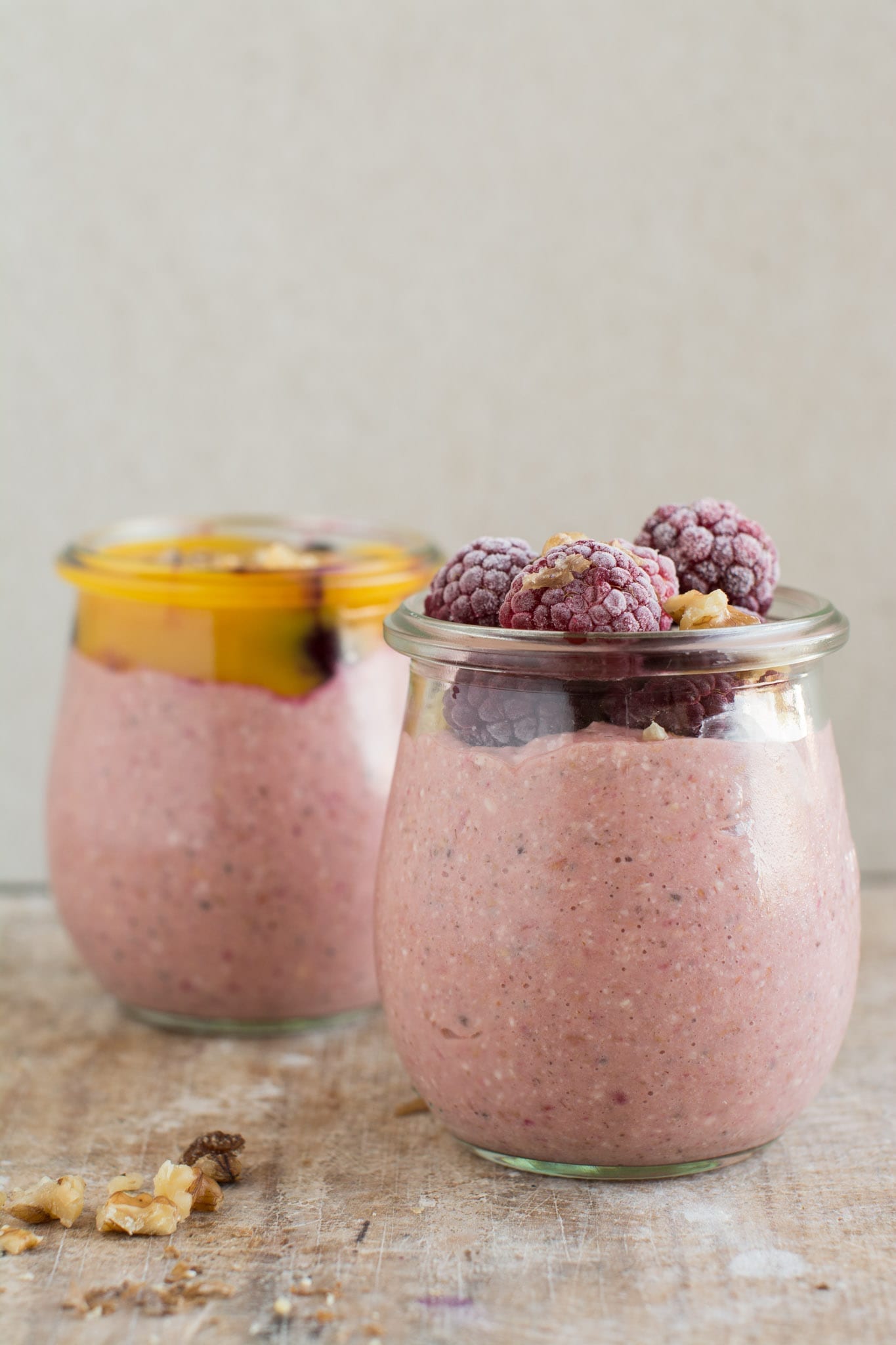 The Ingredients:
50g (1.8oz) raw buckwheat
1 tbsp ground chia seeds
50g (1.8oz) oat yogurt
4 tbsps applesauce
1 tbsp mesquite powder
2 tbsps raspberries
70g (2.5oz) mango
20g (0.7oz) goji berries
Soak buckwheat for at least 6 hours, then drain and rinse. Simply process all the ingredients in a blender or use an immersion blender.
Nutritional value: 416 kcal.
Checked boxes: grains [1], nuts and seeds [1].
Check out how I make a similar recipe in my video 5 Nutritious Methods to Make Porridge.
Here are more recipes using raw buckwheat:
Daily Dozen Meal Plan Snacks
The first snack that I had between breakfast and lunch was 2 Brazil nuts equaling 63 kcal.
It's noteworthy, that I have at least 2 Brazil nuts every day to meet the recommended daily allowance of selenium.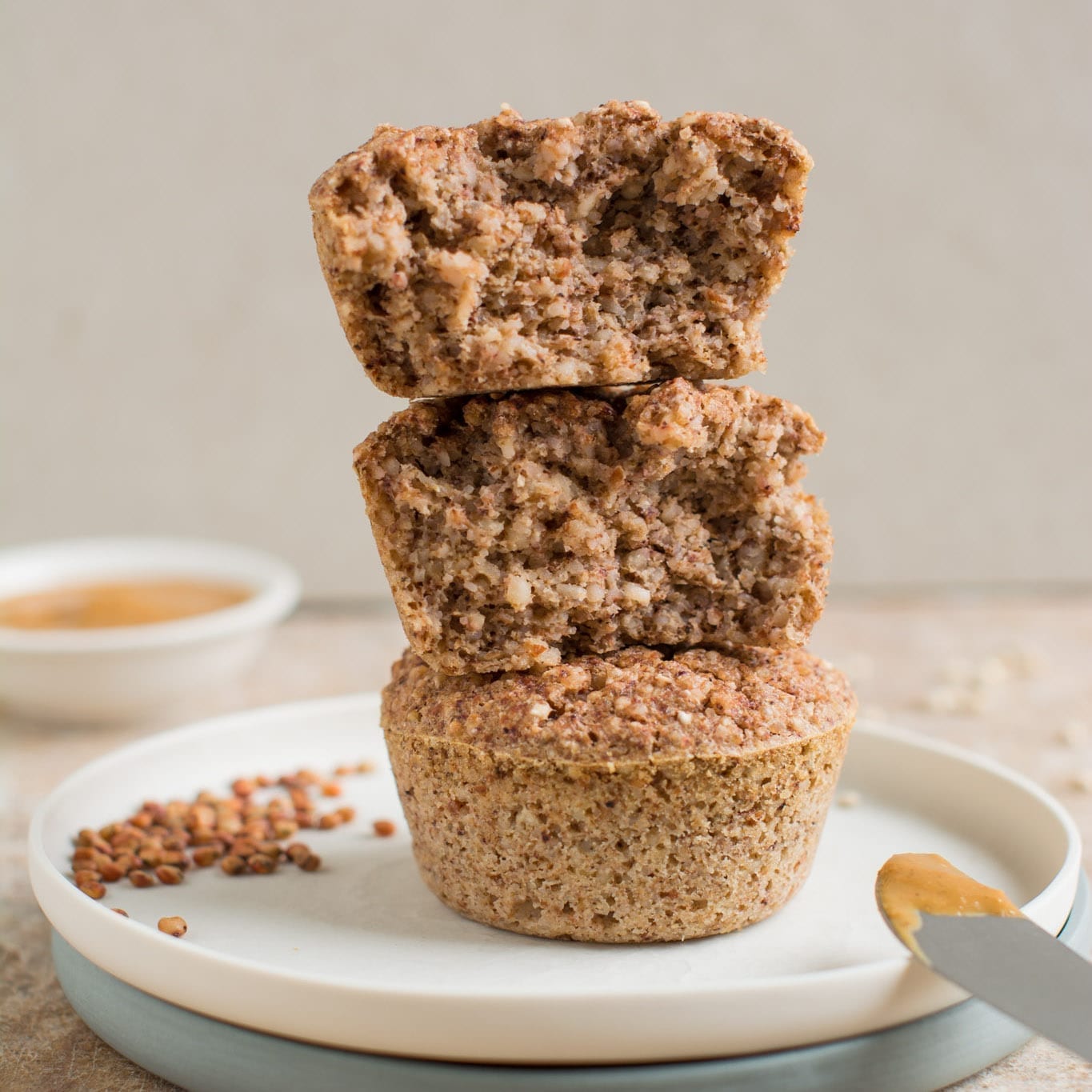 Then, between lunch and dinner I snacked on one savoury sorghum muffin and 4 low-fat bliss balls.
I created the recipe for those savoury sorghum muffins in January this year and with my hand on my heart, I can say that I've been having at least one muffin daily since then. They are simply so delicious!
My low-fat bliss balls are made of healthy ingredients and no refined sugar. I simply love this recipe because it's perfect for healthy snacking, rich in minerals and vitamins, and above all super easy to make. What a great way to eat beans, right!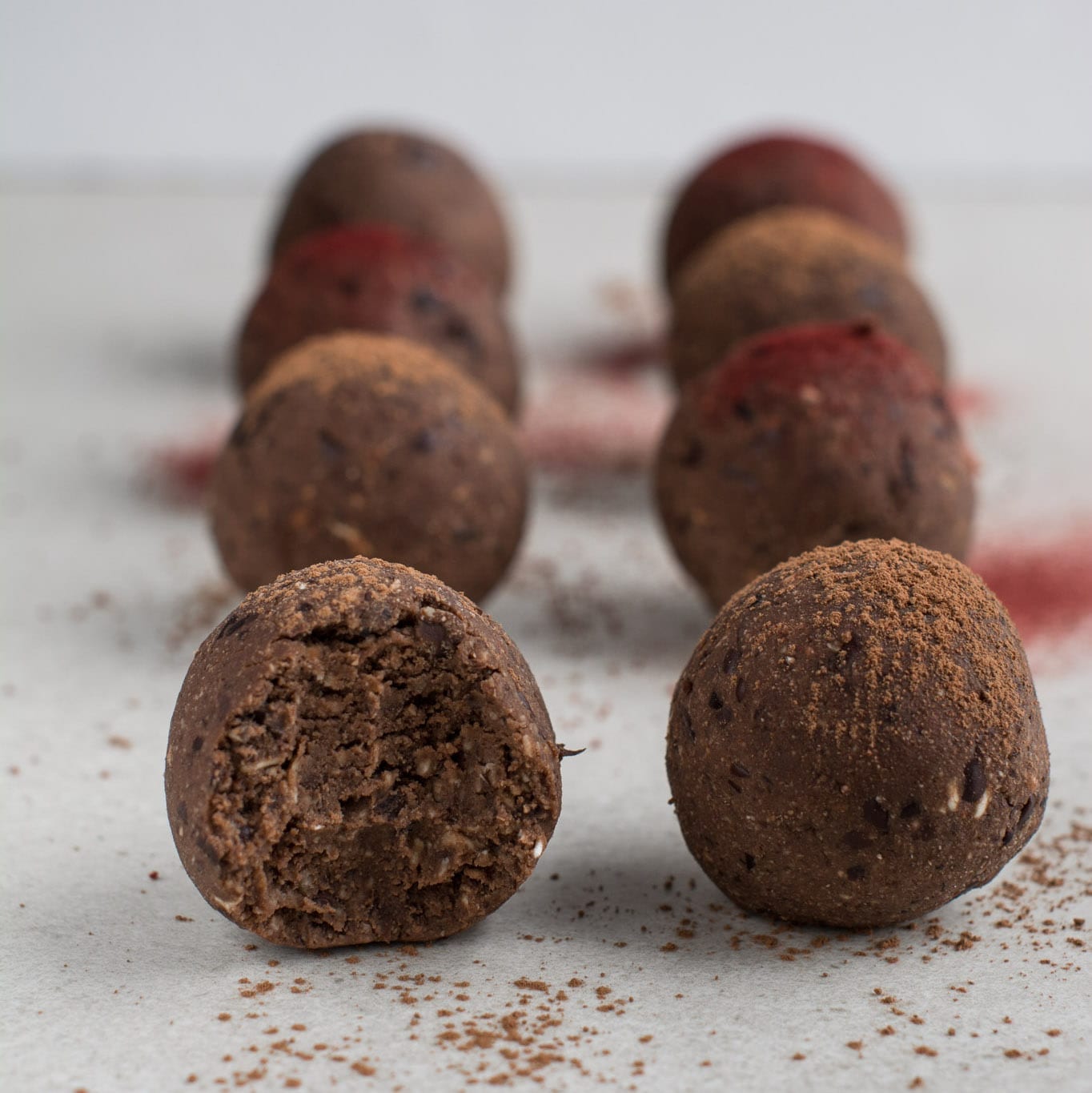 Nutritional value: 523 kcal
Checked boxes: grains [1], legumes [1].
Beverages
Throughout the day I drank lemon water, regular water, green tea, and ginger tea.
More precisely I had 2 glasses of lemon water first thing in the morning, a cup of green tea between breakfast and lunch, ended my day with ginger tea and had several more glasses of water during the day.
Checked boxes: beverages [5].
Exercise
On this particular day I went on a 24-km (90-minute) bike ride, which counts for the daily serving of exercise.
Checked boxes: exercise [1].
However, on other days I might walk 10,000 steps and do a really short 10-minute yoga session.
Total calories: 2035
Remember, calories are not as simple as they seem. Did you know that whole nuts may have 30% fewer calories than you'd expect? It's because in case of whole nuts the oil is trapped inside unchewed fragments whereas in nut butters all the oil is readily available and absorbed. Even raw versus roasted almonds makes a difference, that is you get about 10% more calories eating roasted almonds as opposed to raw. Read all about it from Dr. Greger's How Not to Diet.
According to one of the energy calculators my recommended daily intake would be about 2074 kcal. So that leaves room for another small snack like dark chocolate, which I actually had, but didn't document 🙂
The Scientific Meal Planner
There's an awesome way for you to compile balanced meal plans that are in accordance with the daily dozen categories!
Sign up for an account on the Scientific Meal Planner:
Currently you can choose between 415 whole food plant-based recipes from 18 bloggers (the number is increasing each week as new recipes are being added).
Each recipe is classified by the Daily Dozen categories they satisfy. Therefore, you're able to track how much a single serving of a recipe satisfies each of the daily dozen categories.
Combine as many recipes as you like to compile your meal plan.
As a result, you get an ideally balanced meal plan!
Sign up now for 14-day free trial!
Disclosure: this post contains affiliate links. As an Amazon Associate I earn from qualifying purchases. For every purchase made from the links in this post, you'll be able to support my work. So you can look after your health, and contribute to my mission at the same time. Thank you!