This basic buckwheat sourdough recipe is different from all the others out there! More precisely, it's super easy and does NOT include starter. Be ready to make gluten-free no knead sourdough bread, pancakes and even porridge that will make you forget of the conventional versions.
Don't forget to watch TUTORIAL VIDEO for more clarity! Just scroll down!
Lately I've been having something fermenting all the time! I've discovered how convenient it is to have a sourdough jar in fridge for quick and easy sourdough pancakes, waffles or porridge. What's better than to have a really healthy and yummy breakfast with minimal time and effort? You just need to plan ahead and start your next batch before the previous is finished. Be sure to check my tips below for more precise time frame.
Sourdough benefits
Soaking, sprouting and fermentation reduce phytic acid as well as glycemic load of buckwheat or any other grain and makes it easier to digest.
Phytic acid binds with minerals and you won't be able to absorb them properly. So, the more steps you follow, the more benefits you get.
With this in mind, sourdough is especially beneficial for those with gut issues.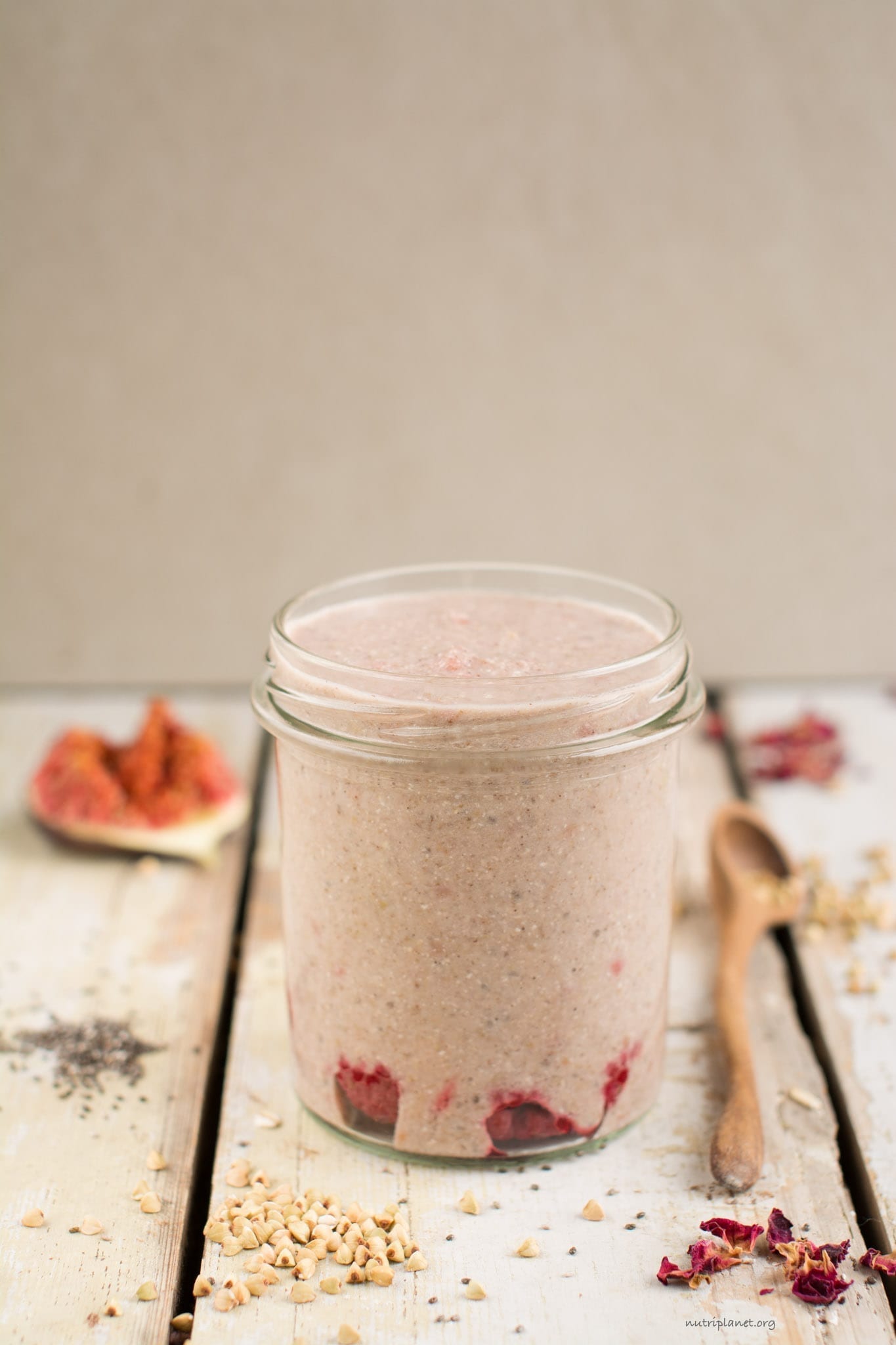 How to use homemade sourdough
One of my latest favourites is raw sourdough porridge or pudding with chia seeds. Simply mix some buckwheat sourdough with chia seeds, add plant milk (enough for desired consistency) and preferred spices, Himalayan salt, berries or fruits, sweetener (if necessary) and you're ready to go. Sometimes I also cook some oat bran to add to my sourdough-chia mix. You might also try cooking the sourdough itself for about 3-5 minutes (add liquid as necessary) – it'll be like liquid sourdough bread 🙂
Next option is to mix the sourdough with berries and/or fruits and enjoy. If it is too thick, add some plant milk.
Make my buckwheat sourdough bread – the process is the same, just follow the buckwheat and water ratio stated in the bread recipe.
Sourdough pancakes are such a delight. If you don't care following any recipes, just take some sourdough; mix in a tablespoon of ground chia or flax seeds, preferred spices, additional boost (a tablespoon of hemp, almond, coconut, sunflower or pumpkin flour) and plant milk or water for desired consistency.
I also love sourdough waffles. Check out my Millet-Buckwheat Oven Waffles recipe. However, use water instead of plant milk and follow the fermentation process before mixing in the rest of the ingredients. Alternatively, use my pancake recipe and bake waffles instead.
Other grains I've used for making sourdough with this method:
Millet – fermented millet alone would make an awesome cooked porridge. Use it in combination with buckwheat for pancakes, bread and waffles.
Brown rice – also rice makes a great porridge, waffles and pancakes.
Quinoa – I find the taste of fermented quinoa alone quite intense and therefore prefer to combine it with buckwheat. You get really pretty results when adding some red or black quinoa.
Oats – see my oat yogurt recipe. I love to use it for raw chia-oat porridge – identical to the one with buckwheat described above.
I especially like buckwheat combined with either millet or quinoa when making my buckwheat sourdough bread. However, I don't use 50/50, but replace about 100 grams of buckwheat.
Let me point out the main qualities of this basic sourdough recipe:
Super easy to make.
No starter needed.
Uses natural fermentation process.
Gluten-free.
Great for those looking to eat more raw foods.
Watch how to make this no starter gluten-free sourdough in a below video:
Finally, I'd love to hear whether you've ever fermented anything and how it turned out! Maybe you're a regular fermenter? Feel free to leave your valuable tips below in comments! Instagram @thenutriplanet and Facebook @nutriplanet.health.hub
Enjoy!
Print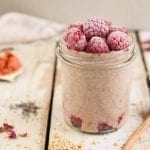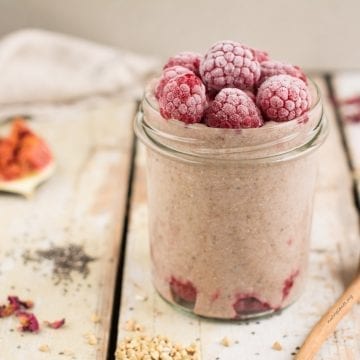 Basic Sourdough Recipe [Gluten-Free]
---
Description
This basic buckwheat sourdough recipe is different from all the others out there! More precisely, it's super easy and does NOT include starter. Be ready to make gluten-free no knead sourdough bread, pancakes and even porridge that will make you forget of the conventional versions.
---
90g

(

3.2oz

) of water per every

100g

(

3.5oz

) of buckwheat groats for blending + water for soaking
Acidic medium (apple cider vinegar or lemon juice)
---
Instructions
Take any amount of raw organic buckwheat groats. Make sure the groats indeed are raw and not roasted or toasted. They should be of light green colour.
Next, place the buckwheat groats into a bowl or jar and fill it with water. Add acidic medium (apple cider vinegar or lemon juice) to help neutralize enzyme inhibitors. Rule of thumb is 2 tablespoons acidic medium per every cup of dry buckwheat.
Soak buckwheat groats for at least 6 hours for nutritional benefits. Then drain and rinse them well.
You may also sprout them before making sourdough.
Next, place the soaked or sprouted buckwheat groats into a bowl or blender and add enough water to almost cover them (90g of water per each 100g of groats). Use regular blender or immersion blender to blend them into smooth batter.
Transfer the batter into preferably sterilised jar leaving 1½ cm (½-inch) headspace. Close the lid and leave at room temperature or put into warm (30°C, 85°F) oven to do its job.
After 7 hours you'll see that the batter has risen and small bubbles have formed. If you don't see that, let it ferment a bit longer. The cooler the temperature, the longer it takes (even up to 24 hours).
Nutrition
Serving Size:

100g

Calories:

132kcal

Sodium:

3.43mg

Fat:

1.28g

Carbohydrates:

23.2g

Fiber:

3.77g

Protein:

5.02g
Keywords: buckwheat sourdough
How to Store Buckwheat Sourdough
When it has fermented enough for your taste and you don't use it right away, transfer the jar into fridge where it keeps for up to a week.
Tips on my sourdough recipe:
It'll take about 37-50 hours to have ready sourdough (depending on soaking time and fermenting temperature) if you follow all steps – soaking, sprouting and fermentation. If you skip sprouting, count with 13-26 hours.
If you're in a hurry, try fast soaking – soak buckwheat for 30 minutes instead of 6-8 hours. It works, but you get more benefits from longer soaking time.
Get sterilising tips from my How to Make Homemade Applesauce post.
Disclaimer: this post contains affiliate links.