Learn how to make delicious savory vegan breakfast porridges using different grains and flavour combinations.
As much as I used to love sweet breakfasts, I now know that at least for me it's best to start the day with a low glycemic meal that won't cause my blood sugar to spike. Let's face it, sweet taste comes with higher glycemic load! For that reason, even my berry-loaded porridges are only subtly sweet with only a tablespoon of mesquite flour or other low glycemic sweetener. Learn more about low glycemic sweeteners from my post Low Glycemic Diet.
In fact, I suggest you check out all the guides I've created for healthy porridge bowls as you might learn a great deal (all the guides come with tutorial videos):
How to Make Savory Vegan Breakfast Porridge
In a nutshell, here are the steps to creating savory vegan breakfast porridges (I'll explain each step in depth further down):
Pick a grain as a base.

Choose between steel cut oats, rolled oats, brown rice, millet, quinoa, sorghum, teff, barley, rye, spelt, kamut, buckwheat, or amaranth.

Decide on the flavours.

Leave it plain or go for Indian, Mediterranean, Japanese or other taste.

Add veggies.

Choose from onions, leek, scallions, garlic, tomatoes, leafy greens, squashes, carrots, bell peppers, mushrooms, cauliflower, broccoli, sweet potato etc.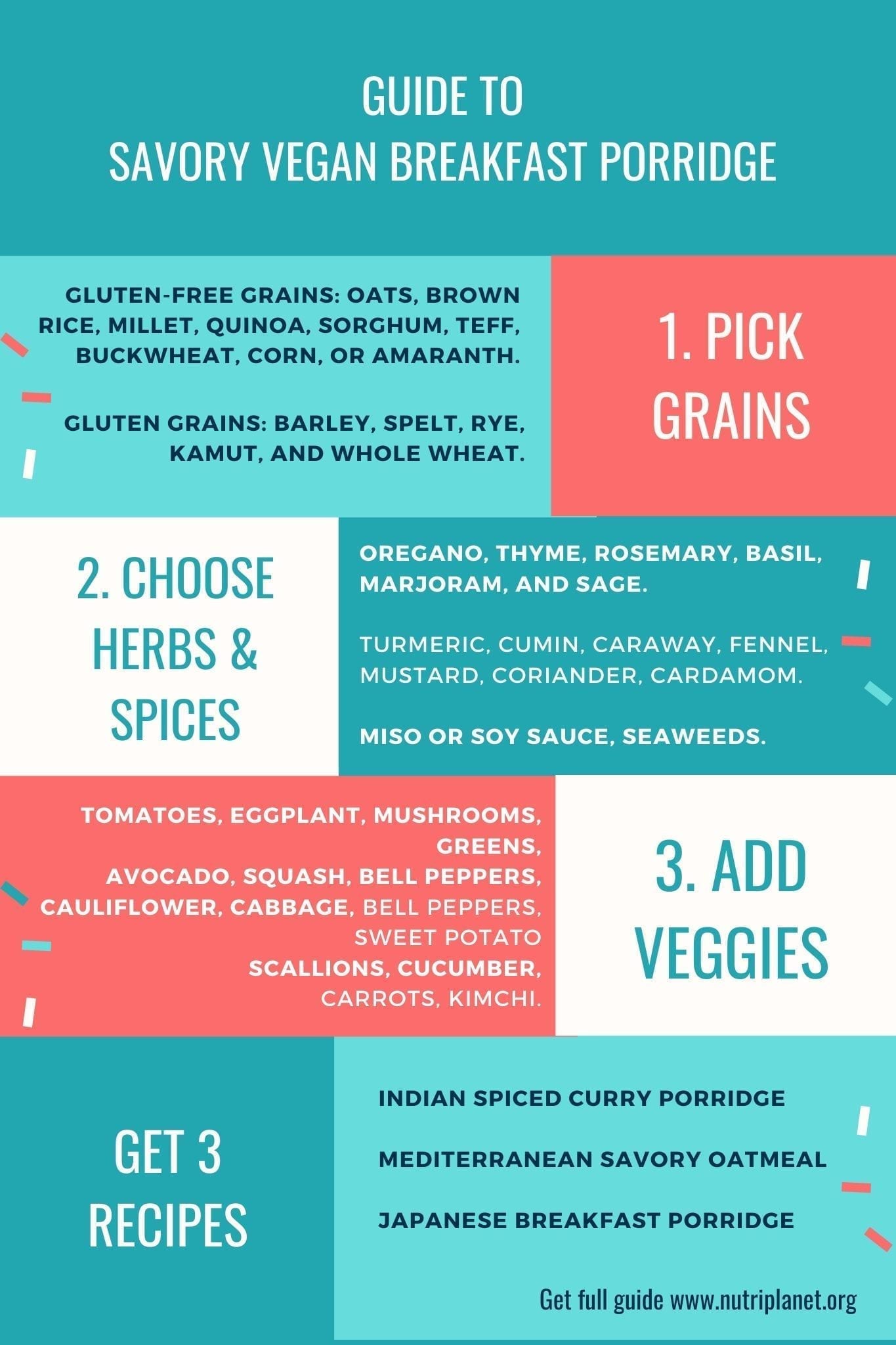 STEP 1: Picking the grain.
Depending on your personal preferences and/or intolerances you can either go for gluten containing or gluten-free grains.
Gluten-free grains: steel cut oats, rolled oats, brown rice, millet, quinoa, sorghum, teff, buckwheat, corn, or amaranth.
Note: if you're one of those people intolerant to avenin in oats, leave them out of your list of grains.
Gluten containing grains: barley, spelt, rye, kamut, and whole wheat.
In terms of grain type, you can go for whole groats, bran, porridge flakes, semolina, flour or in case of oats, steel cut oats, rolled oats or oatmeal.
However, for savory breakfast porridges I'd suggest using a form as whole as possible. You can read more about quantities and cooking methods from 9 Steps to Healthy Balanced Porridge and 5 Ways to Make Nutritious Porridge.
STEP 2: Choosing the flavours.
First option would be simply not adding any sweeteners to your porridge and leave it plain, maybe with a sprinkle of cinnamon and some nuts and/or seeds.
However, for more flavour explosions, it's better to use herbs and spices. I'll give you some examples of different herbs and spices used in different cuisines.
For Mediterranean flavours go for oregano, thyme, rosemary, basil, marjoram, and sage. Check out my Mediterranean Savory Oatmeal with Millet for more inspiration.
Typical Indian herbs and spices usually include turmeric, cumin, caraway, fennel, mustard seeds, coriander seeds, cardamom etc. As a very first savory porridge, I created Savory Indian Spiced Curry Porridge using my Indian Spice Mix for Everyday Cooking.
Traditional Japanese breakfast flavours include miso or soy sauce, seaweeds and pickles. I first created a plant-based porridge bowl of what I thought would be Japanese style and then discovered that I was quite right about the ingredients. Read more and get the recipe of Japanese Breakfast Porridge Bowl.
Of course, some herbs and spices also overlap between different cuisines. For example, bay leaf, cloves, coriander, fennel, cumin, turmeric, saffron, peppers are used in both Mediterranean and Indian cooking.
The bottom line is to experiment and find the combinations that suit your taste buds the best.
STEP 3. Adding the veggies.
In my opinion, when it comes to savory vegan breakfast porridges, then onions and garlic are the most crucial veggie ingredients. It's because they give savory porridge the distinctive taste and flavour that makes it different from the usual sweet breakfast porridges. Furthermore, they provide an extra nutritional boost, especially if you use red onions.
It's noteworthy that I always recommend adding garlic when the porridge is done cooking. The reason is that the active component allicin in garlic is destroyed by heat. So, simply crush it and mix into your porridge to receive the health benefits.
The rest of the vegetables are really a matter of choice and preference. Again, if you choose to follow a specific cuisine, I'd suggest the following:
Mediterranean: tomatoes, eggplant, mushrooms, leafy greens, avocado, summer squash, bell peppers.
Indian: mushrooms, leafy greens, cauliflower, cabbage, winter squashes, bell peppers, sweet potato.
Japanese: seaweeds (wakame, nori), scallions, cucumber, carrots, kimchi.
Cooked versus Raw Vegetables
You can either finely grate or process the veggies and mix them into your porridge or sauté them on a saucepan with the grains. Alternatively, you can wok them separately and then mix everything together. It is recommended to cook spinach (unless baby), chard and kale. Learn more from my post How to Cook Vegetables to Retain Nutrients.
More Savory Vegan Breakfast Ideas
Of course, savory vegan breakfast recipes don't need to be limited to porridges at all! Some more vegan gluten-free delicious breakfast ideas include:
Finally, let me know if you found this guide to savory vegan breakfast porridges useful! Also, feel free to shoot any questions that might arise. Leave a comment below!