Say goodbye to chickpea flour and try my vegan omelette made with sprouted chickpeas instead. I love this recipe because it's moist, fluffy and has got texture. Moreover, sprouting improves the flavour and makes chickpeas easier to digest.
It was ages ago when I tried soaked and blended chickpeas for oven quiche, but somehow didn't turn this experiment into a recipe. However, I was fascinated to see that my kid, who doesn't like anything made of chickpea flour, absolutely loved the outcome. I tend to agree with my son – chickpea flour does taste a bit peculiar. I guess it's because the flour is made of unsoaked chickpeas and has all those phytates, tannins and other anti-nutrients present. For your information, soaking (and sprouting) improves the flavour of legumes, grains, nuts and seeds drastically.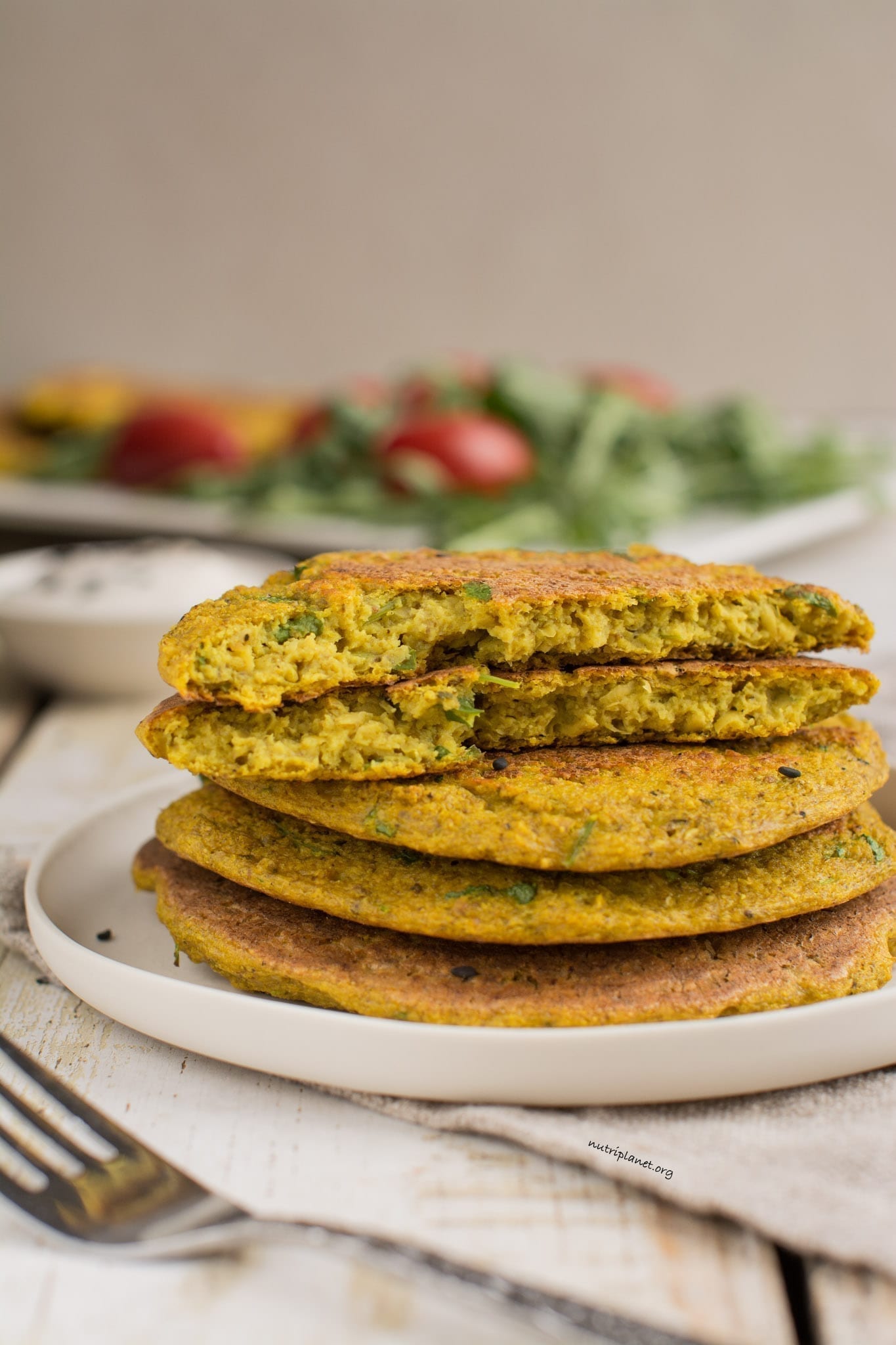 Why soaked and sprouted chickpeas instead of flour
I always soak my lentils, beans, grains, nuts and seeds before cooking/eating. Soaking and sprouting:
removes or reduces phytic acid and tannins,
neutralizes toxins in the colon as well as enzyme inhibitors,
encourages the production of beneficial enzymes,
makes the proteins more readily available, and
increases the amounts of vitamins, especially A, C and B vitamins.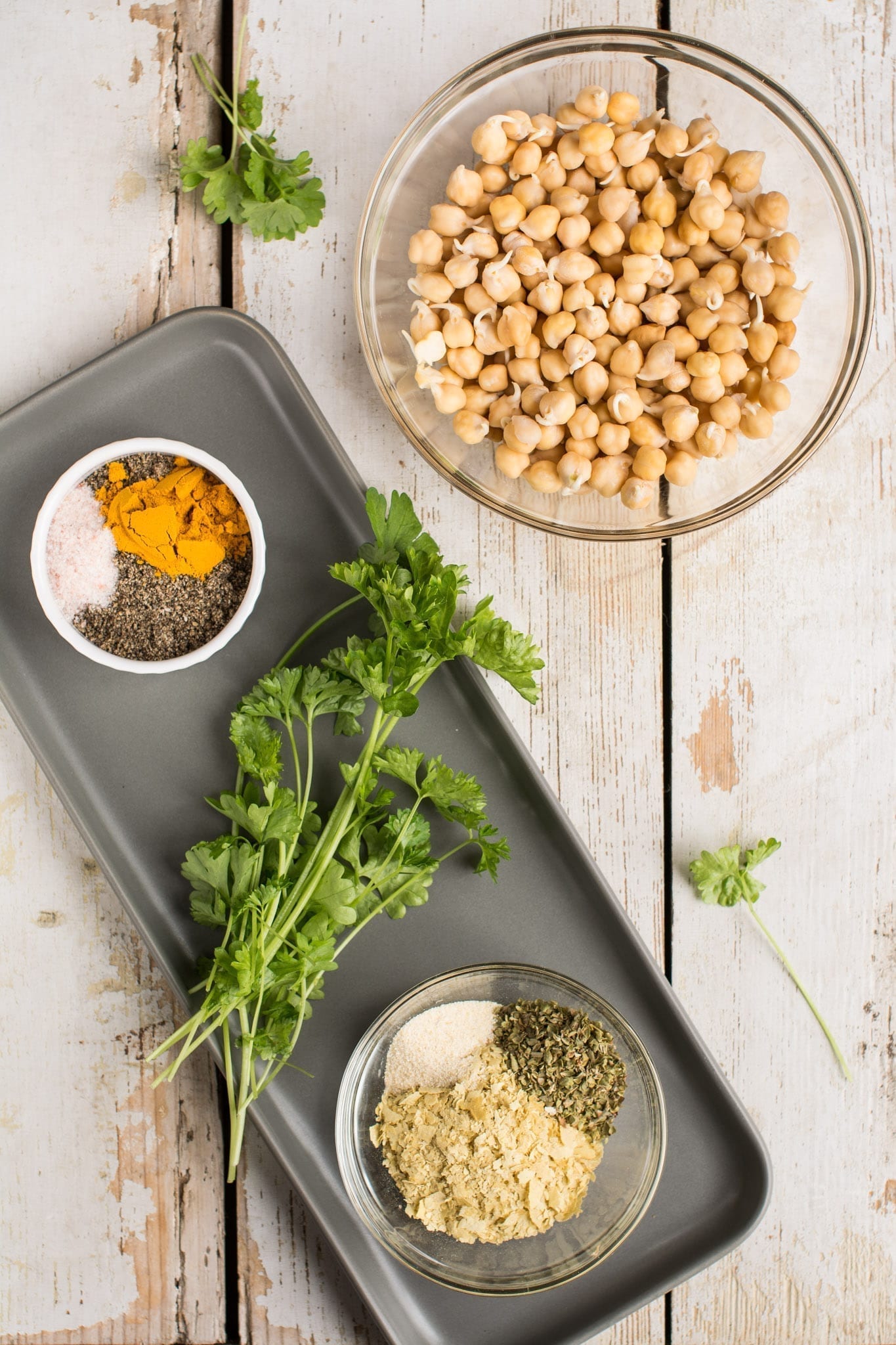 Many omelette recipes use hard tofu or silken tofu as main ingredient, which is why my chickpea omelette is good news to everyone avoiding soy.
My vegan omelette recipe contains only wholesome ingredients:
Sprouted chickpeas as a base.
Chia seeds for binding.
Nutritional yeast for cheesy flavour.
Black salt (kala namak) for egg taste.
Turmeric for colour and health benefits.
Spices/herbs for enhanced flavours.
Now, I must be honest with you – I am not by any means trying to mimic egg omelette here! Instead, I created a super healthy and gut-friendly vegan breakfast (or snack, lunch, dinner) that resembles the good old omelette. I'd say it's a win-win!
Moreover, plant-based ingredients never cease to amaze me! When you don't like and/or can't digest a certain food (for example chickpea flour), it's enough to go back to the roots and think why that might be. Knowing a few essential facts about nutrition will give you the answer and you can simply prepare the food in a different and more beneficial manner.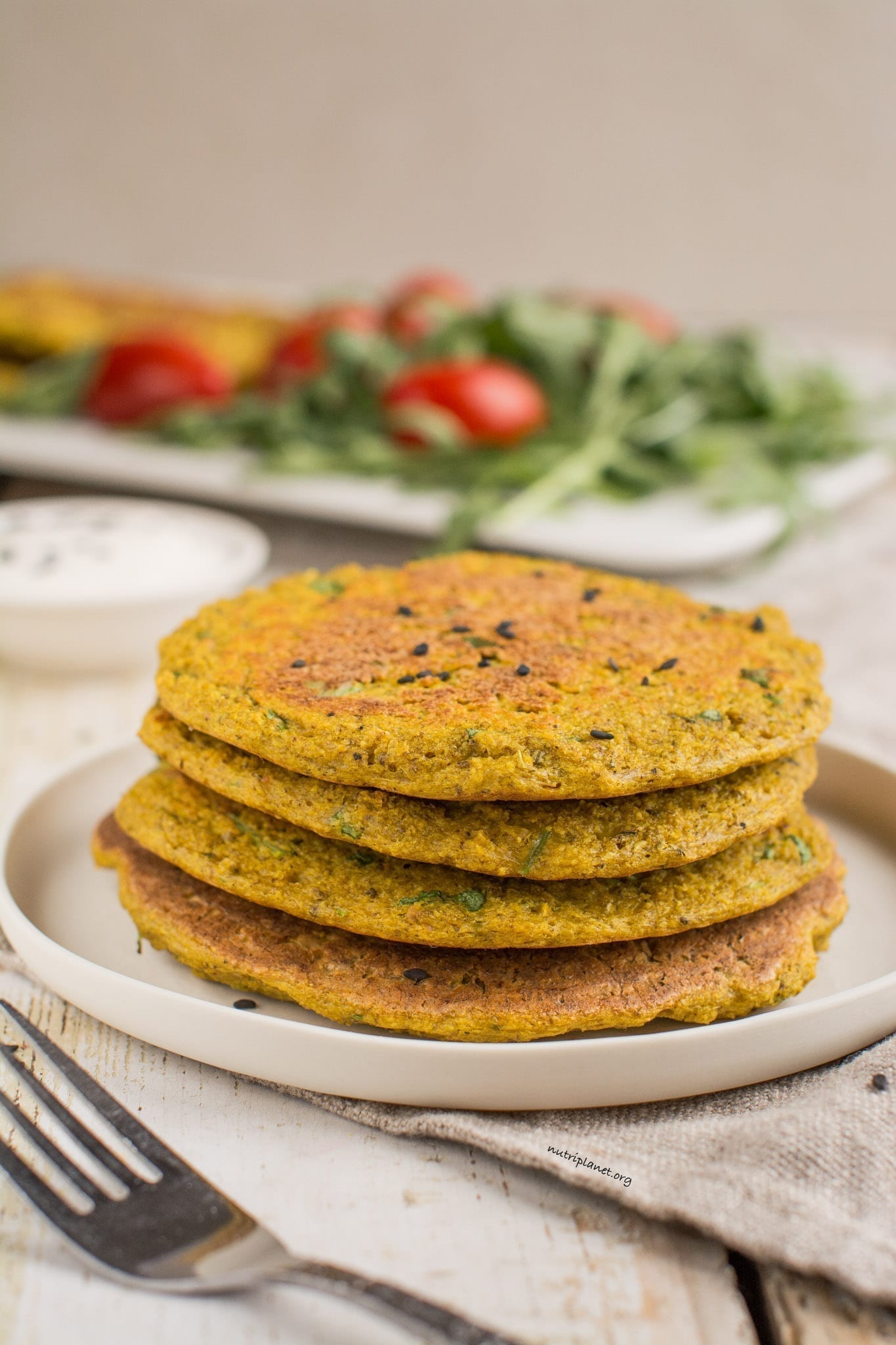 To sum it up, my vegan omelette with sprouted chickpeas is:
Oil-free
Gluten-free
Dairy-free
Soy-free
Grain-free
Candida diet friendly
Low glycemic
Finally, I'd like to hear from you! Are you a vegan omelette fan? Have you come across an omelette made with sprouted chickpeas before? Anything else you'd like to share? Let me know in the comments below! Please tag me on social media if you made one of my recipe Instagram @thenutriplanet and Facebook @nutriplanet.health.hub
VeganZyme is an advanced, full-spectrum blend of powerful enzymes that support digestion, boost the immune system, and encourage functional balance throughout the entire body. With VeganZyme, digesting your food is easier and gentler on your body.
Disclosure: this post contains affiliate links. As an Amazon Associate and Global Healing affiliate I earn from qualifying purchases. For every purchase made from the links in this post, you'll be able to support my work. So you can look after your health, and contribute to my mission at the same time. Thank you!
Print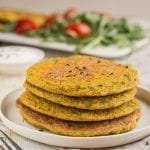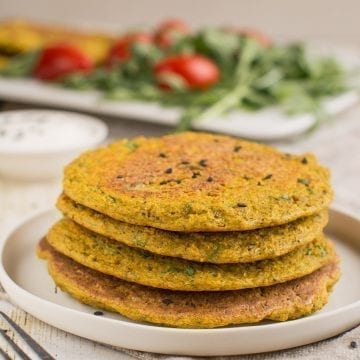 Vegan Omelette with Sprouted Chickpeas
---
Author:

Nele Liivlaid

Total Time:

45 minutes

Yield:

4

omelettes (with 10 cm, 3.9 inch diameter)

1

x
Description
Soaking time: 12h
Sprouting time: 12h (optional)
Prep time (the batter): 5 minutes
Prep time (frying): 40 minutes or cook time (baking): 25 minutes
Say goodbye to chickpea flour and try my vegan omelette made with sprouted chickpeas instead. I love this recipe because it's moist, fluffy and has got texture. Moreover, sprouting improves the flavor and makes chickpeas easier to digest.
---
---
Instructions
First, soak the chickpeas overnight or about 12 hours. Then, rinse/drain and leave in a sieve covered with clean cloth until visible sprouts emerge from the chickpeas (it'll take about 12 hours). If possible, rinse the chickpeas several times daily. Get more details from my post How to Sprout Chickpeas.
Next, add 1 cup of sprouted chickpeas along with all the other ingredients (except fresh parsley) into a blender or mixing beaker. Blend until you have homogeneous batter. Don't worry though, it's not supposed to be silky smooth.
For frying: place 2 tablespoons (or one heaping tbsp.) of batter onto hot non-stick pan and pat it into a 10 cm (3.9 inch) circle (check the video).
Once it's cooked on top (it took 6 minutes on a gas stove with medium heat), flip the omelette over and fry for about 3 more minutes. Then, place the omelette on cooling rack or plate and repeat until the batter is finished.
Swipe the pan clean with slightly oiled kitchen paper between the omelettes to prevent them sticking to the pan. You can use coconut oil, olive oil or avocado oil.
For baking: place all four omelettes on a baking sheet lined with parchment paper (divide the batter into four and ladle it onto baking sheet). Pat the omelettes into 10 cm (3.9 inch) circles using a spoon and bake at 175°C (350°F) for 25 minutes. Let cool before you try to separate them from the parchment paper.
Prep Time:

45 minutes

Method:

Frying or Baking
Nutrition
Serving Size:

¼ of the recipe

Calories:

96.8

Sodium:

8mg

Fat:

2.03g

Carbohydrates:

11.2g

Fiber:

3.97g

Protein:

6.48g
Keywords: omelette, sprouted chickpeas
Tips on my vegan omelette recipe:
This recipe works very well with soaked chickpeas as well. So, if you're in a hurry and can't wait for the chickpeas to sprout, make the omelettes with soaked garbanzo beans instead.
Should you skip the sprouting, try quick soaking – boil the chickpeas for 5 minutes, then turn off the heat and let them soak for 1-2 hours at which point they'd be ready to use for this omelette recipe.
Use oregano/parsley for Mediterranean and the spice mix/coriander for Indian flavour. Feel free to sub turmeric and Indian spice mix with your favourite curry powder.
Definitely add kala namak (black salt) for extra eggy flavour. However, the omelettes are delicious with Himalayan salt as well. Make sure you're buying kala namak as there's also black salt coloured with activated charcoal, which doesn't have any egg flavour.
You could use plant milk (almond milk, soy milk, oat milk etc.) or a mixture of milk and water instead of water.
Finally, feel free to stir into the omelette batter: sautéed yellow or red onion, red pepper and/or grated sweet potato or regular potato.
How to serve my vegan omelette:
Take two omelettes and eat them with simple raw salad (lettuce, radishes, celery, tomatoes, sprouts) and plain plant yogurt and/or some vegan cheese.
Add the omelettes to your Buddha bowls to take the place of legumes.
Eat as a snack with plain plant yogurt.
My omelettes would make a great plant-based breakfast as well.
How to store my vegan chickpea omelettes:
You don't need to fry all the omelettes at once! Instead, make yourself a few and store the leftover batter in sealed container in the fridge. It'll be good to use for 3 days.
Another option is to cook a bigger batch of omelettes, put parchment paper between each and keep them in freezer. Grab one and heat it up in the oven whenever you're hungry.